Nancy Carell is the wife of award-winning actor and comedian, Steve Carell, and the mother of his two kids; Elisabeth Anne Carell and John Carell. Nancy is an American actress, writer, and comedian whose work can be seen in some episodes of Saturday Night Live, The Daily Show, and The Office among other projects. 
Nancy's husband needs no introduction as his stellar career has made him a household name. While going about his work, he has collaborated with his wife on a number of occasions which has allowed her to enjoy some success.
Nancy Carell Bio and Profile Summary
Full Name: Nancy Ellen Walls Carell
Gender: Female
Date of Birth: July 19, 1966
Nancy Carell's Age: 57 years old
Place of Birth: Cohasset, Massachusetts, U.S.
Ethnicity: White
Nationality: American
Zodiac Sign: Cancer
Sexual Orientation: Straight
Religion: Christian
Marital Status: Married
Nancy Carell's Husband: Steve Carell
Nancy Carell's Children: Two (Elisabeth Anne Carell and John Carell)
Nancy Carell's Parents: Carol and Robert Walls
Siblings: Tish Vivado
Nancy Carell's Height in Inches: 5 feet 8 inches
Nancy Carell's Height in Centimetres: 173 cm
Nancy Carell's Weight: 70 kg
Body Measurements In Inches: 32-26-32 inches
Nancy Carell's Net Worth: $80 million
Famous for: Her Marriage To Steve and Work On Saturday Night Live, The Daily Show, and The Office
Where Is Nancy Carell, Steve Carell's Wife From?
Nancy Carell comes from the same home state as her husband. While Steve was born in Concord town and raised in Acton, both in Middlesex County, Massachusetts, Nancy was born in the town of Cohasset in Norfolk County, Massachusetts. She was birthed by her parents Carol and Robert Carell on July 19, 1966. Nancy is only known to have one sibling, a sister named Tish Vivado who is said to work as the manager of the Steve and Nancy Carell-owned store in Massachusetts – Marshfield Hills General Store.
Nancy attended Cohasset High School before enrolling at Boston College where she graduated with a Marketing degree in 1988. While studying for a degree in something completely opposite of what she had an interest in, she became a member of the improvisational troupe, My Mother's Fleabag, in her school.
Nancy Carell Became Steve Carell's Wife In 1995
Nancy Carell and her superstar husband have been married since 1995 and their union has remained one of the strongest in the showbiz industry. This is not to say that the marriage has been hitch-free, rather it is more like a survivor in the midst of all the drawbacks and many challenges that combat such a union.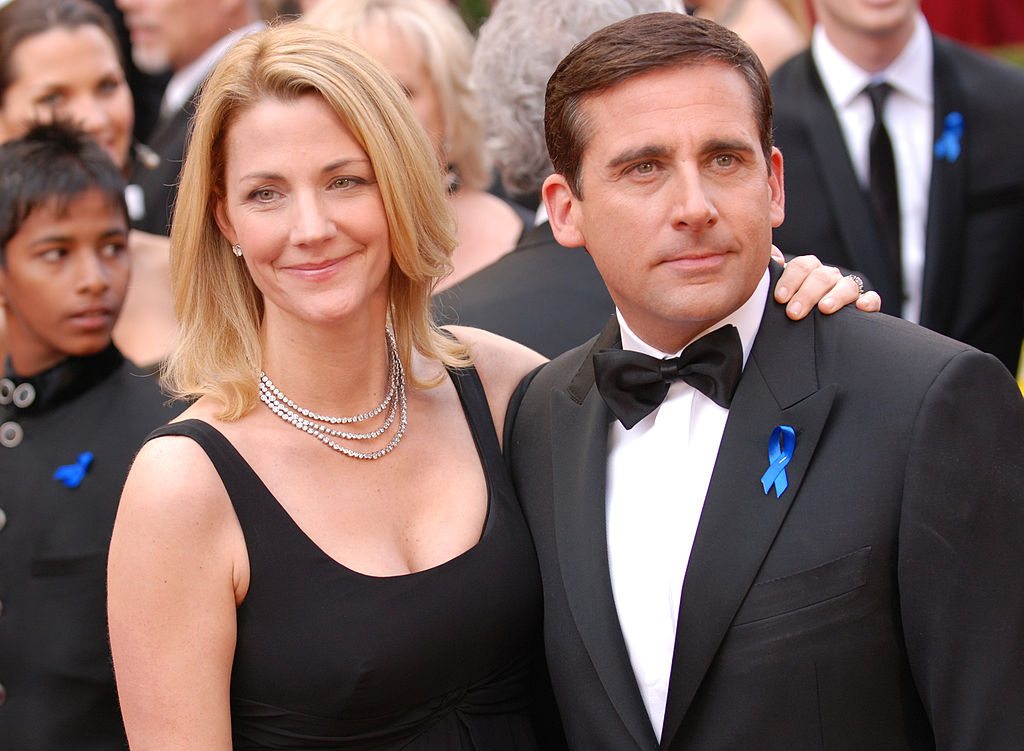 As already mentioned, the beautiful love story between the pair began at The Second City where Nancy was a student in a class Steve taught. However, the two comedians did not hit it off at first even though they were attracted to each other. Steve disclosed that asking her out on a date was some kind of a herculean task as he kept beating around the bush for a long time. While he knew at first sight that nancy was the one for him, he thought at first that she disliked him because she was acting quietly around him. But the truth was that she was just as nervous as he was and was only trying to act cool.
Nevertheless, he still got around to doing so and they went out on their first date to the Green Mill jazz club. Things progressed very quickly from then on as they tied the knot on August 5, 1995.
Speaking about his wife, Steve does not think she is an easy laugh. He counted this as one of the many reasons why he loves her. He considers Nancy his barometer of whether jokes are good or not and says she challenges him intellectually and comedically. He further added that his wife is the smartest, funniest person he has ever met. And that he never even assumed that a woman that smart and attractive would be even remotely interested in him.
Nancy Carell, on the other hand, acknowledges what everybody knows about her husband; that he is very funny and doesn't try as hard to be.
The Couple Are Parents To Two Children
Nancy and Steve are parents to two kids. As should be expected, their children are said to have inherited their parents' sense of humor. The couple described this humor as very pure and honest in an interview with People.
Together, the super cute family of four live in a house in Los Angeles. They also own a home in Marshfield, Massachusetts where they get to escape their celebrity lives during the summer.
Anne
Full Name: Elisabeth Anne "Annie" Carell
Date of Birth: May 26, 2001
Age: 22 years old
Gender: Female
Nancy Carell and her husband took their time before starting a family. The pair waited for six years after exchanging marital vows before welcoming their first child to the world, a daughter they named Elisabeth. The famous couple has done everything possible to make sure that their daughter has been raised properly and this appears to be the case as she is well-grounded. There are no stories of her doing anything inappropriate and she has never been featured in the tabloids. She recently graduated from Oakwood School in North Hollywood and is looking to go to college.
John
Full Name: John "Johnny" Carell
Date of Birth: June 25, 2004
Age: 19 years old
Gender: Male
Three years after Elisabeth was born, John was welcomed to the world in June 2004. Just as it is with his sister, he lives a somewhat private life. The young man is, however, growing and growing fast. He is 5 feet and 8 inches tall, almost as tall as his father who is 5 feet 9 inches tall.
Whether or not John would have a career in the entertainment business like his parents is yet to see. But seeing that he and his sister are quite funny, we would not be surprised to see them in one of their parents' movies soon.
Her Pursuit Of A Career In Entertainment Took Her Away From Home
In a bid to perfect her craft, Nancy Carell left her home state for Chicago, Illinois where she became a member of the comedy troupe, The Second City. Following her time as a part of the troupe, she joined the cast of Saturday Night Live (SNL) in 1995. On SNL, Nancy gained a reputation for her impression of CNN anchor Bobbie Battista on the show. She is also known to have done good impressions of people like Cokie Roberts, Diane Sawyer, Kathy Ireland, Martha Stewart, Sharon Stone. She featured in a total of 20 episodes between 1995 and 1996 before moving on to other things.
Steve Carell Helped His Wife's Career Grow
Steve Carell is a nine-time Golden Globe Awards nominee. The Massachusetts native is an actor, comedian, producer, writer, and director who was recognized by Life's Magazine as America's Funniest Man.
Steve got his break in comedy in the 1990s when he performed with the Chicago troupe, The Second City. It was here that he met Nancy who was a student in an improvisation class he was teaching. Steve would go on to rise to prominence through his roles in The Dana Carvey Show (1996) and on the late-night news satire TV program, The Daily Show (1999–2005).
Could it be more than a coincidence that Nancy Carell's next known high-profile gig after SNL was as a correspondent on The Daily Show? She held the position from 1999 to 2002 and appeared in 90 episodes.
By the 2000s, Nancy delved into acting, however, most of her roles have been minor ones and were in projects that featured her husband. In 2003, she played the role of a flight attendant in the comedy film, Anger Management. Two years later, she appeared as a Health Clinic Counselor in The 40-Year-Old Virgin. Steve played the role of the titular character in the commercially successful film and won a few awards for it.
The famous mockumentary TV series, The Office, maybe the biggest project she has appeared in, however, Nancy still had a minor role in it. She appeared as Carol Stills in 7 episodes between 2005 and 2013 of the sitcom. Her role was that of a real estate agent who is also the former girlfriend of the main character of the show, Michael Scott, who was played by her husband.
In 2009, Mrs. Carell voiced the character of Helen Goode across 13 episodes of the Mike Judge-created ABC animated series, The Goode Family. In 2011, she was credited with the role of Helen's tennis partner in Bridesmaids. The following year, she appeared in another one of her husband's movies, an apocalyptic rom-com titled Seeking a Friend for the End of the World as Linda Petersen.
Nancy Carell took things up a notch in her career in 2016 when she and her husband co-created the comedy TV series, Angie Tribeca. The following year, she appeared in two episodes of the show that aired on TBS, playing Katy Perry.
List Of All Her Works
Saturday Night Live (1995–1996)
Lateline (1998)
Random Play (1999)
The Daily Show (1999–2002)
Anger Management (2003)
The 40-Year-Old Virgin (2005)
The Office (2005–2006, 2010, 2013)
The Naked Trucker and T-Bones Show (2007)
The Goode Family (2009)
Bridesmaids (2011)
Seeking a Friend for the End of the World (2012)
Geirgia (2012)
Angie Tribeca (2017)