Tall, dark and handsome American actor, Morris Chestnut won the hearts of movie lovers after starring in the 1991 Oscar-nominated movie Boyz N The Hood. His role as Ricky in the film paved the way for many others in high-budget studio films.
Prior to Boyz N The Hood, Chestnut's first professional role in the movie industry was as Jadon in Freddy's Nightmares: A Nightmare on Elm Street: The Series. He appeared in season 2, episode 19 titled "A Family Affair". The episode which he appeared in was aired on February 18, 1990, a year before his prominent fame was secured. Subsequently, his career started growing and he has remained active in the industry to date.
While Boyz N Hood brought him to the spotlight, the hunky actor is best remembered for his roles in The Best Man and its sequel as well as Think Like a Man. The former which was a box office hit scored him an NAACP Image Award nomination. One of his notable recognition came from People magazine which named him among the "Sexiest Men Alive" for their 2015 edition. Apparently, with his perfectly chiselled physique and toned body, it's no surprise he made the cut.
Let's take a sneak peek at Morris Chestnut's personal life, career, family life, net worth all the interesting deets you won't find elsewhere.
Brief Bio, Age
The handsome actor was born on January 1, 1969, in Cerritos, California as Morris Lamont Chestnut Jr. His father is Morris Lamont Chestnut Sr. while his mother's name is Shirley Chestnut.
He acquired his high school education at Richard Gahr High School from where he graduated in 1986 and continued at California State University, Northridge where he studied finance and drama.
Further information about his family background and siblings is not available for public scrutiny but we do know that his parents are African-Americans.
Early Career and Breakthrough
His first attempt as a professional actor was his role as Jadon in Freddy's Nightmares: A Nightmare on Elm Street: The Series in 1990. Though his performance in the episode wasn't bad, his first feature film role as Ricky Baker in Boyz n the Hood in 1991 was the one that brought him under the spotlight and he has remained there to date.
Chestnut didn't rest on his oars after tasting fame but went on to land more lead roles in various TV movies. He played co-starring roles in films like Under Siege 2: Dark Territory – 1995 and G.I. Jane – 1997. between 1997 and 1998, he was a regular cast member on C-16, starring as Special Agent Mal Robinson.
In 1999, Chestnut wrapped up the 90s with his role in The Best Man, the movie that got him international recognition. He starred alongside Taye Diggs, Terrence Howard and Nia Long. The world-acclaimed film was met with positive reviews and became a box office darling, earning Chestnut an NAACP Image Award nomination.
Read Also: Lamorne Morris Bio, Wife, Net Worth, Age, Height, Girlfriend and Parents
Just like the 1990s, the 2000s have also seen major progress in the actor's career. The Brothers (2001), Half Past Dead (2002), Like Mike (2002), Ladder 49 (2004), The Game Plan (2007), Prince of Pistols (2008), When The Bough Breaks (2016) and a slew of others are just a few of his movie exploits.
His journey to achieve the perfect body for his role in The Best Man as Lance Sullivan, a Professional Football Player, inspired him to write a book alongside Celebrity Fitness Trainer Obi Obadike. The health & fitness book published in 2017 is titled The Cut which guides the reader through exercise drills and healthy foods to help in weight loss.
His Height and Body Stats
Admittedly, Morris Chestnut is handsome in every sense of the word. The actor stands at an incredible height of 1.8 meters which translates to 6 feet and weighs about 188 lbs. He maintains a bald head to go with his small brown eyes.
It's very safe to say that he's perfectly endowed in all the right places.
Family: Wife, Kids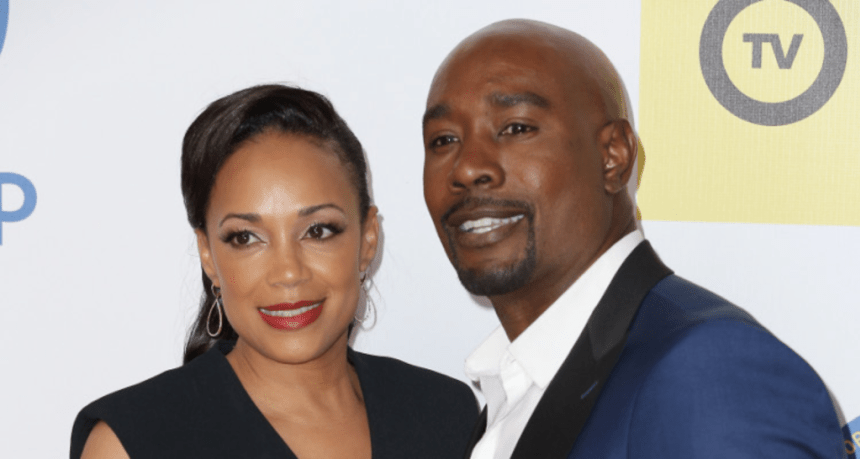 Though he's easily mistaken for a ladies man, Morris Chestnut has only been married once. The actor and his beautiful wife Pam Byse Chestnut have been married since 1995 and their relationship keeps getting stronger despite all the rumours and controversies threatening their marriage. Chestnut gives credit to his wife for not letting all the rumours about him take a toll on their marriage.
The lovely family is blessed with two children- a son and a daughter named Grant (born 1997) and Paige (born 1998) respectively.
Morris Chestnut: Net Worth
The American actor has garnered a fortune in his successful acting career. Starring in top-grossing movies sure paid off for Morris Chestnut who has an estimated net worth of $14 million.