How Tall is Miley Cyrus? Miley Cyrus' body height is considered average in the USA at 5 feet 5 inches or 1.65 m (165 cm) tall, her weight is 106 pounds or 48 kg. 
Miley Cyrus At A Glance
Full Name: Destiny Hope Cyrus
NickNames: Smiley, Miley Ray
Other Names: Miley Hemsworth, Ashley O
Occupation: Singer-Songwriter, Actress
Organization: Happy Hippie Foundation
Religion: Baptist
Date of Birth: November 23, 1992
Birthplace: Franklin, Tennessee
Zodiac Sign: Sagittarius
Father Name: Billy Ray Cyrus
Mother Name: Tish Cyrus
Siblings Names: Noah Cyrus, Trace Cyrus, Christopher Cody, Brandi Cyrus, and Braison Cyrus.
Spouse: Liam Hemsworth (Ex-Husband)
Children: None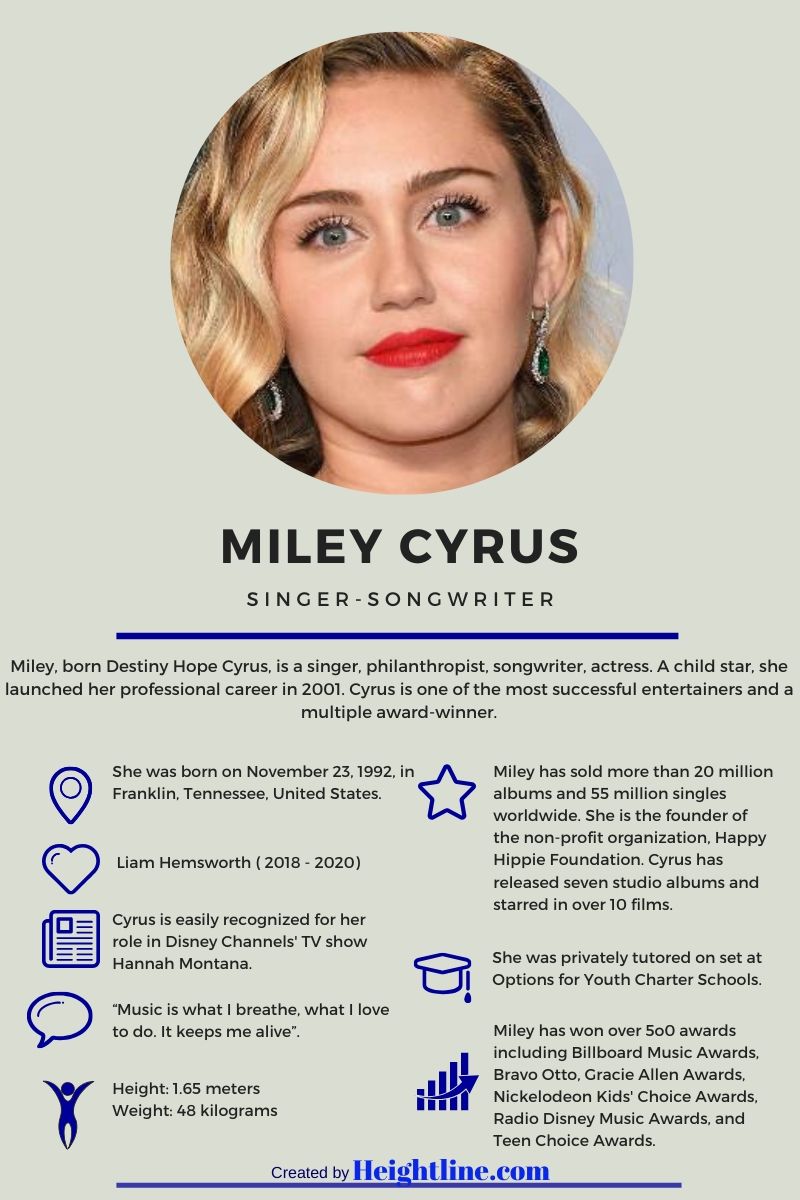 Miley Cyrus' Body Evolution and Transformation 
Miley Cyrus' height, weight, and physique have always been a subject of media discussion for a very long time. In 2009, the artist revealed to J-14 that she has constantly been told to lose weight and get a boob job to achieve an ideal figure. Distressed by it all, the singer started working out to put herself into the desired shape. However, a few years later, the star stepped out looking more skinny than usual, thus raising more than a couple of eyebrows.
Following the ongoing speculations, Cyrus later revealed that she has a gluten allergy, so it's been a drag looking for things she can eat. However, the general public, as well as vegans that exist didn't agree with her. It was also discovered that the artist has a workout regimen that is eating up the little flesh she has left.
In 2013, she admitted to being 42 kg, which is at unhealthy borderline. But before then, she was criticized for her weight and curves in 2011. As a result, Miley tweeted, 'I don't wanna be shaped like a girl; I LOVE being shaped like a WOMAN & trust me, ladies, your man won't mind either.' Well, guess who is shaped like a girl now and currently weighs 48 kg?
Since her rise to fame, the talented actress/singer has not had a break though, when she has curves, she is criticized and the same goes for when she loses the curves. Over the years, especially through her teens, Miley was generally slightly bigger than she is now. However, in the last two years, she looks like a maniac on a mission to get as many abs as there is to get. All these have helped her recent stage performances, where she looks more energetic than ever.
Surprising Facts About Her Fitness Routine and Diet
Since Miley Cyrus announced her separation for husband Liam Hemsworth, she has taken her fitness regimen up a notch. Her most recent pictures on Instagram are a testament to how much work she is putting into her looks. As far as exercises are concerned, pilates is one of her favorites. Her former fitness instructor Mari Winsor revealed that the singer went as far as installing a Pilates studio in her own house.
Most of her workouts are also targeted at developing strength in her core. When she's not doing her regular routines, Miley is seen taking her seven dogs out on a walk. Beyond conventional exercise routines, Miley Cyrus is equally super committed to yoga. She reportedly devotes two hours every day, six days a week to yoga, focusing on her favored  Ashtanga style, which is aimed at improving strength and cardiovascular fitness. She once stated on Jimmy Fallon that the Yoga form that encourages strength and cardio fitness via breathing is her secret to maintaining a healthy body and weight.
Additionally, Miley has also been open about her dieting. In 2014, she switched to a vegan diet and completely stays off meat, fish, dairy, eggs, and other animal-based products. So was her commitment to her vegan diet that she served guests a vegan plant-based buffet at her wedding in late 2018. The singer is also lactose intolerant, hence her no-dairy diet, which has contributed to her very lean body mass.
That's not all; she now takes only gluten-free products, and they include oats, barley, and rye, as well as a mixture of proteins found in wheat. All these and more help the singer to maintain a healthy and improved lifestyle.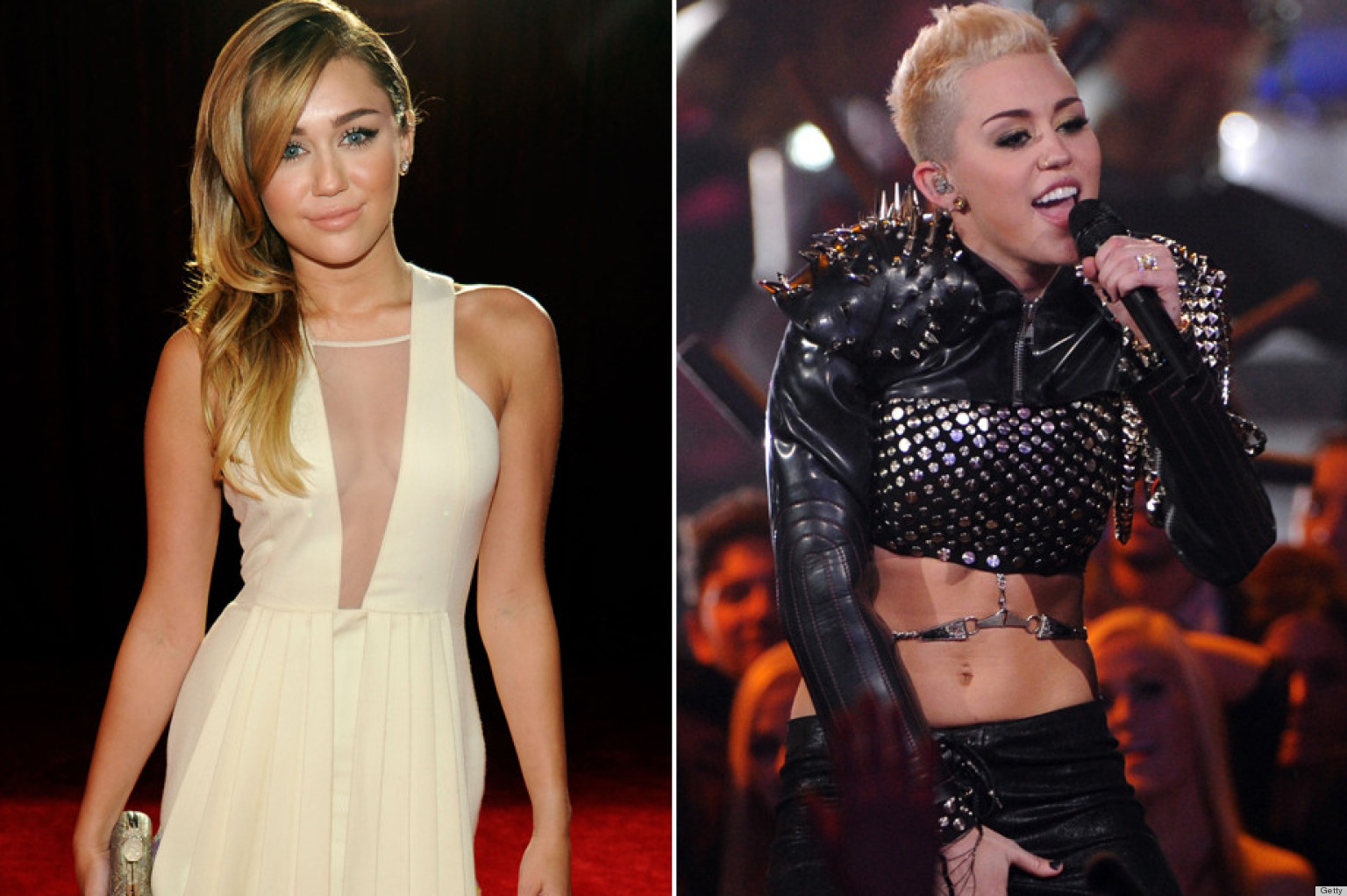 Exactly How Tall Is Miley Cyrus?
Miley Cyrus is not the tallest female celebrity out there, but with an average height of 5 feet 5 inches, the singer will certainly not be lost in a crowd. While she was filming a brief cameo of herself for 'Sex And The City 2,' Miley worked with Sarah Jessica Parker. However, while promoting the movie, Parker told MTV News that she was astounded by Miley Cyrus' height, with the little time she spent with the actress.
| | |
| --- | --- |
| Height | 5 ft 5 in or 165 cm |
| Weight | 106 pounds or 48 kg |
| Breast Size | 34 inches |
| Bra Size | 34B |
| Cup Size | B |
| Body Measurements | 34-24-33 in or 86.3-60.9-83.8 cm. |
| Figure | Slim |
| Chest Size | 34 inches or 86 cm |
| Waist Size | 24 inches or 61 cm |
| Hips Size | 35 inches or 89 cm |
| Dress Size | 2 (US) or 34 (EU) or 6 (UK) |
| Shoe Size | 6 (US) or 36.5 (EU) or 4 (UK) |
| Eyes Color | Blue |
| Hair Color | Brown |
| Natural Breasts or Implants | Natural |
Meanwhile, there are lots of your favorite female celebrities who share the same height as the singer. They include J.K Rowling, Victoria Beckham, Caroline Flack, and Zoella, among others. In addition to her intriguing physique, Cyrus spots body measurements of 34-24-33 inches for her bust, waist, and hips, respectively. Her other distinctive features include her blue eyes and brown hair, which she dyes in different shades of blonde.