How tall is Mike Tyson? Mike Tyson's height is 5 feet 10 inches or 1.78 m and is five inches shorter than Muhammad Ali who was 6 feet 3 inches or 1.91 m tall. Mike Tyson is 57 years old, as he was born on June 30, 1966. He has a reach of 71 inches.
Being tall is naturally advantageous in boxing but some boxers have gone on to achieve great things despite their relatively short stature. One prominent name that falls into this category is retired American great, Mike Tyson.
Despite being short and squat and lacking the classic heavyweight boxer's appearance, Tyson boasted of surprising quickness and aggressiveness which helped him floor many of his more towering opponents. He, therefore, went on to win multiple heavyweight titles and was the undisputed world heavyweight champion for four years, starting from 1987 to 1990.
Tyson also holds the record for being the youngest heavyweight champion in the world as well as the first heavyweight boxer to simultaneously hold the WBC, WBA, and IBF titles. The American has since called time on his distinguished career but he remains one of the greatest ever to grace the sport.
How Tall is Mike Tyson?
Mike Tyson is 5 feet 10 inches (1.78 m) tall. While this is nothing to scoff at, the decorated boxer is not exactly a giant either. For instance, data from the National Centre for Health Statistics in the U.S. has it that the average American man is 5 feet 9 inches (1.75 m) tall while the average American woman is 5 feet 3.5 inches (1.61 m) tall. It, therefore, means that Tyson is just an inch taller than the average American man out there.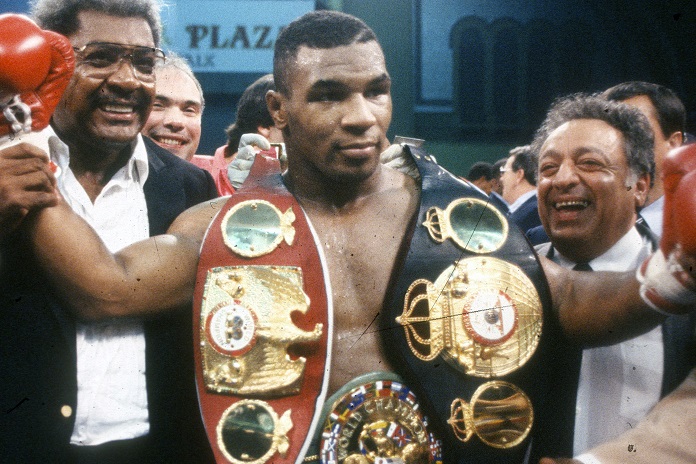 When it comes to the world of professional boxing, the disparity gets wilder. Statistics show that heavyweight boxers (which is the weight class that Tyson fought in) have always been traditionally tall with their average height put at 6 feet 4 ½ inches (1.94 m) tall. This means that Tyson was six inches shorter than most of his peers out there. As we shall see, he did not let this hinder his rise to the pinnacle of the sport.
Tyson Was the First Undisputed Heavyweight Champion of the World Despite His Short Stature
The issue of height in boxing is a divisive one but it is generally agreed that a massive height is a natural advantage as taller boxers have a longer reach than shorter boxers. This enables them to hit from a distance and close range as well. On the other hand though, what short boxers lack in height, they can make up for with their speed, agility, and ferocity and it was these exact factors that saw Mike Tyson go from a troubled teen to an acclaimed amateur in just under six years (1978-1984).
Tyson turned pro in 1985 and a year later, he knocked out Jamaican boxer Trevor Berbick, to become the WBC world heavyweight champion. Tyson achieved this feat at the age of 20 years, four months, and 22 days, making him the youngest heavyweight champ in the world. Building upon that glittering start, the boxer would go on to add the WBA and IBF titles in 1987, thus cementing his status as the first undisputed heavyweight champion of the world.
Tyson went on to defend his titles successfully for four years before losing it in a shocking defeat to the underdog, Buster Douglas, in 1990. It is widely believed that Buster's massive stature was one of the things that proved to be Tyson's greatest undoing. Following that loss, Mike Tyson's story would spiral into a rape conviction as well as a six-year jail term. He later regained his freedom after three years and got back to doing what he loved. The New York native was able to regain the WBA and WBC heavyweight titles in 1996 before losing them once more.
Mike Tyson's Height Compared to Fellow Heavyweight Legends
Muhammad Ali's Height vs Mike Tyson's Height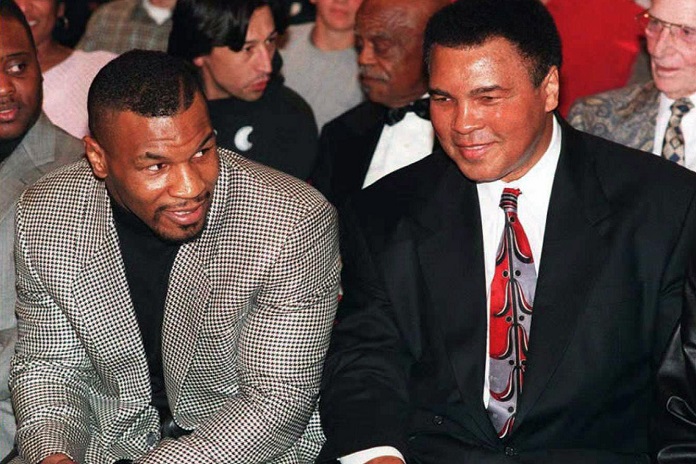 Mike Tyson is five inches shorter than Muhammad Ali who is 6 feet 3 inches or 1.91 m tall. When Ali was blazing a trail in the world of boxing, Tyson was still a child trying to cope with gang life on the streets of New York. He therefore never fought with Ali but he has revealed that he idolizes him. Tyson also believes that Ali is the greatest boxer ever and outshines him because he, Ali, was willing to die for what he believed in.
Mike Tyson's Height vs Evander Holyfield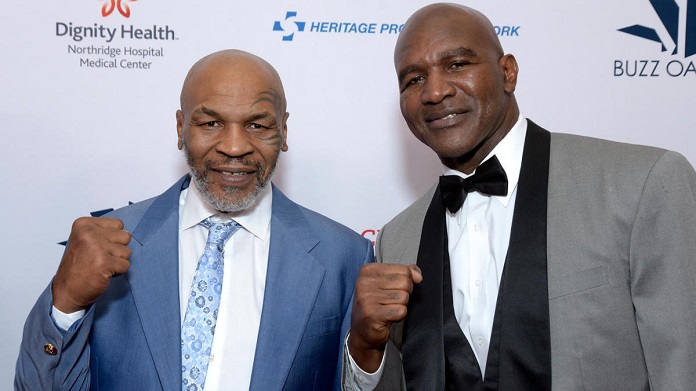 Even if you are not a boxing enthusiast, you must have heard about the time that Mike Tyson bit the ear of a fellow boxer off. Well, the person at the receiving end was fellow heavyweight champion, Evander Holyfield, who is 6 feet 2 ½ in or 1.89 m tall.
Holyfield perfectly utilized the extra four and a half inches he had on Mike Tyson to bamboozle him in their first fight in 1996. By the second fight in 1997, he dominated the first three rounds, and Tyson, out of options, resorted to biting him. Of course, this saw the New York native lose his boxing license as a punishment but he would later gain it back.
Mike Tyson's Height vs Floyd Mayweather Jr.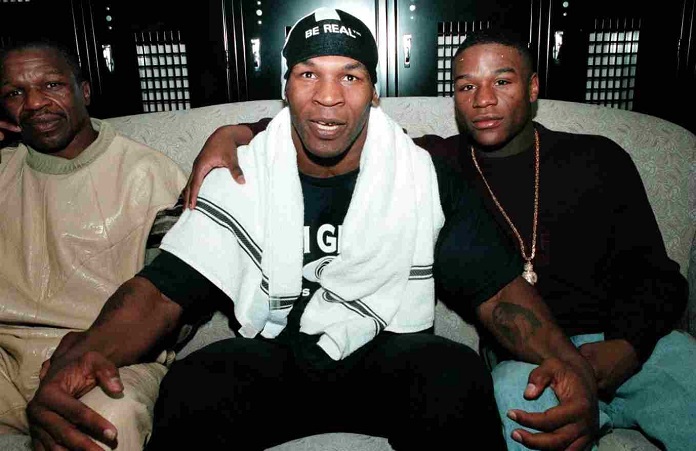 Though they never fought together, thanks to belonging to different eras and different weight classes, Mike Tyson and Floyd Mayweather Jr have been involved in a feud lasting for a better part of two decades. The two were initially friends in the 90s but things soon soured after Tyson accused Mayweather of masterminding a police raid on his house.
The two have taken several verbal shots at each other over the years and Tyson insists that he would batter the money man if they were to be in a street fight. We don't know how true that is but one sure thing is that Tyson is two inches taller than Mayweather whose height is put at 5 feet 8 inches or 1.73 m.
Mike Tyson's Height vs Buster Douglas' Height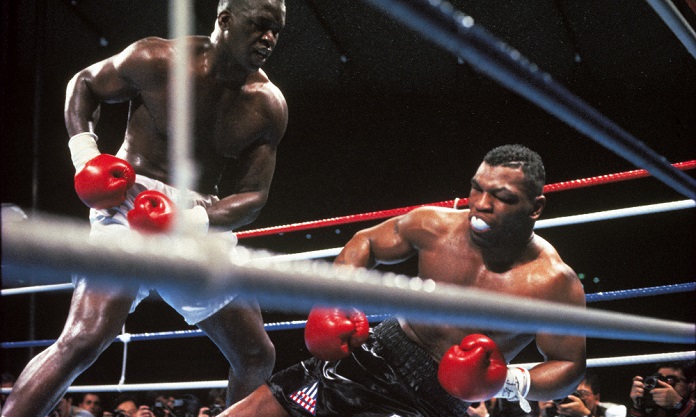 Douglas is best remembered as the boxer who overcame 42-to-1 odds to defeat Mike Tyson and scoop up his multiple championship belts – the WBO, WBC, IBF, and the Ring Heavyweight Championships. Going into the February 1990 fight, Tyson was the clear favorite and assumed that he would make quick work of Douglas. Douglas, however, ended up surprising him to record one of the biggest upsets in sports history. It is now agreed that his height played a part; he is 6 feet 4 inches (1.93 m) tall, which makes him six inches taller than Mike Tyson.
Mike Tyson's Height Compared To Tyson Fury
Mike Tyson and Tyson Fury may not be chummy pals but there is certainly a lot of mutual admiration between both men. For one, Fury was named after Tyson. He has also hailed the American as a living legend and a gladiator. Mike Tyson has also been similarly effusive in his praise. He has described Fury as boxing's messiah and backed him to come out tops against the likes of Anthony Joshua and Deontay Wilder. There have even been talks of Tyson coming out of retirement to fight Fury and if that ever happens, the younger man will tower over his opponent in the ring. Fury is 6 feet 9 inches (2.06 m) tall which makes him almost a foot taller than Mike Tyson.
Mike Tyson Is Two Inches Taller Than His Wife Lakiha Spicer
Tyson has been married and divorced twice but he is making the best of his marriage to his third wife, Lakiha Spicer. Spicer was his long-time girlfriend before they finally tied the knot in 2009. They have remained together for several years now and their success has made the ex-boxer acquire a whole new perspective on how he views women. Spicer's height is listed at 5 feet 8 inches (1.73 m), which makes her just 2 inches shorter than Mike Tyson.