Mike Trout is one of the most phenomenal players in the MLB and has been dubbed the best player in the field a number of times. He was drafted into the professional arena coming out of high school in 2009 by the Los Angeles Angels and has played seven explosive seasons therein.
In the course of his impressive career, we have become accustomed to his greatness gracing our modern baseball world with MVP campaign after MVP campaign among other prestigious awards. His accolades include two American League (AL) MVP (2014, 2016), two Baseball America Major League Player of the Year awards (2012, 2013), five consecutive Silver Slugger Awards (2012–2016) among others. He has also frequented the American League leader scoreboard in several categories including adjusted OPS, runs scored, and wins above replacement.
Among other things, Mike Trout is already an all-time great and has been rated among the Hall of Famers even though he is yet to be inducted, having passed the career marks of many inductees like Willie Stargell, Kirby Puckett, Ralph Kiner and Jim Rice in the short span of his career.
Mike Trout's Biography
Born on the 7th of August 1991 in Vineland, New Jersey to Jeff and Debbie Trout, he was named Michael Nelson Trout and is the last child with two older siblings; sister Teal, and brother Tyler. His athletic prowess probably came from his father who also played the game before a knee injury cut his career short.
Jeff was a star in high school as well as in the University of Delaware in the early '80s. After his college career, he was selected by the Minnesota Twins in the fifth round of the 1982 draft as a second baseman and played for four seasons in the minor league before the injury knocked him out in 1986. After then, he became a history teacher and coach and has helped his son develop sharp instincts and skills in the game.
Trout started his career in Cal Ripken Baseball which is a division of Babe Ruth League, in the shortstop position. He idolized New York Yankees shortstop Derek Jeter and wore #2 in his honor but later switched to #1 in high school.
Mike attended Lakeside Middle School and then Millville Senior High School, graduating in 2009. While in school, his athletic prowess was highly evident; he played both baseball and basketball, earning five letters in both. He played pitcher and shortstop in his junior year but was shifted to the outfield during his senior year wherein he also set a state record with 18 homers.
To hone his skills, he worked with coaches at Tri-State Arsenal from the age of 14 and by the time he was 17, he was reputed to be the strongest and fastest player. Trout initially committed to play baseball at East Carolina University but had a change of mind opting to go pro instead.
Career Stats
He debuted with the Arizona Angels in the rookie-level Arizona League after he was drafted by the Los Angeles Angels in 2009. By the end of the season, he also played for the Cedar Rapids Kernels of the Class A Midwest League and was ranked Angels' third-best prospect and the 85th-best in all of baseball by Baseball America.
The following season, he played in the All-Star Futures Game, rose to the second-best overall prospect and was promoted to the Rancho Cucamonga Quakes of the Class A-Advanced California League. After the season, Trout received the 2010 J.G. Taylor Spink Award as the Topps Minor League Player of the Year making him the youngest player to win the award at 19 years. In turn, he was named a Baseball America All-Star as well as a Topps Class A All-Star.
Prior to making his big league debut on July 8, 2011, he appeared in 75 games with the Arkansas Travelers of the Class AA Texas League within the season. He hit his first major league home run on July 24 and after a stint in Double-A Arkansas, Trout became Angel's youngest player to hit 2 homers in one game. In turn, he was named Baseball America's Minor League Player of the Year as well as an outfielder on its 2011 Minor League All-Star team. He ended the season hitting .326/.414/.544 with 11 home runs, 38 RBIs, 82 runs scored, and 33 stolen bases in 91 games.
In 2012, he had his first full major league season after he was called up from Salt Lake Bees. He went forward to record a phenomenal season and broke several of the Angels' rookie records such as clinching the Rookie of the Month four times. He also led the League in runs scored (129) and stolen bases (49) while posting a .326 batting average. Although many projected him as the 2012 AL Most Valuable Player (MVP) for his stellar output, he finished second behind Miguel Cabrera but eventually won the BBWAA Jackie Robinson Rookie of the Year Award by more vote. That same season, he won the Heart and Hustle Award for his passion for the game, the Silver Slugger and a Fielding Bible Award as the best fielding center fielder in MLB.
In 2013, Trout hit his first grand slam against the Detroit Tigers in April 2013, earning the Angels their highest-scoring innings in 18 years. The next month, he became the youngest player to hit for the cycle in the history of the AL. He led the AL in runs (109) and drew 110 bases-on-balls (walks), posting a .432 on-base percentage (OBP). Mike was a major part of the 2013 Major League Baseball All-Star Game and finished the season with 9.2 WAR, the highest in baseball but still ended second behind Cabrera in the AL MVP.
With each year, Trout steps up his game and returns with even more impressive stats and records. He played in 157 games in 2014 and belted a career-high 36 homers as well as led the league with 111 runs batted in (RBIs) while still retaining his spot atop the runs-scored leaderboard with 115. Finally, he got past Cabrera and was unanimously voted that season's AL MVP. His good form ensured the Angels made it to the postseason which was a first for him.
On April 17, 2015, Trout reached 100 homers and 100 steals becoming the youngest player in MLB history to achieve that feat. He proceeded to end the 2015 season with a career-high 41 home runs and an AL-leading .590 slugging percentage. Moreover, he won his fourth Silver Slugger Award, the Best Major League Baseball Player ESPY Award and was named to his fourth consecutive All-Star Game.
Mike Trout rounded up his 2016 season leading the MLB with walks (116), runs scored (123), on-base percentage (.441) in 159 games and had a .315 batting average. He also recorded what was arguably the all-time greatest first five years of a major-league career going by his batting average and leading the AL in the above categories. The stats also led to his second AL MVP award.
Despite missing 39 games in 2017 owing to a torn thumb ligament, Trout still led the team in runs (92), homers (33), steals (22), walks (94), and in batting average (.306) in a career-low 114 games. Moreover, he became the seventh player to score 200 home runs before the age of 25.
Just before the 2018 season set in, Trout was rated the #1 player in baseball by Sports Illustrated. He hit 39 home runs and had an AL-best 122 walks and .460 OBP and was also named a starting outfielder for the 2018 MLB All-Star Game. As of September 2018, Mike Trout has amassed .307 batting average, 1,187 hits, 240 home runs, 648 runs batted in and 189 stolen bases in his age-26 season making him an all-time great and a potential Hall of Famer.
See Also: Aaron Judge Parents, Brother, Ethnicity (Is He Black?), Girlfriend, Height
Salary & Net Worth
In Mike Trout's brief career, he has demonstrated all the many tools a ballplayer can have among which are speed, strong arm, elite hitting prowess, and good defensive instincts. Above all, his love for the game is top notch which might just be another reason he only gets better and better with each season.
His purse could also serve as a testament to his greatness in the sports. Following the first five years after his draft by the Angels, he signed a one-year extension deal in February 2014 worth $1 million which was later converted into a six-year contract for $144.5 million. Besides his sporting career, he also earns from endorsements with brands such as Bodyarmor SuperDrink, Subway, Nike, and SuperPretzel, Rawlings, Topps.
He has an estimated net worth of over $50 million and an annual salary of $24 Million.
Does Mike Trout have a Wife or Girlfriend?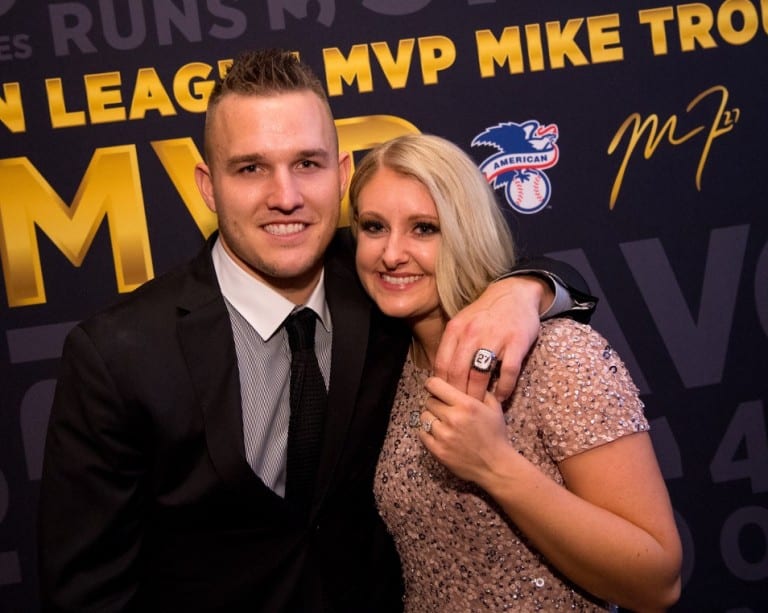 Mike Trout got married to his longtime girlfriend, Jessica Cox on December 9, 2017. The two met during their sophomore year in high school and dated for 11 years after which Trout proposed to her in July 2016.