Mike McCarthy is an American football coach who is currently the head coach of the Green Bay Packers, of the National Football League (NFL). Starting his career in Fort Hays State in the year 1987 as a graduate assistant, Mike McCarthy holds one of the most impressive coaching records in NFL history, having overseen the works of the likes of Rich Gannon, Elvis Grbac, and Steve Bono while working as a quarterbacks coach with the NFL's Kansas City Chiefs. He is also credited to have coached Brett Favre in the season where Favre threw for 4,091 yards. Mike McCarthy is no doubt the best of the best when it comes to American football Coaching, here are some more interesting details about him.
Mike McCarthy's Bio, Age
Mike McCarthy was born Michael John McCarthy to Joe and Ellen McCarthy on the 10th of November 1963, in Pittsburgh, Pennsylvania. His father Joe was a longtime firefighter and a Police officer who also owned a bar called "Joe McCarthy's Bar and Grill," which was later renamed "Chasers In The Run". Mike is one of five children as he has three sisters named Colleen, Ellen and Kellie and also a brother Joseph who is late. He was raised as a Pittsburgh Steelers fan but played tight end at Baker University, a National Association of Intercollegiate Athletics (NAIA) school located in Baldwin City, Kansas.
Career
Mike went back home to Pittsburgh after his service as a graduate assistant at Fort Hays State from 1987 to 1988. He was then hired in 1989 and worked under Mike Gottfried and  Paul Hackett at the University of Pittsburgh, where he was also a graduate assistant for three seasons before he went ahead to coach the wide receivers in the 1992 season. He also worked on the Pennsylvania Turnpike during as a supplementary job. In 1993, Mike went over to work with NFL's Kansas City Chiefs; he stayed there for two years as an offensive quality control assistant, and then became quarterbacks coach. He then worked also in the same position with the Green Bay Packers.
The Packers later released their entire coaching staff after the 1999 season and Mike went on to become the offensive coordinator of the New Orleans Saints. He held that position for five seasons and was picked as NFC Assistant Coach of the Year by USA Today in 2000. Mike McCarthy played a major role in the successful nurture of talents such as quarterback Aaron Brooks, running back Deuce McAllister, and wide receiver Joe Horn while he was the offensive coordinator of the New Orleans Saints. Also, under his guidance, running back Ricky Williams, ran for 2,245 yards with 14 touchdowns.
In 2005, Mike began serving as offensive coordinator for the San Francisco 49ers and later returned to Green Bay Packers as head coach. He did impressively well having coached the Packers to an 8–1 record in the first 9 games of the 2007 season where he recorded the best win-loss ratio to start the first 25 games of a career among active coaches and setting the record for the best coaching start in Green Bay Packers' history. On the 19th 2008, he signed a five-year contract extension with the team.
In 2010, McCarthy was highly instrumental in leading the (Packers The Green Bay Packers) to defeat the Pittsburgh Steelers 31–25 to win their fourth Super Bowl and their 13th NFL title overall. In November 2014, Mike signed yet another extension with the Green Bay Packers and soon began to relinquish play call duties to his long-time assistant Tom Clements and also began reorganizing his coaching staff. Luckily for Mike, his contract which was supposed to expire in 2018 was further extended as a result of his incredible and invaluable contribution to the team.
Salary
When Mike McCarthy signed his five-year contract extension with the Packers in 2008, his salary was raised to $3.4 million a year. Mike still got another year contract extension entering his 13th season with the Packers making him one of the longest-tenured coaches in the league. The new deal keeps Mike in Green Bay through to the 2019 season with a current salary of $6million a year.
Family – Wife And Daughter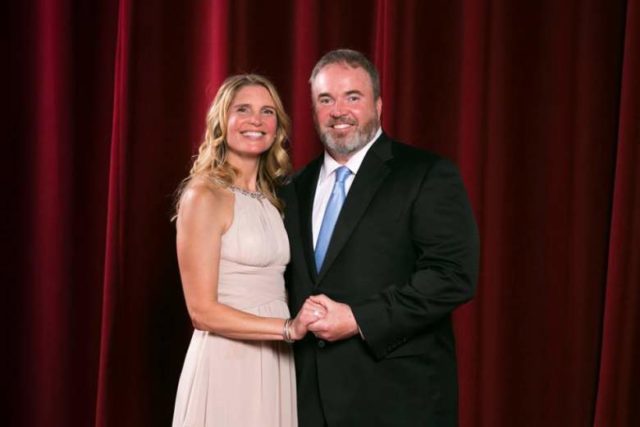 Mike McCarthy was in a relationship with a woman named Christine since high school, and they were together for quite a while. The pair who were so much in love with each other decided to get married in 1990. In 1992, Mike and Christine welcomed their first and only daughter Alexandra Noel McCarthy. Unfortunately, just like most marriage unions involving football players in recent times, Mike and Christine filed for a divorce and were legally separated in 1995.
After the divorce from his first wife, he was single for quite a long time, but this changed when he met Jessica Kress who was also previously married to William Kress, a member of the Packers' Board of Directors. Her marriage to William Kress produced two sons named Jack and George. Mike and Jessica later tied the knot in 2008 and they have five lovely children together which makes Mike McCarthy the biological father of six children in total.
It is interesting to note that Mike's first daughter Alexandra Noel McCarthy is all grown up now and is an aspiring actress who wants to follow in the footsteps of her famous father towards fame but she does this in a different way which is through acting.
See Also: Everything You Need To Know About Arden Key of NFL
Height And Weight
There is no exact information on Mike McCarthy's height, weight or body statistics on record, however, he was listed among the top five overweight NFL coaches in recent times and from his looks, it can easily be observed that he isn't taking much care of his body. Hopefully, he can get back in shape by eating healthy and hitting the gym as we are quite sure his team would love to have him around much longer.