Mike Holmes aka Big Mike is a Canadian businessman who has made a name for himself in the field of construction and building, a craft he learned from his father when he was just 6 years old. By the time he was in his teens, Holmes had established his first construction company with 13 employees. He was thrust into the limelight in 2003 when he began the TV show, Holmes on Homes, a home improvement show on HGTV where he tries to rescue homeowners in Ontario and Toronto from bad renovations.
The success of the show gave birth to several other similar home improvement shows including one where he recovered houses damaged in natural disasters. Holmes' contributions in construction have helped to set the standard high for residential houses in Canada, thus saving money and lives in the long-run. In 2010, he was named the second most trusted person in Canada. Some of his currently running shows include Holmes Inspection, Holmes Makes It Right, and Best of Holmes on Homes. He can also be seen on HGTV's show Handyman Superstar Challenge and All American Handyman where he serves as a judge.
Is Mike Holmes Married, Who Is His Wife?
When Mike Holmes first hit the TV in 2003 with his debut show Holmes on Homes, he didn't do so alone but brought his family along. However, the family included three children without a mother in the picture, thus raising questions about Mike's marital status. Well, Mike had nothing to hide as the answers quickly came to light.
As a young boy, Mike fell in love with his childhood love, Alexandra Lorex. In 1982, at just 19 years old, Mike got married to Lorex. The marriage was blessed with three kids and went on blissfully until the 1990s when a terrible recession hit Canada.
As a result of the recession, Mike lost a lot of his businesses and properties and it wasn't long before the financial difficulty he faced began to put a strain on his marriage. During the same period, Mike lost his both parents in quick successions, thus compounding his problems. He and Alexandra would later divorce when Mke was in his thirties.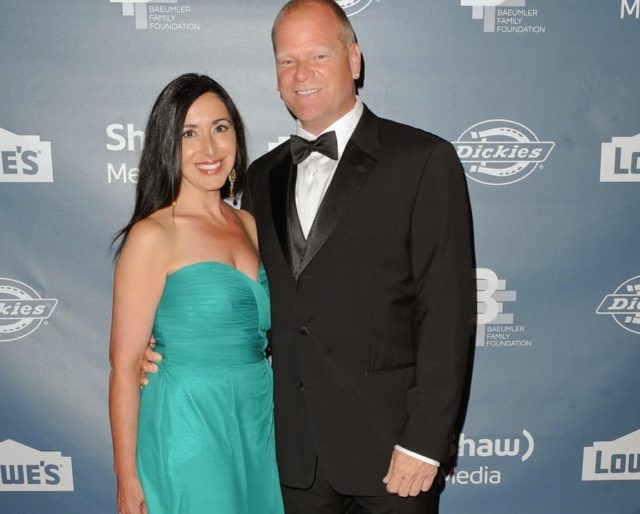 Since that divorce, Mike has never been married again. However, in 2000, he began dating a certain woman named Anna Zappia and they have been together ever since. Mike has attended many red carpet events with Anna by his side including the 2014 Baeumler Family Foundation. Not much is known about Anna but it is a known fact that she is also Canadian.
Though Mike and Anna haven't tied the knot, they have been living together for years now and Mike sometimes refers to her as his wife. They do not have any kids together, and it does not seem to be in their plan.
His Daughter and Family Life
As seen in his many home improvement shows, Mike Holmes is a man that takes family very seriously. From his first and only marriage, Mike had three children, all of whom were born before Mike turned 25 years old. His family includes son Mike Holmes Jr. and daughters – Sherry Holmes and Amanda Holmes.
Mike Holmes Jr. followed in his father's footsteps to become a builder. When he was 13 years old, he was already working with his father at his construction company. Mike Jr. was born on July 25, 1989. During his high school years, the hunk played in the varsity rugby team. In August 2017, he got married to his teenage love, Lisa Grant in a romantic outdoor wedding that was attended by about 120 guests.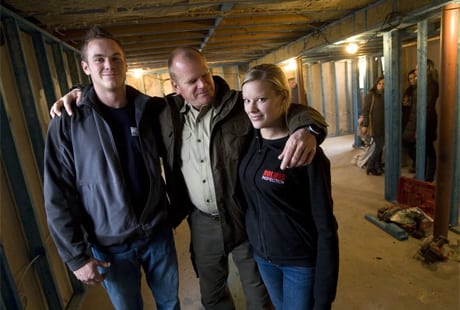 Read Also: Chip And Joanna Gaines Net Worth, Divorce, Kids, Scandal, House, Bio
Unlike her brother, Sherry wasn't originally a big fan of construction. She is more driven towards anything that involves travel and helping people. She initially declined her dad's request to join his construction TV show but changed her mind when it involved helping victims of Hurricane Katrina build back their homes.
Since then, Sherry has remained involved with construction helping low-income families build affordable houses among other selfless efforts. Sherry who was born on June 21, 1987, was in June 2017 engaged to Blake Steed. Mike's other daughter Amanda has an interest in fitness and is married with at least two kids.