It is not known for certain whether Mike Holmes is currently married. However, it is common knowledge that he is in a relationship with a woman named Anna Zappia. 
The astute TV host and renowned home builder/renovator, has had two major love affairs so far. His first was a marriage to Alexandra Lorex that produced three children, while his second (and present) has been with Anna, who helped him pick up his life and bounce back to his feet after his business collapsed.
Though Anna is often referred to as Mike Holmes' wife, it has not been ascertained that the duo is married. Here's more insight into their relationship and facts you should know about Mike's former wife and kids.
Mike Holmes' Current Partner is Anna Zappia
Mike Holmes came across Anna Zappia at a time when he was trying to rebuild his life and business. Anna proved herself to be a supportive partner as she stood by him all through the hard times and even joined hands with him in rejuvenating his construction empire from scratch. She also urged Mike to get into the television and media industry when the opportunity came up.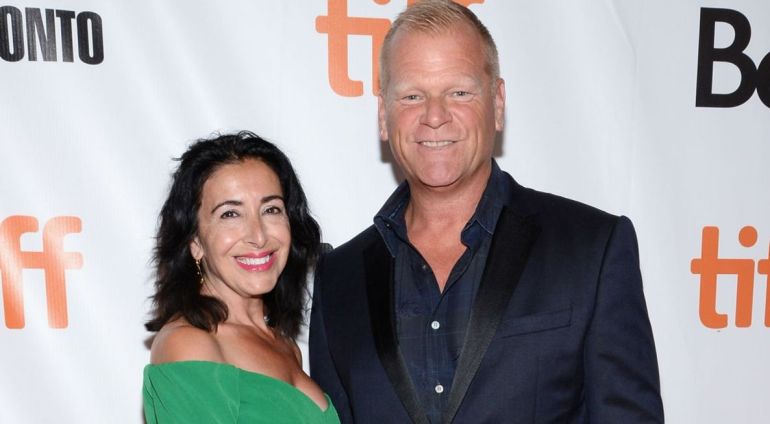 However, to a very large extent, Anna Zappia can be said to be public-shy and she has succeeded in keeping her personal and family information away from the public. There has not been any information about Zappia's birthdate, career, education, early life, parents and siblings, or evidence that establishes any legal marriage between her and Mike Holmes. Also, there has not been any trace of her verified account on any social media platform, be it Facebook, Instagram, Twitter, Tik Tok, and the rest.
The Duo Have Been Together For More Than 2 Decades
Though there was information that the two lovebirds met when Mike was battling through hardship, the actual time they met and the time span of their relationship is not known to the public. However, while some sources reported that they both have been together since 2000, some other media sources reported 2002 as the year Mike and Zappia came together.
Be that as it may, there has not been any proof to show that the two lovebirds, who have been together for a long while now, have exchanged their marriage vows or officially tied the knot. Though some media reports suggested that the duo have led themselves to the altar and tied the knot secretly, this has remained mere speculation and rumor. However, Mike's description of his partner as his wife and the perfect partner for him suggests that they might have added some legitimacy to their relationship. As a result, Anna Zappia is Mike Holmes' wife to many.
Holmes First Got Married At 19 Years To Alexandra Lorex
Mike Holmes got married to his childhood sweetheart, Alexandra Lorex, in 1982. He was just 19 years of age at the time. About two years after their marriage, they welcomed their first child, a daughter they named Amanda. With the birth of their first child, the family began to grow and they also enjoyed a blissful married life together. A few years later, they had their second child, another daughter they named Sherry Holmes. She was followed by their third child, this time a son named Mike Jr. Mike Holmes' early marriage had produced three kids as at the time he was 25 years of age.
However, the 1990s brought a new dimension into the life, marriage, and business of the home renovator in that the economic recession of that decade hit hard on the nation's economy such that many companies and small businesses began to fold up. This consequently impacted negatively on Mike's business, and almost wiped out his entire construction company. The effect was so severe on Mike that bankruptcy set in, and he had no option other than to let his employees go, as his business was sold off and had no financial muscle to keep them any longer.
In addition, this ugly financial situation that had incapacitated Mike was already telling on his family negatively, as his relationship with his wife had been suffering a setback, and their union was threatened due to this. It was not long when the marriage finally broke up, and their union of ten years dissolved as they filed for divorce and both went their separate ways. It was around this period that Mike also experienced personal losses, as he lost his parents.
Meet Mike Holmes' Three Children with Alexandra Lorex
Mike Holmes has maintained a cordial relationship with his three children despite being divorced from their mother. The three beautiful children love their father dearly and always help him in his work. They also regularly feature in their father's TV shows.
Amanda Holmes
Full Name: Amanda Holmes
Year of Birth: 1984
Age: 39 years old
Marital Status: Married twice
Spouse: Adam Belanger (divorced)
Children: Wyatt and Emily
Mike's first child Amanda was born in 1984. She has reportedly been married twice, first to Adam Belanger, her co-worker. At present, she is in another marriage, though nothing is known about her current man. She has a total of two children (Wyatt and Emily). Moreover, Amanda has also made a few appearances with her father on his reality show before launching into other endeavors, but she is still part of the family business and still works there.
Sherry Holmes
Full Name: Sherry Holmes Steed
Year of Birth: 1988
Age: 35 years old
Occupation: Construction Contractor and Part-time Home Designer
Marital Status: Married
Spouse: Blake Steed
Children: Cali Kay Holmes Steed
Mike's second daughter, Sherry, is happily married to Blake Steed. They got engaged in 2017 and are blessed with a daughter, Cali Kay Holmes Steed. Mike Jr. had once stated that Sherry did not have an interest in their father's work but just wanted to make enough money to travel. In 2008, Sherry joined in her family's alliance project with Brad Pitt's Make It Right Foundation, and ever since then, she has been developing her interest in the remarkable experience.
Mike Jr. Holmes
Full Name: Mike Junior Holmes
Date of Birth: July 25, 1989
Age: 33 years old
Occupations: Professional Contractor, Television Host, Public Speaker
Marital Status: Married
Spouse: Lisa Grant
Children: None
Mike Jr., the only son of Mike Holmes, has been following in his father's footsteps keenly. Even though he initially had no interest in construction, he became engrossed in it after taking a summer job with his father and is now deeply in love with the job. Aside from working with his father, Mike Jr. is also involved with Skills Canada, Holmes Foundation, and World Skill where he supports youths in skilled trades.
Mike Jr. tied the knot with his wife Lisa Grant in 2017. Mike has always portrayed his father as a perfectionist and a campaigner of that golden rule – treat others the way you want them to treat you.