How tall is Michelle Obama? Michelle Obama's height is 5 feet 11 inches (180.3 cm) or 1.8 meters in the metric system. She is in a tie for the tallest first lady in the US together with Elanor Roosevelt, and Melania Trump who are also 5 ft 11 inches. For a woman, Michelle Obama is very tall.
Michelle Obama is one of the most popular women in the world. The wife of the 44th President of the United States, Barack Obama, was First Lady from 2009 to 2017. Michelle was the very first African-American woman to occupy the position. During her time as First Lady, many women looked up to her as their role model. She was an advocate for several things, including healthy eating, poverty awareness, physical activity, nutrition, and education. She was also known for supporting designers in America as she was a fashion icon.
Aside from all these, Michelle Obama is an attorney and a published author. Her influence was very strong during her husband's presidency, and after leaving the White House, it has not gone down a bit. The fact that she has been number one in Gallup's poll of the most admired woman in America for three consecutive years up to 2020 proves this.
Given her status as the former First Lady of the world's most powerful country, virtually everything about her arouses interest; from her background to her education, family life, and other things of little importance like her dress size, shoe size, weight, and height. For the purpose of this write-up, we'll be focusing on one of these 'trivial' things – her height.
What Is Michelle Obama Height?
Michelle Obama is one of the tallest women to be the First Lady of the United States. She stands quite tall at 5 feet 11 inches and also adds a few more inches when she wears a heeled shoe. Apart from her on-flick choices in fashion, shiny dark skin, and heart-melting smile, her height is also one of the first things anyone notices about her.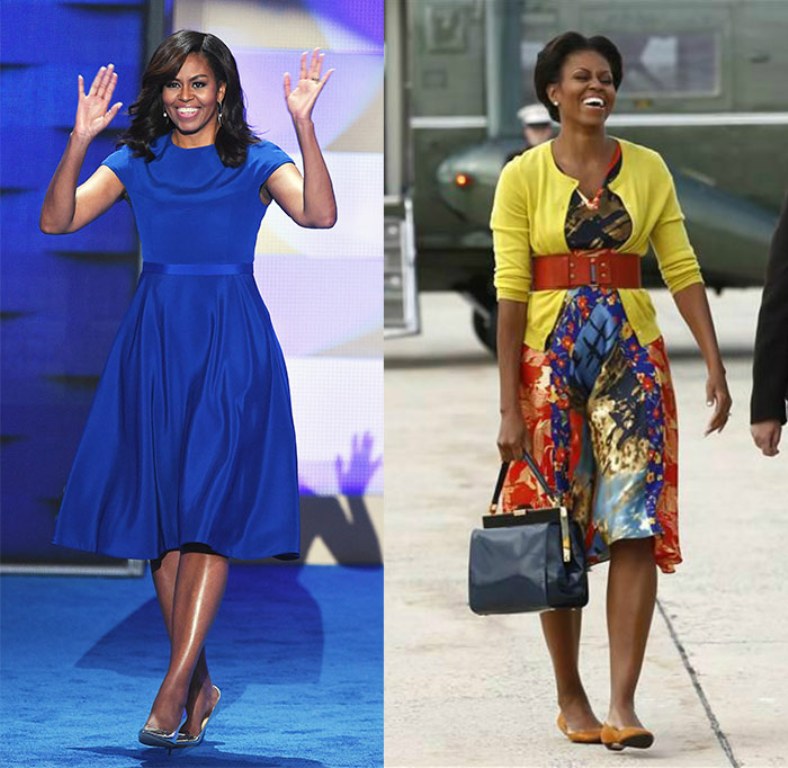 However, while every woman enjoys a healthy dose of attention, being taller than most women in addition to being the first lady brings too much of it. That was the case with Michelle who told Jimmy Kimmel that now and again she tries to sneak out just to have a "normal day" like every other person, but her height draws attention, then people become fully aware that she is Michelle Obama and her "normal day" gets ruined.
Meanwhile, Mrs. Obama's height is accentuated by her perfect bodyweight of 77 kilograms, which she maintains by eating healthy and exercising. However, in September 2016, RadarOnline decided to join The National Enquirer to drag her into the news for some wrong reasons related to her weight. The online media attracted the attention of a lot of people with a headline that claimed that Michelle had added so much weight.
It read, "95 LB Weight Gain! Michelle Obama eats binge about Wild Child Malia, sources claim." But on seeing the former first lady during the January 2017 presidential inauguration, it was obvious that the news was false as she still looked just as healthy and tight as she had always looked with the same body size, and of course, the same height.
Apart from the former FLOTUS, there are also a handful of celebrities who stand at 5 feet 11 inches. These include Gisele Bündchen, Nicole Kidman, James Franco, and Orlando Bloom.
How Tall is Michelle Compared With The Average American Woman?
There is no particular average measurement for the height of women across the globe as it varies from one country to another. However, research has revealed that the disparity between the tallest and the shortest women is about 8 inches (20 cm) on average. At a height below 4 feet 10 inches, women in Guatemala are the shortest while women in the Netherlands, Czech Republic, Estonia, and Latvia are the tallest with an average height of 5 feet 6.5 inches (169 cm). The variation in height also depends on the region. According to MedicineNet, women from Central Asia and Europe are the tallest while those from South Asia are among the shortest.
The Centers for Disease Control and Prevention revealed in a 2004 report that the average height of American citizens has increased since the 1960s, but to a very small degree. According to Medicinenet, there has not been any significant change in the average height for women in the nation for the past two decades, and even at that, it is different for American women of different ethnicities. White non-Hispanic women take the lead at 5 feet 4.3 inches with African American women following at 5 feet 4 inches, and then Hispanic American women at 5 feet 1.7 inches. Lastly placed are Asian American women at 5 feet 1.5 inches.
Generally, an average American woman stands at 5 feet 3 inches (160 cm). This simply means that Michelle Obama is 8 inches taller than most of the women in her country.
Is Michelle Obama Taller Than Barack Obama and Their Daughters?
The former first lady is not the only tall person in her family. Her husband is also tall, standing at 6 feet 1 inch, making him2 inches taller than Michelle. But while Michelle is considered to be quite tall for a woman, Barack is just tall for a man. This is because the average height for American men, according to the Centre for Disease Control and Prevention (CDC), is 5 feet 9 inches; this makes Barack four inches taller than the average man.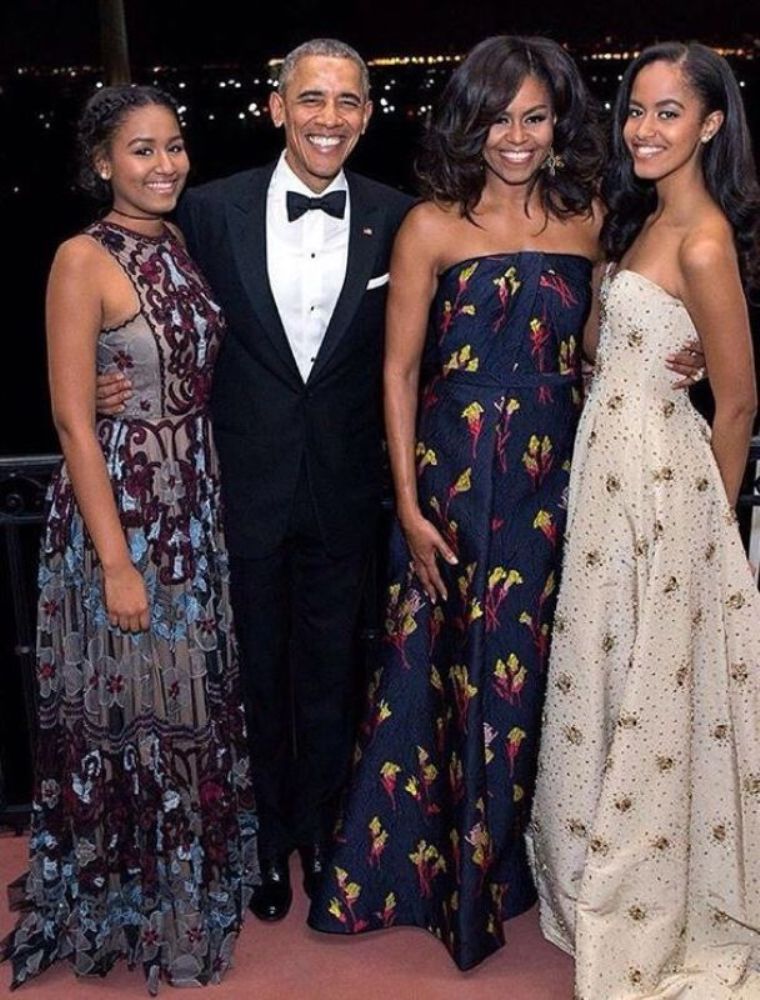 Being tall themselves, it is no surprise that Michelle and her husband gave birth to daughters who took after them in height. Their first daughter, Malia Ann Obama, is as tall as her father. As of 2011, when she was 13 years old, her father made a joke about her height while giving a speech. He said: "Even though she's five-nine, she's still my baby."
But being a growing child then, Malia has since grown by an additional 4 inches to be as tall as her. At 6 feet 1 inch, Malia is reportedly the tallest American president's daughter in recent times. She is taller than Chelsea Clinton, the only child of former U.S. President Bill Clinton​, who stands at 5 feet 9 inches, and both of George Bush's daughters, Jenna Bush Hager and Barbara Bush Jr., who measure 5 feet 8 inches and 5 feet 7 inches, respectively. Malia is also taller than President Donald Trump's daughters Ivanka and Tiffany who are 5 feet 11 inches and 5 feet 8 inches, respectively.
Michelle Obama's second daughter, Sasha (born Natasha), is the shortest member of the Obama clan. She is reportedly 5 feet 9 inches tall, just two inches shorter than her mother and four inches below her father and sister's height.
Is Michelle Obama The Tallest First Lady in America?
America has had a total of 46 presidents and 54 first ladies (43 official and 11 acting first ladies). This discrepancy exists because some presidents had more than one first lady. For instance, former president John Tyler's first wife, Letitia, died from a stroke while in the White House, and afterward, he got remarried to Julia, while still serving as president.
However, Michelle Obama is the 41st official first lady of the nation while Jill Biden is the 43rd official first lady. Among the former first ladies, only five of them are still living and they include Rosalynn Carter, Hillary Clinton, Laura Bush, Michelle Obama, and Melania Trump.
Of both the dead and those still alive, the highest measurement recorded for an American first lady is 5 feet 11 inches, the exact height of Michelle Obama, but that does not mean that she is the only one to be that tall. Before her, Anna Eleanor Roosevelt, wife of former president Franklin D. Roosevelt and the 34th first lady of America (overall), held the tallest first lady title. After her husband handed over power on April 12, 1945, no other first lady was as tall as, or even taller than her until Michelle Obama.
Thankfully, America did not have to wait for decades again to have a tall first lady as Michelle Obama was replaced by Melania Trump, who is also 5 feet 11 inches tall. Being a former model, Melania, a Slovenian-born beauty, usually steps out in very high-heeled shoes with makes her look some inches taller than her actual height. After 12 years of having first ladies who are taller than the average American woman, the nation welcomed Jill Biden, who is 5 feet 6 inches tall (5 inches shorter than the two first ladies before her).
Former U.S First Ladies That Weren't As Tall As Obama's Wife
As earlier stated, America has had 54 first ladies and out of this number, only two are as tall as Michelle Obama. They include Anna Eleanor Roosevelt and Melania Trump. This means that a whopping 50 (excluding the current first lady) former first ladies were (are) shorter than 5 feet 11′ inches.
See their names and height below:
Martha Dandridge Custis Washington— 5′ 0"
Abigail Smith Adams— 5′ 6"
Martha Wayles Skelton Jefferson— 5′ 0"
Dolley Payne Todd Madison— 5′ 7"
Elizabeth Kortright Monroe— 5′ 0"
Louisa Catherine Johnson Adams— 5′ 6"
Rachel Donelson Jackson— 5′ 0"
Hannah Hoes Van Buren—unknown
Anna Tuthill Symmes Harrison—unknown
Letitia Christian Tyler—unknown
Julia Gardiner Tyler— 5'3"
Sarah Childress Polk— 5′ 2"
Margaret Mackall Smith Taylor—unknown
Abigail Powers Fillmore— 5′ 6"
Jane Means Appleton Pierce— 5′ 5"
Harriet Lane— 5′ 7"
Mary Todd Lincoln— 5′ 2"
Eliza McCardle Johnson— 4'9"
Julia Dent Grant—unknown
Lucy Ware Webb Hayes— 5′ 4"
Lucretia Rudolph Garfield— 5′ 3"
Ellen Lewis Herndon Arthur—unknown
Frances Folsom Cleveland— 5′ 7"
Caroline Lavinia Scott Harrison— 5′ 1"
Frances Folsom Cleveland
Ida Saxton McKinley—unknown
Edith Kermit Carow Roosevelt— 5′ 7"
Helen Herron Taft— 5′ 4"
Ellen Axson Wilson— 5′ 3"
Edith Bolling Galt Wilson— 5′ 9"
Florence Kling Harding— 5′ 7"
Grace Anna Goodhue Coolidge— 5′ 4"
Lou Henry Hoover— 5′ 8"
Elizabeth Virginia Wallace Truman— 5'4"
Mamie Geneva Doud Eisenhower— 5′ 1"
Jacqueline Lee Bouvier Kennedy— 5′ 8"
Claudia Alta Taylor "Lady Bird" Johnson— 5'6"
Patricia Ryan Nixon— 5′ 5.5"
Elizabeth Anne Bloomer Ford— 5′ 3"
Rosalynn Smith Carter— 5′ 5"
Nancy Davis Reagan— 5′ 4"
Barbara Pierce Bush— 5'3"
Hillary Rodham Clinton— 5.6"
Laura Welch Bush— 5′ 6"
Who Is Taller Between Michelle Obama and Vice President Kamala Harris?
Only people who have totally shut themselves away from the happenings in the world political arena would claim ignorance of the fact that the United States of America elected Kamala Harris as its first-ever female vice president following the 2020 presidential election. Upon her inauguration on January 20, 2020, she set and shattered several records, including becoming the highest-ranking female elected official in the nation's history, the first African-American and first Asian-American to serve America in the office of the vice president, and the second non-white person to hold the office.
Overall, her emergence as the number two citizen of the world's most powerful nation is no mean feat, and among the people who helped her achieve it was Michelle Obama who was strongly behind her and Joe Biden all through the presidential race. However, if being as tall as the former Flotus were to be a criterion for being elected into this position, Harris would never have made it to the White House as she is just 5 feet 3.5 inches tall, 6.5 inches shorter than Michelle. She is also the shortest vice president America has ever had.
What Did Michelle Do For A Living Before Becoming America's First Lady?
Michelle LaVaughn Robinson Obama is an American attorney. Before she became the first lady of America, she was an associate attorney at a Chicago-based general practice law firm named Sidley & Austin, where she met her now-husband. Even though she still has her license as a legal practitioner, she decided to keep it on a voluntary inactive status since 1993.
In 1991, she served as an Assistant to the Mayor of Chicago city and also served in the position of Assistant Commissioner of Planning and Development in the city. Two years later, she took over the office of Executive Director for the Chicago office of Public Allies and remained there for almost four years, setting fund-raising records for the non-profit organization that remained unbeaten even 12 years after she had gone.
In 1996, Michelle Obama became the University of Chicago's Associate Dean of Student Services and during her time there, she developed the institution's Community Service Center. Seven years down the line, she started working as executive director for community affairs at the University of Chicago Hospitals, and in May 2005, she became the Hospitals' Vice President for Community and External Affairs. Michelle continued to hold the position full-time but eventually had to go part-time in 2008 to work for her husband's campaign and also have more time for her girls. She subsequently took a leave of absence when her husband became president.
The former first lady was also a board member of TreeHouse Foods, Inc. from the time Barack Obama was a Senator until a while after he announced that he would be running for the presidency. She was also one of the board of directors of the Chicago Council on Global Affairs.
What Does She Do Now?
Since her husband's presidency ended in 2017, Michelle has added many feathers to her cap. Her second book, a memoir titled Becoming was released on the 13th of November 2018 and by November of the following year, 11.5 million copies of it had been sold. On May 6th, 2020, Netflix released a documentary with the same title as the book, which details Michelle Obama's tour as she promoted the memoir. Two months later, she launched her very own podcast called The Michelle Obama Podcast on which she has featured some interesting guests, including her husband.
In February 2021, it was announced that Michelle, alongside her husband and four others, were executive producers of a children's cooking streaming TV series, Waffles + Mochi. In addition to being one of the show's producers, she is also the presenter. The show was produced by Barack and Michelle Obama's production company, Higher Ground Productions, which they founded after leaving the White House. Waffles + Mochi was released on March 16, 2021, on Netflix.
Speaking in an interview with People magazine in March 2021, the former Flotus revealed that she was moving towards retirement. She said she has been telling this to her daughters and can't wait for someone else to carry on from where she and her husband left so they can retire and be with each other.