Michelle Beisner-Buck is popular for what she does for a living as much as she is famous as Joe Buck's wife. Anyone who follows sports in the United States, especially games of the National Football League (NFL) and Major League Baseball (MLB) should know a thing or two about Joe Buck. The American sportscaster is the son of late Jack Buck, another prominent sportscaster known to the country. Joe's work with Fox Sports as lead play-by-play announcer for its NFL and MLB coverage has set him apart as one of the most popular and heavily criticized announcers in sports.
A three-time NSMA National Sportscaster of the Year, the attention that Joe gets from what he does has rubbed off on his personal life. It is no secret that the eight-time Sports Emmy Award winner has been married twice: first to Ann Archambault with whom he had two daughters and then to Michelle Beisner who is now known as Michelle Beisner-Buck. What the sportscaster had with Ann Archambault and why they parted ways after 18 years of marriage is a story for another day, let's tell the tale of his second wife: who she is, what she does for a living, how she met Joe Buck, the family they have built together, and what have you.
Profile Summary of Michelle Beisner-Buck
Birth Name: Michelle Mary Beisner
Date of Birth: October 15, 1976
Age: 46 Years Old
Occupation: Reporter, Actress, Producer, Former NFL Cheerleader, and Dancer
Husband: Joe Buck
Duration of Marriage: 2014 – Present
No. of Kids With Joe Buck: Two Sons (Wyatt Joseph Buck and Blake Andrew Buck)
Height: 5 Feet 8 Inches (1.73 m)
The 46 Years Old Is a Native of Denver, Colorado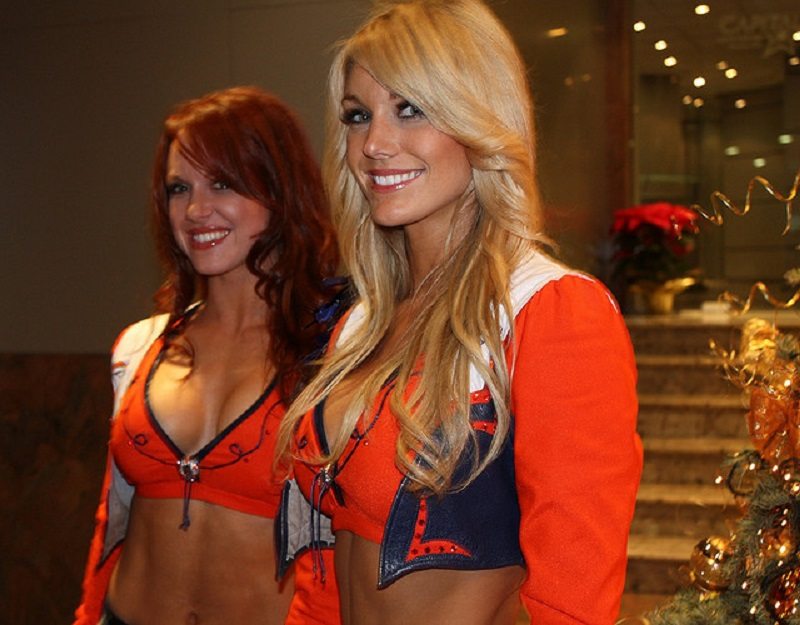 Michelle Beisner-Buck's marriage to Joe Buck isn't all she has going for her. As you would soon learn, she is an accomplished woman in her own right. Nonetheless, it is what has left her in the spotlight. Given that, details of her early life like the family she hails from and the kind of upbringing she had are hard to come by. But while information about who her parents and siblings are continues to elude the public, some reports have it that she was born in Denver, Colorado. So, she is an American born on the 15th of October 1976.
She was also raised in the state where she attended Green Mountain High School in Lakewood. When she graduated in 1995, she decided to further her education at Metropolitan State University, a public university in Saint Paul, Minnesota. There, she studied communications and learned the basics of what is required in journalism. Michelle has always been drawn to sports; that, combined with her good looks, earned her a place among the Denver Broncos Cheerleaders. This was from 1997 to 2003 and she served as their captain for four years.
She was also a dancer and for a while, she traveled around the world to countries like Canada, China, and Iraq where she performed and taught the art.
Michelle Beisner-Buck Is an Actress and Producer But Mostly Works As a Reporter for ESPN
As an actress and a producer, Joe Buck's wife has come a long way since she debuted as a Party Girl in the 1999 film, Any Given Sunday. Nothing was heard from her in years until 2005 when she portrayed Kelly and Rebecca respectively in Spotless and Throttle. Her next project was in the 2006 film, Alice in Wasteland. She played Jill Robbe in the movie written by Michele Pacitto and directed by Lasse Jarvi and Pete Schuermann. Michelle's latest work as an actress, to the best of our knowledge, is as Marena in the 2009 film written and directed by Roman Hardgrave, Standards of Ethical Conduct.
In 2011, the ESPN reporter executed the production of the 2011 film, The Casserole Club. The movie written by Frankie Kranz was directed by Steve Balderson stars Susan Traylor, Kevin Scott Richardson, and Daniela Sea. She has also been featured in several TV Shows like Dog Eat Dog, Champ Car Season Preview, Fair Game, Celebrity Watch Party, and Celebrity Family Feud. Before she joined ESPN as an NFL feature reporter in 2014, she worked as a studio host and field reporter for NFL Network. This saw her feature in various specials and programs like NFL Fantasy Live, Game Day Morning, and much more.
Michelle Beisner-Buck is now mostly committed to working for ESPN. When she joined the establishment, she first reported for Sunday NFL Countdown but her stories are now exclusively featured on Monday Night Countdown. She has been a guest host for NFL Live and some of her features have earned her coveted recognition, including The Huntington's Disease Society of America's Guthrie Award in 2018.
The ESPN Reporter Met Joe Buck Through a Colleague In 2012
Joe Buck's marriage with his first wife Ann Archambault came to an end in 2011 and the following year he met the woman who became his second and current wife. It is said that they met through Michelle's NFL Network colleague, Rich Eisen. As the story goes, when Eisen told Beisner that someone in the booth asked for her number, she said: "Please don't say it's Joe Buck". According to her, she thought of him as smug and arrogant but would soon learn that this opinion was based on the impression some critics of the sportscaster has expressed over time.
Michelle got talking with Joe and soon became fond of him. Yet they would wait until 2013 before they started dating. It happened that she had a boyfriend with whom she was living when Joe made his move on her. She parted ways with the said boyfriend in 2013 and it marked the beginning of her relationship with Joe Buck.
They Got Married In April 2014 and Are Now Parents To a Set of Twin Boys
Things happened quickly for Michelle and Joe as they were ready to take the relationship to the next phase after seven months of being lovers. They got engaged and wasted no time in getting married. They tied the knot on the 12th of April 2014. It was an intimate beachside wedding that was held in Cabo San Lucas. The ceremony was attended by popular figures like Paul Rudd, Tim McCarver, Jerry Jones, Tony Romo, and Troy Aikman.
Their union is now a few years shy of a decade and there has never been a report of the two having marital issues. From the pictures they share online and what they have said about each other, it is clear that the ESPN reporter is very much in love with Joe Buck as much as he adores her. She describes him as the man of her dream and they live in St. Louis, Missouri with their two kids.
It was on the 26th of April 2018 that they welcomed their twin sons named Wyatt Joseph Buck and Blake Andrew Buck. Michelle Beisner-Buck is also step-mon to Natalie Buck and Trudy Buck, her husband's daughters from his first marriage.