Michael Weatherly is an American director, producer and actor mostly known for his role as Anthony DiNozzo on NCIS for thirteen years. Besides being one of the main characters on NCIS, he was also the main character on Dark Angel and Bull where he played Logan Cale.
The show itself, which was created by James Cameron and aired on Fox network, is not only responsible for making Jessica Alba a star but it was also light years ahead of its time.
On Bull, he plays the titular character of Dr. Jason Bull, a 'trial science' expert and psychologist who uses his skills (as well as his team's) to chose the right jurors for his clients, their lawyers and their cases.
Michael Weatherly Bio, Age
Michael Manning Weatherly Jr. was born on the 8th of July in 1968 in New York City. He grew up in Fairfield, Connecticut where he lived with his parents Michael Manning Weatherly Sr. and Patricia O'Hara.
He attended Fairfield Country Day School –  a private, single-sex day school in Connecticut. He also attended Brooks School in Massachusetts. For his tertiary education, he attended Boston University, American University and Menlo College. After deciding school was not for him, he decided to pursue acting instead.
Besides acting, his entertainment capabilities are very diverse. He also plays multiple musical instruments including the guitar and piano.
Michael is of Irish descent and ethnicity.
Career
He began his career when he was cast in a small role on The Cosby Show as the roommate of one of the lead characters, Theo Huxtable. He also later appeared in Seinfeld, The City and Loving.
He eventually moved to Los Angeles to dive into acting full time. He soon landed a lead role on Significant Others opposite Jennifer Garner. The show unfortunately only lasted for six episodes before being cancelled. He then starred in the first season on the hit supernatural show Charmed as a conflicted warlock.
He also began appearing in movies around this time, landing roles in The Last Days Of Disco, Meet Wally Sparks, Gun Shy, Cabin By The Lake, The Mystery Of Natalie Wood and Trigger Happy.
While on Dark Angel, he was nominated for several awards including two Saturn Awards and a teen choice award and later appeared in two episodes of JAG as Senior NCIS Special Agent Anthony DiNozzo. He reprised the role as the main character in the JAG spin-off series NCIS and as a guest star in the subsequent NCIS spinoffs – NCIS: Los Angeles and NCIS: New Orleans. He is one of two actors who has appeared on all four shows, the other being Pauley Perrette, who plays Abby Sciuto on the show.
Michael later expressed a desire to direct and he made his directorial debut on an episode of NCIS during the eighth season. He has directed more episodes of the show since then.
In 2016, he announced that he was leaving NCIS after 13 seasons. Not long after, it was announced that he would be playing the titular character on the CBS show Bull which is loosely based on Dr Phil, the television personality, and his real-life consultancy business.
Michael Weatherly: Family, Wife & Children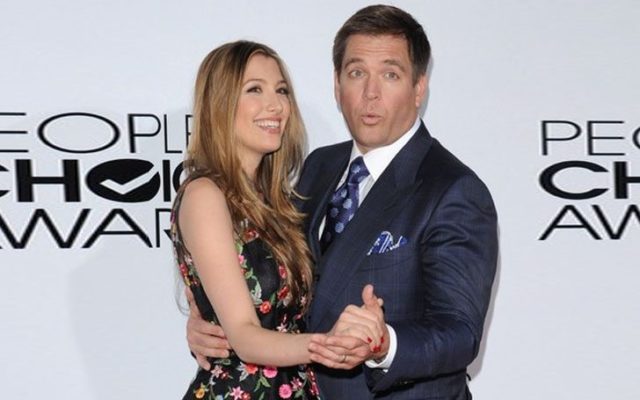 Michael Weatherly got married to Amelia Heinle in February 1995. The two appeared in The City and Loving together. Unfortunately, they got divorced in 1997.
While starring in Dark Angel, he began a relationship with Jessica Alba, his co-star, and by 2001, they were engaged. However, their relationship ended in 2003.
He later married Dr Bojana Jankovic, in September 2009. They currently live in Manhattan and have two children together – a son and a daughter.
Michael Weatherly is also the uncle of Alexandra Breckenridge, an American actress famous for her work on American Horror Story, Family Guy, The Walking Dead and This Is Us.
Height, Weight And Body Stats
Being in the industry for as long as he has, his height and weight are of constant speculation, especially with his recent weight loss. Michael is a tall man, 1.88m (6 Feet 2 Inches) to be exact and he presently weighs 86kg (189lbs). His other body measurements include – 44 Inches (chest), 34 Inches (waist) and 16 inches (Biceps).
Read Also: Bobby Cannavale Son, Wife, Net Worth, Height, Girlfriend, Biography
Net Worth & Salary
Michael Weatherly's salary on the CBS show Bull is currently fetching $175,000 per episode. This, and the fact that he was on a hit television show, NCIS, for over thirteen years as the main character ensures a rather impressive net worth. Currently, Micheal Weatherly has a net worth of $25 Million.