In the early days of Donald Trump's presidency and even before, there were a number of people that were loyal to him to a fault. One of such as Michael Cohen. He was the president's attorney who took care of everything for Trump; both on and off the books.
As a result of his loyalty to President Trump, Cohen who became known as the president's fixer was considered a very controversial fellow, even though dogged in defense of everything that concerns his boss. Unfortunately, the paths of the two men would not sustain for a long time before they would turn the sword against each other and Cohen would end up behind bars for fraud and perjury.
For more than 10 years, Michael Cohen was Donald Trump's personal attorney and image protector.
A Look At Michael Cohen's Career
After he earned a Law degree from the Thomas M. Cooley Law School in 1991, Michael Cohen kicked off his legal career in 1992 with Melvyn Estrin in Manhattan as a personal injury lawyer. Apart from his legal practice, Cohen equally ventured into managing taxis in New York.
Not the brightest kid when he was in school, Michael Cohen did not limit himself to his work as a legal practitioner; he also has business interests that include real estate and casino among other things. In 2003, he made an attempt at politics when he sought a seat at the New York City Council. The bid was, unfortunately, unsuccessful.
Still, in the legal line, Cohen worked briefly for Phillips Nizer LLP as a lawyer. It was after this that his path with the Trumps crossed and in 2006, he joined the Trump Organization. In no time, he would navigate his way through becoming one of the main people in the organization as the special counsel and Executive Vice President. He also got a seat on the board of the Eric Trump Foundation.
His ties to the Trump family was fully established by 2008 when Trump became the major shareholder of Martial Arts and Entertainment Company, Affliction Entertainment. After the deal, Cohen became the COO of the company and continued to be involved in other businesses of Donald Trump.
As soon as his boss made it clear he was giving a shot at the Presidency, Cohen wasted no time in establishing himself as a main part of the campaign. He appeared on talk shows and campaigned for Trump as much as possible, giving more insight into Trump's policy standpoints.
Cohen left his job at the Trump Organization as soon as Trump won the election, although he continued working as the personal counsel of the president. He also took a job with the Republican National Committee as Deputy National finance chair.
Michael Cohen's Controversies, Investigations, And Inquiries
In January 2016, Michael Cohen was linked for the first time to have reached out to the Russian government but it was in 2017 that his name would clearly be indicated in the Trump–Russia dossier, a document by a former British intelligence officer, Christopher Steele. According to the document, there was connivance by some members of the Trump team to interfere with elections. It reported that the then Trump personal counsel was in Prague to cover-up what happened in 2016.
While the investigation continued, Cohen found himself in more controversy in 2018 after a Wall Street Journal revealed that he made a payment of $130,000 to a pornstar, Stormy Daniels in 2016. The payment was said to be paid for her silence over an affair she had with Trump years before then.
Micheal Cohen did not deny the payment, he claimed the president did not know about it and it was all from his pocket. It was later discovered that he used the Trump Organization's email when negotiating payments with the pornstar.
The waters got murkier for him in April 2018 when the U.S. Attorney for the Southern District of New York initiated a Federal criminal investigation against Micheal Cohen. He was charged with violations of campaign finance law, bank, and wire fraud.
Cohen's office at the law firm as well as his home and his hotel room in the Loews Regency Hotel, New York City were all raided by the Federal Bureau of Investigation. The move which saw documents relating to the payment of Stormy Daniels, tax issues, and other things seized infuriated Trump who insisted it was a violation of attorney-client privilege.
This raid marked the beginning of the end of the relationship between Trump and Michael Cohen after the latter later surrendered to the FBI and pleaded guilty to crimes including tax evasion, making false statements to a financial institution, willfully causing an unlawful corporate contribution, as well as making an excessive campaign contribution at the bidding of Trump with the aim of influencing the outcome of the election.
By December 12, 2018, Cohen was handed a sentence of 3 years behind bars and a $50,000 fine. He was also ordered to pay restitution of $1.4 million. He also pleaded guilty to lying to the congress in 2017 while testifying before the Senate and House Intelligence Committees. For this crime, he was slapped with a sentence of 2 months.
Who Are The Members Of Michael Cohen's Family?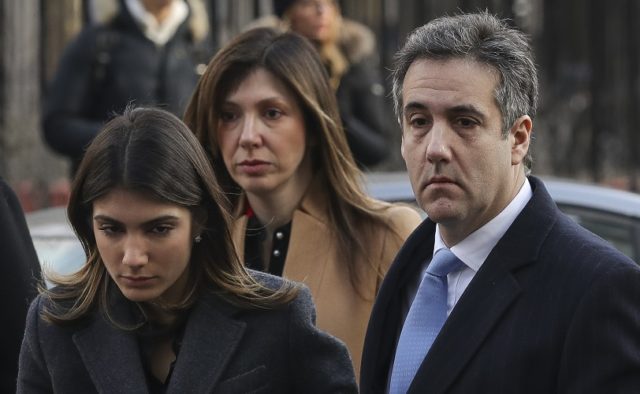 Michael Cohen was birthed on August 25, 1966, into the family of Maurice Cohen and Sondra Cohen. His father was a Holocaust survivor who made it to the United States from Poland. He worked as a doctor while his mother was a registered nurse.
Looking at his personal life, Cohen tied the knot in 1994 to Laura Shusterman. Mrs. Cohen was birthed to  Ania and Fima Shusterman in Ukraine before later moving to the United States.
The union between Cohen and his wife is blessed with two kids; Samantha who is a student of the University of Pennsylvania, and Jake, a student of the University of Miami.
Where is Michael Cohen Now and How Did His Family React to the Controversies?
Following this 3-year sentencing which will run concurrently with another sentencing of two-months, Michael Cohen is now spending time at the Otisville Federal Correctional Institution since May 2019. The former Trump fixer is expected to be there for the next 36 months, which means he will be there until May 2022. However, he could make it out as early as December 2021.
The correctional facility where he now lives is seen as one of the best places for convicts of white-collar crimes and it was considered among the most "cushiest prisons" by Forbes in 2009. The medium-security correctional institution has 840 inmates.
Although he was scared of prison it has been revealed that he has settled very well and is well accepted by other inmates who treat him nicely and often meet him for legal advice.
The family of Michael Cohen has come to be recognized for the support they have always given him throughout the trial. Inasmuch as they have rallied behind him through his ordeals, his family members have deliberately avoided speaking to the public.