Memeulous, whose real name is George Owen Andrew, is a British YouTuber who garnered fame through his parody videos, satiric reviews, and absurdist humor on his channel. His work on YouTube has helped him amass over 4.5 million subscribers, and his videos have witnessed over a billion views since the inception of his career in 2014.
However, his rise to the top still leaves many amazed especially because he has been ardent about his work not encroaching on his personal life. This has equally ensured that his fans know next to nothing about him. Here, we have assembled all the interesting fun facts fans are curious to know about the YouTuber.
Memeulous' Biography Summary 
Full name: 

George Owen Andrew

Nickname: 

Memeulous

Gender: Male
Date of birth:

July 10, 1998

Memeulous

' Age:

24 years old

Ethnicity: Caucasian
Nationality: British
Zodiac Sign: Cancer
Sexual Orientation: Straight
Religion: Christianity
Marital Status: Single

Memeulous

' Height in Inches: 5 Feet 9 Inches

Memeulous

' Height in Centimetres: 175

Memeulous

' Weight: 68kg

Memeulous

' Net worth: $3 million
Famous for: his YouTube channel

Memeulous

' Instagram: @memeulous
Twitter: @MemeuIous
Facebook: @OfficialMemeulous
His Real Name is George Owen Andrew
The YouTuber was named George Owen Andrew at birth on the 10th of July 1998 in London, England. His nationality is, therefore, British while his ethnicity is Caucasian. Before delving into his YouTube career, Memeulous agonized over what moniker to adopt since he wanted his real name to remain anonymous.
He initially came up with Memetastic (a combination of meme and fantastic) but someone else beat him to it. He eventually came up with Memeulous (a combination of meme and fabulous) and the rest, as they, is history.
Memeulous at a Glance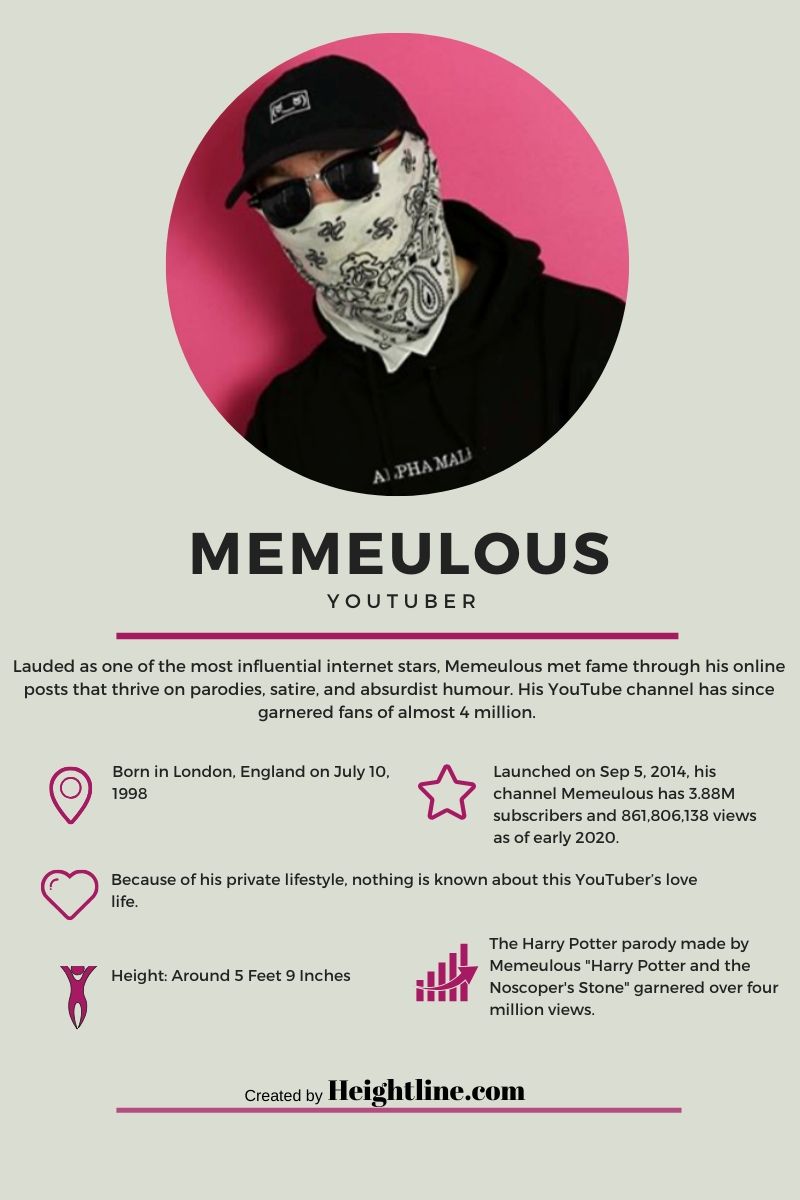 Memeulous Once Worked as a Dishwasher
On completing his secondary education, Memeulous initially found steady employment as a dishwasher. He created his YouTube channel on the side on the 5th of September 2014 and posted funny clips in his spare time. The London-born personality was eventually forced to make YouTube a full-time occupation after being fired by his insufferable boss.
He subsequently got his breakthrough thanks to his two parodies of the Harry Potter films, namely Harry Potter and the Noscopers Stone and Harry Potter and the Chamber of Memes. Both videos were a viral sensation, amassing hundreds of thousands of views. It also fetched him an equal amount of subscribers.
His YouTube channel has close to 4 million subscribers and nearly 1 billion views
Since getting his breakthrough via his Harry Potter parodies, Memeulous has sustained interest in his channel by diversifying to other categories of creative content. The Londoner indulges in gameplay such as Roblox and Club Penguin.
He has also launched two viral series on his channel. One features him dissecting all the hot topics that emerged from YouTube/the internet in the past month while the other series features him recruiting strangers to partake in his schemes.
The latter has generated lots of viral videos including I paid a stranger to make me the next big rapper (with 5.3 million views), I paid a stranger to make me this music video (with 4.3 million views), and I paid a stranger to be my girlfriend for a week (with 6.3 million views).
Memeulous Keeps his Identity Top Secret
The YouTuber takes great care to conceal his true identity. His video clips only feature background footage and rarely capture his face. Even on the rare occasion that his face is captured, he covers himself in his trademark disguise comprising of a cap, sunglasses, and bandana. The Londoner does all these to ensure that he won't be recognized in public. This gives him inhibited freedom to shoot the content that we all relish.
He Was Once Evicted from His Apartment
Memeulous previously shared a flat with fellow YouTube star, ImAgjllexx. The two internet personalities lived in a London apartment for quite some time before their neighbors complained about the noise emanating from their quarters.
The neighbors alleged that the duo and their pals made a lot of noise while playing games but the two flatmates did not address the situation. They, therefore, ended up getting evicted in February 2019.
Memeulous and his flatmate later discussed the issue on the Internet Sensation Podcast. They maintained that they had done nothing wrong and accused their neighbors of being immature.
His Height Remains an Undecipherable Puzzle
Memeulous not only conceals his identity but also his official height measurement. This has created room for all manner of speculation with entire Reddit threads dedicated to the topic. Some people have pegged his height to be between 5 feet 8 inches and 5 feet 9 inches. Some others have concluded that his height is closer to 5 feet 3 inches tall.
The YouTuber himself refuses to let the cat out of the bag. He, however, takes offense at any unwanted insinuations about his height. In January 2019, one Twitter user described him as tiny. He did not take kindly to this description and told the individual to "shut up".