Michael Weatherly's wife is Bojana Jankovic, a medical practitioner whom he has been married to since September 2009 and they have two children together named Olivia and Liam. The actor also has an older son named August with his ex-wife, Amelia Heinle. 
Michael Weatherly has attained more than average success in his show biz career. Best known for his roles on the small screen, he received much recognition for portraying Anthony DiNozzo in the action procedural series, NCIS. When his time on the series came to an end, he continued to entertain fans as Dr. Jason Bull in the courtroom drama, Bull which premiered in 2016.
In his personal/private life, Weatherly has also recorded some success. The third time seemed to have been the charm for the actor after a failed marriage and a failed engagement. Weatherly seems to have found a home for his heart in Bojana Jankovic. The couple now share two kids together, but Weatherly has three kids in total including his son from his previous marriage.
How Michael Weatherly Met His Wife Bojana Jankovic
It seemed like a scene from a romantic movie when Weatherly met Bojana Jankovic way back in 2007. According to his interview with People Magazine, the actor said that 2007 was a time when he was enjoying singlehood after having gone through a failed marriage and a failed engagement, however, he was out one night in Vancouver, with a friend when he spotted Jankovic.
His friend was teasing him about his single relationship status and feeling lonely to which he responded that he was just fine. However, at the bar, he'd notice Jankovic from a distance and was stealing glances to admire her.
In his words to People, Weatherly described Jankovic as a "ravishing beauty." Luckily for the then single actor, it appeared to be an attraction at first sight; immediately he locked eyes with Jankovic, they hit things off from then on.
The NCIS alum would later joke to another publication – Celebuzz that he'd met his wife at an auction and things were a kind of complicated, it was, however, nothing other than a joke. Fast forward to 2009, two years after they met, the couple was ready to seal things for life and walked the aisle as husband and wife on the 30th of September 2009.
The couple has since remained together and continued to wax stronger as parents to two kids, even the obvious 15-year age gap between them does not seem to hamper their love.
They've owned a number of properties together including a Los Angeles mansion which they parted in 2012 for $1.8 million, they later paid $3.5 million for a Hollywood Hills mansion that same year. The new purchase was in preparation to welcome their first child together – a daughter named Olivia.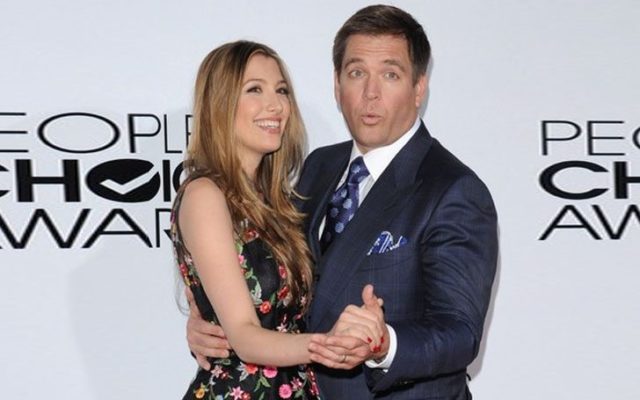 Who Is Michael Weatherly's Wife and What Does She Do For A Living?
Like her husband Michael Weatherly, Bojana Jankovic is equally very successful in her chosen professional field. She is a graduate of the University of British Columbia where she earned a B.S. in biophysics in 2003, she added a master's degree in Oncology two years later in 2005.
Four years later Jankovic graduated from med school and became an M.D. She is a is double board-certified in internal and integrative medicine. The internist worked at Cedars-Sinai Medical Center and West LA Veterans Administration from 2010 to 2013.
Jankovic also attended UCLA School of Public Health where she studied epidemiology. After her residency program, she did a fellowship in integrative medicine.
In addition to health and science, Jankovic is also passionate about children; she serves on the advisory board for Healthy Child Healthy World, the organization focuses on informing parents on how to create a better healthy living for their kids. Dr. Jankovic is highly rated in her profession. Patients rated her a 5-star doctor on HeathyGrades.com.
Though Jankovic's career is in the medical field, she has also functioned in some capacity in Hollywood as a writer and as an assistant director. Some of her projects include TVWWW and Don't Leave Me With Strangers.
She has appeared as herself on Extra with Billy Bush and Entertainment Tonight. Among the amazing things about Weatherly's wife is that she is bi-lingual, born in Serbia, she speaks Serbo-Croatian.
Meet Michael Weatherly's Daughter and Son: Olivia and Liam
Michael Weatherly's union with Bojana Jankovic has produced two children, a daughter, and a son. The couple welcomed their first child, a daughter named Olivia on April 10, 2012, she is 11 years old.
A little over a year later, the couple welcomed their second child, a son named Liam on October 29, 2013, Liam is 10 years old. Weatherly announced the birth of his son on Twitter, revealing that he weighed 10lb.
Weatherly told People that he is a big teddy bear with his kids, but said that he's trying hard to be an authority dad. He, however, explained his challenge with this being the fact that as a working and busy dad, that it is hard to be strict on them when he gets time to be with them as he is barely around, he also highlighted that it was not good to be too soft.
The actor revealed this after filming the last episode of NCIS, when he said he was glad because he would have more time to spend with his kids. Though the actor and his wife tend not to reveal too much about their kids, the actor, in that interview said that there were many extraordinary things going on in his children's life.
August Manning Weatherly is Michael Weatherly's Oldest Son From His Former Wife
Michael Weatherly's first marriage to Amelia Heinle with whom he appeared in The City and Loving lasted from 1995 to 1997 and produced one son named August who was born in 1996. Per, MyHeritage, his birthday is the 10th of January.
Unfortunately, their marriage began to experience cracks due to financial pressure after their show The City got canceled shortly after their marriage. According to People, Weatherly had to take odd jobs to pay the bills, however, with the responsibility of becoming a new husband and father getting harder, it took a toll on their marriage and the pair eventually divorced.
Like the actor's other two kids, not much is known publicly about his oldest son. It is yet unclear if he plans to follow in his father's footsteps to start a career in entertainment.
Both Weatherly and his ex-wife have since gone on with their lives and careers. Heinle in 2007 married her Young and the Restless co-star, Thad Luckinbill with whom she shares two kids. Michael Weatherly was also romantically involved with Jessica Alba his co-star on Dark Angel, they were engaged in 2001, but their relationship ended in 2003.
FAQs 
How Old is Roman Reigns?
Roman Reigns is 38 years old. He was born Leati Joseph Anoaʻi on the 25th of May 1985 in Pensacola, Florida, United States.
Is Michael Weatherly's Married?
Michael Weatherly is married to Bojana Jankovic, a medical practitioner. They met in 2007 and got married on the 30th of September 2009. Before then, he was married to his Loving/The City co-star Amelia Heinle from 1995–1997. He also dates actress Jessica Alba and even got engaged to her in 2001 but he relationship crashed in August 2003.
Who Is Michael Weatherly's Wife?
Michael Weatherly is married to a medical practitioner named Bojana Jankovic who he met in 2009.  Two years after they met, the couple was ready to seal things for life and walked the aisle as husband and wife on the 30th of September 2009.
Who is Michael Weatherly's Oldest Son?
Michael Weatherly's first marriage to Amelia Heinle produced one son named August who was born on the 10th of January 1996. Unfortunately, he leads a very private life and as a result, not much is known about him.
Who is Michael Weatherly's First Wife?
Before he got married to Bojana Jankovic, Michael Weatherly was married to actress Amelia Heinle with whom he co-starred in Loving/The City. They got married in February 1995 and divorced in 1997.
Profile Summary
First Name:
Michael
Last Name:
Weatherly
Also Known As:

Manning
Sex/Gender:

Male
Profession:

Actor, Producer, and Director
Famous For:
NCIS
Colleges/Universities Attended:

Boston University, Menlo College, American University
Educational Qualifications:

Dropped out
Religion:

Christianity
Birthday & Zodiac

Age/Date of Birth:

55 years old (8 July 1968)
Zodiac Sign:
Cancer
Birth Place:

New York, New York, United States
Nationality:
American
Ethnicity/Race:

Irish
Country of Residence:

United States of America (USA)
Physical Attributes

Height:

6 feet 1 (1.87 m)
Weight:

91kg (200-lb)
Eye Colour:

Blue
Hair Color:

Dark brown
Other Body Measurements:

N/A
Relationships

Marital Status:

Married
Spouse/Partner:

Bojana Jankovic (m. 2009), Amelia Heinle (m. 1995–1997)
Family and Relatives

Father:

Michael Manning Weatherly, Sr.
Mother:
Patricia O'Hara
Children:

August Manning Weatherly, Olivia Weatherly, Liam Weatherly
Siblings:
Will Weatherly - Brother
Other Relatives:

N/A
Net Worth
Estimated Net Worth:

$45 million
Salary:
N/A
Source of Wealth:

Various entertainment career