Marcus Freeman is married to his college sweetheart Joanna Freeman (née Herncane). Together, the couple, who have been married for more than ten years now, have six children namely; Vinny, Siena, Gino, Nico, Capri, and Rocco Freeman.
The family of eight is a close-knit one and coach Freeman and his wife appear to have found the perfect formula for keeping the peace in their home and raising six wonderful children. Read on to learn more about Marcus Freeman and his lovely family.
Marcus Freeman Met His Wife In College
Marcus Freeman met his wife Joanna Herncane when they were both students at Ohio State University. Born on January 10, 1986, at the Wright Patterson Air Force Base Medical Center, Fairborn, Ohio, Marcus spent the next few years growing up with his older brother, Michael Jr., in Ohio, getting a high school education from Wayne High School, Huber, Ohio.
His football pedigree was undoubted and he was promptly recruited by Ohio State University to play on the school's team as a linebacker. He was living the dream and soon became one of the top prospects who were tipped to sail into the NFL.
Fate seemed to have even better things in store for him because Ohio State University was where he met the woman who completely transformed his outlook on life. Marcus and his wife Joanna Herncane officially started dating in 2004.
As earlier stated, he was on the University's football team but not much is known about Joanna who was pursuing a journalism degree when they met.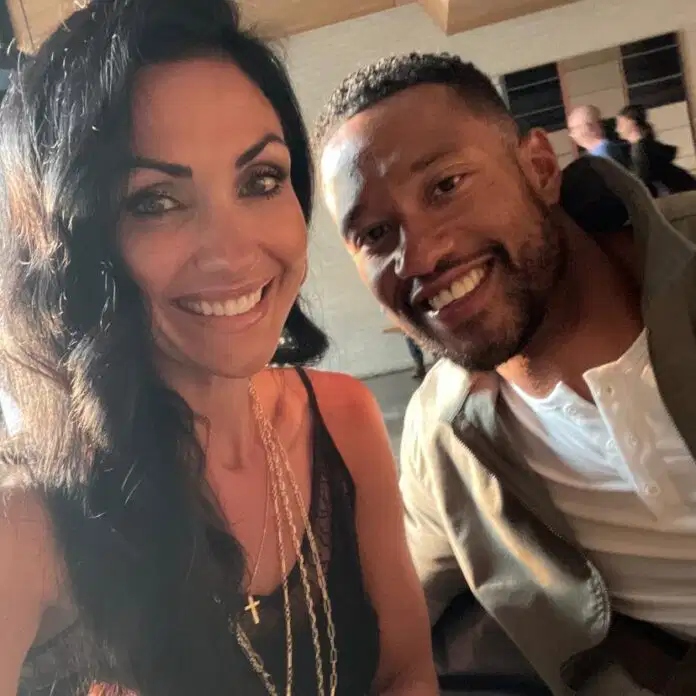 Joanna is almost two years older than her husband who is 37 years old. We can confirm through Marcus' Instagram page that Joanna celebrates her birthday on August 24th every year.
Marcus Freeman's wife was born to as-yet-unidentified parents on August 24, 1984. Her exact place of birth in the United States is unknown but she is an American citizen by birth. Her skin tone shows that her ethnic identity is a bit less straightforward even though we don't know her ethnic origins.
Joanna received her high school diploma from Massillon Washington High School and Otterbein before proceeding to Ohio State. After bagging her journalism degree, she went on to work with various media outlets including WBNS-Channel 10 in Columbus as a news reporter. She has since focused on being the homemaker which has in turn helped her husband to focus on his duties as a coach.
Marcus and his wife dated for six years before deciding to take the plunge and settle down as man and wife. During those six years, Marcus was working very hard to establish a career in the NFL but due to his heart condition, that dream was short-lived when he eventually got there.
The one constant in Marcus' life all through that period was his wife – then his girlfriend – and his memory remains fresh and attuned to the sacrifices she made to help him achieve that dream.
Marcus Freeman and Joanna Freeman Have Been Married For Over A Decade
After several years of being each other's backbone, Marcus and Joanna ended up getting married to each other, but the details of the wedding ceremony itself remain restricted to the fact that it took place on February 10, 2010. They have been married for over 10 years.
The couple's relationship has been characterized by the level of love, support, and devotion they show to each other and their children. Marcus is especially grateful for the sacrifices his wife has had to make through his career as a coach. She has displayed several incredible virtues that prompted him to refer to her as the glue that holds the entire family together.
Now the head coach of the University of Notre Dame football program, Marcus Freeman has had to juggle the responsibilities of being the top man in a football setup with the uncannily challenging responsibilities of being a father to not just one, two, or three children, but six children with his wife. Marcus acknowledges that juggling his career and family responsibilities would have been near impossible without the help and support of his wife, Joanna.
Being in the spotlight can be unsettling for some families similar to the Freemans in just sheer size and sometimes unwanted dirty linens are aired in public. However, Marcus and his wife have found a way to ensure that the public and the media only get to see the positive side of the family. This means that they have never recorded any controversy or scandal, and with how tight-knit they appear, one can expect that the serenity and togetherness they exude are characteristics the public and the media will continue to see.
Marcus And Joanna Have 6 Children Together
Coach Marcus Freeman's immediate family is a large one in every literal sense. The couple who celebrated their 12th anniversary on February 20, 2022, have managed to welcome six children in that time frame. The Freemans are parents to four healthy and handsome sons and two healthy and beautiful daughters.
In order of their birth, the names of the Freeman children are Vinny, Siena, Gino, Nico, Capri, and Rocco Freeman. Marcus has spoken of the fulfillment he gets from spending time with his children and that statement has invariably sparked a level of interest from the public to know more about the much-celebrated children. Meet Marcus Freeman's children with his long-time heartthrob, Joanna Freeman.
Vinny Freeman is Marcus Freeman's Son and First Child
Vinny Freeman is Marcus Freeman's eldest child. Vinny Freeman was born in 2007, three years before his parents tied the knot. He is currently 16 years old but despite the level of exposure the Freeman kids get in the spotlight, not much is known about Vinny's formal education background.
We know, though, that Vinny is also quite athletic but unlike his father, he appears to be channeling most of his athletic abilities towards wrestling and boxing. He does enjoy spending time with his family members and is already showing his leadership qualities by helping to marshal his younger siblings whenever the need arises.
Siena Freeman is Marcus Freeman's Daughter and Second Child
Marcus Freeman's second child and first daughter, Siena Freeman, looks more and more like her mother as the days go by. Like her older brother, Siena's life has been lived behind the substantial shadow that has been cast by their father's coaching career. This has also resulted in the fact that her exact date of birth is not known although as of 2022, she could be anywhere between 10 and 12 years old.
Understandably, Siena appears to be very close to her mother with whom she spends a lot of time. Details of her formal education remain one of the aspects of her life that the public is yet to find out about. She also appears to have chosen an athletic career path as her very diligent engagement in gymnastics activities would convey. Given her age though, only time will tell if she makes a career of it.
Meet Gino Freeman, Marcus Freeman's Second Son
Gino Freeman is Coach Marcus Freeman's second son, and third child overall, with his wife Joanna. Gino's birth particulars are yet to become public knowledge but his physical appearance leads one to speculate that he would be somewhere between the ages of 8 and 10 years in 2022.
Marcus has always basked in the glow of compliments that his son Gino gets any time he steps out in public, even though he (Marcus) is a little bit hurt that Gino's primary reason for visiting him at the athletic center is to curry autographs from the players his father coaches. Gino has also seen details of his life shielded from the public meaning that his schooling details have yet to be published to the public.
Nico Freeman is Marcus Freeman's Third Son
According to a birthday celebratory post made by Marcus on his Instagram page in honor of his fourth-born child, Nico Freeman was born on July 24, 2015. The post in question was made on July 24, 2019, and featured a picture of the entire family wishing Nico a happy 4th birthday. With that in mind, Marcus Freeman's 3rd son is 7 years old.
Like most of his siblings, Nico is also adored by his father's fans and colleagues, and he usually attends most of the team's games to cheer his father and the team on. As of 2022, Nico is still in elementary school but that's where the details end.
Who Is Capri Freeman, Marcus Freeman's Daughter?
Capri Freeman is the second youngest member of the Freeman household. A 2022 posts on her father's Instagram page suggest that she could be anywhere between 5 and 6 years.
After having two consecutive sons following the birth of her first daughter, Joanna's relief must have been palpable when she had another daughter to keep her and Siena company when the men in the family are out doing whatever it is that men do in their own time.
Capri enjoys spending time with her family members and like her older siblings, she is always present whenever the family poses for any of the myriad family photographs that are littered all over Marcus' Instagram page.
Although not much is known about her academics, one can only assume that Capri is also in elementary school. Her career path has not been quite clear but we cannot rule out the possibility that she might also choose the athletic path like her father and most of her siblings.
Meet Marcus Freeman's Last Born, Rocco Freeman
Rocco Freeman is Marcus Freeman's youngest child and fourth son with his wife, Joanna. The couple welcomed their last offspring in 2018.  We arrived at this conclusion based on the fact that he started appearing in the family pictures as an infant who appeared to be a few months old on his mother's arm right around the end of 2018.
Being the baby of the house, young Rocco enjoys all the privileges and attention that come with being the youngest member of a large family. The aforementioned Instagram post also paints a picture of someone very active and energetic.
Marcus Sees His Wife & Kids As Blessings
When he found out about his heart problem, Marcus Freeman did not panic. According to his wife Joanna, the news was broken to him 10 days to their wedding, and a less prepared man would have succumbed to the despair of it all; but to her surprise and that of several others, Marcus remained unruffled and instead trusted that, in his wife's words, God had an alternate route for his life.
However, Marcus appeared to have planned his life on the off chance that his dreams of playing in the NFL fell apart. His backup plan was to become a coach, and he quickly set off trying to make things happen in that direction. However, things were not as straightforward as he would have liked because some coaches told him it would be a terrible idea if he didn't absolutely love his job.
One of the men who tried to discourage Freeman's decision to become a coach was his Ohio State University position coach Luke Fickell when he called to inquire about the position of quality control assistant in 2010. Fickell enumerated how much of a challenge it would be for newlyweds and how often he'd be gone when the children started coming.
Fickell's words forced Freeman to think long and hard about his decision to become a coach before he eventually decided it was what he wanted to do for the foreseeable future. Fast forward over a decade later and it becomes even clearer why the Notre Dame head coach thinks so highly of his wife and her devotion to their family because, despite their six children, he has never been made to feel the pressure that came with being a father and a coach.
When Marcus Freeman talks about his wife and children, one gets a distinct impression that he does not think of them as burdens or challenges to his coaching career, but rather as valuable additions that have added plenty of color to his seemingly bleak life. We can only applaud the dedication and resilience he has shown in the face of these challenges and hope that this family of eight will continue to grow together and stronger as the years go by.