21 Savage was born to Heather Carmilla Joseph and Kevin Cornelius Emmons in Plaistow, London, England. However, the couple are now divorced. While 21 Savage's dad, Kevin Emmons, continued his career working for the Westminster City Council in London, his mother, Heather Carmilla Joseph, took up the responsibility of raising him.
The award-winning British-American rapper, singer, and songwriter based in Atlanta, Georgia, United States, moved to the United States with his mother when he was seven and would go on to become a famous rapper. His fame has ultimately brought his parents to the limelight, and now fans are interested in knowing who 21 Savage's mom and dad are.
Meet 21 Savage's Mother, Heather Carmilla Joseph
Heather Carmilla Joseph was born on the Caribbean island of the Dominican Republic. Although she hasn't shared her exact birth date, Heather usually celebrates her birthday on 2 July, and therefore, her zodiac sign is cancer. And she is estimated to be around fifty years old, which means she might have been born in the '70s.
Furthermore, Heather Joseph is British by nationality and is from the Caribbean ethnicity. Similarly, she believes in the Ifa traditional religion (a traditional West African religion) and was raised in the United Kingdom. However, she has not shared any information regarding her parents or siblings.
Meet 21 Savage's Father, Kevin Cornelius Emmons
21 Savage's father, Kevin Cornelius Emmons, is a British national of Caribbean origin. Per 21 Savage's birth certificate, Kevin was born in Lambeth to a Haitian father. However, his date of birth remains undisclosed; so does the name and identity of his parents.
Kevin is said to hail from Saint Vincent and the Grenadines. However, details about his early life and educational background remain a mystery as he hasn't discussed this. He lives a rather quiet life, out of the media spotlight; his son (21 Savage) is the only reason why he's in the limelight.
Kevin Emmons works for Westminster City Council in the United Kingdom. He previously worked as a "sales assistant," as listed on the document provided by his son. Aside from these, Kevin's career journey is unknown.
21 Savage's Mom and Dad Divorced When He Was 7
21 Savage's mom and dad, Kevin Cornelius Emmons and Heather Carmilla Joseph are divorced. The pair went their separate ways in London when 21 Savage was only seven years old, and they co-parented their children. And then, Heather Carmilla and a 12-year-old, 21 Savage, moved to Atlanta, Georgia, to start a new life.
Kevin and Heather got married sometime in the '80s after a brief relationship. They gave birth to their first child Shéyaa Bin Abraham-Joseph (21 Savage), on October 22, 1992. Then they had twin girls, Kyra and Jayda Davis, a few years later. The couple were married for over a decade but later started experiencing several complicated marriage issues.
Unfortunately, 21 Savage's mom and dad were unable to resolve their differences, and so they decided to part ways. Their divorce was finalized in 1999. Heather later met another man named Dr. Amsu Anpu, an endocrinologist and British expatriate. Heather and Dr. Amsu are currently in a relationship.
The Rapper Was Primarily Raised by his Mother
When Heather Carmillia divorced 21 Savage's dad, she spent some time living and working in the UK as a single mother. At the time of her divorce, 21 Savage was just seven years old, and five years later, she decided to relocate to the United States. They settled down in Atlanta, Georgia, where Heather had to raise her son alone.
Like most single mothers, Heather had to endure some torrid times raising her son, 21 Savage. They had to make do with poor meals, the inability to afford some basic needs, and the like. They also could not afford to live a decent life, and as a result – to make matters worse – 21 Savage took to living a "street life," despite his mom's best efforts to raise him decently.
His lifestyle led him to so much trouble on so many occasions, causing her a lot of grief. Notwithstanding, Heather was resolute in her efforts to raise a responsible son, and her determination would later pay off. 21 Savage was able to turn a new leaf thanks to his love for music. He ultimately became a popular rapper, releasing hits and winning so many accolades. And in turn, 21 Savage is now taking good care of his mother and living a relatively responsible life.
He and his Mother Remain Quite Close Till Date 
Heather Carmilla Joseph is currently living a luxurious life in the United States thanks to her son's enormous wealth. Though she's yet to remarry, 21 Savage's mom is in a relationship with Dr. Amsu Anpu. Her boyfriend is also British and is a graduate of endocrinology and metabolism from the University of London.
Dr. Amsu immigrated from the UK, establishing himself as a health expert of repute. He has published a best-selling book that teaches how to eliminate fibroids and female reproductive disorders naturally. Heather and Dr. Amsu are yet to discuss marriage plans but already have a child together.
Furthermore, Heather Carmilla still supports her son and his career. She always accompanies him to various award ceremonies, such as the 2017 BET Awards and the Grammy Awards.
On his part, 21 Savage continues to show love to his mother. In January 2020, he bought her a $150,000 diamond-encrusted wristwatch as a gift. He filmed the whole thing, and she was quite appreciative of his purchase and expressed her awe. The clip elicited so many positive comments on social media.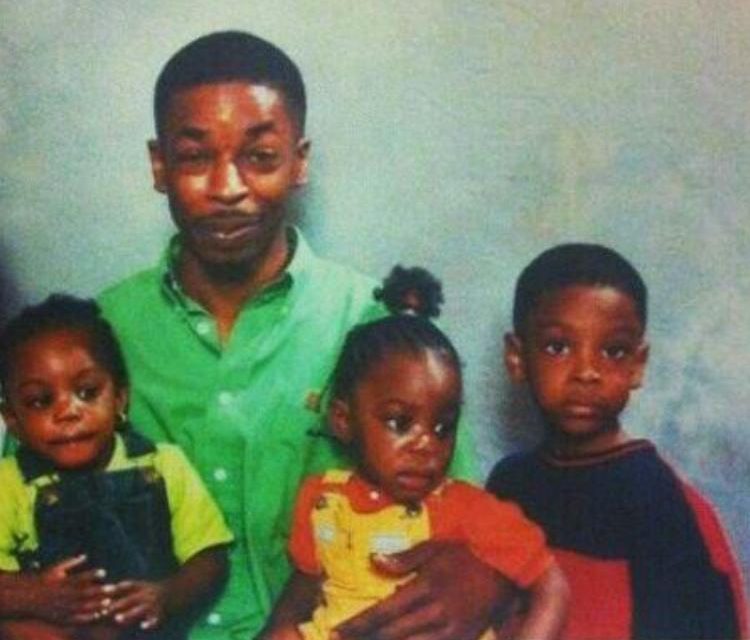 image source – 21 Savage (right) with his father Kevin and twin sisters
The Same Cannot Be Said For 21 Savage and his Dad
Kevin Cornelius Emmons is living a rather quiet life and is out of the media lens. It is not known if he later remarried or got into any relationship after divorcing 21 Savage's mother, Heather Carmilla. Similarly, he hasn't played any significant role in 21 Savage's life ever since he left them.
Kevin is currently working for Westminster City Council in the UK. He is also living in the UK and is yet to return to the US, where his son and ex-wife live. Kevin is reportedly not on good terms with his son, 21 Savage. 21 Savage revealed he stopped talking to his father in the sixth grade because he stopped paying for his cell phone.