Maya Rudolph is not only a Saturday Night Live legend, she is also beautiful, talented and hardworking. She is a comedian, voice artist, singer and actress. Even though she is known for her acting chops these days, her introduction to the limelight was as a singer for 'The Rentals', an alternative rock band. In the mid-1990s, she joined the improv troupe, The Groundlings, and was introduced to comedy. Shortly after, in 2000, she became a cast member on NBC's long-running show Saturday Night Live. During her time on SNL, she also appeared in supporting roles in A Prarie Home Companion, Idiocracy, Wake Up, Ron Burgundy: The Lost Movie and 50 First Dates.
After she left Saturday Night Live, she appeared in several movies including MacGruber, Grown Ups, Bridesmaids, Zookeeper, Friends With Kids, The Nut Job, Turbo, The Way, Way Back, Maggie's Plan, Sisters, A Vey Murray Christmas, CHiPS, The Emoji Movie, Life Of The Part and Big Hero 6.
Besides her numerous film appearances, she has also appeared in several television shows. She was a main character on the show Up All Night and she co-hosted Maya & Marty, however she appeared in guest roles in the following shows: City Of Angels, Kath & Kim, Chicago Hope, The Simpsons, Portlandia, The Awesomes, Family Guy, The Good Place, Big Mouth, Unbreakable Kimmy Schmidt, The Spoils Before Dying, Drunk History, The Grinder, Angie Tribeca, Mike Tyson Mysteries, Brooklyn Nine-Nine, Nobodies and Michael Bolton's Big, Sexy Valentine's Day Special.
Maya Rudolph – Bio, Age
Maya Khabira Rudolph was born on the 27th of July, 1972 in Gainesville, Florida. Maya's parents – Minnie and Richard – relocated to Los Angeles when Maya and Marc (her brother) were young and as such, they grew up in the Westwood neighbourhood of Los Angeles.
Maya attended the Santa Monica private prep school, Crossroads School, from which she graduated in 1990. While there, she became friends with Jack Black and Gwyneth Paltrow. Other notable alumni from the school include Alden Ehrenreich, Brody Jenner, Damon Wayans Jr., Emily Deschanel, Evan Spiegel, Jason Ritter, Jonah Hill, Kate Hudson, Liv Tyler, Michael Bay, Oliver Hudson, Roberto Orci, Sean Astin, Simon Helberg, Zooey Deschanel and Zosia Mamet.
After Crossroads, she went on to attend the University of California, Santa Cruz. With a Bachelor of Arts Degree, she graduated from the University in 1995.
Parents
Maya Rudolph was born to famed composer, songwriter, musician, producer, music publisher and producer – Richard Rudolph and Minnie Riperton, a singer and songwriter. Maya is of mixed descent with her father being an Ashkenazi Jew and her mother being of African-American heritage.
Her grandfather, Sidney Rudolph was a well-known philanthropist and businessman. He is known for many things but most popularly, he is known for once owning all the Rudy's and Wendy's restaurants in Miami-Dade County, Florida.
Her great-grandfather from her paternal lineage was born in Lithuania and changed his surname of "Rudashevsky" to "Rudolph" when he relocated to the United States. He was also one of the founding members of the conservative Jewish Synagogue – Congregation Beth Shalom, in Squirrel Hill, Pittsburgh, Pennsylvania.
In her mother's song, Lovin' You, Minnie Riperton can be heard repeating her daughter's name 'Maya', over and over again towards the end of the song. Unfortunately, in 1979, when Minnie was just 31, she passed away from breast cancer.
Maya's godmother is the late musician, Teena Marie.
Read Also: Amy Poehler Husband, Boyfriend, Kids, Net Worth, Age, Height
Family Life – Kids, Husband, Relationships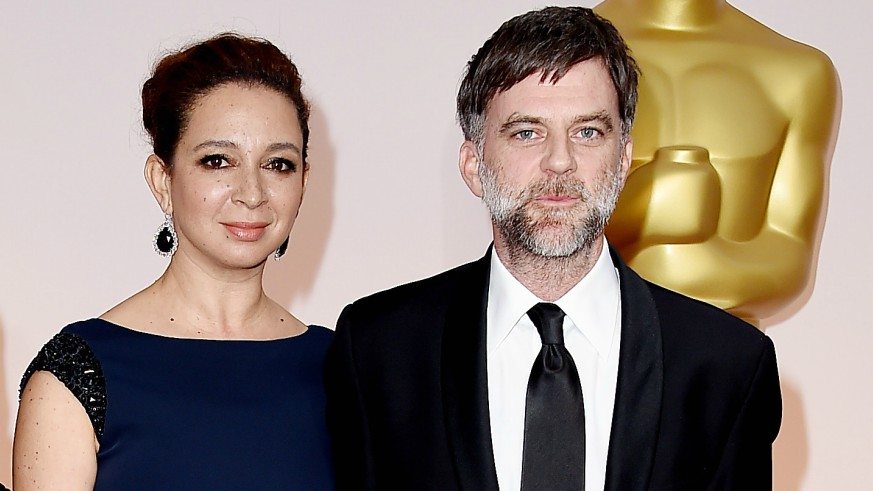 Maya Rudolph is currently married to acclaimed film director – Paul Thomas Anderson. The two have been married since 2001 and currently have four children together. Their first daughter, Pearl, was born in 2005; their second daughter, Lucille, was born in 2009; their son, Jack, was born in 2011 and their youngest, a girl – Minnie, was born in 2013.
Paul is a well-known director and a noted alumnus of the Sundance Institue. He is known for his movies Hard Eight, Boogie Nights, Magnolia, The Master (which starred Philip Seymour Hoffman, Joaquin Phoenix and Amy Adams) and Phantom Thread – which starred Daniel Day-Lewis in his final role before retirement.
In total, Maya's husband has been nominated for eight Academy Award over the course of his career. However, his movies have been nominated for twenty-five academy awards and have brought home three wins for the cast and crew members
Some of his movies have been considered as some of the greatest movies of this century, To say that Paul is respected in his career would be putting it mildly and together, thse two are raising a beautiful family.