Matthew Ansara was an was an actor known for the roles he played in To Protect and Serve (2001), Con Games (2001), and One World (1998) before he died on June 25, 2001. He was also the only child of Hollywood stars, Michael Ansara and Barbara Eden.
Although he is best remembered as the only child of two Hollywood stars, Matthew has more to his name than just having famous parents. Being an offspring of highly talented and successful actors, it came as no surprise that he inherited the artistic personality of his parents and also became an actor. He made his first Broadway appearance on The Mike Douglas Show when he was just nine months old.
In addition to being an actor, Matthew was also a budding bodybuilder, who would have reached the peak of success in the entertainment industry if he had lived long enough. Unfortunately, the story of the rising star came to an abrupt end, even before his career went off the ground. He died as a result of an accidental heroin overdose. Learn more about him below.
Matthew Ansara's Biography Summary
Full name: Matthew Ansara
Gender: Male
Date of birth: August 29, 1965
Died: June 25, 2001
Matthew Ansara's Age at Death: 35
Ethnicity: Caucasian
Nationality: American
Zodiac Sign: Virgo
Sexual Orientation: Straight
Matthew Ansara's Wife: Julie Ansara (m. 1993–1995)
Matthew Ansara's Parents: Barbara Eden and Michael Ansara
Famous for: being Barbara Eden's son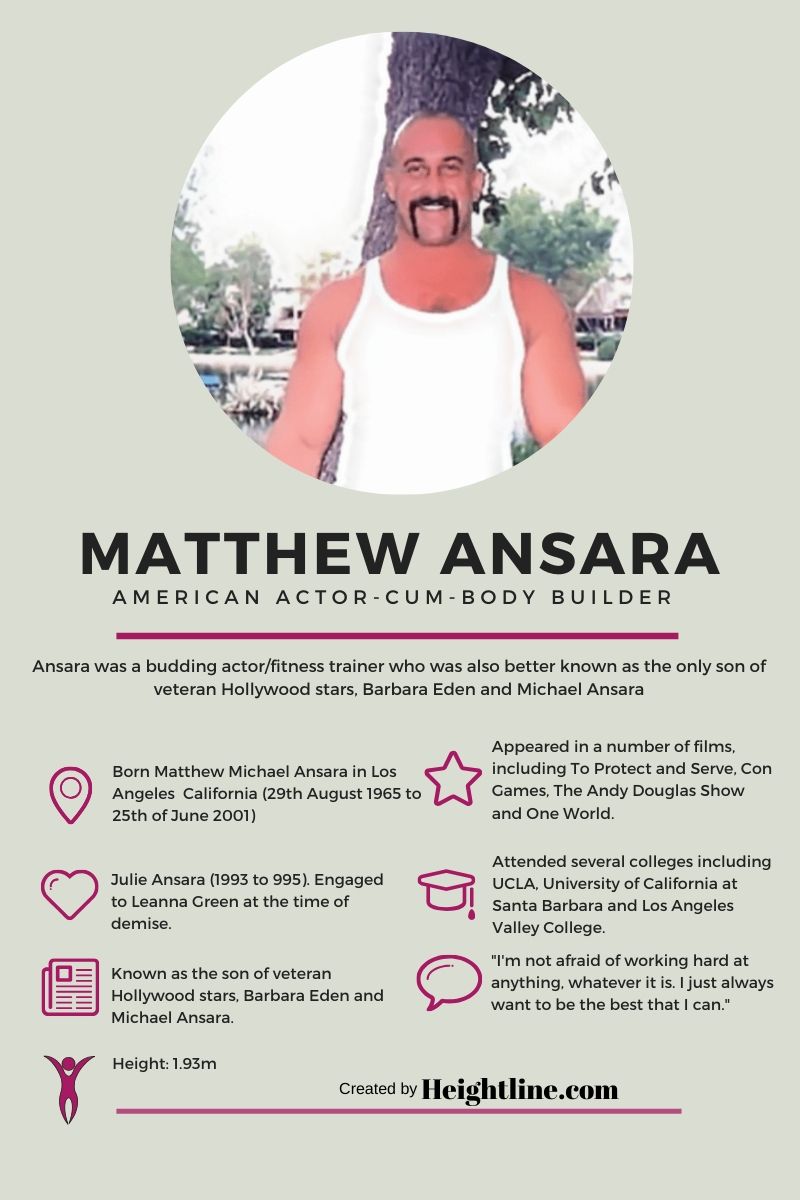 Who Was Matthew Ansara?
The actor cum bodybuilder first came into this world on August 29, 1965, and was named Matthew Michael Ansara at birth. He is an American by nationality and a native of Los Angeles, California. He made his stage debut when he was barely 2 years old, appearing with his mom on The Mike Douglas Show. However, he later kicked off his professional acting career at the age of 15, appearing in an episode of Harper Valley P.T.A. Thereafter, he featured on the TV film, Your Mother Wears Combat Boots, alongside his mom.
Matthew attended several schools, including the University of California, Los Angeles; the University of California, Santa Barbara; and Los Angeles Valley College. While he was changing schools, he also suffered drug addiction and as a result, he had to spend time in and out of rehab more than he spent in any of the schools. Moreover, he was diagnosed with clinical depression in 1994 and was placed on prescribed medication. After a long battle with addiction, he reportedly went sober in 2000. This was after he went public with his drug issue in October of the previous year.
Shortly after, Matthew Ansara developed a passion for bodybuilding and this paved way for him to land a role as an amateur bodybuilder in the 2001 comedy film, To Protect and Serve. Sadly, he began injecting steroids for his bodybuilding and its adverse effect affected his health. Matthew was last seen in Con Games (2001), which was released a few months after his death. He had also featured in the television series One World in 1998.
Details About His Parents and Family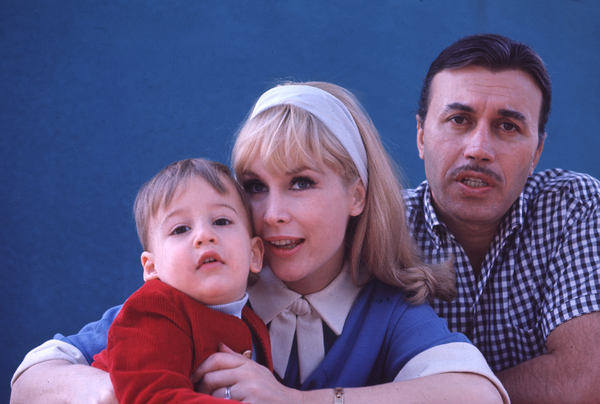 As earlier said, Matthew is the son of Michael Ansara and Barbara Eden. The couple married in 1958, three months after they met on a blind date in October 1957. However, their marriage hit the rocks in 1974, thus ending in divorce after 16 years of marriage. His father, Michael, was a renowned actor known for his works on stage, screen, and also as a voice actor.
Of Lebanese descent, he was born on the 15th of April 1922 in Syria but moved to the US with his parents at the age of 2. He lived for over nine decades before submitting to death on July 31, 2013, aged 91. Some of his notable roles include Cochise on the TV series Broken Arrow; the Klingon commander Kang on three of the Star Trek television series; the voice of Mr. Freeze in Batman: The Animated Series, and many others.
His mother, on the other hand, is also an actress and a singer, known for I Dream of Jeannie and Irwin Allen's Voyage to the Bottom of the Sea (1961), in which she starred alongside her husband.
At the age of 28, Matthew decided that it was time to get married so he tied the knot with  Julie Ansara in 1993. Unfortunately, their union only survived two years, ending in divorce in 1995. At the time of his death, he was engaged to his girlfriend, Leanna Green and they were set to tie the knot on September 1, 2001, before his untimely demise.
The Death of the American Actor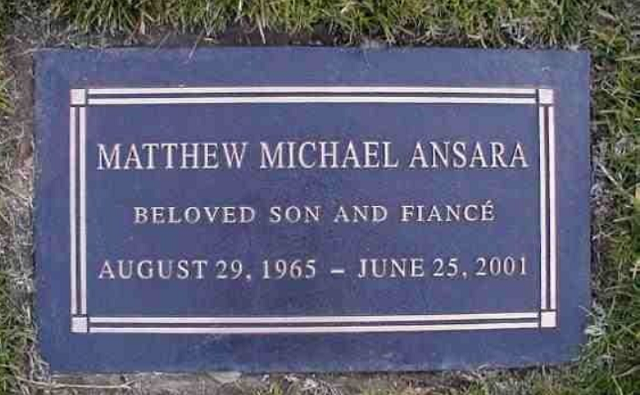 Matthew Ansara's death was a sad event and came as a big blow to his parents, fans, and the entertainment world. One year after it was reported that he had gone sober, he was found dead in his pickup truck at a gas station in Monrovia, California, on June 25, 2001. Vials of anabolic steroids were found in his truck by the police and subsequent toxicology tests revealed that he had a lethal level of heroin in his body. The cause of his death was given as an accidental heroin overdose as announced on August 13, 2001, by an LA County coroner's spokesperson, who said, "no foul play was suspected."
The actor was laid to rest in Forest Lawn, Hollywood Hills in Los Angeles, California, on 2nd July 2001, one week after his death. His tombstone bears the inscription, "Beloved Son and Fiance." He was aged 35 at the time of his death, just two months away from what would have been his 36th birthday and then his wedding, which was slated for September 1st.