Matteo Bocelli is a talented Italian singer and model famously known as the youngest son of the music legend Andrea Bocelli and Enrica Cenzatti, his first wife. He garnered huge fame after his collaboration with his father, Andrea, on his 2018 hit single 'Fall On Me' from his sixteenth studio album, Si.
In 2017, an unknown Matteo Bocelli was announced to be participating in a photoshoot for GUESS alongside Grammy Award-nominated musician and fashion icon Jennifer Lopez. Not much was known about who he was as many people thought he was just another aspiring Italian model who happened to share a last name with one of the greatest opera singers in the world.
To the surprise of many, however, it was later discovered that Matteo was indeed the son of legendary Italian opera singer Andrea Bocelli. It was later also revealed that the young boy was not just a model but a protege of his father. Since the 2018 collaboration, Matteo has garnered a slew of fans who seemingly can't get enough of him.
Summary of Matteo Bocelli's Biography
Full name: Matteo Bocelli
Nickname: Matt
Gender: Male
Date of birth: October 8, 1997
Matteo Bocelli's Age:

25 years old

Ethnicity: Caucasian
Nationality: Italian
Zodiac Sign: Libra
Sexual Orientation: Straight
Religion: Christianity
Marital Status: Single
Matteo Bocelli's Parents: Andrea Bocelli and Enrica Cenzatti
Siblings: Amos Bocelli, Virginia Bocelli (half-sibling)
Matteo Bocelli's Height in Inches: 6 feet
Matteo Bocelli's Height in Centimetres: 182 cm
Matteo Bocelli's Weight: 78kg
Matteo Bocelli's Net worth: $40 million (est.)
Famous for: being Andrea Bocelli's youngest son
Matteo Bocelli's Instagram: @matteobocelli
Twitter: @bocelli_matteo
Facebook: MatteoBocelliOfficial
His Early Life and Family Background
Matteo Bocelli is the youngest son of Andrea Bocelli and his first wife Enrica Cenzatti. He was born on the 8th of October 1997 in Forte Dei Marmi, Lucca, Tuscany. The young boy, who is a spitting image of his father, inherited more than physical appearance as he also got his old man's musical genes.
Matteo started piano lessons at the age of 6, but it was not until he turned 18 that he debuted as a tenor at the Teatro del Silenzio in Tuscany. He was later announced to the world in 2018 after he featured on his father's 2018 album Si. The single "Fall on Me" was Andrea's first duet with his son, who he never knew could sing until recently, circa 2016.
The young boy had in the past only played the piano and it was not until his mother suggested that Andrea listen to his son's voice that he was able to take notice of his talent. The father, son duo's uplifting ballad was featured in Disney's Nutcracker and the Four Realms (2018).
The pair has further performed on such shows as Dancing with the Stars, Strictly Come Dancing, and at the Royal Variety Performance in December 2018 for the Duke and Duchess of Sussex.
Matteo Bocelli is dedicatedly following in his father's footsteps to become a tenor and a musician and also aspires to achieve his level of success. According to reports, he is further honing his musical skills at the Conservatory of Lucca in Italy.
Matteo Bocelli's Fact Sheet
Interesting Details About His Father (Andrea Bocelli) and Other Family Members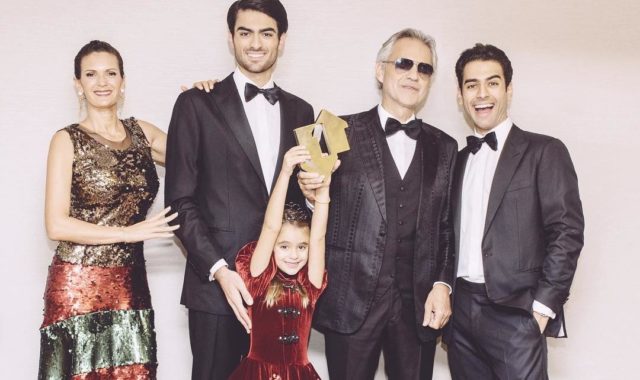 Matteo Bocelli's father was born in 1958 with congenital glaucoma which caused him to have poor vision. He eventually lost his ability to see at the age of 12 following a football accident. It was said that while growing up, Andrea loved music and so looked to it for solace after losing his sight, a move that proved to be the best decision he ever made.
Andrea spent time perfecting his piano skills as a teenager while doing other things that brought him joy, including riding stallions. He would later go on to study law after which he worked briefly as a lawyer before ultimately deciding to follow his musical ambition. He burst onto the scene in the 80s after he sent a demo tape to one of the greatest opera singers that ever lived, Luciano Pavarotti, who in turn brought him to the attention of music bosses.
Since then, Matteo Bocelli's father has put together 15 solo studio albums, three greatest hits albums, as well as nine complete operas, selling more than 90 million records worldwide. In addition, he is considered to be one of the greatest tenors ever and has also had success as a crossover performer, bringing classical music to the top of the international pop charts.
In 1992, Andrea married Enrica Cenzatti and the two went on to welcome two sons; Matteo and his older brother Amos who was born in 1995. Like him, Amos also has an affiliation with music. He plays the piano and has accompanied his father a number of times during his performances. He also appeared on the new album, Si which featured other artists like Dua Lipa and Ed Sheeran.
Matteo Bocelli's parents' marriage ended in 2002 and so his father moved on to marry Virginia Berti who also doubles as his manager. The pair wedded in 2014, two years after they welcomed a daughter, Virginia Bocelli, born on March 21, 2012.
Is Matteo Bocelli Married?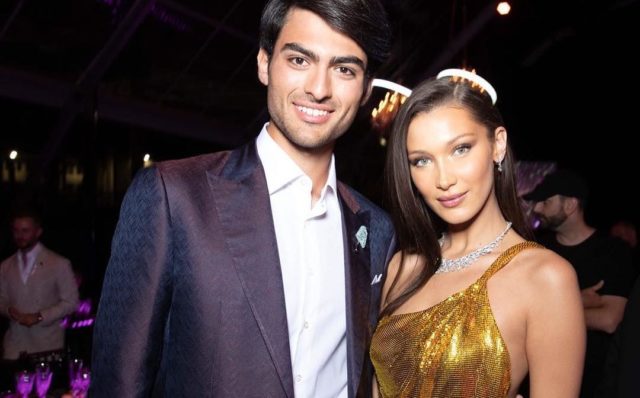 There is a dearth of information regarding Matteo Bocelli's love life. The rising opera music singer has shared very little in that area, thus, it is unknown if he is single or dating someone. In the past, he had been wrongly linked to his longtime friend, model Bella Hadid, who is as of 2019 reported to be in a relationship with Canadian singer The Weeknd.
For now, Matteo is known to enjoy his close-knit family and is particularly close to his little half-sister who always features on his Instagram handle.