Maria Bartiromo is an American author, columnist and journalist who has been with Fox Entertainment Group for many years now. Before joining Fox Business Network and Fox News in 2013, Bartiromo was with CNN News for five years as an editor and a producer.
She had also worked with CNBC television as a business reporter, who reports live from the New York Stock Exchange market and as a contributor and host of Market Watch and Squawk Box segments, The Business of Innovation, etc.
Maria is one of the pillars of the CNBS and has earned several awards like the Lincoln Statue Award, Emmy Award, for Outstanding Business and Economic Reporting, Gracie Award, for Outstanding Documentary and many more.
Here is a look at her bio, age, career, salary, net worth, husband and other necessary facts you should know.
Maria Bartiromo's Bio, Age
Although Maria has not provided much information about her background and personal life online, here is what we do know. She was born September 11th, 1967 to Vincent and Josephine Bartiromo (Italian-American parents).
She was raised in Brooklyn in New York City, attended Fontbonne Hall Academy in Bay Ridge, and bagged a B.A in journalism and economics from New York University.
Carrer
A little about her career has been mentioned above but here is a little more about how it all began. Maria Bartiromo began her career in 1988 as a producer/editor with CNN Business News. After five years with CNN Business News, she joined CNBC in 1993 as a reporter – reporting live from the floor of the New York Stock Exchange and then hosting and contributing to the Market Watch.
She also anchored and served as a managing editor of On the Money with Maria Bartiromo and hosted a variety of other shows which includes: Closing Bell, The Business of Innovation, Business Center, and appeared on TV shows like Real Time with Bill Maher, Late Night with Conan O'Brien, The Oprah Winfrey Show, and lots more.
Bartimoro left CNBC for Fox Business Network in 2013 after two decades with the network. She is currently a Global Markets editor at Fox Business Network as well as anchoring the Sunday Morning Futures with Maria Bartiromo on Fox News and also anchors Fox Business Global Power Players segments.
Since 2000, Bartiromo has covered the New York City's Columbus Day parade. She has also shown her acting skills in films and documentaries like Inside Job, The Taking of Pelham 123, Risk/Reward, Arbitrage and, Wall Street: Money Never Sleeps.
Maria has authored three books; The Weekend That Changed Wall Street; The 10 Laws of Enduring Success, and Use the News: How to Separate the Noise from the Investment Nuggets and Make Money in Any Economy. The later appeared in The Wall Street Journal, The New York Times, and USA Today bestseller lists. She also writes a Monthly column for USA Today.
Maria Bartimoro has earned the following awards for her outstanding performances
Lincoln Statue Award (2004)
Coalition of Italo-American Associations awards for  Excellence in Broadcast Journalism Award (2007)
Gracie Award, for Outstanding Documentary (2008)
Emmy Award, for Outstanding Coverage of A Breaking News Story (2008)
Emmy Award, for Outstanding Business and Economic Reporting (2009)
In 2009, she was named by Financial Times, among 50 People Who Shaped the Decade and in 2011, she was the first journalist to be inducted into the Cable Hall of Fame.
In 2017, she ranked 2nd in the list of 250 Most Influential Business Journalists, compiled by UK-based company Richtopia.
Also See: Hanne Kim Norgaard Biography, Husband, Divorce, Kids, Facts
Salary, Net Worth
Bartiromo's annual salary is put at $3 Million and an estimated net worth of $22 Million.
Is Maria Bartiromo Married? Husband
Maria is married to the chief executive officer of WisdomTree Investments, and son of financier Saul Steinberg, Jonathan Steinberg, The couple have been married since 1999 and don't have any child together.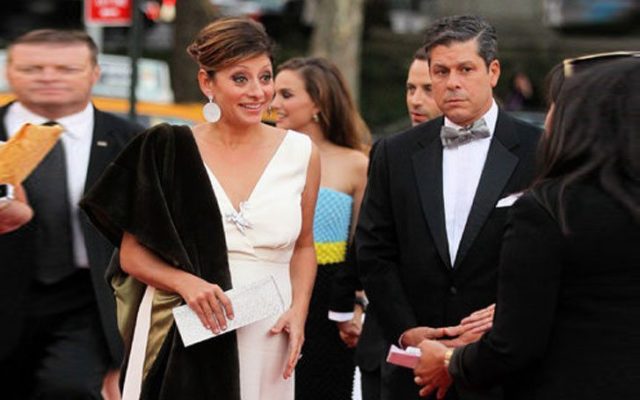 Height
Money Honey as she is popularly called stands at 5″4 inches and weighs 65kg. Her body measurements are 36-32-46.
Other Facts About Maria Bartiromo
For being the first woman to do a live report from the raucous floor of the New York Stock Exchange, Bartiromo was in the late 1990s nicknamed the "Money Honey". In 2007, she applied to use the name as a brand name for a line of children's products including toys, puzzles and colouring books to teach kids about money.
Joey Ramone, of The Ramones, had a crush on Bartiromo that he wrote a song titled "Maria Bartiromo", released in 2002 in his album Don't Worry About Me.