Malcolm Nance is an Arabic-speaking American US Navy veteran, former MSNBC counter-terrorism expert, author, and media expert. He is best known for a number of things, including his contributions and conversations about National security, Counterterrorism Intelligence, Islamic extremism, Survival, Evasion, Resistance, and Escape (SERE). 
Malcolm Nance has enjoyed huge success as an author and media commentator on issues centering around terrorism, insurgency, and intelligence thanks to the time he spent in the United States Navy.
The former US Naval senior chief petty officer specialized in Naval Cryptology and was thus involved in numerous counter-terrorism, intelligence, and combat operations during his two-decade-long service.
His role as a trainer of Navy and Marine Corps personnel on how to survive as a prisoner of war further informed his knowledge on torture which he has also extensively written about and discussed.
Malcolm Nance Early Life and Military Service
Malcolm Nance was born on the 20th of September 1961 in a Naval Hospital in South Philadelphia to a family that has a long list of members that have served or are currently serving in the United States Navy. From his great-great-grandfather who enlisted in an improvised black regiment of the Union Army to his father who was a master chief petty officer that fought in World War I and World War II, the Nance family are clearly no strangers to military service. All of Malcolm's five brothers also served in the Navy.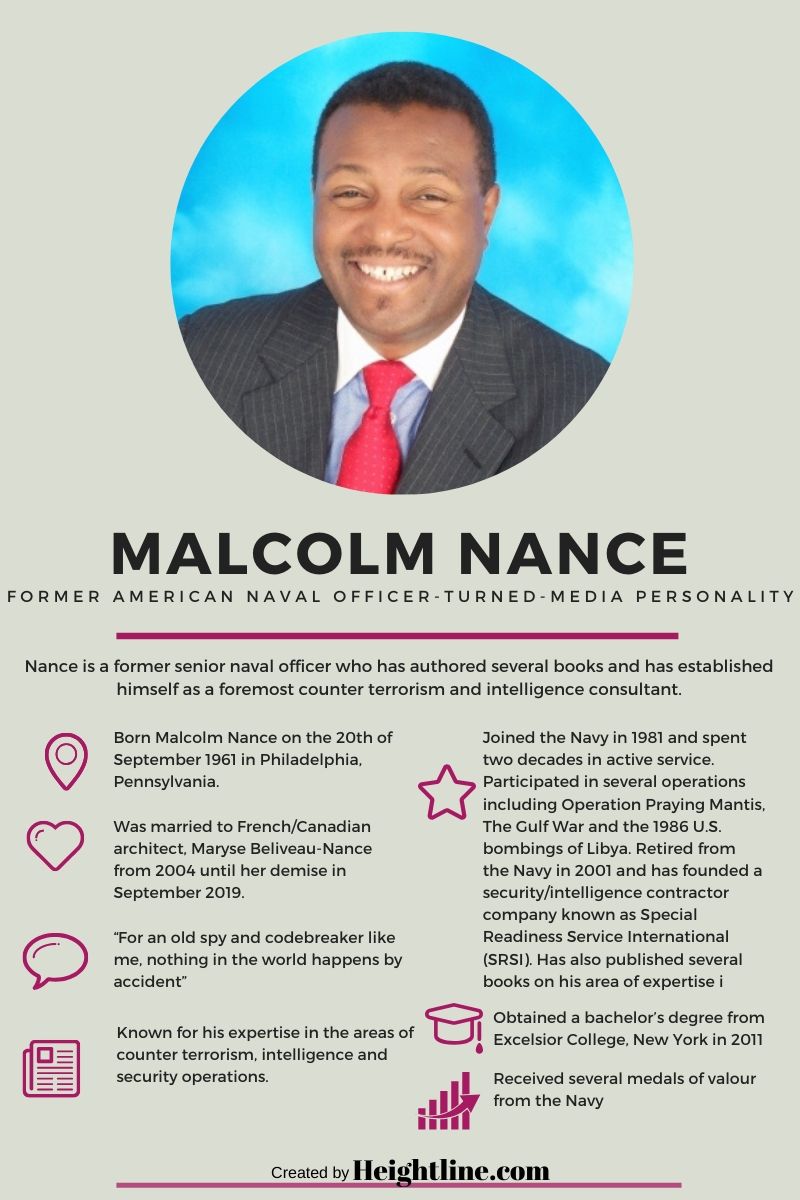 Nance received his early education at Philadelphia's West Catholic Boys High School where he took a special interest in Spanish, French and Latin languages. He further took extra free classes on the weekends to learn Russian and Chinese at South Philadelphia High school.
Malcolm Nance then moved to launch his career in the civilian intelligence arena by conducting research into the history of the Soviet Union and its security/spying agency, the KGB. He then joined the U.S. Navy where he served for twenty years and earned several military decorations.
As a specialist in Naval Cryptology, he was involved in numerous counter-terrorism, intelligence, and combat operations, including Operation El Dorado Canyon (the 1986 United States bombing of Libya) and Operation Deliberate Force (Banja Luka, Bosnia airstrike) to name a few.
The Naval officer was also an instructor in Survival, Evasion, Resistance, and Escape (SERE) either in wartime or peacetime missions. He further helped in initiating the Advanced Terrorism, Abduction and Hostage Survival course of instruction.
His Post Military Work
In 2001, Malcolm Nance retired from the Navy and founded an intelligence support company called the Special Readiness Service International (SRSI). He has worked as an intelligence and security contractor in North Africa, the UAE, Afghanistan, and Iraq.
From 2005-2007, Nance served as a visiting lecturer on counter-terrorism at Macquarie University in Sydney, Australia and at Victoria University of Wellington in Wellington, New Zealand. He has gone ahead to appear on different media outlets as a foreign policy and intelligence analyst where he discusses jihad radicalization and the history and ideologies behind terror groups like al-Qaeda and the Islamic State of Iraq and Levant (ISIL).
With a vast knowledge of intelligence, terrorism and other related subject matters, Malcolm Nance has published several books and articles. In 2007, his article titled "Waterboarding is Torture… period" – played a huge role in swaying the Pentagon against the use of waterboarding.
Other books he has published include An End to al-Qaeda; Terrorist Recognition Handbook: A Practitioner's Manual for Predicting and Identifying Terrorist Activity; The Plot to Hack America: How Putin's Cyberspies and WikiLeaks Tried to Steal the 2016 Election; and Defeating ISIS: Who They Are, How They Fight, What They Believe.
Malcolm Nance's most recent establishment is the New York-based Think Tank – Terror Asymmetrics Project on Strategy, Tactics and Radical Ideologies (TAPSTRI) which he serves as the executive director of. He is further a member of the advisory board of directors for the International Spy Museum in Washington, D.C.
What We Know About Malcolm Nance's Family and His Wife's Death
Malcolm Nance is a very private person who does not want information about his family out in the open. This is probably one of his ways of protecting them due to the kind of work he does. He once tweeted that his family members received more than 50 death threats in 24 hours possibly by those offended by his political views.
Nance clearly went through lengths to keep the identity of his family a secret, however, that has not stopped him from speaking about them in public. In different interviews, the former Naval officer has spoken about both his wife and kids and the makeup of his family. The identity of his wife remained unknown until he stated in an article published in Philadelphia in April 2018 that his wife, Maryse Beliveau-Nance, was battling with stage 4 cancer.
No one knew the type of cancer it was until Malcolm took to his Twitter handle to announce Maryse's demise on the 11th of September 2019. In the tweet, he wrote that his wife of fifteen years died from complications of ovarian cancer. Maryse was born in Indiana but raised in Montreal, Canada. She is of Canadian and French ancestry. Until her untimely demise, she was a Landscape Architect who has handled projects in different states and countries around the world.
In regards to his kids, Malcolm Nance revealed in another interview that he and his wife adopted three children from Moscow, Russia who were born in 1990, 1991 and 1993 respectively. He revealed that they raised them from their pre-teen years which he believes is a crucial part of a child's development.