Madison Keys was born to Rick Keys (Father) and Christine Keys (Mother). Her father is a former Division II All-American college basketball player for Augustana College while Madison's mother is a retired Attorney. Both parents are in the business of law.
Madison is known to be of mixed ethnicity because her father is African American, and her mother is white American, but she neither classifies herself as White or African American.
Behind Madison Keys and the many successes she has recorded in her tennis career are her parents – Rick and Christine Keys – who have always given her all the support she needed even before she went pro. Madison is today celebrated as one of the rising stars of American tennis who thus far, is making a good name for herself.
She has set herself apart, making the highest career ranking of No. 7 in 2016, while reaching the semi-finals of the Australian Open in 2015, and the finals of the US Open in 2017. She also made it to the final of the US Open and the quarter-final of the Australian Open in 2018. Thus far, she has won 3 WTA titles, 3 ITF singles titles, and 1 ITF doubles title. Here's the role her parents have played in all of these.
Madison Keys' Parents – Rick Keys and Christine Keys Both Studied Law
Rick Keys, Madison's father, and Christine Keys, her mother, are of African-American and White ethnicity, respectively. However, they are both of American nationality. There are no available details about their date of birth or where they were born. Although there is little information about their personal life and career in the media, the couple both studied law while in their respective colleges.
Rick attended Augustana College, where he played for a Division II All-American college basketball team in 1981. Upon graduating, he went on to attend John Marshall Law School Chicago. Christine, on the other hand, obtained a bachelor's degree from Marycrest University and went on to study law at De Paul University from which she graduated in 1991.
As a lawyer, Rick is focused on personal injury claims and criminal defense, including traffic cases, and has many years of experience as a legal practitioner. He started his career with Hartford Insurance Company, where he was a workers' compensation, property, and bodily injury insurance adjuster.
From there, he moved on to work with Rock Island County, Illinois as an assistant state's attorney for one year. He later went on to partner with Nelson, Keys, and Keys PC for nineteen years and ten months. He was also an attorney for the company during this period. His LinkedIn bio shows that he is currently working as a partner in Keys Law Office.
Law and parenting are not the only things he is good at. The father of the tennis star also has sound knowledge and experience of the business world. He worked as the Vice president of CREM Industries where he oversaw daily operations and introduced new ideas that took the company to a greater height. His passion for sports has also seen him as a sportscaster for high school football in Illinois and Iowa.
madison Keys' Parents Made Sacrifices So Their Daughter's Career Would Thrive
— Christine Keys (@ChristineKeys6) December 13, 2016
As already established, Madison Keys' parents both went on to practice law after they graduated from law school. However, they chose to prioritize being parents over anything else. As a result, they had to make demanding sacrifices to help their daughter Madison succeed in her career.
At some point in Madison's journey to becoming a renowned tennis player, her mother, Christine Keys, had to sacrifice her career for her daughter's. She forfeited her job as a lawyer and moved to Boca Raton with Madison. Then, the tennis player had received an opportunity to train at the Evert Academy.
Rick also made lots of sacrifices for his daughter, but not to sacrifice his job because someone has to pay the bills. Also, his childhood days with his single mother had taught him the importance of hard work. So, he had to stay back in Rock Island to continue running his business.
Nonetheless, he has not lagged behind in parenting. He is a believer in patience when it comes to raising kids, and he believes that being too hard on kids, especially when they are into sports, will make them feel bullied and not enjoy the long ride, thereby causing them to lose interest before they even start succeeding.
Madison Keys' Parents Have Three Other Girls Aside from Madison
Rick and Christine have been together for many years and counting, even though there are no details about how they met or when they got married. Their marriage has also been blessed with lovely kids. Aside from Madison, the happily married couple has three other daughters. One named Sydney is older than Madison. Montana and Hunter are Madison's younger sisters. Of all their four girls, only Madison plays tennis.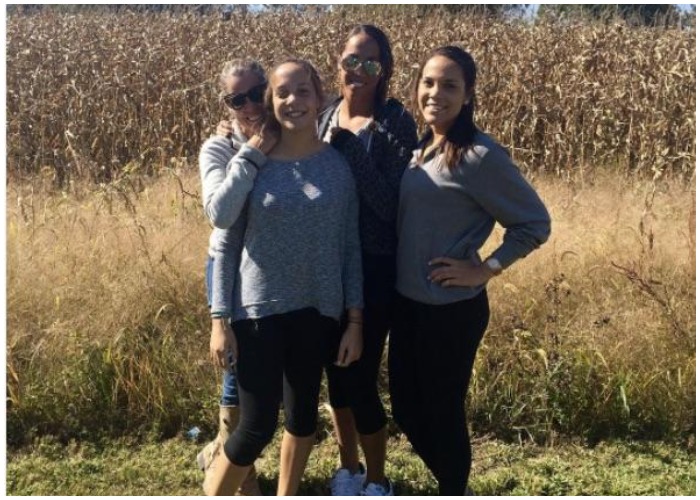 Aside from the incredible support that Rick and Christine give to their children, especially Madison when it comes to career, they have also done their best to instill good morals in them. According to Rick, he tries his best to instill in his children the discipline his mother instilled in him. Apparently, the children have been able to learn that there is dignity in hard work through their father.
Madison Keys Has No Racial Attachment Though She Was Born Biracial
Keys was born on the 7th of February, 1995, in Rock Island, Illinois. Although she is biracial, the player does not identify herself as either White or African-American. She believes in equality in all things, race inclusive. She feels she is somewhere in between and prefers to see herself as just Madison with no racial attachment.
Madison Has Faced Big Opponents In Her Career
Since the inception of her professional tennis career in 2009, Madison Keys has competed against the biggest names in the sport. Although it hasn't been all rosy for the young tennis star, she has been able to achieve a whole lot within a short time. She has played against the likes of Sloane Stevens, Venus Williams, Selena Williams, and Angelique Kerber.
Madison Keys Is In A Relationship with Bjorn Frantangelo
Keys is currently in a relationship with American tennis player Bjorn Fratangelo. The first time the two came out together was in 2017 after their relationship was made public via an Instagram post by Madison. Bjorn, who resides in Florida, is yet to reach the heights of his promising tennis career. His highest ranking so far has been at No 99. Although he is yet to win any major honors, the young American is slowly making his way up the ladder.