Madison Elle Beer, better known as just Madison Beer is one of the upcoming young music artists and actresses in America.
The young pop singer rose to fame after Canadian singer and songwriter Justin Drew Bieber posted a link to one of her music videos on his Twitter page. She is indeed a great singer with great vocals. Some of her tunes- Melodies, Unbreakable, and I Won't Let You Walk Away have made it to the top of most popular songs in the country.
Madison Beer – Biography
Madison was born on March 5, 1999, in Jericho, New York, United States. She was born to an interior designer mother Tracie Beer and a father, Robert Beer who is a luxury home builder. Her parents are Jewish descendants. Madison, alongside her younger brother Ryder began to face the rough side of life after their parents separated and their father re-married.
The young pop singer began singing at a very early age but started publicising her songs on YouTube at the age of 13 when she created her own YouTube channel. This was after she finished schooling at 'Jericho Middle School'. She is good with musical instruments like Piano, Drums, and guitar. In 2012, Madison published more of her music record on her YouTube page. Among the songs she published was her cover of Etta James' At Last which caught the attention of the Canadian pop star Justin Bieber who in return shared a link of her song on his twitter handle, declaring how amazing her vocals was.
See Also: Justin Bieber Age, Girlfriend, Dad And Mom
This single act by Bieber caused a major upshoot of Madison's popularity. She met with Bieber who helped sign a deal with a British-American label 'Island Records'. The pop singer also offered her his manager, Scooter Braun, who helped her work on her vocal and gain a widespread fanbase on the social media. In 2017, she released the hit song Dead and by the end of the year, she had over a million followers on the social media.
In addition to her increase in fanbase, Young singer Beer became exposed to more job opportunities- she provided vocals for the theme song of We Are Monster High and Cody Simpson's Valentine which was aired on Radio Disney on February 2013. By September 2013, Beer released her own single and music video Melodies on which Justin himself did a guest appearance. She also released her second single Unbreakable and a song I Won't Let You Walk Away where she featured DJ Mako's song. She is currently working on her debut album which according to her, is an R&B pop vibe.
Net Worth
Looking at her storyline, there's no doubt that Beer is gradually making her way to the top. Her name is among the young famous pop singers of her time with her net worth tilting towards $2 million. Most of her earnings are coming from her numerous endorsements, posting sponsored contents on Instagram and her two singles. The song I Won't Let You Walk Away which she featured on alongside with DJ Mako was rated 43 on the US Billboard Hot Dance/ Electric Songs. The song moved to the number 33 spot but was later rated 19 on the 'Dance/Mix Show Airplay charts of United States. The song is still rated her biggest hit song until now. Madison lives with her family in Los Angeles. She is yet to drive a car of her own.
Is Madison Beer Dead or Alive?
Madison's latest hit song dead released in 2017 became more controversial as it spreads to all social media platforms and reaching across her 2 million fans. The lyrics of the song signified hurtful feelings experienced in a relationship. Statements like "You say you can't live without me, so why aren't you dead yet?" found in a few lines of the song presents a picture of someone in love but who's been abandoned by her beloved.
Madison, while explaining her choice of words, said that the moody breakup single dead is about feeling 'ignored' and unloved in a relationship, and after everything that's been going down with her and Jack, it's clear that he at least partly inspired it. The song does not, in any way portray her being dead or wanting to be dead. Madison is therefore not dead, she is alive and doing well with her music career.
Madison's Boyfriend
The YouTube star Madison has always been outspoken about her personal life, particularly her relationship with the young American Viner Jack Jack Gilinsky.
Madison met Jack Gilinsky at a party in 2015 through a Vine star Nash Grier. They dated for about two years until in 2017 when Madison called off their relationship after a recording emerged of Jack verbally abusing her. In the audio clip which has long been deleted, Jack who is a member of the duo Jack & Jack, repeatedly called Madison "a f–king slut" after she cracked a joke about his music being "sh-tty". The spat between the young couple became controversial as Madison's fans slammed her for keeping quiet about her abusive relationship.
Madison Beer in a reply to her fans explained that she chose to remain with Jack because she thought she could change his abusive character. However, the YouTube star confessed that she later settled for a break up after she realised that she could not change Jack. Her relationship story with Jack became more controversial when she returned to say that she and Jack are still together. She also claimed that the news about their break up was cooked up and spread by haters.
See Also: Selena Gomez Hair, Body, Outfits, House
Plastic Surgery
Among other rumours and controversies involving the young singer is the issue of her body and facial beauty being fake. When Madison Beer first became famous, she was very young but as she continues to rise, gaining more fans to her side, haters also increase with some of them accusing her of being fake. She has, however, denied using Photoshop and undergoing plastic surgery. She maintained that she has neither done a thing to her face nor any other part of her body. Its just puberty at work, she said.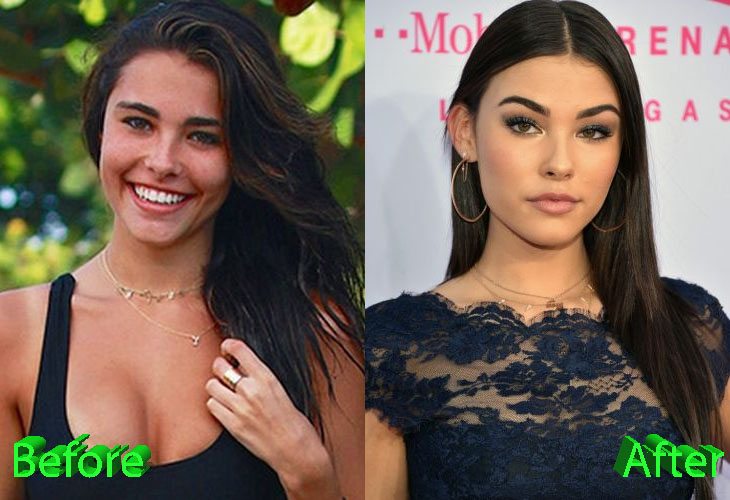 Well, come to think of it, plastic surgeries don't just happen, it takes time before the person who has gone under the knife to recover and for the new look to take place. Looking at Madison's face, it really doesn't look much different from when she was younger. Perhaps it could be Puberty at work as she said or that she just does her makeup differently. Whichever way, the truth remains that Madison has always been a beauty to behold. Take a closer look at the young singer and you might just solve the puzzle yourself.
 Quick Facts About Madison Beer
| | |
| --- | --- |
| Full Name | Madison Elle Beer |
| Birth Date: | March 05, 1999 |
| Horoscope: | Pisces |
| Birth Place: | Jericho, Town of Oyster Bay, New York, USA |
| Height: | 5 feet 5 inches (1.65m) |
| Salary: | N/A |
| Net Worth: | $ 2 million |
| Ethnicity: | Ashkenazi Jewish |
| Nationality: | American |
| Sibling: | Ryder  (Brother) |
| Weight: | 53 Kg |
| Hair Color: | Dark brown |
| Eye Color: | Hazel |
| Waist Size: | 25 inch |
| Bra Size: | 34 inch |
| Hip Size: | 33 inch |