Mackenzie Davis is a Canadian actress, producer, and model who is known for several of her movies, including The F Word (2013), Breathe In (2013), and Happiest Season (2020) among others. She is believed to be in a relationship with model Gus Thompson but neither of them has confirmed it.
Mackenzie Davis stepped onto the world stage when she got cast in the soft reboot movie Terminator: Dark Fate (2019). However, Davis has enjoyed a colourful acting career since she debuted in 2011. Born in Vancouver, British Columbia, she finished her high school education at Collingwood School before enrolling at McGill University in Montreal. Before she went down the path of acting, she tried her hands a bit at modelling. The demands of the job turned out enormous for her and so she went to the Neighborhood Playhouse in New York City to study acting instead.
Mackenzie Davis at a Glance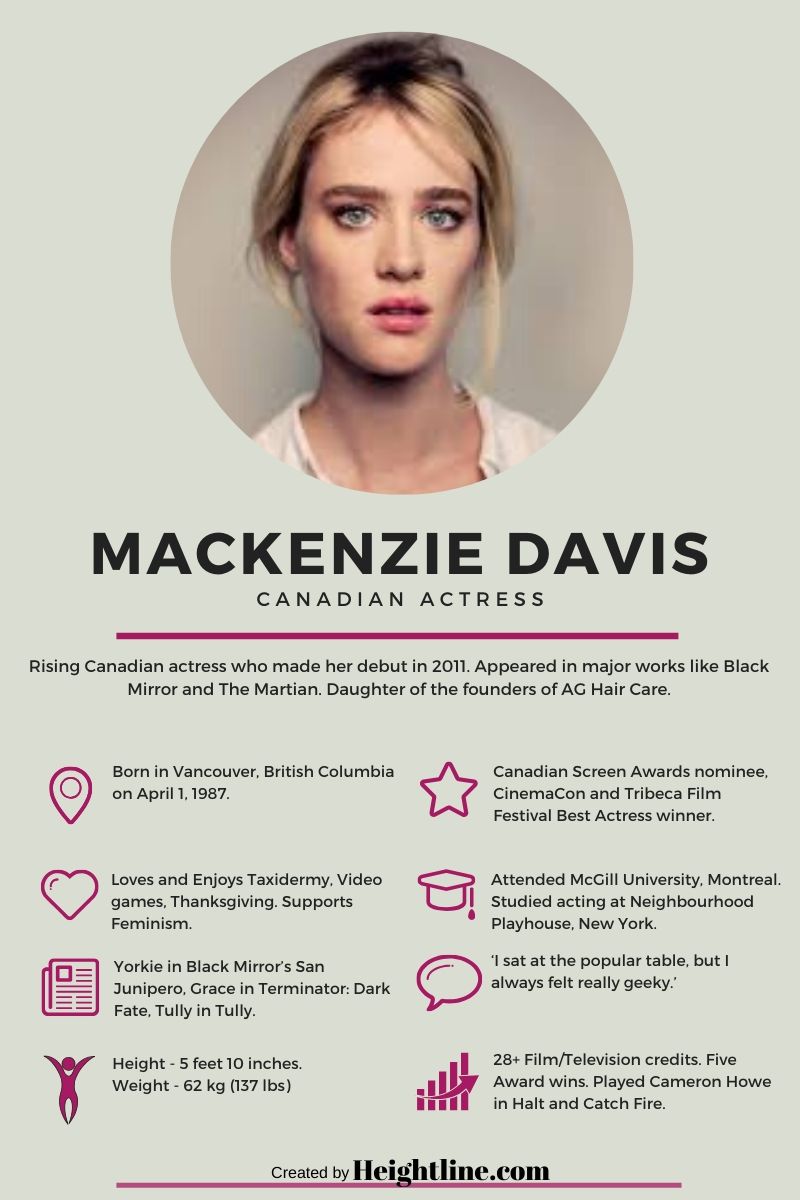 A Highlight of Mackenzie Davis' Movies and TV Shows
Mackenzie Davis began her acting career in 2011 when she was cast in the short film Alex. She received a minor role as the character Millie in the 2012 drama movie Smashed. Davis' co-stars were Mary Elizabeth Winstead and Aaron Paul. Her first major role came when American screenwriter, producer, and director Drake Doremus cast her in his 2013 romantic drama Breathe In. Also starring Felicity Jones, Amy Ryan, and Guy Pearce, the movie follows the story of a high school teacher who had an affair with a student the same age as his daughter. In the same year, she appeared in The F Word, Bad Turn Worse, Plato's Reality Machine, and Moontown.
Starting in 2014, Mackenzie Davis was cast in the main role of Cameron Howe, a computer whiz in the AMC period drama series Halt and Catch Fire. Running from June 1, 2014, to October 14, 2017, the series ran for four seasons with a total of 40 episodes. Davis appeared in all 40 of them. She also appeared in 2014's That Awkward Moment alongside Jessica Lucas, Imogen Poots, Zac Efron, Miles Teller, and Michael B. Jordan.
Davis' next major movie appearance was as NASA's Mission Control satellite planner Mindy Park in the 2015 sci-fi film The Martian. Famous stars Kristen Wiig, Matt Damon, Sebastian Stan, Sean Bean, and Chiwetel Ejiofor also star in the movie. The same year, she had the main role of Petra Lane in the comedy horror movie Freaks of Nature. Mackenzie also appeared in the indie films A Country Called Home and Memory Box. In 2016, she appeared in the third season of the British sci-fi anthology series Black Mirror. The same year, she was cast as Anna in the psychological thriller Always Shine. The movie was well-received, and Davis was awarded the Tribeca Film Award for Best Performance in a Feature Film (Female).
Mackenzie Davis didn't stop with the top-class performances there. She was cast in the main role of Izzy in the comedy-drama film Izzy Gets the F*ck Across Town. Davis won the Tacoma Film Festival Award for Best Actor. She also won the 2017 Napa Valley Film Festival Award for Best Breakout Performance. She appeared alongside Harrison Ford and Ryan Gosling in the neo-noir sci-fi sequel movie Blade Runner 2049. The year 2018 saw Davis appear in the short film Boomerang as well as Tully alongside Charlize Theron.
Her next big onscreen appearance was in the 2019 sci-fi action movie Terminator: Dark Fate. Acting as a direct sequel to Terminator 2: Judgment Day (1991), the movie also stars heavyweights Arnold Schwarzenegger and Linda Hamilton, who both reprise their roles from the previous Terminator movies. Well-received by both critics and audiences, the film has grossed over $260 million at the box office. Mackenzie Davis is slated to appear in the 2020 movies The Turning, Happiest Season, and Irresistible. She is also to appear as lead character Kirsten in the 2020 series Station Eleven.
Who is the Canadian Actress Dating?
Mackenzie with her boyfriend at the 75th Golden Globes Awards Focus Features After-Party on January 7, 2018 pic.twitter.com/1RbhkN7ptB

— Mackenzie Davis Fan (@mackenziedfan) January 10, 2018
It's no surprise that with the amount of buzz following Mackenzie Davis, her fans are eager to learn all about the stunning actress's love life. While some celebs have no qualms with sharing bits and pieces of their love life, Davis has instead gone the other route and has kept a really tight lid on things. Details about her past and present relationships are few and far between, with only rumors making the rounds.
In November 2015, Mackenzie appeared at a New York City event with model Gus Thompson. After that, the duo was spotted a few more times together. While the pictures they take show them as being cozy with each other, there has been no official word from either of them on whether they are dating or not. Nevertheless, fans have taken to believe that the two of them are in a relationship.