Luke Hemsworth is a talented Australian film actor who has made huge landmarks in the movie industry. Aside from his delightful acting skills which have earned him a net worth of $3 million, Luke is talked about for many other reasons, most notably his physique. He stands at a height of 5 feet 9.5 inches which when compared to that of his also famous brothers, appears to be the shortest. Regardless, Luke has no doubt outperformed some of his peers in Hollywood with the many key roles he has played in some popular and award-winning movies like Thor: Ragnarok, Westworld, Neighbours, and many others. With all these laudable accomplishments, many things about his personal life have been relegated to the background. But here, we will present you with those facts and also catch up with all he is doing in the acting industry.
Luke Is The Shortest of The Hemsworth Brothers With A Height of 5 Feet 9.5 Inches
Luke Hemsworth is slightly shorter than the average Australian man. The average height of men in Australia is 5 feet 10.55 inches (179.20 cm), making Luke about one full inch shorter than most men in his home country with his height of 5 feet 9.5 inches (177 cm or 1.77m).
Luke is also the shortest among his siblings. The super talented actor, who is the first child of his parents, has two brothers who tower over him. His immediate younger brother Chris is 6 feet 3 inches (1.9 m) tall while Liam, the last of the bunch, is 6 feet 3 ¼ inches (1.91 m).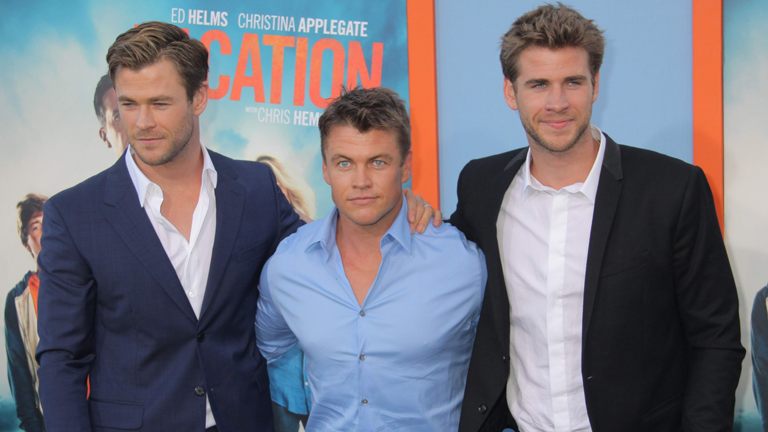 Luke Hemsworth Has A Net Worth Of $3 Million
Luke has established himself as a force to be reckoned with in the movie industry and has been making a considerable good income for himself for some time now. According to Celebrity Net Worth, he has a net worth of $3 million. Since his emergence as a regular face in the movie industry, Luke has worked hard to stay afloat as a top list actor. This has grown his net worth steadily, as he is now known to pocket huge sums of money from every movie he acts in, especially as the main character.
Though the actual figure he earns in every movie and TV series he stars in is not known or made public, what he earns in movies depends largely on some factors, such as whether he is playing a lead role or not, and whether it is a film or TV series. Seeing that he has played many lead roles in films, it is clear that Luke earns well enough to sit comfortably with a $3 million net worth for now.
Other Interesting Facts You Should Know About Luke Hemsworth
1. He is 42 Years Old
Having been born on November 5th, 1980, Luke Hemsworth is currently 42 years old. The actor was born in Melbourne, Victoria, Australia to the family of Leonie Hemsworth (nee van Os), who was an English teacher, and Craig Hemsworth, who was a social service counselor. Luke grew up in Melbourne with his siblings.
2. Luke Hemsworth is of Multiple Ancestral Background
Unlike most Australian actors, Luke Hemsworth is from a different ancestral background. According to history, his maternal grandfather is of Dutch descent, an immigrant from the Netherlands to Australia many decades ago. In addition to his Dutch ancestry, Luke is also of English, Scottish, German and Irish ancestry from his maternal grandfather.
3. He Began His Acting Career in Australia
Luke Hemsworth started his acting career by enrolling at the National Institute of Dramatic Art, where he got trained in acting. He began acting in the year 2001 on the Australian soap opera "Neighbours," where he starred as Nathan Tyson. He has since then made appearances in TV series like "The Saddle Club", "Last Man Standing", "All Saints", "Blue Heelers," and "Satisfaction".
In 2012, he starred as Gregory "Shadow" Campbell in a six-part miniseries titled "Bikie Wars: Brothers in Arms". Also, he was cast in the Australian war film titled "The 34th Battalion" where he acted as Robinson. In the 2019 film titled "Crypto," he played the role of Caleb Duran, a movie that recounts the life of a family that gets enmeshed in a crypto conspiracy involving a Russian mafia.
List of Movies Luke Hemsworth Starred In
"The Reckoning" 2014
"The Anomaly" 2014
"Kill Me Three Times" 2014
"Infini" 2015
"Science Fiction Volume One: The Osiris Child" 2016
"Hickok" 2017
"Thor: Ragnarok" 2017
"Encounter" 2017
"River Runs Red" 2017
"We Are Boats" 2018
"Crypto" 2019
"Death of Me" 2020
"Thor: Love and Thunder" 2022
List of TV Shows Luke Hemsworth Starred In
"Neighbours" 2001-02
"The Saddle Club" 2003
"Blue Heelers" 2004
"Last Man Standing" 2005
"All Saints" 2005
"Satisfaction" 2007
"Neighbours" 2008
"The Elephant Princess" 2008
"Carla Cametti PD" 2009
"Tangle" 2009
"The Bazura Project" 2011
"Bikie Wars: Brothers in Arms" 2012
"Winners & Losers" 2012
"Westworld" 2016–present
4. He's Yet To Win A Notable Award
Though he has starred in a good number of critically acclaimed films, Luke Hemsworth is yet to win any notable acting award. The closest he has come to clinching one was in 2017 when the entire cast of Westworld was nominated for a Screen Actors Guild Award for Outstanding Performance by an Ensemble in a Drama Series. They, however, lost out to the cast of Stranger Things who won the award.
5. Luke Hemsworth's Siblings Are More Successful Actors Than Him
With two other brothers in the same career as him, one can conclude that Luke Hemsworth comes from a family of filmmakers. Chris, the older of Luke's younger brothers, is a highly gifted actor who has starred in several films and TV series like "Star Trek" (2009), "Snow White and the Huntsman" (2012), "Home and Away" (2014 to 2017), "Thor" (2011), "Red Dawn" (2012), "Blackhat" (2015), "Men in Black" (2019), "Extraction" (2020), etc.
The other younger brother, Liam Hemsworth, is a vibrant and active filmmaker with multiple awards to his portfolio. Some of the films and TV series he has featured in include "Knowing" (2009), "Triangle" (2009), "The Last Song" (2010), "The Hunger Games" (2012), "The Expendables 2" (2012), "Love and Honour" (2013), "Empire State" (2023), "Cut Bank" (2014), "The duel" (2016), "Killerman" (2019), "Most Dangerous Game" (2020), etc.
To a large extent, Luke Hemsworth has a cordial relationship with his two younger brothers, and the three of them have never for once put forward any competition among themselves on a professional level. They were even reported to be cautious about work discussions whenever they are together. Despite the fact that his younger brothers are known to be more successful than him in their acting career acting, Luke has never for once been envious of them, but he rather chooses to support their course. For instance, in August 2019, Luke used his social media platforms to send congratulatory messages to his brother Chris for his birthday, describing him as the man and saying that he looked up to him.
6. Luke Has Run A Flooring Business For Several Years
Luke had been acting for many years but was not satisfied with the amount of work he was getting even though he had featured in a few movies. As a result, he decided in 2008 to try his hands on something different. This ended up turning out to be him setting up a floor sanding business. The business enterprise has reportedly run profitably for many years.
A couple of years later, in 2011, he became motivated by his brother's success in the superhero movie, "Thor" and decided to give acting a push one more time. Based on this, he made a decision to relocate his family to L.A. and then resumed his acting career.
7. Luke Is Married To Samantha Hemsworth and They Have Four Children
Luke Hemsworth got married to his wife Samantha sometime around December 2007. Even though there is no information on how they met, fell in love, and courted before getting married, they have been together in marriage for over a decade now. Since their marriage, the two have not been a private couple, because they usually take advantage of social media to make their love known to each other. They have also been seen walking together at every social and red carpet event as couples. During Samantha's birthday in 2016, famous stars such as Miley Cyrus, Kelly Slater, and Wayne Coyne were present for the celebration. Samantha has always been Luke's biggest fan, and she has always been supportive and been a good wife to her husband.
In the years they have been married, the couple has been blessed with four children (three girls and one boy). Luke and Samantha had their first child named Holly exactly two years after their marriage, and their second daughter, whose name is Ella, was delivered a year later. In 2012, they had their third child who was also a female child named Harper, while their youngest child happened to be their only son named Alexander.
8. The Actor Was The Face Of The 2018 Dundee Ad For Tourism Australia
The Dundee Ad series is a famous Ad which is established to attract more tourists from America to Australia. In the 2018 edition of the program, Luke Hemsworth was made the ambassador that takes viewers on a tour of a movie set.
Meanwhile, Luke has not been the only one in his family that has proudly represented their country in this way; his younger brothers have also been picked to represent their fatherland in the same way.