Highly regarded as one of the most complete and best midfielders in the world, Luka Modric is a Croatian footballer who plays for the Spanish club, Real Madrid, as well as captains his national team. The acclaimed midfielder was instrumental to three consecutive wins in the UEFA Champions League recorded by his club from 2016 to 2018. He is prominent for his quick and creative playmaking activities, his ability to play with both feet, as well as pass the ball across long and short distances accurately.
Sports lovers are no doubt conversant with the celebrated exploits of Luka on the pitch but the truth is that the football legend didn't have it all rosy, he struggled all the way to the top. We have covered here his childhood struggles, career achievements, and family. Read on.
Luka Modric's Troubled Childhood
Not everybody would have the ability to see beyond the unpleasant situation or condition they are faced with at a time to look into a beautiful future that possibly awaits them. However, that was exactly what Luka Modric did. He was born in Zadar, SFR Yugoslavia on September 9, 1985, as the oldest child of his aeromechanic father, Stipe and textile worker mother, Radojka. He has 2 sisters, Jasmina and Diora.
His childhood was a tough one as it was set during Croatia's War of Independence which became intense in 1991. Luka's family was basically poor. His mom worked in a textile industry and his dad's job as a military mechanic repairing cars for Croatian soldiers didn't really bring in much into the family's purse, so they lived in penury. Luka, in an interview, said one of the most traumatic experiences the war left on him was the murder of his grandfather with whom he shared a very special bond.
At the peak of the war, cruel Serbian forces captured Modrici, (a small settlement slope in Northern Dalmatia) where Luka and his family lived and began to inflict a reign of afflictions and terror on Croatian families who had failed to escape. Luka's grandfather's only crime that fateful morning in December 1991 was to walk his cattle down the lonely and deserted street of the town, he and five others were ambushed and murdered by Serbian thugs.
The family fled to Zandar – another city in Northern Dalmatia. They lived as refugees in Hotel Iz, away from modern civilization as they had to live without a regular supply of electricity and running water.
Little Luka was not only devastated by the death of his grandfather but also by the family's living conditions. He also faced rejection everywhere he went because of his small stature. He was really small for his age and people made a jest of him, did not take him seriously or took a chance on him, they didn't think he would amount to anything so good or famous but instead of breaking down as a child whose opportunities were plagued, he found an outlet to make up for his losses. Subsequently, football became a way to escape the ugly reality he faced. He played everywhere he found space, in front of their room, the parking lot, just anywhere.
How He Became A Football Star
In 1992, he enrolled in a primary school and a sporting academy, strongly supported by his family. He showed great potentials as a youth player but again, his small statue almost cheated him out of making a career out of what he loved the most but Dinamo Zagreb looked beyond his physical deficiencies and signed him up in 2001. A report had it that the club officials fed him growth supplements to improve on his physical looks.
His career took flight when he was loaned to Zrinjski Mostar in 2003. At the end of the season, he was named the League Player of the Year. The next season, he was loaned to Inter Zaprešić, he helped the team to achieve the second position in the Croatian First Football League, as well as a place in the preliminary round of the Europa League preliminary round, formerly known as UEFA Cup.
Luka who was noted for his talent and exceptional style of play, won the 2014 Croatian Football Hope of the Year award in 2004. In 2005, he returned to his parent club, Dinamo where he displayed the experience and skills he garnered while he was away. Luka helped the team win the league two times in a row. At the end of his stay at Dinamo, he had scored thirty-one goals and twenty-nine assists in four league seasons, proving to be not only a standout midfielder but a playmaker as well.
Soon, several clubs like Chelsea, Arsenal, and Barcelona began scouting for him. He eventually landed a six-year contract worth £16.5 million with Tottenham Hotspur in April 2008. While there, he helped the club achieve its first involvement in the Champions League in almost fifty years and was voted the Tottenham Hotspur F.C. Player of the Year at the end of the 2011-2012 season. Following the completion of the 2011-2012 season, Luka made a move to Real Madrid for a fee of over £30 million. He helped the club win their tenth Champions League title, known as la Décima (the tenth).
Apart from playing for clubs, Luka also plays for his national team. His first international match was in 2006 in a match against Argentina. Since then, he has taken part in every major tournament his country has qualified for. The midfielder has earned the title of Croatian Footballer of the Year six times, tying with Davor Šuker for most wins of all-time.
How Much Has He Made From Football?
With a weekly salary of £180,000 (approximately $238, 770), the diminutive midfielder's net worth is currently estimated at $7.5 million, this figure will increase very soon as he progresses in his career.
Who Is Luka Modric's Wife and Do They Have Kids?
A lot of athletes would be linked to many beautiful women but not Luka. He only has an eye for one woman and has remained committed to her for as long as we can remember. The Real Madrid midfielder is married to Vanja Bosnic who also doubles as his agent. They met in 2006 at a cafe in Zagreb when Luka was 19 and Vanja was 24. They got married in May 2010 after dating for four years. The duo now has three children together.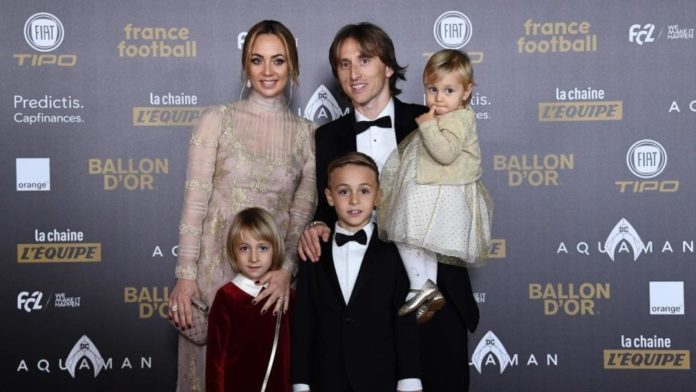 Their first child, a son named Ivano was born on June 6, 2010, before they moved to Spain in 2012. A daughter, Ema was added to the fold in 2013, on April 25 and was followed by a sister, Sofia, who was born on October 2, 2017. For this Real Madrid player, it's all about the two F's – Family and Football.
Vanja Bosnic has a degree in Economics and worked at the Mamic Sports Agency, it was while working at the agency that she met Luka who was their client. She saw to his transfer to Tottenham.
After their marriage, she became Luka's personal agent and now takes care of his contracts. Despite being a sports agent, Bosnic keeps her life away from the media, she currently doesn't have any social media account.