Vanja Bosnic is the wife and agent of the Real Madrid and Croatia midfielder, Luka Modric. Vanja Bosnic has been married to Luka Modric for over a decade and they are parents to three kids; a son and two daughters named Ivano Modrić, Ema Modrić, and Sofia Modrić.
Vanja Bosnic gained mainstream popularity as the wife of Luka Modric. While you may not know anything about her apart from that fact, you should know a thing or two about Luka Modric, especially if you are a fan of football. The midfielder captains the Croatia national team and plays for the Spanish professional football club based in Madrid, Real Madrid. He joined the side in 2012 from Tottenham Hotspur of the English Premier League on a £30 million transfer fee.
Amongst other accomplishments of his career, Vanja's husband is the first player from Croatia to win the UEFA Men's Player of the Year Award; this was in 2018, the same year he won Ballon d'Or and was named the Best FIFA Men's Player.
Details of Luka's achievements in football are a story for another day but his attainments in the sport have been massive enough to earn him massive popularity that has rubbed off on people close to him, particularly his wife. Vanja Bosnic is often seen as the supportive wife of the football star but she had a life before she met Luka and continues to pursue her identity career-wise.
Biography and Profile Summary of Luka Modric's Wife
Birth Name: Vanja Bosnić
Nationality: Croatian
Place of Birth: Varaždin, Croatia
Date of Birth: July 18, 1982
Age: 41 Years Old
Occupation: Sports Agent
Father: Milan Bosnić
Mother: Vesna Juraić
No. of Children: Three (Ivano Modrić, Ema Modrić, and Sofia Modrić)
Vanja Bosnić Was Raised In Kutina and Her Parents Divorced When She Was Eleven Years Old
Luka Modric's wife Vanja Bosnic is three years older than him. The football player was born on the 9th of September 1985 which means he is 38 years old whereas his wife was born over three years earlier, precisely on the 18th of July 1982. The couple are both citizens of Croatia but while Luka was born in a village called Zaton Obrovački which is located in Jasenice, Zadar County, Vanja was born in the city of Varaždin located in Northern Croatia.
Although she was born in Varazdin, it was in Kutina that Vanja Bosnic spent her early life. Her father Milan Bosnic was a basketball player who also ran a restaurant in the area. Her's was a wealthy family that could afford some measure of luxury but it all fell apart when her parents decided to end their marriage for reasons that are best known to them. Vanja who was only eleven years old when this happened became the responsibility of her mother Vesna Juraić. Vesna moved with Vanja to live with her parents in Zagreb. They struggled to make ends meet but were able to get by with the help of Vesna's parents.
Because of the hardship, Vanja had to step up and take care of the home while her mother works to put food on their table. Things improved for them with time and Vanja was able to get a degree in economics. Her mother helped her to become an independent woman as she purchased an apartment for Vanja when she was 21 years old and nudged her to embrace living alone and taking care of herself. She started working to take care of herself and would in the process find herself at Mamic Agency which led her to the next and current phase of her life.
She Met Her Famous Husband While Working for Mamic Sports Agency In 2007
The Vanja Bosnic and Luka Modric love story began in 2007 when she was working for Mamic Sports Agency. Then, the midfielder was playing for Dinamo Zagreb, a Croatian professional football club based in Zagreb. It happened that Luka was one of the clients of the agency which facilitated his move from Dinamo Zagreb to Tottenham Hotspur in 2008. Working with the footballer to see through the transfer, Vanja and Luka fell in love and began dating.
Over three years into their relationship, they were convinced they were meant to be together and decided to take the relationship to the next phase. They got engaged and officially became life partners in May 2010. They had a private ceremony in Zagreb, Croatia to mark the occasion. The following year, they had a church wedding.
After they got married, Vanja Bosnic became the personal agent of the football player. She now manages his contract and other aspects of his career off the football pitch. One would imagine that being the personal agent of one of the most popular footballers would thrust Bosnic further into the limelight. But she has been evasive of the spotlight and has endeavored to keep her life away from the media as much as possible.
Vanja Bosnić and Luka Modric Have a Happy Family Made Up of Three Kids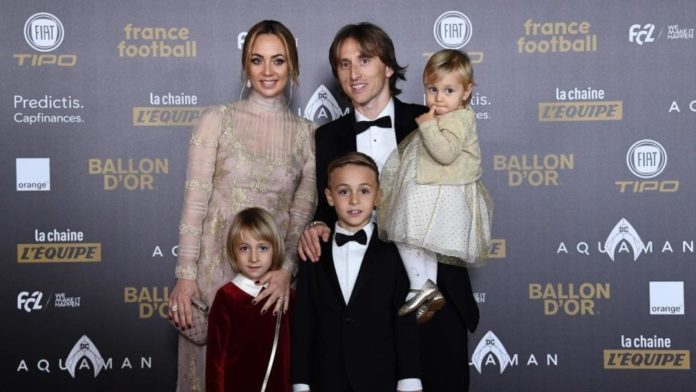 Unlike many athletes who have been linked to multiple women, Luka Modric has stayed faithful to Vanja Bosnic and their relationship has flourished over the years. The footballer speaks highly of his wife and is grateful for the sacrifices she has made to push his career forward. He once expressed that if he hadn't met her when he was 19, with nothing but his football talent, he would not have become the man he is. As far as he is concerned, Vanja is an extraordinary woman, his everything.
Their union has been blessed with three kids thus far. The same year they got married, they welcomed their first child and son named Ivano; the 13 years old was born on the 6th of June 2010. Ivano is now an older brother to two sisters. His immediate younger sister named Ema is 10 year old, she was born on the 25th of April 2013. Sofia is the baby of the house, she was born on the 2nd of October 2017; thus she is 6 years old.
Vanja and her husband are quite protective of their kids. Much isn't known about them apart from what's already obvious.