Lil Dicky sure adds a lot of humor to his rap but this American rapper is far from a joke. Since his video for Ex-boyfriend took the internet by storm, Lil Dicky has been soaring higher and has even gotten his own comedy TV show.
The 2016 XXL Freshman (a list of hip-hop rising stars) has always aspired to be a comedian so rapping was just his way of gaining more grounds to launch out, but he has promised us he would continue to rap. Follow us for interesting facts about the white Jewish rapper.
Lil Dicky Girlfriend
Lil Dicky has revealed that he is a hopeless romantic. While he is yet to romance any popular name in the industry, Dick has had a lot of girlfriends in the past. And having gone through a heartbreak, Dicky has learned some relationship tips.
Speaking to GQ Magazine about his song Molly which he dedicated to his real-life ex-girlfriend, Dicky said;
"Like, I'm totally emotionally vulnerable. I love love. There's nothing more—being single to me is far less interesting to me than being in deep love. Not even close. I don't even think that's like a debate."
The video for his song Molly shows him attending the wedding of his ex-girlfriend while expressing the hurt he feels watching her marry another man.
Read Also: Migos Net Worth, Members, Age, Real Names, Wiki, Height
In the song, Dicky raps about why the relationship didn't work, saying "Wanted you back, but when the fact is that I always put you second to rap/ I'm not mad that you wouldn't come/ And even though I had to move I ain't move on."
That video was released in June 2016. The following month, Dicky shot a commercial for Trojan Bareskin condoms and according to Elite Daily, the girl in the commercial was actually his real-life girlfriend. It is unclear if Dicky is still in a relationship with the unnamed girl.
Lil Dicky Real Name, Age, Wiki, Parents
Lil Dicky's real name is David Andrew Burd. He was born on March 15, 1988, in Cheltenham Township, Philadelphia. Dicky attended Cheltenham High School and by the age of 14, he had begun rapping. As a teenager, Dicky opened for R&B group 112.
Despite being a rapper as a teenager Dicky has described himself as a "pu**y" back in high school. " "I was a pu**y. I was really awkward looking. I wasn't getting any girls at all, but I was very class-clownish and I got good grades."
Dicky then attended the University of Richmond where he graduated summa cum laude in 2010. Subsequently, he relocated to San Francisco, California where he landed a job at advertising agency Goodby, Silverstein & Partners as an account manager.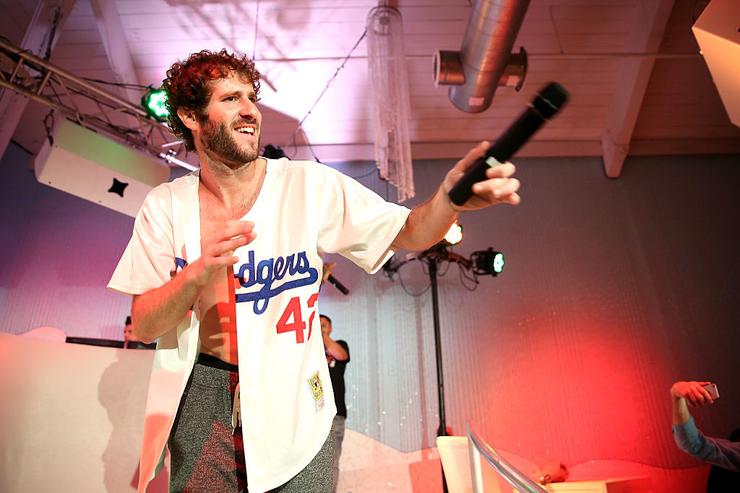 However, after Dicky reimagined his monthly progress report as a rap video he was moved from accounts to the company's creative department. Around this period he began working on his first record, an EP titled So Hard. It took Dicky about 2 years to complete the record as he still worked full time at the ad company. By 2013 he began releasing singles all of which he self-recorded with his MacBook Pro and a $400 microphone.
On April 23rd, 2017, Dicky released his music video for the song Ex-boyfriend which went viral in just 24 hours hitting 1 million views. Burd then signed to CMSN, the same company that manages the careers of stars like Chiddy Bang and Tyga. Dicky staged his first live performance on February 19, 2014, at the TLA.
Read Also: DJ Khaled Wife, Son, Girlfriend, Family, Net Worth, House, Height, Wiki 
On July 31, 2015, Lil Dicky released his debut album, Professional Rapper. The album featured many ace rappers including T-Pain, Snoop Dogg, Rich Homie Quan, Fetty Wap, and more. His music video for "Pillow Talking" featured special effects that ranked it at No. 49th on the most expensive music video ever created.
His second EP "I'm Brain" under his alter ego Brain was released in September 2017.
Lil Dicky Net Worth: $6 Million
Lil Dicky sure found instant success with his music, but that didn't come without a price. The rapper, in an interview, told HipHopDX that he spent his whole money to become successful at rapping.
"The money is a complete necessity. To do this full time, I had to quit my job about six months ago – and I've got very little income coming in. On top of that, I spent my life's savings on the first wave of stuff, so I was at the point where I couldn't continue without more money."
Well, all that is history now as Lil Dicky's net worth is now estimated to be $6 million. In addition to earning from album sales and shows, the rapper has represented a number of brands including Mike's Hard Lemonade.
Lil Dicky Height:
Lil Dicky stands 5 feet 11 inches tall