In 2012, Canada experienced one of the worst cases of cold-hearted murders in the country, and it was perpetrated by a then 30-year-old man known as Luka Magnotta, who is also known by many other names including Vladimir Romanov, Jimmy, and Kirk Trammel. In an event that would go on to continuously hunt the memories of those who witnessed it, Luka killed a Chinese international student, Lin Jin before chopping off his arms and feet and mailing them to political party offices as well as elementary schools. Here's all there is to know about the notorious killer.
Luka Magnotta's Background
Though most killers are said to have had a normal childhood, the same cannot be said of Luka Magnotta. He was born on July 24, 1982, in Scarborough, Ontario, Canada as Eric Clinton Kirk Newman. He was brought up by a mother who was described as obsessed with cleanliness, Anna Yourkin and a father who was later diagnosed with schizophrenia. When he was only 12, the marriage between his parents ended in a divorce and he was left together with his two siblings with his mom.
As a child growing up, Luka Magnotta'S mother would lock out the kids and when he moved with his grandmother, she often called him a faggot. Unfortunately for him, his grandparents with whom he lived would also end their marriage in divorce.
For his education, he was homeschooled for some time because according to him, he was made to believe that the world was a dangerous and dirty place. He later went to I.E. Weldon Secondary School in Lindsay where he was known for vanity and self-absorption.
Inasmuch as it was until 2012 that a larger part of the world got to hear of Luka Magnotta, he had already become somewhat known among the online community. He had many social media accounts as well as many websites using different names and littering as much information about himself as he could through a greater part of the info was not true. This was mainly because Luka had always had a craving for fame and attention.
By the time he was 20, he had already started stripping and a year later in 2003, he started appearing in pornographic films. With a number of films to his name, Magnotta also started working as a male escort.
Criminal Activities
Even before his case of murder, Luka Magnotta had already had a rather sad history with the law. In 2004, he was charged with fraud and sexual assault before the sexual assault charge was later dropped. In the case, he was accused of befriending a woman of 21 who had a mental capacity of a child of anything from 8 to 12 years old. Luka was said to have made her apply for credit cards which he used to rack up bills of up to $10,000.
In 2005, he was found guilty of the crime and was sentenced to community service of 9 months as well as probation of 12 months. When the judgment was delivered, he was made to understand that he had mental issues and would need to be taking medication so as not to mess up his life.
In the years that followed, Luka Magnotta continued appearing in pornographic films and also changing his names and providing false information about himself. He filed for bankruptcy in 2007.
As Luka continued to evolve, there was something dark about him that started to show in 2010. He shared a video of a man that was beaten to death and then the killing of 2 kittens by someone unidentified. This set animal rights activists against him, and later the police. But that would not stop him from posting more kitten-killing videos.
Arrest and Imprisonment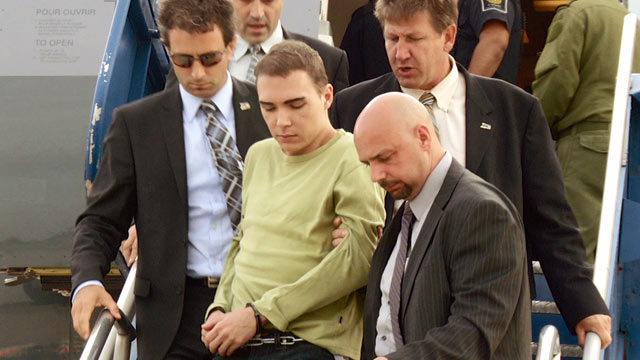 On May 24, 2012, a Chinese immigrant to Canada, Jun Lin was reported missing after he was not found by his friends and did not show up for work. While the search for the Concordia University student continued, a video surfaced on the internet with the title, 1 Lunatic 1 Ice Pick.
The very chilling video saw a man bound to a bed and was continuously stabbed by another man after he appeared dead. The video also depicted acts of necrophilia and cannibalism. The identities of the two men in the video were soon made clear; one was Lin Jun while the other was Luka Magnotta.
Magnotta who was also diagnosed just like his father with mental issues mailed some parts of Lin's body to elementary schools and federal political party offices before fleeing the country. But he would later be caught in Berlin before he was handed over to the Canadian authorities. He was found guilty of the crime and was sentenced to life imprisonment. After this, more investigations started on him as there were links that he could have been involved in some previous homicides but were dropped because of a lack of sufficient evidence.