Lawrence Sonntag has a lot going for him career-wise. While he is known in some quarters as a Gaming Journalist and Editor, the multi-talented media personality has also done well for himself as an actor and voice artist; in addition to hosting various shows and podcasts.
As you will easily find, Lawrence Michael Sonntag was raised in Dallas, Texas which was where he was born on the 7th of June 1983. The man describes himself as a trans-media cyberpsychologist and is known as SirLarr across various social media platforms.
The Truth About Lawrence Sonntag's Divorce From Wife
Lawrence Sonntag is a man known for many things. He has established himself as an actor, voice-over artist, Youtuber, podcast host, gaming journalist, content creator, editor, and internet personality. With this many irons in the fire, it's a surprise he still has time for a social life and building relationships, but Lawrence seems to be adept at juggling his private and professional balls.
While he has no doubt been involved in multiple relationships over the years, the public has only been privy to the ones that have happened since his rise to fame. Lawrence went through a somewhat devastating divorce in 2014, when his wife left him and practically sent him back to square one.
Although very little is known about his marriage beyond what Lawrence shared on his social media platforms, we do know that his wife's name was Katy. It is not clear how they met or when exactly they began dating or even when they exchanged vows, but it appears their relationship lasted a couple of years before things went awry.
The YouTuber has shared sparse information about his ex-wife, especially with regards to her identity, what she does for a living, or where she's from. He appears to have scrubbed every trace of her off his social media pages and rebooted his life anew. This is not surprising considering that they didn't have the friendliest divorce.
After Katy left him, Lawrence had to suffer the indignity of losing his house and came close to losing his life as well after he got involved in a ghastly car accident. It was a really low period in his life, so it makes sense that he doesn't want to remember or talk about it. However, he has done a great job of moving on and getting his life back together.
Who Is His Current Girlfriend?
The social media star tries to keep intimate details about his personal life away from the public. He rarely discusses his relationship status or love life on his pages or during interviews, so this has led to some confusion about whether Lawrence is single or not.
However, even though he hasn't officially confirmed it, Lawrence Sonntag is in a relationship with Stephanie Bayer.
Like him, Stephanie is also very popular on social media, with tens of thousands of followers across different platforms. She works as the Community Development Manager at Diablo, a Blizzard Entertainment franchise. She also has a side career as a social media manager and project manager. She is an eccentric and fun-loving woman, who is full of passion for life and work. Stephanie's Instagram page is littered with pictures of her and Lawrence hanging out and having the time of their lives.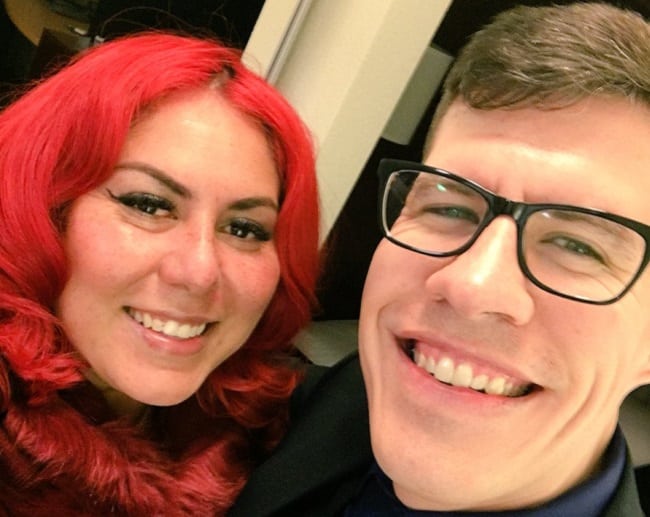 Although no one knows for certain when exactly they began dating, going by their social media posts, Lawrence and Stephanie have probably been an item since 2015. They have a lot in common, including great love for the Cheaters show and trashy local TV. The lovebirds do all kinds of crazy things together, some of which they share on social media to the delight of their followers. They seem genuinely happy together, so wedding bells might be ringing soon.
Fun Facts About Lawrence Sonntag
1. After his painful divorce, Lawrence took up drinking heavily in order to move past the hurt and anger he was feeling. He soon became dependent on alcohol as a coping mechanism for the slightest discomfort and it took him a while to kick the habit and seek out healthier outlets such as counseling and therapy.
2. Lawrence enjoys anime and gaming, which also happens to be some of the things that his girlfriend enjoys. Perhaps, this love for similar things is the lifeblood of their relationship.
Sure Jesus is cool and all but Doom Slayer has killed way more demons.

So… really who is this holiday actually about?

Streaming Doom Ultra-Nightmare attempts – Witcher 3 later.https://t.co/WSbPwm7s3i pic.twitter.com/kB7ywVQ8vk

— Lawrence Sonntag (@SirLarr) December 24, 2019
3. The podcast host also loves to dance and just mess around. According to him, he no longer remembers most of his childhood memories.
4. Ever willing to try new things no matter how crazy, Lawrence once fought in a tag team match, in a Millenium Pro Wrestling event, alongside James Willems. His ring name was Lawrence "The Troll" Sakamoto.
5. Towards the end of 2019, Lawrence Sonntag announced that he would be leaving Rooster Teeth Productions, where he has worked for the last four years. Although he didn't say what he would be devoting his time to going forward, we can't wait to see what the next chapter holds for him.