Laverne Cox is a trailblazer for the transgender community and she has an identical twin brother named M Lamar. Since becoming a transgender, Laverne Cox has been involved with several men, including Jono Freedrix and Kyle Draper. 
We are learning more about embracing the different identities that exist in our world today. For those who are in the minority groups, the battle for inclusion and acceptance is a lifelong struggle. When some members of these minority groups not only survive their battles but triumph, it is a thing of joy and one worthy of celebration.
One of those leading the pack of the triumphant is Laverne Cox, first openly transgender person to gain a Primetime Emmy Award nomination. She is an actress and model whose confidence and self-belief has enabled to attain a successful career in the entertainment industry. Let's take a look at what makes the model so special, details about her twin and equally her dating history.
Laverne Cox's Transgender Stand Made Her Famous
Laverne Cox is a prominent LGBT advocate who rose to superstardom with her role as Sophia Burset on Netflix's hit series, Orange Is the New Black. Born in Mobile, Alabama, she was raised by a single mother and grandmother within the AME Zion church.
She studied creative writing and later switched to dance at the Alabama School of Fine Arts in Birmingham, Alabama. The actress then furthered her education at the Indiana University Bloomington for two years before making a transfer to New York City's Marymount Manhattan College, and there, she switched to acting, which eventually brought her to stardom
Throughout her career, she has been a trailblazer for the transgender community. Over the years, she became the first transgender person to gain a Primetime Emmy nomination, claim a Daytime Emmy Award as an Executive Producer and have a waxwork in Madame Tussauds.
Her activism and spreading of awareness on the rights and discrimination of the transgender community have led to a growth in the conversation about transgender people, especially transgender women.
Her Works as an LGBT Advocate
Laverne's role on the show, Orange Is the New Black (OITNB), provided her with a platform to speak on the rights of trans people and she has used it with great impact. In January 2014, Laverne was a guest on the American talk show, Katie and there, she spoke about the challenges faced by trans people, especially those of colour. She cited that the rate of homicide is highest among trans women as a result of the discrimination they face on a daily basis.
She has also gone ahead to call for social equality while advocating for the rights of trans people by being part of multiple campaigns. She was involved in the Human Rights Campaign held in 2016 against the unlawful shooting at the Orlando gay nightclub. The next year, she formed a partnership with The American Civil Liberties Union, Kim Boekbinder and many others, to create a video titled, Time Marches Forward & So Do We. This video entails the history and resistance of the transgender community.
Following her activism and spreading of awareness about the rights of trans people, Laverne Cox has been the first trans woman to appear on the cover of several top-notch magazines such as Time, Essence, British Vogue, Entertainment Weekly, to mention a few. More so, she made the 2015 Time 100 Most Influential People List and was named by Forum for Equality as one of their thirty-one icons of the LGBT History Month.
Her works as an activist have also been recognised with multiple awards such as Courage Award by Anti-Violence Project 2013, Claire Skiffington Vanguard Award from Transgender Law Center, Stephen F. Kolzak Award from Gay & Lesbian Alliance Against Defamation (GLAAD).
Who is Laverne Cox's Boyfriend or Is He Married?
The widely known actress has often found love in the hands of amazing guys who have treated her with so much respect. Although she has once cited being in an emotionally abusive relationship when she was younger, she often gushed about some of the men she has dated.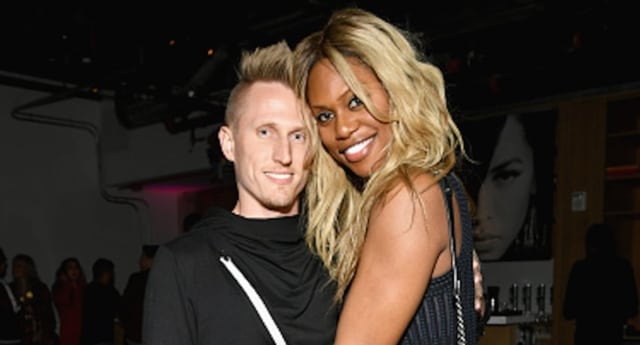 Laverne Cox's dating timeline ought to have been quite long, if not that most of the guys she has had an encounter with prefer to keep it secret in order not to be identified as gay. Nevertheless, the beautiful actress has been in an open relationship twice. First, was with Jono Freedrix, a Brooklyn-based writer, director and producer whom she dated from 2014 to 2017.
Freedrix is the president of an award-winning Vancouver-based film & theatre company called, The Virtual Stage. While together as a couple, Laverne was showered with so much affection when she was introduced to her beau's family. She was accepted wholeheartedly as she spent the Hanukkah holiday with them. For reasons best known to the former couple, they called it quits in the year, 2017.
Soon afterwards, Laverne Cox fell in love with Kyle Draper whom she met on a dating app called Tinder. Kyle, who is the CEO of a record label, Mateo Sound, also founded the real estate firm, Serene Team and is also the regional director of the real estate company – Keller Williams Downtown. The young entrepreneur was very overt about his love for the actress, with both parties meeting each other's families.
The pair shared an incredible love life together, which made it very surprising when they publicized their decision to go their separate ways in June 2019. Following the announcement of their break up on their different social media handles, Laverne went on to state that she is officially single and ready to mingle, barely four months she called it quits with her beau, Kyle Draper.
Lamar is Laverne Cox's Twin Brother
Laverne Cox has an identical twin brother called M Lamar, who portrayed the pre-transitioning version of her character in Orange Is the New Black. He is a New York City-based composer, musician, performer, and all-around creative artist. His work has been praised by several news outlets, including The New York Times.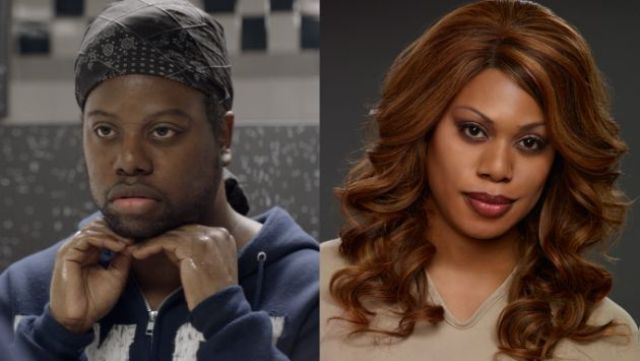 M Lamar studied Painting at the San Francisco Art Institute. He had a brief spell at Yale University for graduate school in sculpture before dropping out to focus on music. As a vocalist, he has been training with the founder and lead soprano of La Gran Scena Opera Company, Ira Siff. He has released several albums such as 'Negrogothic', 'Souls on Lockdown', 'Surveillance Punishment and the Black Psyche', among others.