Laura Ingraham is a FOX conservative political commentator, GOP politician, author, and attorney. She currently hosts the eponymous news program, The Ingraham Angle. The program is so named obviously because Laura is known to often hold unique views that are different from most people's perspective. As a Republican, she is ever up against the liberals. Yet, although her political views fall mostly under the conservative ideology, she has also criticized a number of Republican policy directions. Here, you have the opportunity of getting to know the energetic American woman beyond what most sources offer.
Laura Ingraham's Family Background, Early Life and Upbringing
She was born as Laura Anne Ingraham on June 19, 1963, a native of Glastonbury, Connecticut, USA, to James Frederick Ingraham III and his wife Anne Caroline Kozak. Laura's father had fought in the Second World War while her mother worked as a waitress for most of her life. She inherited English and Irish roots from her father's side and Polish from her mom's.
The FOX amazon is the last kid of the family and grew up alongside three elder brothers. Going by this, one would have expected her to be manifesting the qualities of an over-protected child but it seems the opposite is the case instead. It may also interest you to know that, while Laura Ingraham has been acknowledged to have one of the most extreme positions against the LGBTQ culture, one of her elder brothers (Curtis) is openly gay. The two were never in good terms with each other with Curtis describing Laura as a monster and Laura criticizing everything her brother represented by being gay. However, her stance against homosexuals softened after her brother and his partner went through a battle with AIDS which eventually claimed the life of Curtis' partner. Laura was said to have been influenced to soften her position after seeing how much care Curtis showed towards his partner during the challenge. Nevertheless, Laura still maintains her conviction that marriage should be between a man and a woman only. That's by the way.
For her education, Laura Ingraham graduated from Glastonbury High School in 1981 before she proceeded to Dartmouth College from where she obtained her B.A. in 1985. It was during her days at Dartmouth that the media mogul in Laura began to manifest: While there, she rose to the position of the editor-in-chief of Dartmouth Review, a conservative college journal. She obviously earned that position after contributing a number of controversial articles including one where she outed gay students and another that alleged that Dartmouth music professor Bill Cole was a racist and had engaged in unprofessional behaviour. The latter led to a $2.5 million lawsuit against the college publication but Cole dropped his claims after 2 years of legal proceedings.
Laura Ingraham's Fact Card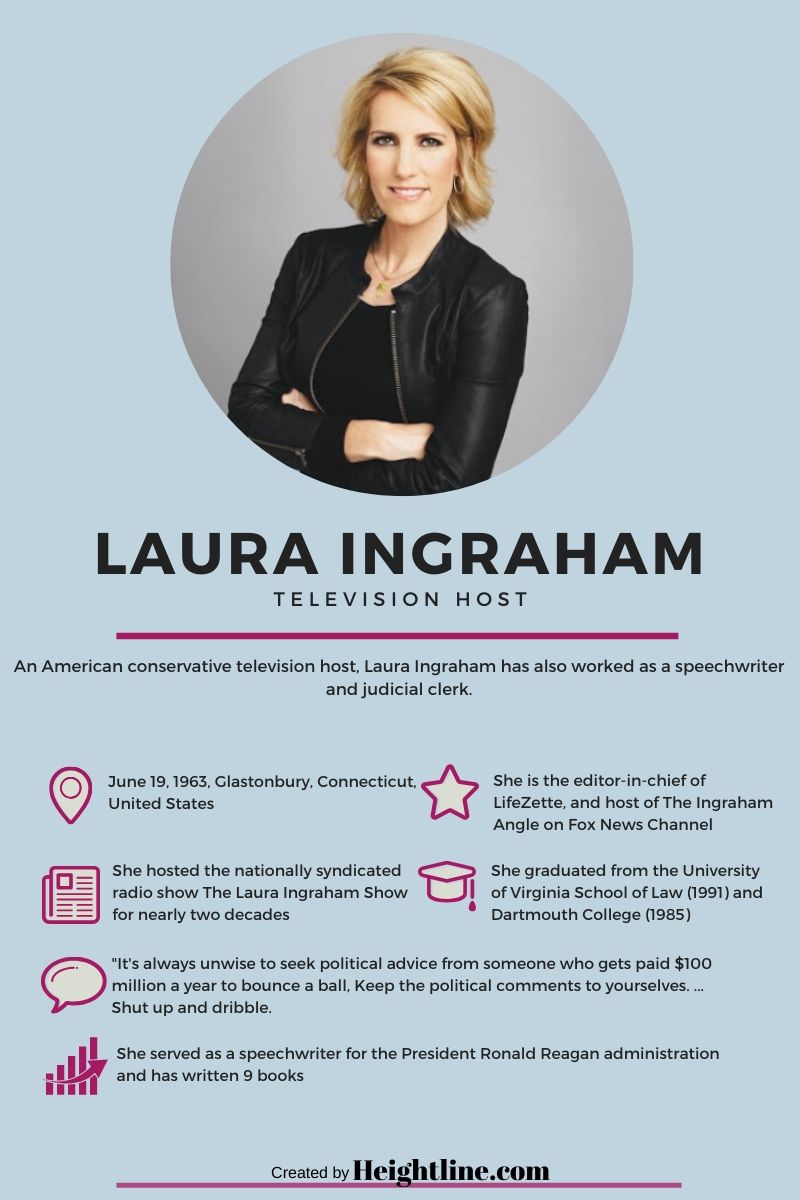 Career Timeline: Her Stint at the White House and as An Attorney
After graduating from college, Laura Ingraham spent some years working as a speechwriter at the White House during the Ronald Reagan Administration in the 1980s. Along the line, she also began to pursue her Juris Doctor degree at the University of Virginia School of Law. After obtaining her J.D in 1991, she served as a law clerk for Judge Ralph K. Winter, Jr., of the U.S. Court of Appeals for the Second Circuit, in New York. Next, she worked as a clerk for Clarence Thomas under the United States Supreme Court Justice. She also put in a few years working as an attorney at the New York-based law firm Skadden, Arps, Slate, Meagher & Flom.
A Brief On Laura Ingraham's Broadcast Media Career
All her years studying for and practising law, her love for the media industry kept beckoning on her. In her days working at the White House, she also served as an editor for a conservative magazine, The Prospect, published by the now-defunct Concerned Alumni of Princeton (CAP). Yet, that couldn't quench her thirst to go deeper into the media profession.
So, after a few years as a practising attorney, Laura Ingraham began to make a full-time return to her deepest passion: broadcast media. She began by working as a host on MSNBC and then as a commentator for CBS. With time, her performance in these positions led to her own MSNBC show dubbed Watch It!. In 2001, she began her nationally syndicated eponymous radio talk program, The Laura Ingraham Show. The program was broadcast on a whooping 306 channels across the United States which gave Laura her first major America-wide exposure.
As one would expect, the exposure opened many doors of opportunities for the blazing conservative media amazon. In 2007, Laura Ingraham began a new job as a contributor to FOX News. The following year, she hosted a FOX news program dubbed Just In for three weeks on a trial run. Then, in 2017, her current FOX News program, The Ingraham Angle kicked off.
Laura Ingraham Is Also A Successful Blogger
Laura Ingraham is the founder of LifeZette, a web-based conservative media publication. She founded the platform in 2015 under her Ingraham Media Group and in partnership with the business mogul Peter Anthony. Laura currently serves as the editor-in-chief of the publication.
Her Political Career and Ambition
Shortly before Laura Ingraham began hosting The Ingraham Angle in 2017, a group of conservatives approached her to run for the US Senate seat of Virginia. She considered it for a while before she decided to take the new FOX job instead. Everyone expects that she would soon go for it, after all, she has been an eloquent GOP voice all these years, thus, she can as well continue her advocacy as a Congresswoman.
Is The Media Amazon Married?
Over the years, Laura Ingraham has dated some of the most famous names in the country. For instance, she has had a long-term romance with the political and sports commentator/writer Keith Theodore Olberman. Her dates have also included the Indian-American author and conspiracy theorist Dinesh Joseph D'Souza. Again, the die-hard conservative Laura dated former Democratic senator for New Jersey, Robert Torricelli. The attorney George Conway is yet another item on the list of Laura's previous dates. But, none of these led to an engagement, not to talk of marriage.
Notwithstanding, there is one of her romantic flings that led to an engagement. She made it public in 2005 that she was engaged to Chicago businessman James Reyes. However, within a space of one month, she announced again that the engagement was cancelled. Around that time, she also announced that she was undergoing surgery for breast cancer. Some commentators linked the two events but is it actually true that the engagement was cancelled as a result of the breast cancer surgery? We don't think so. The bottom line is that Laura Ingraham has never been married in her lifetime so far.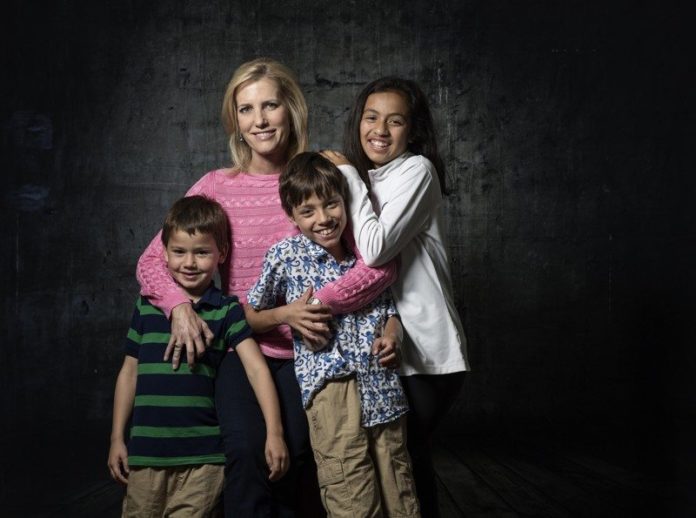 In any case, Laura Ingraham has not allowed her spinsterhood to rob her of the opportunity of expressing her motherly instincts. She is the mother of three adopted children, including daughter Maria Caroline, adopted in May 2008 from Guatemala, and Russian sons Michael Dmitri, and Nikolai Peter, adopted in July 2009 and June 2011 respectively as 13-month-olds.