How Tall is Lady Gaga? Lady Gaga's height is 5 feet 1 inch (1.55 m), she maintains her weight around 53 kg (116.8 lb), and her body measures 36-26-37 inches. 
Known across the globe as Lady Gaga, Stefani Joanne Angelina Germanotta is a highly rated singer and a bit of an actress. She has clearly conquered the entertainment industry, so much that no one would disagree she is one of the most accomplished and prominent figures in the business.
Her rise to fame dates back to 2008 when she dropped her debut album titled The Fame. Thanks to her dynamic voice and music style which clearly distinguishes her from her contemporaries, her fame touched the skies in the years that followed. Besides music, the award-winning singer has influenced a lot of her fans and upcoming music talents through her fashion. Also, Gaga is a widely respected activist and philanthropist with ties to several leading foundations and advocacy groups.
Her talent, style, and activism have endeared her to people from all corners of the earth who follow her personal life as much as they keep up with her career. She is one of the best-selling music artists in the world and has won 12 Grammy Awards among many other coveted gongs.
Gaga has twice been named one of the most influential people in the world by Time magazine; this was in 2010 and 2019. She is the first female entertainer to win an Academy, Grammy, BAFTA, and Golden Globe Award in one year, thanks to the 2018 drama film, A Star Is Born. With numerous accolades and recognition under her belt, it is not hard to see why even the most trivial things about the pop star command the attention of many people.
Profile Summary of Lady Gaga
Real Name: Stefani Joanne Angelina Germanotta
Place of Birth: New York, United States
Date of Birth: March 28, 1986
Age: 37 Years Old
Occupation: Singer-songwriter and Actress
Years Active: 2001 – Present
Mother: Cynthia Germanotta
Father: Joseph Germanotta
Siblings: Natali Germanotta
Marital Status: Single
Net Worth: $320 million
Height: 5 feet 1 inch (1.55 m)
Weight: 53 kg (116.8 lb)
Bust-Waist-Hips: 36-26-37 inches
Her Popularity and Repute as a Fashion Icon Are Why People are Curious about Her Height
Lady Gaga's musical talent is very natural and deep-rooted; she learned how to play the piano just by listening at the young age of 4, and by the time she was 13, she began composing her own ballads. As an upcoming musician, she was influenced by the music of veteran artists like Michael Jackson, Akon, Stevie Wonder, the Beatles, Elton John, Madonna, Marilyn Manson, Mariah Carey, Black Sabbath, and Whitney Houston, amongst others.
All of these artists influenced her music style in one way or the other but she got nudged to pursue her musical career by Akon, after writing songs for other successful singers. This has proven to be a step in the right direction. Today, the 12-time Grammy winner is known to push beyond the boundaries and try out new ideas; this explains her ever-evolving music style. She keeps inventing new variations to her typical pop and dance genres.
Gaga's persona, fashion sense, and music have had a polarizing effect on her fans, the music industry, and society at large. She got so relevant that she became the basis of a course taught by Mathieu Deflem at the prestigious University of California. This shows the extent to which Lady Gaga has influenced modern culture. When it comes to her dressing style, many people now dress like her. Funny as this may be, Lady Gaga earned a Guinness World Record in 2011 for the Largest Gathering of Lady Gaga Impersonators.
Time magazine once listed her on its list of All-Time 100 Fashion Icons. All of these are part of the reasons people search for information about her height and other details of her body measurements. Also, the singer is known to be among the least-tall Hollywood entertainers. But then, she always manages to look taller than people believe she really is.
Lady Gaga's Height Is 5 feet 1 inch (1.55 m) But Some Reports Claim She Isn't That Tall
Various credible platforms have reported that Lady Gaga's height is 5 feet 1 inch (1.55 m). From her many pictures that have circulated online, one would guess she is that tall. Nevertheless, several reports from people who claim to have met the singer in real life argue that she is 4 feet 11 inches tall.
From what we gathered, this is based on the premise that people who are known to be 5 feet 1 inch seem to be taller when near the singer. Also, it is said that her old friend and former DJ, Brendan Jay Sullivan, listed her height at 4 feet 11 inches in his book titled Rivington Was Ours: Lady Gaga, the Lower East Side, and the Prime of Our Lives.
Clearly, Lady Gaga isn't someone anyone would describe as a tall woman. In fact, she is often counted among the shortest women in entertainment but this has not had any negative impact on her career and Gaga does not feel insecure about it, at least to the best of our knowledge. She has appeared on stage with people known to be much taller than her and has starred in movies alongside tall actors like Bradley Cooper who at 6 feet 1 inch, is one foot taller than her. Yet, one can't think of any moment where her height constituted a problem.
Most American Women Are a Few Inches Taller Than The Singer
It's no secret that the average height for humans varies from country to country. As culled from a World Population Review report which compared data from nations of the world to identify countries with the shortest average height and those with the tallest, Indonesia has the shortest humans. The average height of people in the country is 62.2 inches (5.183) and The Netherlands is at the other end of the spectrum. The country is home to the tallest humans and their average height is 72.36 inches (6.03 feet).
People from the United States are still counted among the tallest in the world but they are no longer leading the pack as it was in the 19th century. At the moment, citizens of European and Central Asia countries take the lead. On average, men from the United States of America stand slightly above 5 feet 9 inches (1.75 m) whereas the average height for women in the country is 5 feet 3½ inches (1.62 m). What this means is that most American women are at least 2½ inches taller than Lady Gaga.
The global average height for women is 5 feet 2½ inches (1.59 m). So one can equally assert that most women in the world are taller than the famous singer. However, she is slightly taller than a majority of women in nations like Guatemala and The Philippines where the average height for women is respectively 4 feet 10.84 inches (1.49m) and 4 feet 10.89 inches (1.50 m).
Lady Gaga's Height Compared to Other Prominent Female Entertainers In Hollywood
The average height for women in Hollywood is yet to be confirmed but several reports have claimed that Hollywood actors, on average, stands at 5 feet 10 inches (1.78 m) whereas their female counterpart stands at 5 feet 5 inches (1.65 m). Based on this, it can be concluded that most people in the industry are taller than Lady Gaga.
Without much thought, one can easily name several prominent female entertainers who are significantly taller than Lady Gaga: from Taylor Swift to Gal Gadot, Iggy Azalea, Aisha Tyler, Jordin Sparks, Katy Perry, and much more.
But Gaga is only one of the least tall, many first-rate entertainers are also smallish like Fergie, Shakira, Amy Winehouse, Christina Aguilera, Avril Lavigne, and Hilary Duff. In fact, at 5 feet 1 inch, she is slightly taller than Lil' Kim (4 feet 11 inches), Ariana Grande (5 feet 0½ inch), Dolly Parton (5 feet), and Kylie Minogue (5 feet).
Who Is Taller Between Lady Gaga and Cardi B?
One of the remarkable facts about Lady Gaga is that other accomplished and famous entertainers adore her as much as she is celebrated by her numerous fans. One of these popular figures is Cardi B who considers the pop star her idol. In a 2016 tweet, Cardi B related that Lady Gaga changed her life as a teenager, that the Bad Romance singer inspired her to be who she is, to be different. The years that followed saw Lady Gaga support Cardi as she rose to stardom.
They got to meet for the first time at the 2019 Grammy Awards where the rapper landed a historic win as the first solo woman to bag the best rap album gong. Cardi B was visibly excited about meeting Lady Gaga. The rapper is slightly taller than the singer as she is believed to stand at 5 feet 3 inches (1.6 m).
Lady Gaga's Height Compared to Rihanna's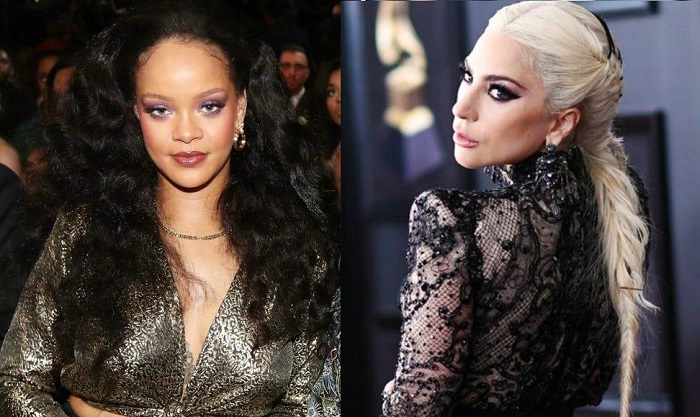 Like Lady Gaga, Rihanna is one of the most influential and accomplished singers known to the world. She has won multiple Grammy Awards (nine) and in 2012, Time magazine named her one of the 100 most influential people in the world. She has received a lot of other coveted awards and recognition that places her on the same pedestal as Gaga among other female singers in the competitive industry.
Lady Gaga and Rihanna haven't done much in terms of collaboration but from the various interviews they have had, it is clear that they think highly of each other. It might be hard to decide who is most accomplished between Lady Gaga and Rihanna but is pretty obvious that the latter is taller. Often counted among the tallest female singer, Rihanna stands at 5 feet 8 inches (1.73 m). This means she is 7 inches taller than Lady Gaga.
How Tall Is Lady Gaga Compared to Beyonce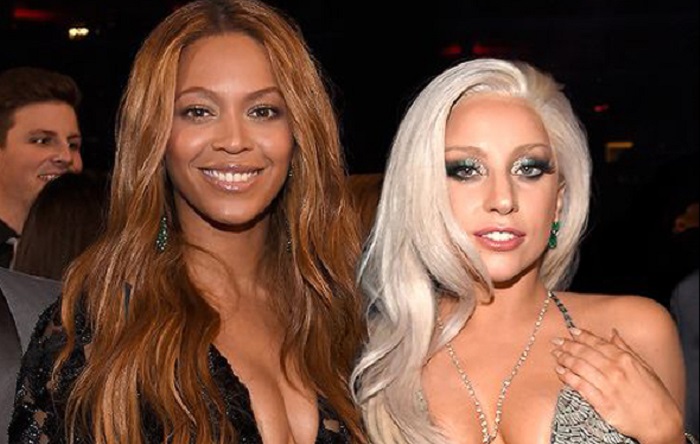 No one should be told that Beyonce is one of the most accomplished entertainers known to the world. The American singer has sold at least 118 million records across the globe with 28 Grammy Awards to her name. At the moment, she is the second-most-awarded artist in Grammy history, the most-awarded singer, and as well the most-awarded female artist. In 2020, Time magazine named her on its list of most influential women of the past century.
Lady Gaga and Beyonce have been friendly towards each other and their relationship can be traced back to Gaga's 2010 song, Telephone. The song features Beyonce but they are yet to perform it together on any live show. Beyonce is taller than Lady Gaga, she stands at 5 feet 8 inches (1.73 m).
The Pop Stars Maintains a Healthy Weight for Her Height and Her Body Measures 36-26-37 Inches 
While Lady Gaga has no control over how tall she is, she surely has control over her weight and has been able to keep it proportional to her height. To maintain her fine shape, she is known to frequent the gym. It was once reported that she does a 35-minute strength training five times a week. In addition to other fitness routines like bicycle crunches, reverse crunches, and what have you, she is known to practice yoga. It is said that she practices Bikram Yoga which is more intense compared to traditional yoga. More so, she observes a healthy diet to complement her fitness routines.
Thanks to all of the above, she has been able to maintain her weight at around 53 kg (116.8 lb). This is perfect for her height as much as it is suitable for her bust, waist, and hips which respectively measure 36, 26, and 37 inches. Above all, the singer understands her body and has been daring with what she wears. Her fans have been left with unforgettable memories of her unconventional dressings and fashion styles, which embody a sense of pride and a dose of craziness.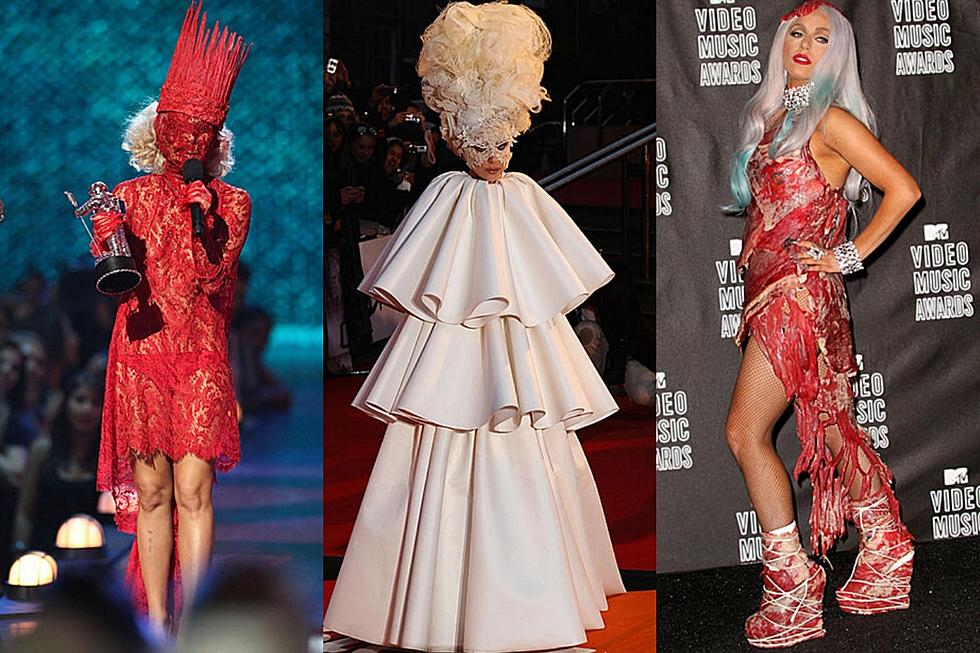 Her fashion, which according to her was heavily influenced by her mother, represents her desire to be in control of things in an industry that often dictates to artists. Not necessarily to express herself, or to get attention but basically to take charge of fame. She considers Donatella Versace, Alexander McQueen, and the popular goddess of pop, Cher, as some of the individuals who influenced her sense of style. Over the years, Gaga has metamorphosed from crazy hairdos, platform boots, heels, tiny bodysuits, and cheeky sunglasses into a relatively modern style.
To further highlight her unique looks, the natural brunette dyed her hair blonde due to her uncanny resemblance to the late Amy Winehouse. Now, she is often spotted in glamorous and glittering gowns, prosthetic mermaid tails, designer jumpsuits, and some casual but fabulous outfits. Without a doubt, the popular singer has a robust fashion-cred; she has featured on different fashion campaigns for top designers and brands.