Kyle Chrisley is an American reality television star and former musician best known as the son of real estate entrepreneur and TV personality Todd Chrisley. He is also known for his appearance on their family's reality show titled Chrisley Knows Best.
A former drug additc and bipolar disorder patient, Kyle attempted to take his own life in 2019 in reaction to the adverse effect of his bipolar medication but was saved. He is living now living in peace with his family and enjoying his marriage to Ashleigh Nelson whom he married in 2021.
If you are a fan of reality TV shows you would know that while the Osbournes have a trademark for shining in chaos and the Kardashians are best known for their entangled relationships and spending sprees, the reality sitcom Chrisley Knows Best which has Kyle Chrisley as one of its stars focuses on parental control.
It's surely a herculean task to be on such shows as one tends not to have any form of privacy at all. Everything about you becomes a public issue which is why Kyle, commonly referred to as Todd Chrisley's troubled son, has made headlines since the inception of the sitcom in 2014.
Amidst the never-ending family turmoil comes the news about Todd's formerly estranged son, Kyle Chrisley, being hospitalized. What happened to him and the truth about his family wars are all you will get to know as you read further. 
Summary of Kyle Chrisley's Biography
| Age/Date of Birth: | 32 years old (August 29, 1991) |
| --- | --- |
| Height: | Not available |
| Ethnicity/Race: | white |
| Nationality: | American |
| Wife or Girlfriend: | Alexus Whilby |
| Parents: | Todd Chrisley and Teresa Terry Chrisley |
| Net Worth: | Not available |
Kyle Chrisley Is Todd Chrisley's Eldest Son
The TV star said to be born on August 29, 1991, and raised in South Carolina, is one of Todd Chrisley and Teresa Terry's two children with his other sibling's name being Lindsie. After his father married Julie Chrisley in 1996, Kyle now has three additional siblings namely Savannah, Chase, and Grayson.
Kyle Chrisley was known for working with the Red Cros Society before becoming a star on the popular reality TV sitcom Chrisley Knows Best. Kyle is Todd Chrisley's eldest son, however, the father-son relationship was severely marred by a series of family disagreements but thankfully, they are in a better place now.
So What Happened to Kyle Chrisley?
Kyle has been part of the Chrisley Knows Best show from Season 1 and if you've been following the series, you will be aware of the young father's struggle with addiction and how he tried to turn a new leaf for his daughter Chole's sake.
Unfortunately, he continued to find himself entangled in more problems, from domestic violence allegations to continued drug use. Obviously, his mental health and addiction had done him more harm than good.
The worst of it was his attempt to terminate his own life. However, all of these seem to be in the past now as Kyle has been able to turn the course of his life around for good. Nevertheless, let's get to know some of the challenges the young reality TV star has faced.
He Had a Long History of Violence and Abuse
It's no news to fans of Chrisley Knows Best that Kyle's health issues did grave damage to his home and landed him in trouble severally with the law enforcement agencies. One of the most talked-about challenges was his abusive relationship with his ex-girlfriend and mother of his daughter (Chloe), Angela Victoria Johnson. 
The pair were said to have had a rosy relationship in the beginning, however, things went sour when Kyle started becoming violent towards Angela. He allegedly tried to choke or even stab her during one of their fights. The situation became very critical, hence, Angela had to fight for custody of her child which she got.
Kyle's bipolar disorder is characterized by episodes of mood swings which most often range from depressive lows to manic highs. While the exact cause of the health issue is not yet known, there are indications that his problems are mostly rooted in a combination of genetics, environment, and an altered brain.
Kyle Chrisley's Struggle for a New Life
Even after losing his daughter to his ex-girlfriend, Kyle struggled to improve himself for the sake of his beloved daughter. Later on, he got married to Alexus Whilbly who tried to help him turn a new leaf.
Alexus was not only his wife but also co-founded a musical team with him which they named Lexi & Kyle Chrisley. Under this name, they released the song titled Shame on You which sources believe to be an out lash on Todd Chrisley.
Sadly, people's hope for a happily-ever-after for the couple was dashed when in January 2019, Alexus received death threats from Kyle. The life-threatening text was followed by a series of violence which then led to Kyle's arrest.
Kyle's Drug Trafficking Issues
Shortly after an arrest warrant was filed against him, Kyle, in May 2019, was in police custody after the Police discovered a pouch of methamphetamine in his car. His arrest was booked in Okmulgee County Jail, he was to be charged with felony possession of meth, although he was not prosecuted.
Why Kyle Chrisley Was Hospitalised
In August 2019, Kyle's father, Todd made an Instagram post that showed his eldest son on a hospital bed. The picture has Kyle surrounded by his family members including his siblings Chase, Savannah, and Grayson. We could also see Todd himself standing with his wife Julie (Kyle's stepmother), Kyle's grandmother Nanny Faye and two others.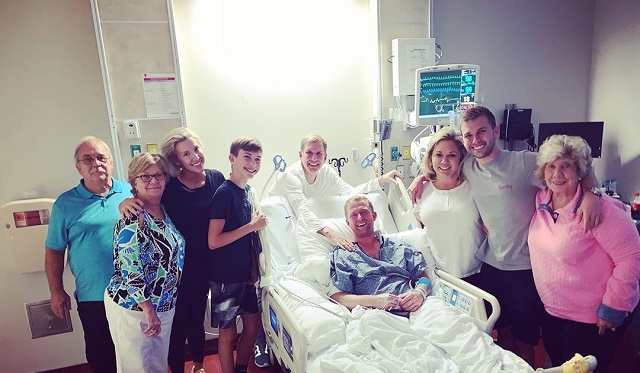 Giving reasons as to why Kyle was hospitalized, a representative of the family revealed that the Georgia native was experiencing an adverse reaction to a medication. Although there were no further explanations on what medication the young star was reacting to, it is largely believed that the medication could be related to his bipolar disorder issue which he has been receiving treatment for several years.
To allay all rumors surrounding his hospitalization, Kyle Chrisley and his father took to the Chrisley Confessions podcast to disclose that Kyle had attempted taking his own life in reaction to the adverse effect of his bipolar medication.
What is Kyle Chrisley's Relationship With His Father, Todd Chrisley Like?
Kyle Chrisley's relationship with his father Todd was one of the many issues drawing people's attention to the family. The two were known for throwing hurtful words at each other which had impaired the father-son relationship.
For instance, Kyle once blasted his father on social media describing him as a toxic snake who has destroyed his children's life. But in response, Todd continued to prove he truly loves his dear son, adding that his affection for him ha not changed but at the moment, he would rather be hard on him to bring out the best in him.
Kyle's strained relationship with his father is traced back to Todd's first marriage to his mother named Teresa Terry. Terry got pregnant for Todd at the age of 19 and the news of her expecting their child prompted them to get married.
Teresa eventually gave birth to a girl child named Lindsie Chrisley. Kyle was born about a year later. The marriage, however, did not last as the pair ended up parting ways a few years after Kyle was born.
One other of the many truths behind the father-son rift was Todd's involvement in the fight for the custody of Kyle's daughter Chloe. Chloe Chrisley is also a regular face on Chrisley Knows Best series which created more issues between Kyle and Todd as Kyle accused his father of using his half-black daughter to increase publicity for his show.
However, Todd refuted the allegation, claiming that Chloe is his granddaughter and she has every right to be on the show. The child is said to have continued being featured on the show even after Kyle quit after season 1.
We could also talk of Todd Chrisley's claim that Kyle's ex-wife Alexus tried to extort their family for $20,000. Although no arrest was made, Todd accused Alexus of threatening to expose his family as being racists unless they agree to pay her off.
A police report also revealed that Kyle was fired from participating in the reality show after he threatened to kill his father when he was under the influence of drugs.
The Chrisley Family Rift
One of the many reasons why the Chrisley know Best show is on the trending list is because it focuses on the lifestyle of the mega-rich southern family, especially Todd's relationship with his kids.
The show, which had its 7th season debuting in 2019, features Chrisley; his wife, Julie; children Savannah, Chase, and Grayson; and his granddaughter Chloe. The entire family members have been up against each other for different reasons but one of the most recent issues is Todd and his wife's indictment for tax evasion and other related crimes.
Kyle and his sister Lindsie have repeatedly accused their father and his other children of evading taxes while Todd in response has also accused them of various demeaning habits, including multiple extramarital affairs for Lindsie.
While the family saga continues, Kyle's hospitalization in 2019 seemed to have brought the family members together again. The estranged son who initially spoke against his father on the tax-evasion matter subsequently made a statement that proves the two were working hard to mend their torn relationship.
Thankfully, in January 2021, Kyle shared a photo of himself with his father, Todd, and stepmother, Julie, on his Instagram, proving that they had rebuilt their broken relationship. He has also overcome his addictions and is now back on his feet.
Kyle Got Married Again in 2021
Shortly after Kyle and Alexus parted ways, he got involved with another lady named Ashleigh Nelson, whom he credits with helping him become a better man. They tied the knot on March 30, 2021, in St. Augustine, Florida, as revealed in a marriage certificate obtained by PEOPLE. The document also revealed that the couple got the license in St. Johns County on March 29, and no witnesses were listed on the certificate.
FAQs 
What is Kyle Chrisley's Age?
Kyle Chrisley is 32 years old. He was born on August 29, 1991, in South Carolina, United States. 
Where is Kyle Chrisley Now?
Kyle has overcome his addictions and is now back on his feet, and has made peace with his parents. In January 2021, he shared a photo of himself with his father, Todd, and stepmother, Julie, on his Instagram. His Instagram feed reveals that he also spends time with his daughter, Chloe, and is on good terms with his siblings.
Who is Kyle Chrisley's Wife?
Kyle is currently married to a beautiful woman named Ashleigh Nelson. They started dating in 2019 and eventually got married on March 30, 2021, in St. Augustine, Florida. Before then, Kyle was married to Alexus Whilby from 2014 to 2019. An entrepreneur and musician, Alexus is the owner and manager of Home Design and Business Development.
Initially, Kyle and Alexus co-established a music band which they named Lexi & Kyle Chrisley. Under this name, they released the song titled Shame on You which sources believe to be an out lash on Todd Chrisley.
The couple also had a now-inactive YouTube channel known as KyleLexi Chrisley. Alexus made a lot of effort to help Kyle overcome his drug and substance addiction. Sadly, they eventually parted ways as a result of the same addiction problems.
Who Is Kyle Chrisley's Mother?
Kyle Chrisley's mother is Teresa Terry. She is best known as the first wife of Todd Chrisley with whom he had his first two children, Lindsie and Kyle. Teresa Terry and Todd were high school lovers and they got married in 1990. Unfortunately, their union ended in 1996 when Kyle was just 5 years old.
What is Kyle Chrisley's Net Worth?
Kyle Chrisley's life has been filled with a lot of ups and downs due to his problem with drug and substance abuse. Nevertheless, he managed to make some money from his career as an actor and a singer. His net worth is estimated at about $500, 000.
Who Is Kyle Chrisley's Daughter?
Kyle Chrisley's daughter is named Chloe Chrisley. She was born on November 10, 2012, through Kyle's relationship with his ex-girlfriend Angela Victoria Johnson. In 2014, Todd and Julie Chrisley were awarded full custody of the young girl after Kyle had a mental breakdown, which may have put Chloe in danger.
Is Kyle Chrisley Julie's Mother?
Kyle Chrisley is the son of Todd Chrisley and his ex-wife, Teresa Terry. Julie Chrisley, on the other hand, is the current wife of Chris' father Todd, to who he has been married since 1996.
Profile Summary
First Name:
Kyle
Last Name:
Chrisley
Also Known As:

Not available
Sex/Gender:

Male
Profession:

Actor, musician
Famous For:
His role on the famous reality television series titled Chrisley Knows Best
Colleges/Universities Attended:

Not available
Educational Qualifications:

Not available
Religion:

Not available
Birthday & Zodiac

Age/Date of Birth:

32 years old (August 29, 1991)
Zodiac Sign:
Virgo
Birth Place:

South Carolina, in the United States
Nationality:
American
Ethnicity/Race:

white
Country of Residence:

USA
Physical Attributes

Height:

5 feet 11 inches
Weight:

78 kg
Eye Colour:

Blue
Hair Color:

Blonde
Other Body Measurements:

Not available
Relationships

Marital Status:

Married
Spouse/Partner:

Alexus Whilby (now divorced). Currently dating Ashleigh Nelson
Family and Relatives

Father:

Todd Chrisley
Mother:
Teresa Terry Chrisley
Children:

Chloe Chrisley
Siblings:
Lindsie Chrisley, Chase Chrisley, Grayson Chrisley, Savannah Chrisley
Other Relatives:

Grandparents: Gene Raymond Chrisley, Faye Chrisley
Net Worth
Estimated Net Worth:

Not available
Salary:
Not available
Source of Wealth:

Music and probably other unknown sources