Kristen Stewart's sexuality is bisexual but she is currently dating actress and screenwriter Dylan Meyer. Before her, she had dated several men and women, including Sara Dinkin (2018 to 2019), Stella Maxwell (2016 to 2018, 2019), Alicia Cargile (2014 to 2015), Robert Pattinson (2009 to 2013), Rupert Sanders (2012), and Lyndsey Gunnulfsen aka Lynn Gunn (2015). That's not all. She also dated Anne Clark aka St. Vincent (2016), and Michael Angarano (2005 to 2009).
Highly acclaimed actress, Kristen Stewart has been an eminent personality in Hollywood since her lead role in the blockbuster Twilight movie series. And with that status comes a constant sneak peek on her love life. Though she initially tried to keep her relationships private because of her career, she has recently been open about every bit of it, citing how happier that has made her feel.
Obviously, Kristen lives for love and her belief in sexual fluidity has romantically connected her to a handful of males and females alike. As a result of that, many people are curious to know her sexuality and if you fall into that category; here's a look into the sexuality of the César Award-winning actress.
The Untold Truth About Kristen Stewart's Sexuality
The subject of Kristen Stewart's sexuality has been trending on several media conduits for many years now. Much has been speculated about her sexual habits and desires. As a result, the actress has tried to put things straight by being very candid about her love life in her interviews. Although the details of her sexuality are somewhat confusing, we'll try to break it down in the manner Kristen has expressed herself over the years.
Is Kristen Stewart Gay?
During her appearance on Saturday Night Live as a host in February 2017, she made a revelation about her sexuality by stating that she was so gay. This, according to her was her swift response to the 2012 tweet of the United States President, Donald Trump, of which he advised her then-boyfriend Robert Pattison against taking her back following the cheating scandal.
Come to think of her statement, the blonde beauty has dated quite a number of males, and yet called herself gay. Well, maybe she was referring to the fact that she is not straight. However, in the next month, Kristen Stewart threw more light on her sexuality by referring to herself as bisexual in an interview.
Surprisingly, in recent interviews, she has been reluctant about defining her sexuality as she eschews labels. She doesn't want to be identified as gay or lesbian because she believes that she can fall in love with anyone. So with regards to Kristen Stewart's sexuality, she doesn't identify as anything; she just wants to try everything. She harbors a strong belief in gender fluidity and sexual fluidity as well.
Kristen Stewart's Partners and Girlfriends
The A-list actress has had strings of affairs with a good number of males and females over the years. Despite being advised against holding hands with her girlfriends in public for the sake of her career, the movie star has never failed to express her affection for her partners by holding hands. Now let's have a glimpse at her past and present relationships.
Kristen Stewart and Michael Angarano (2005 to 2009)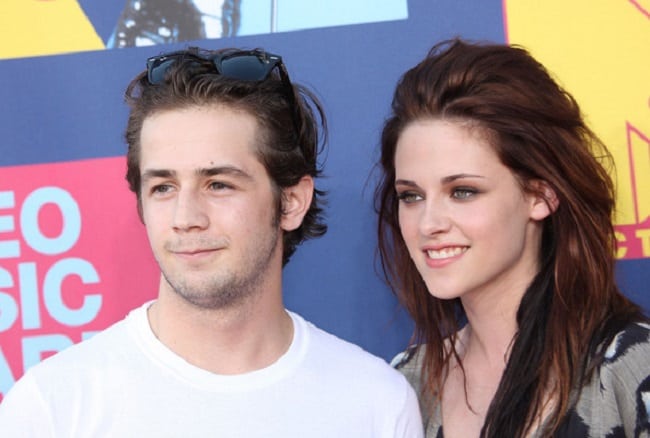 Kristen Stewart's first public relationship was with Michael Angarano, her co-star in the indie movie, Speak. The pair who got entangled in the web of love as teenagers stayed together for 4 years; from 2005 to 2009, before calling it quits. However, it was reported that Kristen was the one that called off the affair, having fallen in love with her co-star in Twilight, Robert Pattison.
Asides Speak, Michael has featured in Music of the Heart, Sky High, The Forbidden Kingdom and Sun Dogs.
Kristen Stewart and Robert Pattinson (2009 to 2013)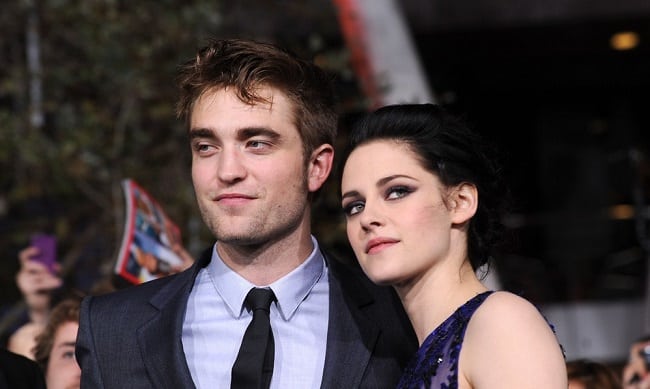 Kristen became Robert Pattison's new flame in 2009 when both were cast as lovers in Twilight. With so much chemistry between them on-screen, the duo couldn't resist the urge of fanning their on-screen love into flames in real life. It's so sad that even though both of them shared the idea of taking their relationship to the next level, their love couldn't last beyond the scripts. They only stayed together for four years before things went south.
Their separation, however, was hugely attributed to Kristen Stewart's fling with film director, Rupert Sanders in 2012 while still dating Pattison. Taking responsibility for her wrongdoing, the dexterous actress issued a public apology to all those her actions had affected negatively especially her then-beau, Robert Pattison.
Soon after her apology, the pair rekindled their love as Pattison went against Donald Trump's advice to dump Kristen. Unfortunately, what seemed like a never-ending love story, ended a year later in May 2013.
Kristen Stewart and Rupert Sanders (2012)
In 2012, the multi-award-winning actress graced the headlines of numerous tabloids as a result of her illicit affair with movie director, Rupert Sanders, whom she got acquainted with on the set of Snow White and the Huntsman. At the time, Rupert was married to Liberty Ross that played the role of Kristen Stewart's mother in the aforementioned movie.
Rupert Sanders and Kristen were pictured where they were kissing, and following the photo leak, Rupert's wife filed a divorce from him despite his public apology to his family. On the other hand, Robert Pattison ended his affair with his Twilight co-star, though they later reignited their romance soon after. Meanwhile, Kristen has recently revealed that she never slept with Rupert while the affair lasted. But the revelation seems to be a little bit late as she was enormously slut-shamed during their time together.
Kristen Stewart and Alicia Cargile (2014 to 2015)
Stewart took her fans by surprise in 2014 when she began dating her personal assistant, Alicia Cargile. The affair was her first public relationship with a female and thus, it left so many confused and curious about her sexuality. Even though the duo dated for two years, it was an on and off affair.
Nevertheless, Kristen felt much in love with her then-girlfriend which she publicly expressed while they were together. They went their separate ways later in 2016, after making an appearance as a couple at the Cannes Film Festival.
Kristen Stewart and Lyndsey Gunnulfsen (Lynn Gunn) (2015)
Widely known by her stage name, Lynn Gunn, Lyndsey is an American singer and multi-instrumentalist who is best known as one of the founders of the band, PVRIS. She reportedly became an item with Kristen Stewart in 2015, when the film producer was having an on and off affair with Cargile. The pair were spotted hanging out as Kristen attended some of her concerts then. A few months later, their brief romance petered out for good.
Kristen Stewart and Stéphanie Sokolinski (Soko) (2015 to 2016)
In 2015, Stewart who has now found love mostly in the hands of comely females moved on to initiate a romantic affair with French singer, Stéphanie Sokolinski, known by her stage name, Soko. The ex-couple were sighted smooching in Paris and holding hands while hanging out. Despite Soko citing that she was in a very loving relationship with Kristen, the love wasn't strong enough to hold them together for long, as they later parted ways after a year of dating.
Kristen Stewart and Anne Clark aka St. Vincent (2016)
Truth be told, Kristen Stewart has never had a dull moment in her love life. Having split from Soko the French singer in May 2016, the famed producer was snapped holding hands with American singer-songwriter, Anne Clark, known professionally as St. Vincent, a few months later. During their time together, the pair attended the premiere of Kristen's movie titled Certain Women, in the Big Apple and were also seen at the CFDA/Vogue Fashion Fund Show held in Chateau Marmont, Los Angeles. But just like Kristen Stewart's past affairs, in late 2016, she broke up with Anne who dated the English model, singer and actress, Cara Delevingne prior to hooking up with the Twilight star.
Kristen Stewart and Stella Maxwell (2016 To 2018, 2019)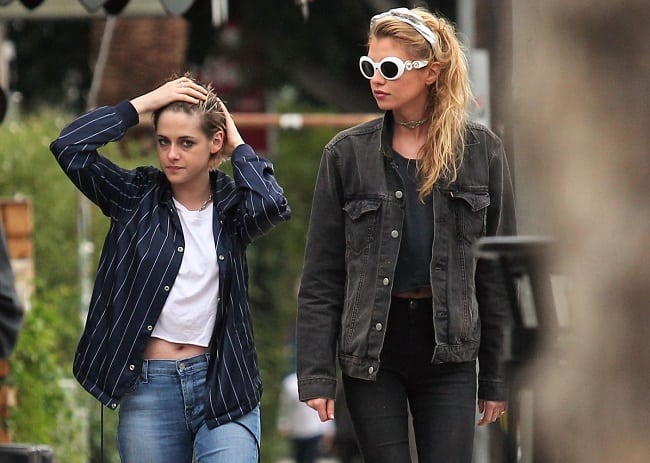 In December 2016, Kristen Stewart put a start to what seemed to be her longest relationship with a female partner. She fell in love with the model, Stella Maxwell who is best recognized for her works with Victoria's Secret. They made their first public appearance at the 2016 Met Gala Ball before appearing as a couple at the 2018 Cannes Film Festival.
After dating for five months, the duo reportedly moved in together and in October 2018, they broke up. They later got back together in June 2019 and were spotted in Los Angeles having dinner together. Similarly, in the following month, the two were seen enjoying a romantic moment on a Yacht in Amalfi Coast before things turned sour between them and they called it quits. Asides dating Kristen, Maxwell had been romantically involved with Miley Cyrus in the past.
Kristen Stewart and Sara Dinkin (2018 to 2019)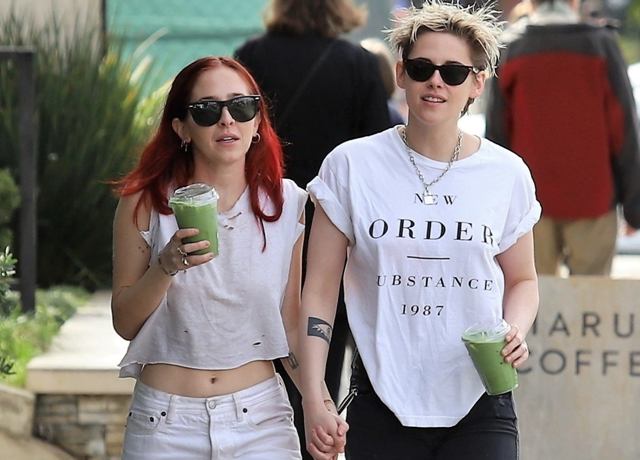 Two months after the talented director broke up with Maxwell, she was romantically involved with stylist and actress, Sara Dinkin. The former couple was photographed getting cozy and holding hands when out. They made things look more serious in April 2019 when they shared a heated smooch at the 2019 Coachella Festival. But even at that, Kristen Stewart went ahead and reignited her romance with her old flame, Stella Maxwell in June 2019 before they finally called it quits in the next month.
Kristen Stewart and Dylan Meyer (2019 to date)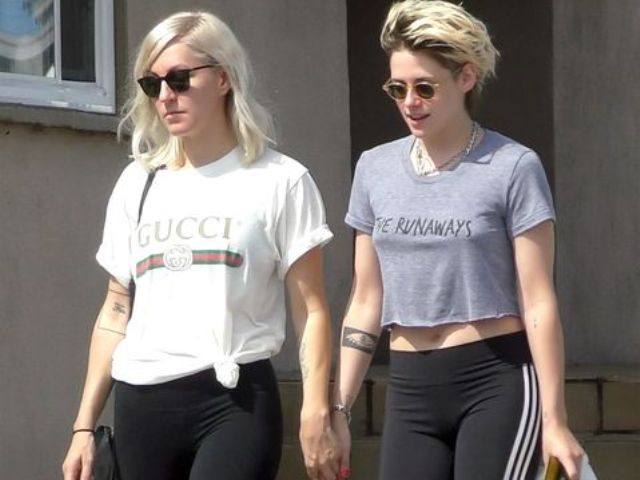 Kristen Stewart's sexuality was brought to question when news about her new love interest went public. Her new flame is none other than the actress and screenwriter, Dylan Meyer. The pair kicked off their affair in August 2019 and are still together to date. Even though they have known each other for more than five years, it was not until August that they decided to share their love lives together.
They have often been sighted in different occasions, be it, karate class; grabbing dinner or attending movie premieres. More so, Kristen Stewart has shed some light on the possibility of them getting hitched in the near future, as she would love to raise kids and act in movies with her partner.