Tammy Collins is the wife of Kirk Franklin, an American multiple Grammy Award-winning gospel singer. The couple got married on January 20, 1996, and have been together ever since.
Tammy and Kirk share four children – Kerrion Franklin, Caziah Franklin, Carrington Franklin, and Kennedy Franklin. The duo each had one child from previous relationships before they married and welcomed two of their own.
Tammy Collins' Profile Summary
Full Name: Tammy Collins
Gender: Female
Ethnicity: African American
Nationality: American
Sexual Orientation: Straight
Religion: Christianity
Marital Status: Married
Tammy Collins' Husband: Kirk Franklin
Tammy Collins' Children: Carrington, Kerrion, Cazier, and Kennedy Franklin
Tammy Collins' Height in Inches: 5' 5"
Tammy Collins' Height in Centimeters: 165 cm
Tammy Collins' Net worth: $8.5 million (with her husband)
Famous For: Being Kirk Franklin's Wife
Tammy Collins' Instagram: iamtammyfranklin
Twitter: @tamscollins
Facebook: Tammy Collins
Tammy Collins Was Born In Texas, in the United States of America
Tammy Collins was born to an average black family in Fort Worth, Texas, United States, on December 3, 1970. Unfortunately, a lot of information about her, including her educational qualifications, and siblings remains out of the grasps of everyone except those close to her. The identities of her parents, Esther and William E Collins, also remained unknown for a long while, but we eventually got to know them via her Instagram.
Tammy posted a picture of her father on December 29, 2021, while marking his birthday. In her caption, she revealed a few details about her family and her dad which showed that she was raised in a stable home, unlike her husband. According to her, she is the oldest of her parents' seven children and her father made individual time for all of them. He cooked breakfast on Saturdays and was there to support their activities.
Her parents were also devout Christians and it was only natural that she followed suit, so she was a steady churchgoer. Unfortunately, she fell pregnant at the age of 18 as a freshman in college and was ostracized from the church. This led to a brief backsliding because she was hurt that the people she had shown so much dedication to would turn around to judge her.
Tammy later gave her life to Christ after she gave birth to her daughter, but still struggled with the ridicule she faced in church as a lot of unsympathetic members of her church community labeled her "a good girl gone bad". But as much as it hurt her, she believed that God was working in her life, pulling her nearer to Him and preparing her with the skills she needed to help women and young girls who are going through similar situations.
What Does Tammy Collins Do For A Living?
As you might have already known, Kirk Franklin's wife was a makeup artist before she got married to the celebrity gospel singer. However, what we don't know is how successful Tammy was at her skill, or how long she had been doing it.
Additionally, having been a member of her local church choir, Tammy had a budding musical talent that she sought to develop by joining a Minneapolis-based R&B music group called 'Ashanti'.
In spite of how well Tammy seemed to be doing, she got married and decided to give it all up just to focus on her famous and successful husband. Now, what she does is take care of the home front and escort her husband to various musical awards and events.
Tammy happens to be a very huge part of Kirk's ministry as she is always seen speaking words of encouragement to him on her Instagram. Looking at how big Kirk has become, it doesn't look like she might have any regrets about giving it all up to support her husband.
How Long Has Tammy Been With Kirk Franklin?
Tammy Collins has been officially married to Kirk Franklin for over 25 years. Often referred to as the most successful contemporary gospel artist of all time, Kirk Dewayne Franklin is an American choirmaster and gospel singer who is best known for his eccentric style of gospel.
Since his debut in 1995, Kirk has been the recipient of numerous awards including 16 Grammys, 5 Dove Awards, several NAACP awards, and a Stellar Award. He is currently worth nearly $9 million.
Tammy Collins and Kirk Franklin met for the first time at a Dallas water park, when they were 18 and for some reason, they immediately felt something for each other. Four years later (around 1992), Tammy's cousin invited her to a demo taping of one of Kirk's songs, 'Why We Sing'. Speaking to Today's Christian Woman magazine in 2008, Tammy said that at the time, her cousin was just "ranting and raving about this guy who was short like me," but she had no idea who she was talking about.
Tammy honored the invitation anyway and while at the taping, she recognized Kirk as the guy from the water park years before. From that day on, Tammy said, they talked on the phone.
Also present at the interview with the Christian magazine, Kirk wouldn't let his wife end the story just like that, so he decided to tell it all. He revealed that Tammy came in the back and gave him her number and because he had already noticed her, he started calling her.
They Overcame The Issue Of Distance And Got Married In 1996
For many weeks after they reunited, the duo dated seriously until Tammy relocated to Minneapolis to chase her dream of becoming a singer with the Ashanti group. Afterward, they tried to maintain a long-distance relationship.
Even though they saw each other once in a while during Tammy's visits to her family in Texas, their romance got weaker and weaker. They eventually settled for being friends on phone but it was frustrating for both of them because friendship was not what they had wanted.
After some time, Kirk stopped returning Tammy's calls as he got fed up of keeping the long-distance relationship that seemed to have no future. Although Tammy felt disappointed with the break-in regular communication, she decided to reach out to Kirk one more time after a long hiatus in a message that read thus: "You haven't been returning my [phone] calls. I just wanted to say 'hi' and see how you were doing. But I'm not going to call anymore."
According to Tammy, that text was what did the magic as it made Kirk come running back to her. They were soon together again and for the long haul this time – this was around March 1995. On the 21st of January 1996, they were married and by the end of 1997, the couple had already welcomed their first child together.
Tammy And Kirk Have Been Through Some Rough Patches 
Marriage they say is for better and for worse, and the Franklins have been through and survived their fair share of storms even though they look like it has all been rosy for them.
In the very first year, they were faced with the difficulties of blending families as they both had a child each from their previous relationships. That first year also, they had to wait for five months after they tied the knot to go on a honeymoon because Kirk had a very tight touring and recording schedule.
Then, during Tammy's second trimester with their first child together (11 months after their marriage), Kirk fell off a stage in Memphis. This resulted in a brain contusion that left doctors in doubt as to whether he would ever be able to speak or think again, let alone continue with his music career.
Miraculously, he made such a quick recovery that he was discharged from the hospital and went back to performing just about a month and two weeks after the accident.
This was a major test of not only Kirk and Tammy's faith in God but also a test of the latter's commitment to the vows she made to her husband. Speaking of the experience, Tammy recalls asking God why she had to go through the "for better or for worse" part of her vows so quickly.
However, she could not deny the fact that God gave her peace that transcends all understanding. That is not to say that she wasn't scared, "but I just had this peace that Kirk was going to be okay," she told the magazine.
The Road Got So Bumpy Along The Way That The Couple Had To Get Help
In February 2017, the former makeup artist and then-aspiring singer also revealed that at some point in their marriage things weren't working out and she and her husband had to get into counseling in addition to praying.
She made the revelation during an interview with Erica Campbell on her show "Get Up! Mornings With Erica Campbell." According to her,  "We've done counseling – it has saved our marriage… We pray together and I'm not only his wife, but I'm his girlfriend."
Tammy went on to say that they learned so much as a result of the counseling, and among them is to always remember that the foundation of their relationship is friendship. This is most likely one of the things that have kept their relationship evergreen for more than two decades. The celebrity wife has severally advised women to ensure that they remained young and vibrant, no matter how long they'd been married, so as to keep the spice up.
In her personal experience, this has included switching out a pair of flat sandals for another pair of wedged heels, as that was what her husband preferred. If their marriage has lasted this long, then Tammy must have been doing something right after all.
Is Tammy Collins The Mother Of All Kirk Franklin's Children?
Tammy and Kirk have four children between them. However, the celebrity wife did not birth all four of them as Kirk's first son was born with an ex-girlfriend years before he got married.
The other three were birthed by Tammy, however, just like her husband, she too had a daughter from a previous relationship. Let's take a look at who these four children are, and what they are currently up to.
Meet Kirk Franklin and Tammy's Estranged First Son, Kerrion Franklin
Date of Birth: 1987
Age: 36 Years Old
Occupation: Author, Producer, and Cinematographer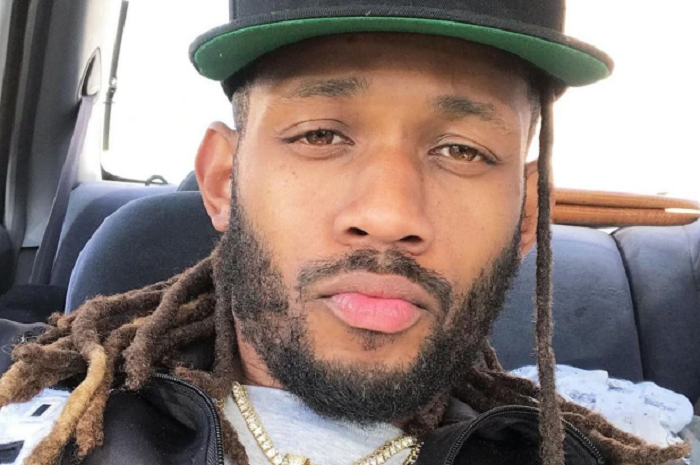 Kerrion Franklin is the gospel singer's first son and child. Born in Texas to Shawn Ewing and Kirk in 1987, he is currently 36 years old. Describing himself on his Instagram profile, he says he is an "author, producer, and cinematographer". Just like his father, Kerrion is also involved in music and usually shares pictures of him I'm a studio.
While information about his mother is not known to the public, it is a known fact that Kerrion is not on good terms with his Grammy-winning father. This fact was brought to the notice of the public after Kerrion released an audiotape of his father, Kirk, cursing at him and threatening to "step on his neck". Kirk was also heard calling his son the 'N' word and listeners weren't happy about it at all.
It appears that father and son have been at loggerheads for years, and things had degenerated to the point where Kerrion was no longer invited for family occasions like Christmas and Thanksgiving. Although Kirk eventually apologized for his private-made-public outburst, Kerrion refused to accept it, saying he apologized only to his fans and not him. It doesn't look like the duo has made peace with each other as Kerrion continues to remain conspicuously absent from all family photos.
Carrington Franklin is Tammy's First Child and Kirk's Adopted Daughter
Date of Birth: May 13, 1989
Age: 34 Years Old
Occupation: CEO and Creative Director of Liz Kennedy Brand Management
Carrington was born on May 13, 1989, in the United States to Tammy Collins and an old flame. As earlier stated, her mother was 19 when she had her, and she was single-handedly raised by her for much of her childhood until Kirk formally adopted her in 1996.
She had her high school education at a local school in her hometown before she moved over to Baylor University, a private Christian university in Waco, Texas, in 2007. From there, she bagged a degree in Journalism, Public Relations, Management in 2011. Continuing her education, she enrolled in Dallas Baptist University in 2012 and graduated with a Master of Arts degree in Organizational Communication Management in 2014.
Ever since she finished her studies, the beautiful young woman has been building a career in her field. Currently, she is the Chief Executive Officer and Creative Director of Liz Kennedy Brand Management, a brand experience management company based out of Dallas in Texas. Before this, she had worked for some other organizations, kicking off her career in June 2008 as an intern at KLTY Christian Radio until August 2008.
The following year, she also worked as an intern at Karmen Johnson & Associates from May 2009 to August 2010. One year after, she served as an intern at Girl Scouts of Central Texas where she did her internship from August to November 2011. Armed with the knowledge she acquired from the companies she interned with, Carrington landed her first real job in March 2012.
She was employed at UT Arlington Continuing Education as a Social Media/Marketing Manager. About a year and five months later, she left the firm as she got another job at Pat & Emmitt Smith Charities and Treasure You as the Executive Assistant. Moving on, she also worked as an Event Coordinator at The University of Texas at Arlington from Apr 2014 to Nov 2015.
Now 34 years old, Carrington is happily married to a business director named Maxx Nakwassah. They met in 2009 when Carrington was only 20, started dating in 2011, got engaged on October 1, 2015, and tied the knot in Dallas Union Station on October 1, 2016. On April 13, 2020, their union was blessed with a son named Shiloh Mekhi.
Kennedy Franklin Is Tammy and Kirk's First Child Together
Date of Birth:
Age: 26 Years Old
Occupation:
On May 4, 1997, Kirk and Tammy welcomed their first child together as a couple. Born i/n Texas, the child, a daughter, was named Kennedy Franklin. Now 26 years old, Kennedy has shown a considerable love for fashion and style and is very active on all social media platforms, including Twitter and Instagram where she has more than thirty-two thousand followers.
Kennedy attended Baylor University from 2015 to 2019 when she graduated with a bachelor's degree in Journalism New Media. In September 2020, she enrolled for further studies at Savannah College of Art and Design where she is currently studying for her Master's degree in Advertising. Meanwhile, as a Baylor University undergraduate, Kennedy worked in various fields in different positions.
First, she worked as a receptionist at the Baylor University Robinson Tower from August 2016 to January 2017 and then as a sales stylist at Charming Charlie in Arlington, Texas from June 2016 to August 2017. She also served in the position of a cashier at Spice Village for a year (Nov. 2016-October 2017) before she moved over to Baylor University School of Law in October 2017, serving as an assistant to professors until August 2018.
Kennedy was also an assistant to the events coordinator Baylor University Student Activities from May 2018 to December 2019. After she earned her journalism degree, she got a 2-months part-time internship spot at Essence Magazine in Brooklyn, New York. She eventually landed her first main job in January 2020 as an executive assistant at Fo Yo Soul Entertainment, Inc. Ten months into this job, she landed another executive assistant opportunity at KS Lewis Media in Washington DC-Baltimore Area.
Probably unable to handle the two jobs, Kennedy eventually left Fo Yo Soul in January 2020. In addition to her job at KS Lewis, the hard-working young woman is also a freelance social media manager at Jaye Nibbs Interiors. She took on the position in July 2020 and still retains it to date.  Most recently, she landed a contract job as a costume production assistant Kingdom Business and has been on it for seven months now.
Kennedy Shares A Very Close Relationship With Her Parents
Being the first biological child of her parents, Kennedy shares a special bond with both her father and mother. She loves to spend time with them and never fails to share her moments with them on social media. On Father's Day of 2021, she took to her Instagram account to celebrate her dad, posting a beautiful picture of two of them with a lengthy caption in which she expressed her love for him. See the post below:
Thanks to their healthy relationship, Kennedy could not keep mute while many people criticized her father in 2021 over the audiotape released that year by Kerrion. Speaking in her dad's defense in a video, she said if somebody keeps disrespecting her and spewing out untrue allegations that could destroy her reputation, she would "cuss them the hell out" just like her father did.
She went further to explain that as a grown person above the age of 30 (referring to Kerrion) you just don't "air out business". However, Kennedy added, "if you wanna air out we can air out. You don't gaslight people and expect them to be nice to you…and then be mad when they respond."
Meet Caziah Franklin
Date of Birth: September 5, 2000
Age: 23 Years Old
Occupation: Drummer
On September 5, 2000, Tammy and Kirk welcomed the final addition to their family, Caziah Franklin. Born in Fortworth, Texas, he attended Oakridge High School before moving on to Belmont University in Texas, a dream he nursed since 7th grade.
Influenced by his father's musical career, Caziah got involved in music as a child and is now a skilled drummer. He once mentioned that he began playing drums at about the age of 3. The 23-years-old also sings and plays the guitar, and usually shares videos of his drumming sessions on Instagram. He happens to be active in the Christian ministry and his relationship with his father is much better than his older half-brother's.
FAQs
What is Tammy Collins' Age?
Tammy Collins has kept her birth details hidden to date but it is a known fact that she was born in Fort Worth, Texas, in the United States.
What is Tammy Collins' Height?
Tammy Collins is 5 feet 5 inches (1.65 meters) tall and stands at the same height as her husband Kirk Franklin.
What is Tammy Collins' Net Worth?
Tammy Collins's net worth is not public knowledge but she shares in her husband's $8.5 million estimated net worth. Kirk Franklin is the richest gospel singer so far.