Kim Zolciak is an American TV personality and singer who came to prominence when she starred in The Real Housewives of Atlanta (RHOA). She has been married twice: first to Daniel Toce ​(m. 2001⁠–⁠2003)​ and currently to former American football player Kroy Biermann ​(m. 2011).
A mother of six, Kim had her first two children -Brielle Karenna and Ariana Lenee – from previous relationships and together with his husband Kroy Bierman, she had four more kids: Kroy Jagger "KJ", Kash Kade (born 2012), and twins Kaia Rose and Kane Ren.
Since Kim Zolciak came into the limelight following her appearance on Rohi, she has gone on to appear in other reality shows including her own show titled Don't Be Tardy, which premiered on Bravo on April 26, 2012, and ran until December 29, 2020. The show follows the day-to-day lives of Kim, her husband, and their children.
However, being a somewhat large family, it might have been difficult to keep up with all of their six children. That's why we decided to put together details about each of them from the oldest, Brielle Karenna, to the youngest, Kaia Rose and Kane Ren.
Insight to Kim Zolciak's Children and what they are up to Now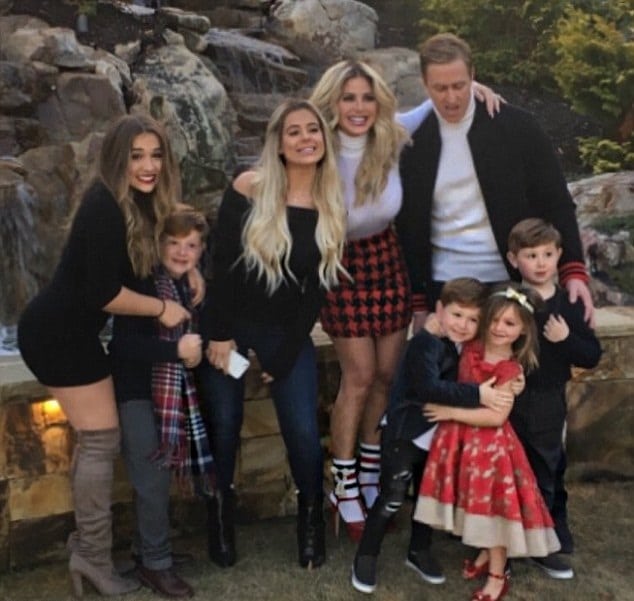 Her first marriage to Daniel Toce produced a beautiful daughter, while her second marriage to Kroy Biermann produced four children. Biermann adopted Kim's children from her previous relationships, Brielle and Adrianna, upon their marriage in 2011, and they took his surname Biermann.
Kim and Biermann's kids are all grown up and introduced in their road trip series Don't Be Tardy. We will whet your fantasies and introduce you to Kim Zolciak's children and what they are up to. This will satisfy nosy fans that have been curious about their lifestyles considering their wealth.
Brielle Biermann
Full name: Brielle Biermann
Date of Birth: 25th February 1997
Age: 24 years
Career: TV Personality
Biological father: Unknown
First on our list of Kim Zolciak's children is Brielle Biermann who is Kim Zolciak's first daughter from her previous relationship. She got adopted in 2013 after they gave the go-ahead for Kim's husband, Kroy Biermann to become their dad officially. Her biological father's identity has never been revealed by Kim and still remains undisclosed to date.
Their adopted father began the process of adopting Brielle and her sister Arianna when he married their mum in 2011. The symbol of his intention was two rings that he offered them at the same time as their mother.
Brielle featured prominently in live TV shows as a teenager due to her family's reality series. She then decided to make a name and career for herself as a social media influencer. She has moved out of their family home but still maintains the love and respect she has for her parents.
Brielle has admitted she has left Real Wives of Atlanta and has started dating and going on dates. She also admits that her adopted father Kroy has been her greatest inspiration despite not being her biological father.
She still pursues her career on TV but is currently into other things rather than those that bring her to the screen. She has also admitted to having done some work on her body and recently has jaw surgery to give her face a lift. This is quite controversial considering the fact that she denied changing her looks in recent times. She is the owner of a cosmetic company together with her sister Arianna.
Arianna Biermann
Full name: Arianna Biermann
Date of Birth: 17th October 2001
Age: 21 years old
Career: TV Personality
Biological Father: Daniel Toce
Arianna is the second eldest daughter of Kim Zolciak and is the issue that resulted from Kim's first marriage to Daniel Toce. Kroy Biermann adopted Arianna together with her elder sister when he married their mother. Arianna, who towed the same path as her sister was a prominent feature on TV shows and started making a name for herself, especially on social media.
Recently, Ariana has been more of a social media star, especially on Instagram. She has been in the news of late with reports saying that she has an eating disorder that has made her lose weight. She tried to shut down the rumors by revealing some of her fitness regimes to curb the stories, but that didn't help the curious fans.
Arianna completed her education at an undisclosed private school and is now pursuing her career apart from their family series, Don't Be Tardy.  On the other hand, she has not been too far from controversies. She was accused of having done liposuction to enhance her looks despite her continued denial.
In July 2020, it was revealed that Arianna is dating Aaron Scott; maybe he's the inspiration behind her massive weight loss. She also opened a cosmetic company, KAB, with her sister Arianna.
Kroy Jagger Biermann Jr.
Full name: Kroy Jagger Biermann Jr.
Date of Birth: 31st May, 2011
Age: 12 years old
Career: TV Personality
Biological Father: Kroy Biermann
Another of Kim Zolciak's children is Kroy Biermann Jr. who is Kim and Kroy's firstborn child. He was born on the 31st of May 2011. He is fondly referred to as KJ by his parents as a shortcut to his name since he and his father shares the same names. Unlike most average kids in America, Kroy was born into fame. His parents' featuring their family in the Don't Be Tardy reality TV series enhances this. The young kid can be referred to as a TV personality courtesy of that association.
It's becoming more likely that Kroy Jr. will follow in his parents' footsteps and become a prominent feature on the TV scene. He is also becoming an instant social media celebrity with his cute boyish looks with a verified Instagram account. We will await what the future holds for the young chap, but for now, he has done wonderfully well for his young age.
Kash Kade Biermann
Date of Birth: 15th August, 2012
Age: 11 years old
Career: TV Personality
Biological Father: Kroy Biermann
Kash is the second issue of Kroy and Kim Biermann and was born in 2012. The cute little boy has been featured many times in his family's snaps and is a great kid. He was featured in the headlines in 2017 after his mother Kim's dog Sinn bit him very close to his left eye.
The attack left Kash needing surgery to ensure no damage to his sight because he had lacerations in that area. The incident left Kash hospitalized for some days. The family confirmed that Kash underwent face reconstructive surgery as part of the treatment for that incident. The dog attack incident traumatized the family, but Kash has stayed strong through it all.
Initially, Kim Zolciak declined to release the dog's identity that attacked her son, but she was left with no choice but to call out her husky-boxer mix dog Sinn as the culprit. Kash has recovered from that ugly incident and has grown into life as a TV personality, just like his parents. He is also popular on social media with a verified account on Instagram.
Kaia & Kane Biermann
Date of Birth: 25th November, 2013
Age: Both 9 years old
Career: TV Personalities
Biological Father: Kroy Biermann
Kaia and Kane are Kim Zolciak's twin children which she had with Kroy Biermann. They were both born on the 25th of November 2013 and are the last issues of the Biermann family. The news of their birth was a thing of joy since it increased the number of children in the family from 4 to 6.
They were both named Kaia Rose and Kane Ren. Kaia was named after Kim's psychic Rose, while Kane was named after her obstetrician and gynecologist, who delivered five of her babies.
The twins were born into the affluence and luxury of the Biermann family and have featured in their reality TV series. There is no denying that these cute twins will follow in the footsteps of their mum when they grow up. The twins are already famous on Instagram with verified handles. It's only going to get much better for Kaia and Kane.
Meet Kim Zolciak's Current Husband – Kroy Biermann
Full name: Kroy Biermann
Date of Birth: 12th September, 1985
Age: 38 years old
Career: TV Personalities
Biological Father: Kroy Biermann
Kroy Biermann is a former American football defensive end and linebacker. He started playing football in high school and participated in track events as well. He was a first-team player for the American all-state while in high school and played professionally for the Atlanta Falcons.
In May 2010, Kroy was part of the stars called to participate in the Dancing Stars of Atlanta; an event organized to raise awareness for Alzheimer's disease. This was where he met Kim Zolciak, and both of them clicked instantly. The meeting was later featured on The Real Housewives of Atlanta, in which Kim was one of the major stars on the show.
They had their first child Kroy in 2011 before they decided to tie the knot in a lavish wedding at their Roswell, Georgia home on November 11, 2011. Upon their marriage, Kroy Biermann adopted Kim's two children Brielle and Arianna, and has been a wonderful father to all his kids.
It's obvious to see that Kim Zolciak has done well for herself. Managing a budding career and a large family such as the Biermann's can be exhausting, but Kim and her husband Kroy have done well for their family.