Kim Fields's husband is Christopher Morgan but she was previously married to Johnathon Freeman from 1995 to 2001. She is the daughter of Laverne Fields (professionally known as Chip Fields) and she has a younger sister called Alexis Fields. 
Kim Fields comes from a family that is cut out for acting. Those who have a thing or two to say about her would acknowledge her directing prowess and as well tell tales about how her mastery of acting was evident in 1979's The Facts of Life, 1993's Living Single, and 2012's What to Expect When You're Expecting.
Kim's roles as Ramsey, Hunter, and a social worker in the aforementioned films are really what viewers could hardly forget. However, Fields' life behind the screens has not been without grave controversies. Get to know all about her husband, sister, mom, and family
Is Kim Fields Married or Single?
In addition to her successful acting career, Kim Fields is also successful in her personal life. She has married twice and divorced once. Her first marriage was a six-year union with film producer and entrepreneur, Johnathon Freeman.
The couple got hitched in 1995, and while the marriage lasted, the couple were happy together. However, six years later, in 2001, they went their separate ways. The union didn't produce any child.
Following her divorce from Freeman, Kim Fields married Christopher Morgan, an actor, singer/dancer, and entrepreneur. The duo tied the knot in July 2007, about two months after they welcomed their first child, a son named Sebastian Morgan. The couple subsequently had their second son, Quincy Morgan in 2013.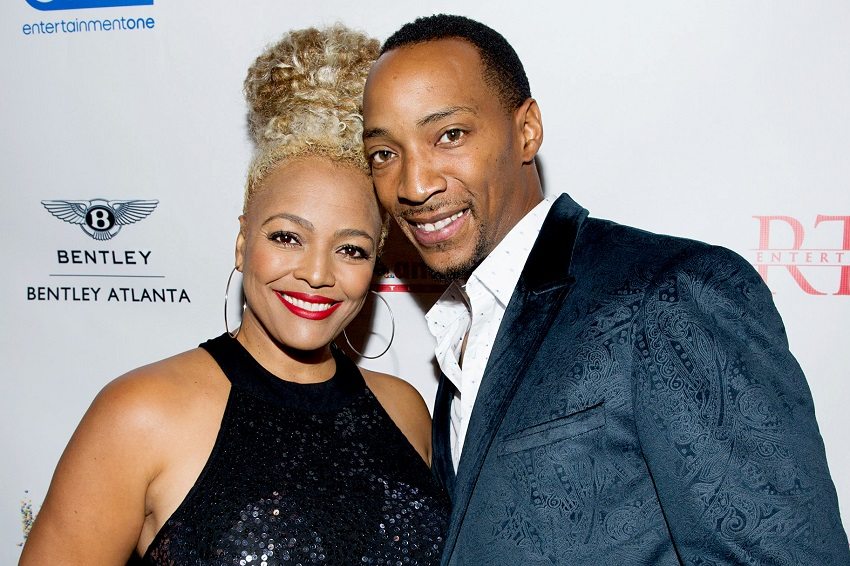 Is Kim Fields Husband Gay?
There have been several speculations saying that Kim Fileds husband Christopher Morgan is gay. The rumors first spilled from Kenya Moore of The Real Housewives of Atlanta in February 2016.
According to Moore, there is a long and widely-held perception in the entertainment industry that Morgan is sexually attracted to his gender, which has earned him the name, "Chrissy."
However, speaking during an interview with E!, Kim's husband dismissed the speculations, explaining that they originally emanated from his seeming obscurity in Hollywood before his dating and eventual marriage to already famous Kim Fields.
According to Morgan, no one knew any lady he was going out with back then, and so they started guessing he must be homosexual. He also associated the rumors to his choice of career in musical theatre, precisely Broadway singing and dancing.
Morgan later revealed that Kenya Moore has apologized to him, as well as publicly over the allegation.
Kim Feild's Facts Card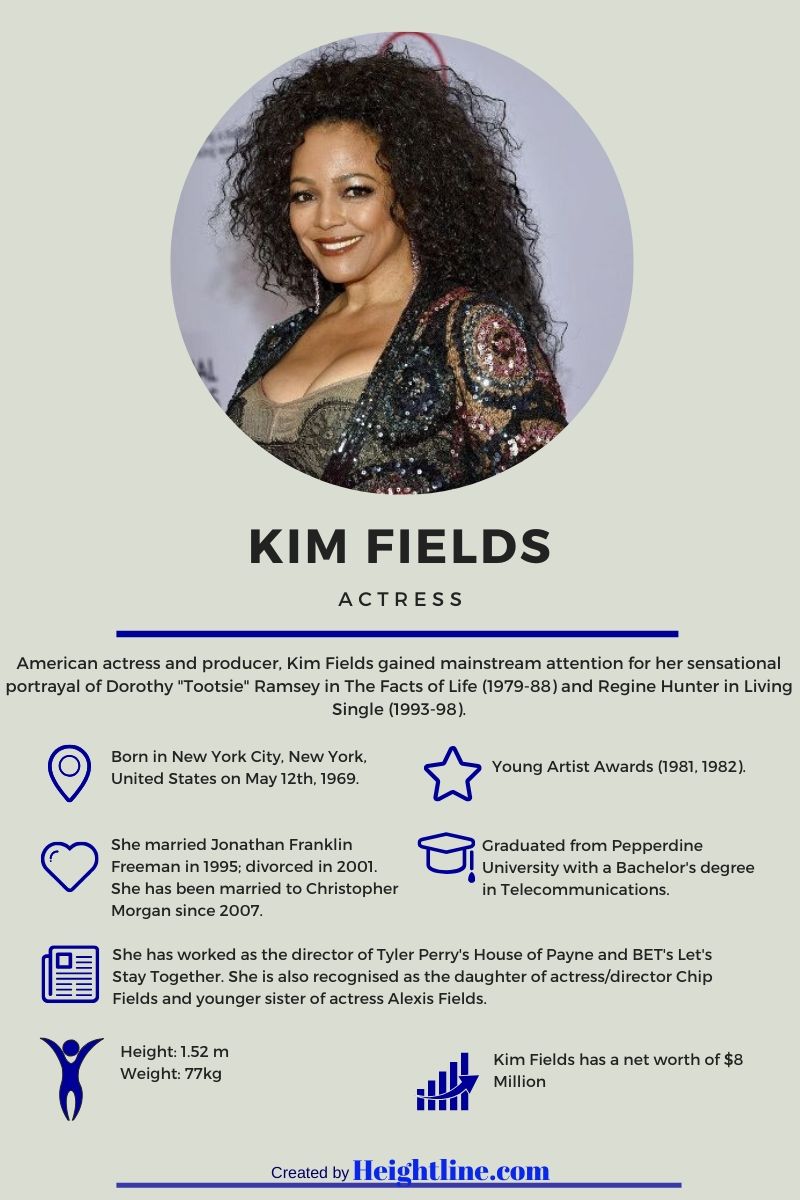 A Look at Kim Fields' Family Background
Kim Fields' life began on the 12th day of May 1969 in New York City, where she was born. Although she is widely known as Kim Fields, her birth name was Kim Victoria Fields.
She is the daughter of Laverne Fields and her ex-husband. Her mother, who is professionally known as Chip Fields, is an actress, singer, TV director, and producer. She is mostly famous for her role as Lynetta Gordon in Good Times, a 1970s CBS sitcom that also featured Kim as a friend to Chip's on-screen daughter.
Nothing much is known about Kim's father; the much we know is that he parted ways with Chip when the actress was still very young. Following her parent's divorce, Kim, her mom, and siblings moved to Los Angeles. Later on, their mom got hitched again to Erv Hurd, Kim's stepfather, sometime in August 1994.
Who is Kim Fields' Mom, Chip Fields?
Chip Fields is an African American actress, singer, director, producer, and acting coach who appeared in many popular films and TV shows in the 1970s. Her strong acting skills and distinct voice always made her a standout in her roles.
In addition to being the mother of Kim Field, Chip is also the mother to another celebrity daughter Alexis Fields who is easily recognizable and well known in the industry.
She is perhaps best known for her role of Mrs. Gordon, Penny Gordon's abusive mother on Good Times. Her first acting role was as Harriet Morse in the TV movie, Change at 125th Street (1974). She soon moved on to roles in film; first as an extra in Claudine (1974), and as a guest appearance on 70s TV staples like Rhoda, Police Story, Barnaby Jones, and What's Happening!!
Her last acting role to date was as Gert on the TV series Just Jordan in 2007. We don't know if she'll ever return to fans in front of the camera
Meet Kim Fields' Sister, Alexis Fields
Kim Fields has a younger sister called Alexis Fields, who was born on 1st March 1982. Just like Kim, Alexis also followed their mum's career path as an actress, making her acting debut in 1993 at the age of eleven.
Among the numerous film roles she has played so far, Alexis is mostly popular for playing Diavian Johnson and Nicole Wilson in ABC's Sister, Sister and Nickelodeon's The Secret World of Alex Mack, respectively.
Other films and TV series she has appeared in are: Moesha, Jacked, Hangin with Mr. Cooper, The Parent Hood, and Somebody Help Me. Kim and Alexis have also gotten several opportunities to co-star in films. Some of the works they have simultaneously appeared in include Fox's Roc and Nickelodeon's Kenan & Kel.
Alexis Fields married Kevin Jackson in 2006 after which she began adding Jackson to her name. The couple has two children, a daughter named Kaycie and a son.
She is very active on different social media platforms. Her twitter account, @Alexis_Fields, boasts over 16k followers, while on Instagram, she has more than 120k followers.
Kim Fields' Acting Career and Rise to Stardom
Owing to her inherited acting talents, Kim hit the silver screens at the age of eight. She made her first film appearance in the 1978 CBS situation comedy, Baby, I'm Back, wherein she starred as Angie Ellis alongside legendary actors Denise Nicholas and Demond Wilson. This initial exposure made her very popular during her days at the Burbank High School, LA.
Before her graduation in 1986, she had already gained fame through her role as Dorothy Ramsey on The Facts of Life (1979-1988). After she left High School and on finishing The Facts of Life, she took a break from acting and enrolled at Pepperdine University, where she earned a degree in communications.
On completing her university education, Kim Fields returned to the movie industry, thus expanding her career to include directing. Since then, she has appeared in a plethora of blockbuster movies and TV shows. Some of her most notable TV appearances include The Fresh Prince of Bel-Air (1993), Living Single (1993-1998), The Drew Carey Show (2001), Miss Match (2003), One on One (2004), The Real Housewives of Atlanta (2015-2016), and Living the Dream (2017-date).
Kim has also starred in popular movies, including What to Expect When You're Expecting (2012), A Question of Faith (2017), and You Light Up My Christmas (2019), etc. Her directorial credits include Tyler Perry's House of Payne (2009-2012), Tyler Perry's Meet the Browns (2009-2011), and BET's Let's Stay Together (2011), among many others.