Born into a family whose patriarch and matriarch were both musicians, there was no questioning on whether or not Kevin Jonas would walk the path of his parents. He did just that and not alone, but with two of his brothers as they formed the pop-rock band the Jonas Brothers which was managed by their father.
Ever since he made his musical debut with the "JoBro" pop band, Kevin Jonas has been very much around with news of what he is up to at any point in time (in music and of course television) being public knowledge, but for some time now, not much has been heard of him. Find out what he is up to now in addition to being in the know of his family life.
Who is Kevin Jonas?
Paul Kevin Jonas II was born in Teaneck, New Jersey to Denise Marie (née Miller) a former singer and sign language teacher and Paul Kevin Jonas Sr. a songwriter, musician and former ordained Christian minister. In his family are his three younger brothers; Joe, Nick, and Frankie with whom he grew up in Wyckoff a township in Bergen County, New Jersey.
Growing up in a music inclined family, Kevin Jonas began learning how to play the guitar and piano by the time he was 12. As he learned and mastered how to use the instruments to make good music, he would often practice with his younger brothers. It wasn't long before one of them; Nick, was discovered and signed to Columbia Records as a young artist with potentials. The brothers still continued to make music together and it happened that one of their songs was heard by the record label who then thought it best to include the others; Kevin and Joe in the contract they had signed with Nick. They went by the name The Jonas Brothers.
The Jonas Brothers' debut album "It's About Time" was released on August 8, 2006, which had a limited number of 50k copies owing to the fact that Sony Music Entertainment the owners of Colombia Records got disinterested in further promoting the band.
Kevin Jonas and his brothers then moved over to Hollywood Records as they got jettisoned by Colombia Records in early 2007. Their eponymous and second album titled "Jonas Brothers" came on August 7, 2007, "A Little Bit Longer" (third album) followed a year after, on August 12, 2008, with their fourth album "Lines, Vines, and Trying Times" coming on June 16, 2009. Three years later, it was made public that the Jonas Brothers parted ways with Hollywood Records and bought the rights to their music.
During the time Kevin Jonas and his brothers were pursuing their music careers, they were also involved in some acting works made guest appearances in Hanna Montana's Me and Mr. Jonas and Mr. Jonas and Mr. Jonas, they were filmed in Disney Channel Original Movie Camp Rock and its sequel Camp Rock 2: The Final Jam. The Disney Channel reality short series Jonas Brothers: Living the Dream is also worthy of mention just as Jonas When I Was 17 (Season 1) and Married to Jonas are all screen works he is proud of.
Net Worth
The American musician, actor and now entrepreneur worked hard with his brothers to achieve what they have so far with their band, and for all the beautiful songs they made together and with the successes, their albums and screen appearances saw, in addition to his new found fortune in business, Kevin Jonas alone has a net worth reported to be at $20 million.
Family – Wife, Kids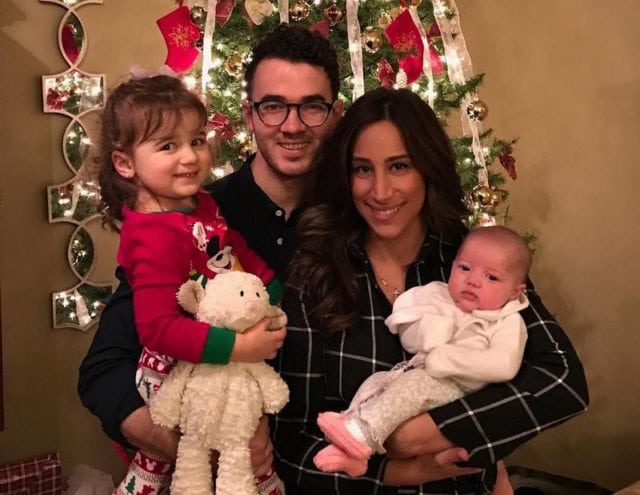 Kevin Jonas is married to Danielle Deleasa (a former hairdresser now an American reality television personality) who he met while vacationing in the Bahamas around May 2007. They took a quick liking to each other which soon blossomed into dating until they walked down the aisle to be joined in marriage as husband and wife on December 19, 2009, at Oheka Castle in the North Shore of Long Island.
The couple had their first baby on February 2, 2014, a baby girl who they named Alena Rose and two years later, they gifted her a sibling, a baby girl too who was born on October 27, 2016. The family has been a close-knit one with everything going right for them. We do believe it will remain so.
See Also: Danny Gokey Married, Wife, Kids, Divorce, Family, Other Facts
Where is He Now?
Following the breakup of the JoBro band, a lot has happened in their lives individually and no longer as a group. We learned from a reputable source that it was Nick who initiated the conversation for the break up of the group. This came on the heels of several troubles they had been having in the group but kept on suppressing. Following their break up, Joe went on to form his own band called DNCE which has been doing so well just as Nick's two chart-topping albums have kept him in the limelight of the music world. Where then is Kevin Jonas?
Kevin has been busy being a dad to his two bundles of joy and of course a doting significant other to his helpmate. His music career seems to have been put on a pause as he is now more of an entrepreneur with vested interest in JonasWerner: a real-estate development and construction company he founded after parting ways with his brothers. Also, Kevin is the co-CEO of The Blu Market; a company which is primarily concerned with communications and driving social media influences for companies, he is also a partner in the video-sharing app We Heart It.
Kevin's hands weren't full yet as he invested in a food app called Yood. Perhaps, as he spots or creates more startups with potentials, Kevin Jonas will keep on expanding his portfolio.