Katy Perry is yet to marry Orlando Bloom because they are taking their time to ensure that they're both completely aligned before exchanging marital vows. The singer's marriage to Russell Brand ended in 2012 and in 2016, she began dating Bloom. They got engaged in 2019 but since then they've been more focused on ensuring that everything necessary for the success of their future marriage is first put in place. As such, they are not in a hurry to tie the knot. 
Katy Perry is one of the biggest pop stars in the world, she has sold over 18 million albums across the globe and has won multiple awards in a career that has spanned over two decades. Since her entrance into the world of fame, Katy has been involved in several high-profile relationships with men who also work in entertainment.
For each man that she has dated, the relationship has been full of highs and lows and has provided great content for news blogs. Back in 2005, her boyfriend was Johny Lewis, popularly known for the part he played in Sons of Anarchy. The relationship lasted a year and the actor tragically passed away in September 2012 after falling from a rooftop. He was the inspiration behind her song The One That Got Away. 
Next on the list was Travie McCoy, the frontman of the popular band, Gym Class Heroes. It was a rocky relationship that came to an end in 2008, Perry's song Circle The Drain from her blockbuster album, Teenage Dream, was inspired by McCoy.
Between 2012 and 2014, Katy was involved in a whirlwind romance with John Mayer and yes, he did get a song. She was also rumored to have dated Josh Groban, Baptiste Giabiconi, Robert Pattinson, and Diplo. This famous singer has been in a relationship with Orlando Bloom following the end of her marriage to Russell Brand.
Katy Perry and Orlando Bloom Have Been Dating Since 2016 But Yet to Get Married
He who presently takes the crown as Katy Perry's boyfriend is Orlando Bloom, the relationship reportedly began in March 2016. Bloom is an English actor vastly admired for playing Legolas in The Lord of The Rings trilogy. Since then, he has starred in many Hollywood movies, establishing himself as a leading man in mostly epic and fantasy movies. His ongoing relationship with Perry has been under serious surveillance by the masses and the media, with speculation that it may lead to an enduringly serious union.
Katy Perry and The Lord of The Rings actor have been engaged since February 2019. For some people, this is a long time to be engaged but it probably doesn't seem so for the two. There is nothing that indicates the couple has any plans to get married in the nearest future. The duration of their relationship for them is not indicative of how successful it has been.
As one would easily find, Katy Perry and Orlando Bloom hit things off in 2016 when they met at the Golden Globes after-party. From all indications, the two got into a dance-off and slowly became closer as the night progressed. Perry herself has confirmed that their meeting took place at the awards ceremony before the party. Apparently, Bloom had taken a burger off the table that Katy Perry was on and upon noticing how handsome he is, she let him take the burger after protesting lightly.  
A few hours after, they ran into each other at the afterparty and she made a joke about the burger, in return he said "I like you" and today they have been dating for almost five years.
They Broke Up In March 2017 But Resumed Dating a Few Months Later
Regardless of how cozy they looked at the Golden Globes which usually holds early in the year, it was not until May of that year (2016) that they confirmed they were really dating. This happened after they were seen together at the Cannes festival in France. 
In the time they have been together, their relationship has not been without its ups and downs. A year after they started dating, the pair decided that they were taking time apart from each other but this was only for a short while as they two got back together a few months later. However, the public announcement of their reunion happened on the 26th of September 2018. This came after Katy Perry had put up a picture on Instagram implying that they were back together.  
Why they decided to part ways has remained a secret as neither of them has talked about it. The joint statement they issued only related that it was an amicable separation. The break-up happened in March 2017 and by August of that same year, it started circulating that they had resumed being lovers. This was because they were seen together on several occasions having fun in public.
The couple has been having a swell time together which has left many wondering why they are yet to walk down the aisle. One of the many exciting and memorable events that have happened in their relationship was Katy Perry out-bidding a fan for a date with Orlando Bloom. It was at the One Love Malibu event which was a fundraiser that was held to support victims of the Woolsey Fire. One of the ways money was raised was for Perry to auction off a date with Orlando Bloom. The auction got as high as $20,000 when Katy Perry outbid a fan and paid $50,000 for the date.
When Is Katy Perry's Wedding to Orlando Bloom?
The status of their relationship changed unexpectedly when they got engaged on the 14th of February, 2019. They both took to Instagram to post a close-up picture that depicts Perry with a pink diamond set in a flower-shaped ring on her left ring finger, indicating that they are engaged. Confirming they had committed to taking their relationship to the next level, Katy Perry narrated that the engagement was a very sweet affair that featured a lot of flowers.   
On the subject of marriage, it does not seem like either party is in a hurry to walk down the aisle. According to Bloom, he has been married before, got divorced and he doesn't want a repeat of that. Until they are both completely aligned, marriage is out of the works for him and while she as a person is constantly impressing him, he is willing to wait as long as necessary.
The singer echoed the actor's sentiment in one of her interviews. Perry said they are in no rush to get married. According to the singer, they are busy laying the emotional foundation for the lifetime commitment they will eventually embark upon. As she and Bloom had been previously married, it is not difficult to see why they are bent on getting it right before taking the next big step. It was reported in some quarters that the two were planning a December 2019 wedding but nothing materialized.
While Katy expressed that she is glad people are eager to see them married, she dismissed all the rumors about them changing the date they had picked for their wedding, asserting that she and her future husband haven't shared any of such information with anyone. Albeit it remains to be seen when the couple would take the ultimate step in their relationship, they have been very supportive of each other. Sometime in 2020, the singer spoke about how her fiance is her biggest supporter and how they are both bringing the best out of each other. 
The Couple Are Now Parents to a Daughter Named Daisy Dove Bloom
In March of 2020, Katy Perry announced in her Never Worn White video where she revealed that she was pregnant. Then she also confirmed the news on Instagram, disclosing that she would be due by the summer. April came and the couple shared a gender-reveal video which showed that they were expecting a girl child. 
Sometime in May, the singer dropped a song titled "Daisies". It was a hint at what they would name their daughter but nobody caught it until the child was birthed on the 26th of August. When they had the child, UNICEF posted a picture of the couple and their baby. The picture came with a donation page to ensure that women and their newborns get all the care they need. This was done by UNICEF as Katy and Orlando are both goodwill ambassadors. 
The singer has been very protective of her baby girl. But the child made an appearance in Perry's "Not the End of the World" music video. The birth of Daisy Dove Bloom made Katy Perry a mother for the first time but it wasn't the case for Orlando Bloom who had fathered a son named Flynn Christopher Blanchard Copeland Bloom with his previous wife, Miranda Kerr. Bloom and Kerr got married in 2010 and divorced in 2013. Albeit unofficially, Katy has been a stepmom to Flynn. 
Kath Perry Met Her Ex-husband In 2008 and They Began Dating The Following Year
Full Name: Russell Edward Brand
Date of Birth: June 4, 1975
Age: 47
Occupation: Comedian, Actor, and Media Personality
Duration of Marriage: 2010 – 2012
Current Spouse:

Laura Brand (2017 – Present)
Among the singer's exes, there was one who made it off the list as Katy Perry's boyfriend and had enough impact for her to not only let him put a ring on it but also lead her to the altar. The story of Katy and her ex-husband Russell Brand began at an MTV Video Music Awards event. It was barely a year before the wedding bells were ringing and barely 2 years when the marriage ended in divorce. Multiple songs on Perry's PRISM' album point towards the failed marriage.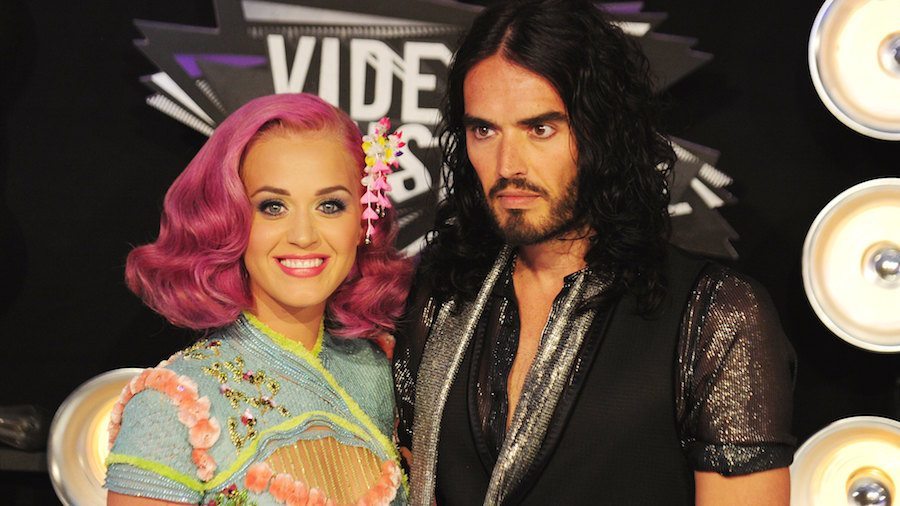 Russell Edward Brand is of British descent and is somewhat a jack of all trades when it comes to entertainment. He is a comedian, actor, radio host, author, and activist. He started his career as a stand-up comedian and transitioned to an MTV presenter which led to an acting career that has seen him appear in movies like 'Forgetting Sarah Marshall' and 'Despicable Me'. Presently Brand is concentrating on his talk-show, 'The Trews' and his activism.
Just like her love story with Orlando Bloom, what Katy Perry had with the English actor has continued to pique the interest of many even though their union packed up almost as quickly as it began. As the story goes, the former couple met for the first time in 2008, at the MTV Video Music Awards which had Russell Brand as the host. If they were taken to each other then, they couldn't do anything about it as Katy was in a relationship with Travie McCoy then.
As fate would have it, they met again at the VMAs in 2009 which also had Russell Brand as the host. The singer had parted ways with Travie McCoy and Russell was single. So when the sparks flew, there was no need to control how they felt and it marked the beginning of their story. Things happened quickly for Katy and Russell that by the end of 2009, they were already ready for a lifetime commitment. Brand proposed to the singer the same year they started dating and in October of 2010, they became man and wife. Their wedding was a private ceremony that took place in India.
People wished the couple well when it was confirmed that they got married but the wishes weren't enough to sustain the union as it came to an end barely 14 months later.
Why Did Katy Perry Divorce Russell Brand After Only 14 Months of Marriage?
The few months after they got married and even before they tied the knot, Katy and Russell had constantly had issues in their relationship. They had to deal with the media constantly breathing down their neck and not being together all the time as Perry was on tour around that time.  
There were rumors of them breaking up and while the singer had stated that she wasn't ready to have a kid, rumors of them being pregnant kept circulating. Katy Perry has spoken on how hard this period was on both of them, especially as they had just recently gotten married.  
On the 30th of December 2011, Brand filed for divorce on the grounds of irreconcilable differences. Although they loved each other, the time they spent apart because of their jobs made it harder for them to remain together. Russell expressed a similar sentiment in an interview, asserting that the marriage failed because of the "undulating nature of fame". Adding that he really tried to make things work for them, the comedian stated that he isn't angry at Katy for letting her career come in between them, "I have nothing but positive feelings for her", he said.