Katt William's height is listed at 5 feet 4½ inches, which is equivalent to 163.83 cm and 1.64 m in the metric system. The stand-up comedian is 2½ inches taller than Kevin Hart, another American comedian and actor whose height is listed at 5 feet 2 inches.
According to several sources, Katt Williams, whose weight is reported at 65 kg (143 lbs), revealed his height to be 5 feet 5 inches, which is 0.5 taller than what he is known to be. Despite his claims, the comedian's height is still inches shorter than the stipulated height for adult males over 20 years of age. Regardless, his height does not limit him from his career as a comedian and actor.
Katt William's Bio Summary
Katt William's Age: 51 years old
Birthday: September 2, 1971
Birthplace: Cincinnati, Ohio, United States
Birth Sign: Virgo
Ethnicity: Afro-American
Height: 5 feet 4½ inches
Weight: 65 kg
Body Type: Fit
Hair Color: Black
Eye Color: Black
Katt William's Height is Below that of the Average Male in the United States
Katt Williams has severally declared that he stands at a height of 5 feet 5 inches (1.65 m and 165 cm). According to a source, he revealed his height in one of his tweets, stating that he was looking down on his haters even though he was 5 feet 5 inches.
However, sources claimed that the comedian-actor added half an inch to his recorded height, which is 5 feet 4½ inches, revealing his height to be 5 feet 5 inches. Meanwhile, taking a look at the two heights of the comedian, the difference of half an inch can be a result of approximation. Therefore, Katt Williams will not be wrong to claim to stand at a height of 5 feet 5 inches, as the difference is way too minute.
When comparing his height with the average height of males in the United States, Katt Williams stands at a height that is below the average height of males in the US. This is based on the report by the Centers for Disease Control and Prevention on American males aged 20 and above. The agency pegged the average height at 5 feet 9 inches, which makes the comedian have a height difference of 4 as claimed by him or 4½ inches as recorded.
Is Katt Williams Taller Than Kevin Hart?
Kevin Darnell Hart is a black American actor and standup comedian who has a height of 5 feet 2 inches. Reports have it that the comedian once claimed a height above his recorded height. In one of his videos on YouTube, he claimed to stand at a height of 5 feet 4 inches, which is 2 inches above his recorded height. Despite his claims, many sources still maintain that his height is 5 feet 2 inches.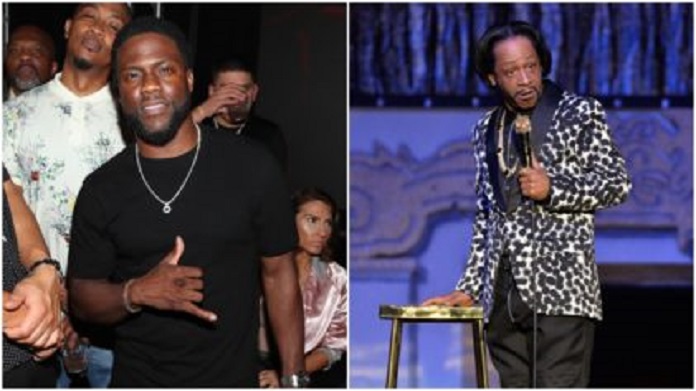 There is an obvious height difference between his recorded height and that of Katt Williams. It is observed that Williams stands at a 3-inch height above Hart's height if we take his claimed height of 5 feet 5 inches. If not, then he is 2½ inches taller than Kevin Hart.
The two comedians are below the average height of American males. Kevin Hart has a lower height difference than Katt Williams when their heights are compared to the average height of male Americans. Hart has a 7-inch height difference, and it is one of the reasons he is classified among the short American comedians.
Katt Williams' Height Compared to Other Hollywood Celebrities?
Comparing the heights of Katt Williams and Kevin Hart with some Hollywood stars, there are some that stand above the heights of the two comedians, and likewise, others that are below their heights.
Hollywood celebrities like Aziz Ansari, Elijah Wood, and Jack Black all stand an inch above the height of Katt Williams. Meanwhile, Katt Williams stands at an equal height with some other Hollywood celebrities like Bruno Mars and Daniel Radcliffe.
Despite the fact that Kevin Hart is shorter than Katt Williams, he still can't be regarded as the shortest Hollywood celebrity. Below are some celebrities below the height of Kevin Hart:
Danny DeVito – 4 feet 10 inches
Nicole Snooki – 4 feet 8 inches
Elliott Page – 5 feet 1 inch
Peter Dinklage – 4 feet 5 inches
The Comedian Weighs 65 Kg
Katt Williams' weight is 65 kg, which can also be calculated as 143 lbs. The comedian has a body mass index that falls within the healthy weight range. According to the BMI calculator, which provided a healthy weight range of 18.5kg/m² to 25 kg/m², the comedian got a score of 23.9 kg/m², which is within the stipulated range. This means that the actor's height and other body measurements place him at a healthy weight for his age.
Considering that he has healthy weight has helped him not only as a stand-up comedian but also as an actor. It enabled him to perform perfectly in any role, as he is very active in any movie role. This is one reason why he has, over time, been accepted as one of the best in the entertainment industry.
A Look At Katt Williams' Body Measurements
The comedian has a perfect body structure, which makes most of his fans more interested in knowing the size of some of his body measurements. To date, Katt Williams has not disclosed his waist size, hip size, or biceps measurements. The only available information about his body measurements is his chest size, which is measured at 40 inches.
However, we can not place our conclusion on the provided information as the source can not be regarded as a reliable one.
What is the Comedian Actor's Diet Plan?
Katt Williams's diet plan remains undisclosed. However, it is certain that his healthy body structure is a result of a healthy diet plan. Meanwhile, his diet plan remains unknown until he lets the public know what his diet plan looks like.
Does Katt William Maintain a Constant Workout Routine?
Unlike some Hollywood celebrities whose workout routines are made public, Katt Williams so far has decided otherwise. He has kept information regarding his workout routine under wraps and has focused more on his career. However, fans who love his physique are eager to tap into his workout plan in order to maintain a similar physique. They will have to keep all ears on the ground, waiting for the comedian to disclose the information.