Randy Bick is the husband of Kathy Griffin, an American comedian and actress. The duo started dating in 2012 but broke up in November 2018. However, they reconciled the following year and married in January 2020.
Bick is not the first man Griffin has been linked to. Before getting linked to the 45 year-old American marketing executive, Griffin was married to Matt Moline from 2001 to 2006 and had dated several other people like Jack Black (1992), Fred Stoller (1992), Quentin Tarantino (1995), Leif Garrett (1999), Andrew W.K. (2007), and Steve Wozniak (2007-2008).
Kathy Griffin's Husband, Randy Bick, Is 18 Years Younger Than Her
Full Name: Randy Bick
Nationality: American
Place of Birth: Undetermined
Date of Birth: Sometime in 1978
Age: 45 Years Old
Education: the University of Arizona and Azusa Pacific University
Occupation: Celebrity and Marketing Manager
Wife: Kathy Griffin (January 2020 – Present)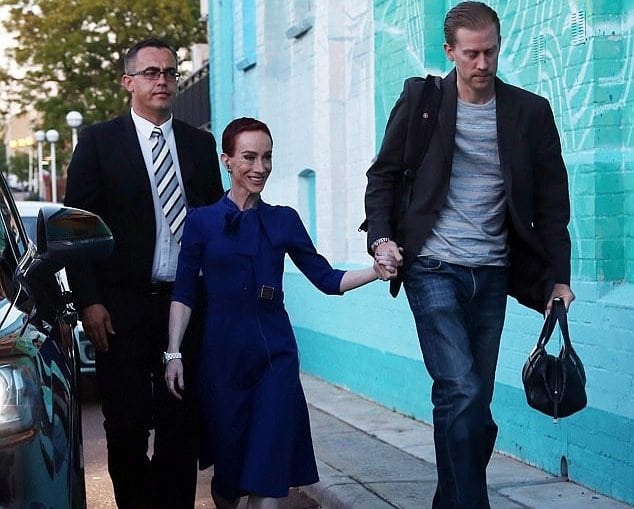 Randy Bick only came to the limelight as the romantic partner of Kath Griffin. Because of this, a lot of facts about his background are hard to come by. It is difficult for anyone to tell how old he is but according to Kathy, he is 18 years younger than her. As you would easily find, the American comedian is 63 years old as she was born in Oak Park, Illinois on the 4th of November 1960. Based on that, one can tell that her husband was born sometime in the late 1970s, precisely in 1978.
As for what he does for a living, we can confirm that Randy Bick is an entertainment media professional and an integrated brand marketing manager. He is a graduate of the University of Arizona where he bagged a Bachelor's degree in marketing; this was in 2001. Later, he would proceed to Azusa Pacific University where he obtained an MBA in business administration and management in 2004.
That same year, he began working as an account executive with O'Leary and Partners in Irvine, California. He also worked as a senior account executive with Colby and Partners / Dentsu Next in Fullerton, California for almost three years before he became a marketing manager for Los Angeles Times in February 2008, a position he held until September 2012. After he left Los Angeles Times, Randy Bick began working as a celebrity management director with Inappropriate Laughter, Inc.
Kathy Griffin and Her Husband, Randy Bick, Began Dating In 2012 and Got Married In January 2020
The Griffin-Bick relationship began sometime in 2012. Details of how they met and the circumstances surrounding the beginning of their relationship are not known to the public. Nevertheless, it is said that they met in 2011 at a food and wine festival. When they met, it was supposed to be a one-time hook-up. But somehow, they took to each other and began a relationship.
Their relationship gained a lot of scrutiny not only because of the popularity of Kathy Griffin but also because of the massive age gap between the two. Kathy has talked about this a few times, admitting that she never imagined the relationship would last because of the age difference.
Kathy Griffin and Randy Bick dated until November 2018 when they broke up for reasons best known to them. But then, they reconciled and resumed dating in April 2019. At the beginning of the next year, on the 1st of January 2020, they got married in an intimate ceremony that took place at Kathy's home in California. Lily Tomlin officiated the ceremony which according to Kathy, only lasted for twelve hours.
The couple does not have any child together and given Kathy's age, it is unlikely they would be having one unless they opt for alternatives. Kathy once joked that Randy can have an omelet if she has two eggs left.
Kathy Griffin Was Married To Matt Moline From 2001 To 2006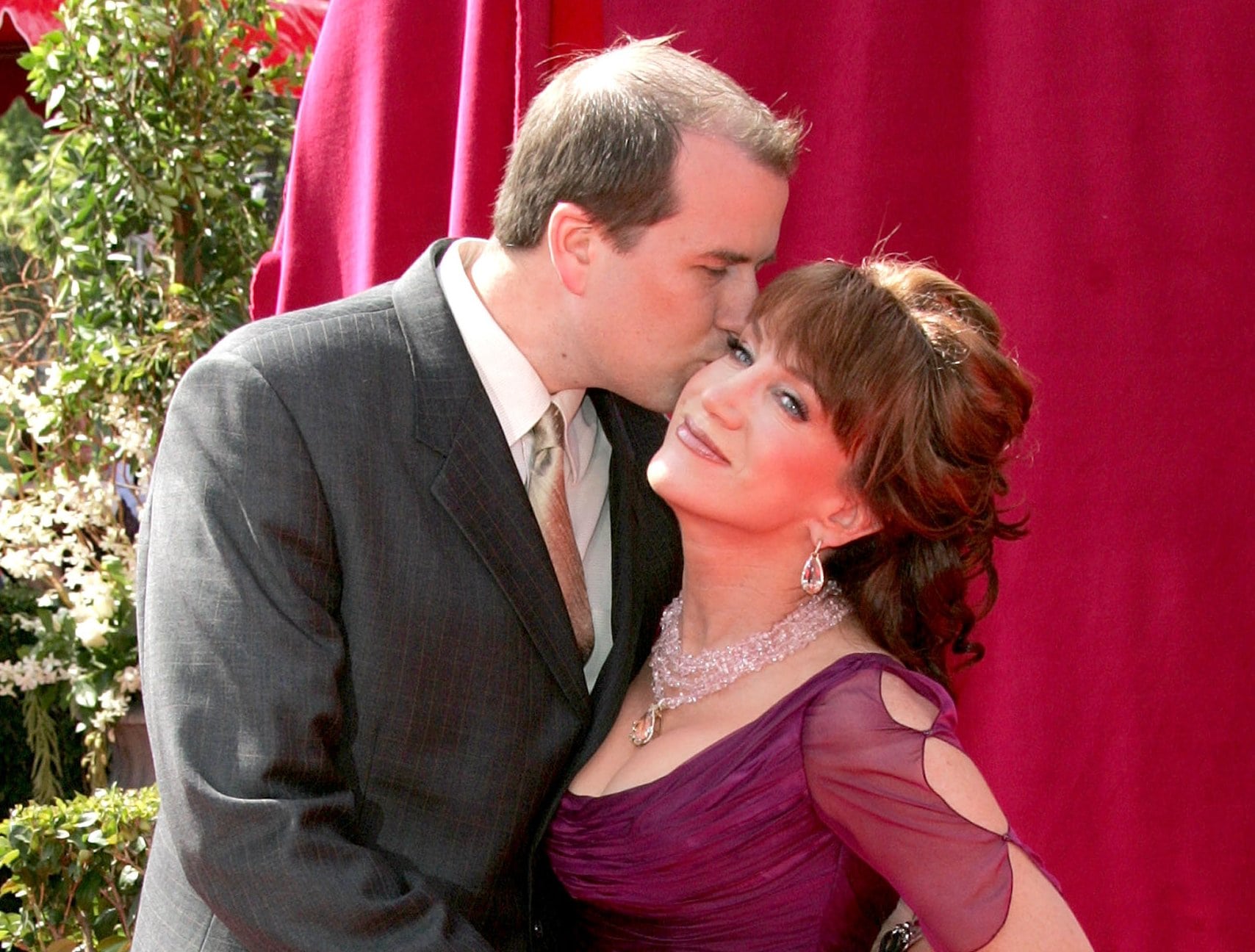 Matt Moline is an I.T. consultant and his love story with the controversial comedian began sometime in 1999. Although much of how they met and fell in love is yet to be revealed, an episode of Bravo's reality show, My Life on the D-List, which revolved around Kathy Griffin, explored the relationship between Matt and the comedian after they had gotten married. In the said episode, Matt related that he fell for Kathy the very moment he met her, adding that she was the most fearless person he had ever met.
Kathy Griffin also spoke highly of Matt, asserting that she had been unlucky in love before he came along. She described him as "smart and funny", adding that even though she slept with him on the first night, he didn't pull away as the "bad boys" do. The former couple dated for about two years before they decided to get married. Their wedding was special as they tied the knot on the rooftop of the 360 Degree Restaurant in Hollywood; this was on the 18th of February 2001.
They Divorced In May 2006 Because Matt Allegedly Stole from Kathy
For a while, things were great for the two and the public believed they were happily married until it emerged in September 2005 that the controversial comedian had filed for divorce. By May 2006, they had officially abandoned the marriage. As one would expect, there was much curiosity about what led to the end of the marriage.
This was left to various speculations until Kathy disclosed on Larry King Live that Matt had been stealing from her. She related that Matt Moline had been using her ATM to withdraw money from her private accounts without her knowledge. Griffin claimed Matt did this systematically for over a year and a half and that the total money stolen amounted to $72,000.
If all she said were true, Matt admitted to it and apologized. They tried to fix the marriage and even went for couple therapy but based on what she said, the divorce became inevitable as they were unable to get beyond the trust issues that emanated. Matt neither confirmed nor refuted Kathy's claims. He only expressed sadness over her decision to make such accusations about him in public and insisted it is a private matter he had no intention of making a public debate.
Kathy Griffin's Past Relationships Over The Years
Kathy Griffin has had a busy love life. She once expressed that she has dated all kinds of bad boys, from players to liars and jerks. In the aforementioned episode of My Life on the D-List, she stated that she had dated a midget, a guy who lived in his van, and a bunch of bisexual guys. If that is true, then the public hasn't been able to keep up with the comedian's love life as much as imagined. Below are the men she is known to have dated over time.
Kathy Griffin and Jack Black (1992)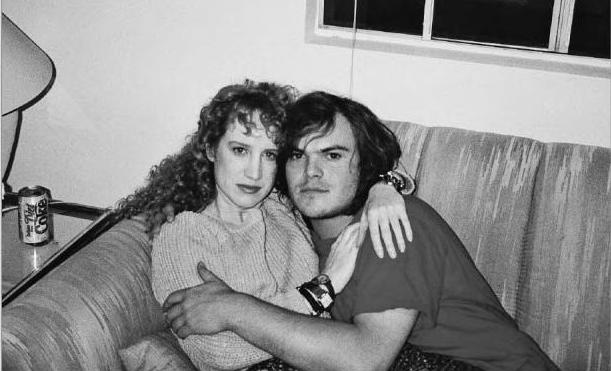 Jack Black is mostly known as an American actor and comedian but he is also a successful musician and a songwriter. The lead vocalist of Tenacious D, a Grammy-Award-winning comedy rock duo, Black is famed for his roles in films like High Fidelity, Shallow Hall, Orange County, Bernie, and of course the Jumanji franchise. He has a star on Hollywood's Walk of Fame and is one of the most accomplished exes of Kathy Griffin in the entertainment industry.
Black and Griffin dated in the early '90s and the latter has discussed the relationship in her 2009 book titled "Official Book Club Selection: A Memoir According to Kathy Griffin". She narrated an incident which for many, captured how real they were with each other even though it portrayed Jack as a strange and gross individual. Kathy related that she spent the night at Jack's place and had a shower the next morning when she was set to leave. She couldn't find any towel when she was done and asked Jack Black for one. He told her to use the one on the floor, that it serves as both his towel and his bathmat.
The relationship failed and Jack has since moved on. He got engaged to Tanya Haden, an American artist, musician, and singer in January 2006, they got married on the 14th of March that same year, and are now parents to two sons: Samuel Jason Black and Thomas David Black.
Kathy Griffin and Fred Stoller (1992)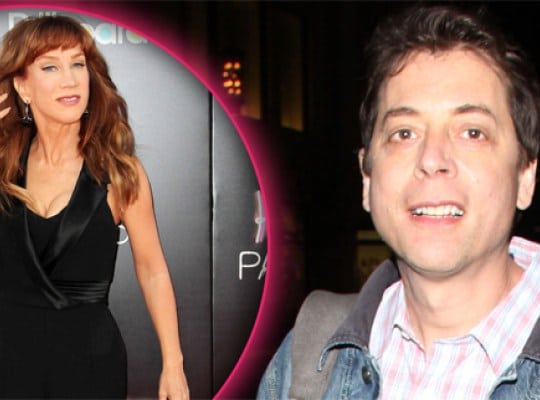 What Kathy Griffin and Fred Stoller had was more of an encounter. Stoller is an American actor, stand-up comedian, and author. He is known for playing Gerard in the popular CBS sitcom, Everybody Love Raymond. Apart from that, he has voiced characters like Stanley, Fred the Squirrel, Chuck, Jimbo, and Rusty, respectively in the Open Season film series, The Penguins of Madagascar, WorldGirl, Mickey and the Roadster Racer, and Handy Manny.
In his 2013 book titled "Maybe We'll Have You Back: The Life of a Perennial TV Guest Star", Fred talked about an awkward one-night stand experience with Kathy Griffin in 1992. According to him, they met at a party, got talking, and at some point decided to spend the night together. They left the party to get down with the business of that night and it was all great until Kathy started asking Fred's permission to smack him across the face.
Kathy Griffin and Quentin Tarantino (1995)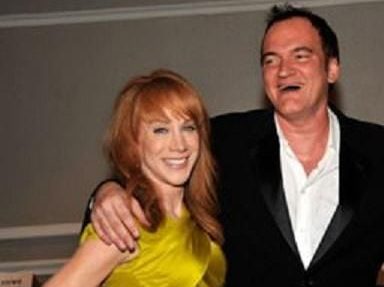 Quentin Tarantino isn't someone that needs much of an introduction; the American filmmaker is one of the most accomplished of his era and is celebrated for box office hits like Pulp Fiction, Jackie Brown, Kill Bill, Death Proof, Inglorious Basterds, Django Unchained, The Hateful Eight, and Once Upon a Time in Hollywood. He got engaged to Israeli singer Daniella Pick in June 2017 and they got married in November the following year, the two had been dating since 2009.
Before Pick, he had dated other famous women in entertainment, including Kathy Griffin. Admitting that she dated the filmmaker for a while in 1995, the comedian stated that they didn't get to have sex because Quentin only wanted to cuddle. She joked that the filmmaker was so much in love with her that he avoided sex because he knew it would make him fall deeper in love with her. The relationship began and ended in 1995.
Kathy Griffin and Leif Garrett (1999)
Leif Garrett is an American singer-songwriter, actor, and television personality from Hollywood, California. He got his start in Hollywood as a child actor and then became a teen idol in music in the '70s. Garrett and Kathy Griffin reportedly dated in 1999 but much isn't known about what they had.
Before Kathy, the musician dated British-born American actress Nicollette Sheridan. Other women he dated in the 1990s include Elaine Bilstad, Justine Bateman, Kristy McNichol, and Tatum O'Neal.
Kathy Griffin and Andrew W.K. (2007)
Born in Stanford, California, Andrew Fetterly Wilkes-Krier is a rock singer, multi-instrumentalist, record producer, and actor. He is one of the first persons Kathy Griffin was romantically linked to after her divorce from her first husband Matt Moline was finalized.
But then, it seems nothing serious happened between the two as Andrew got married to Cherie Lily on the 4th of October 2008. Lily had been a member of W.K.'s band since 2006 as a vocalist and hype woman.
Kathy Griffin and Steve Wozniak (2007 – 2008)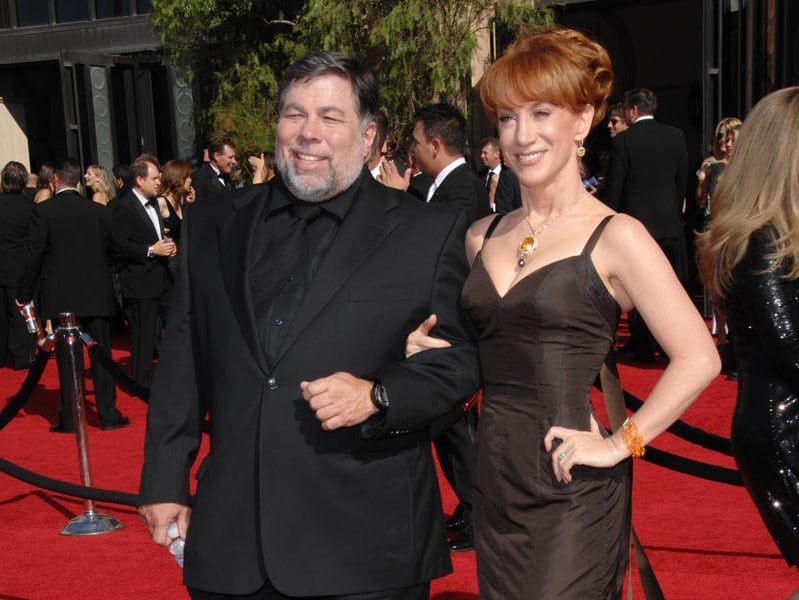 Kathy Griffin wasn't happy with the way things ended between her and her first husband, I.T. consultant, Matt Moline. To get Matt worked up, she pursued a relationship with famous technology entrepreneur, Apple co-founder Steve Wozniak. The relationship was a public one as they were always seen together and seemed inseparable. They were interviewed as a couple in 2007 at the red carpet of Emmy Awards.
The following year, precisely on the 5th of April, they were crowned as the King and Queen of the Humane Society of Silicon Valley Fur Ball on April 5. But then, that wouldn't be enough to keep them together as it emerged in June of that same year that they had fallen apart. Details of what led to the end of their relationship were never disclosed but it was said that Steve who got married to his fourth wife Janet Hill, also in 2008, sent Kathy an email that related he was getting married.
Isaiah Mustafa and Kathy Griffin (Rumored; 2011)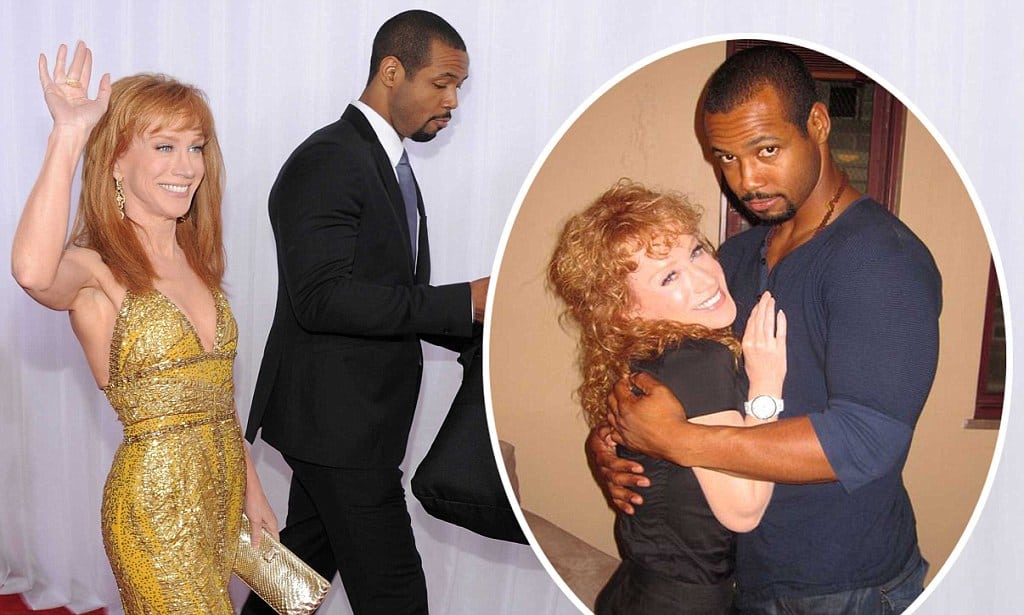 Isaiah Amir Mustafa is a former American football wide receiver and actor from Portland, Oregon. He is the last man romantically linked to Kathy Griffin before she started dating Randy Bick who became her second husband.
In March 2011, when the comedian featured as a guest on The Howard Stern Show, she made comments that suggested she was in a relationship with Mustafa. The former football player refuted her claims and asserted that he was single; nonetheless, he described Kathy as an amazing woman.