Karol G boyfriend list includes most guys that she has dated and those that she has been allegedly linked to, and they are Bull Nene, Anuel AA Read, James Rodriguez, J Balvin, and Bad Bunny. Meanwhile, the singer is currently rumored to be romantically involved with the Mexican singer Feid, but their relationship is yet to be confirmed.
Karol G (Carolina Giraldo Navarro) is a Colombian-born songwriter and singer. She is popular for her reggaeton and Latin trap and is one of the best female Latino singers. Thanks to her popularity, a lot of people are interested in knowing all about her, especially her love life which has been a subject of controversy for a long time. Here is all there is to know about the men on Karol G boyfriend list, and who she is with at the moment.
Who Is Karol G Dating?
Karol G has not confirmed her relationship status yet, but she is said to be dating Fied, a Colombian singer and songwriter. The rumors about the duo being in a relationship began to circulate after they released the song FRIKI in 2021. Their onscreen chemistry in the music collaboration seemed so perfect that most of the public jumped to a conclusion.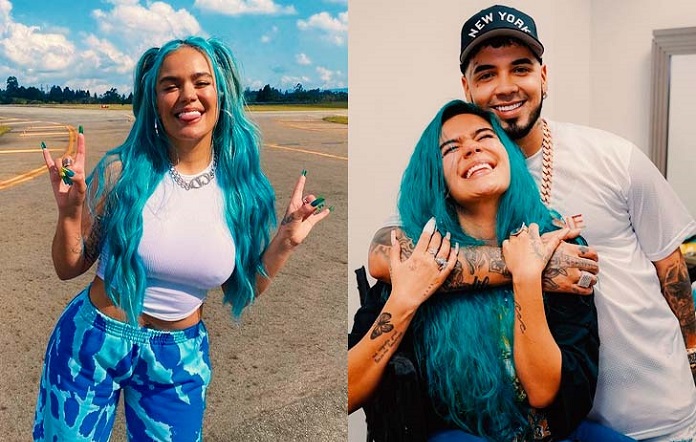 Meanwhile, Feid took out time to address the rumor in 2022 when is was clear that it wasn't going to end any time soon. He revealed in a press promo publicizing his upcoming concert in Mexico that if he had something to say, he would let everyone know, however, he made it clear that he doesn't have anything to share.
The singer went on to explain that he made a song with Karol G, he was with her on tour, he loves her a lot and everything, but there is nothing beyond that.
Irrespective of Feid's explanation, part of the public was not having it and kept on ranking him on Karol G boyfriend list. Meanwhile, the singers continued being friends despite the rumors and kept on going out together. As a result, fans were more convinced that they had become more than just friends after spotting them at various concerts together.
Though the relationship rumors seemed to have died down, it came alive again in March 2023 after Karol G made a guest appearance on Feid's $trip Love tour in Puerto Rico. While the internet was buzzing with the recent development, they made another appearance on June 16, 2023, in one of Feid's performances at Miami. This time, the alleged lovers were spotted backstage, holding hands, putting on matching outfits, and smiling at the cameramen.
Karol G was adorned in a white crop top, green satin pants matched with a clutch, and side-parting baby pink hair. On the other hand, Feid wore an oversized white T-shirt, black shorts, sneakers, and sunglasses.
While many thought that their recent outing could be a response to Koral G's ex-boyfriend's shirt print that read, "You're with FEID, but you know you're mine," others saw it as a confirmation of their speculated romance. While the public has been set in a frenzy with assumptions, Feid and Koral G have yet to make any comments to quench the aroused curiosity.
Who Is Karol G's Ex-boyfriend, Anuel AA?
Karol G's ex-boyfriend, Anuel AA, whose real name is Emmanuel Gazmey Santiago, is a Puerto Rican rapper and singer born on 26 November 1992, in Carolina, Puerto Rico. He began recording songs at 14 years and has grown to become one of the most prolific Hispanic rappers.
Anuel AA and Kora G met in August 2018 on the set of the music video for their song collaboration, Culpables. The rapper joined the men on Karol G boyfriend list after they came out open with their relationship in January 2019. By April they announced their engagement.
After their engagement, they made their debut public appearance as a couple at the 2019 Billboard Latin Music Awards, where Anuel AA told ET that there are no words to explain while Koral G flashed her ring.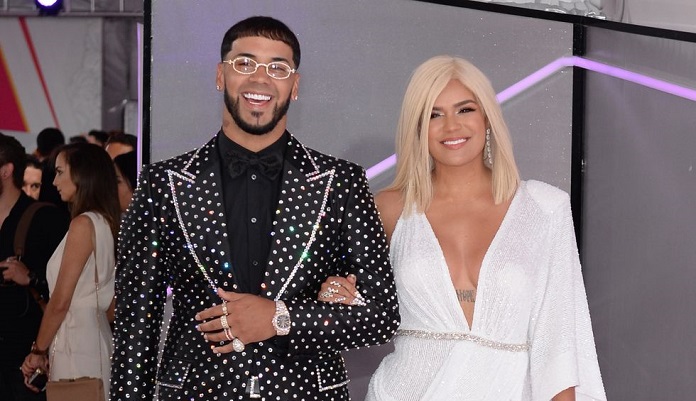 Karol G, on her part, stated that Anuel's romantic gestures made her know that he was the right one. She stressed that he was super romantic, and that was one of the things that made her know that he was the one. The singer went on to reveal that romantic men like him are hard to find these days, and he was her favorite.
Karol G further said that Anuel was better than anything she could have hoped for and she was super excited. She added that between their music and everything that they were going through with their love, everything was amazing. According to the singer, they lived together like a couple and have worked in collaboration with each other on several occasions.
Anuel AA and His Ex-Girlfriend Called Off Their Engagement in 2021
Unfortunately, things took an ugly turn and Kora G and Anuel AA had to call off their engagement after being romantically entangled for two years. In mid-march 2021, the ex-lovers took to their Instagram handles to confirm that they had called it quits.
They wished each other well and confirmed that they were still friends; however, they kept the reason for their split under wraps. Though they are no longer together, Anuel AA and Karol G have ways of getting into each other's paths
Karol G's Other Boyfriends
Karol G is a beautiful and accomplished lady, and it's no surprise that she keeps getting linked to successful men. She has also been linked to other men in the past, and here is all to know about them.
J Balvin
In 2017, J. Balvin, a Colombian singer, was allegedly linked to the singer. However, in a post by People, Karol set the records about their relationship straight, stating that they were friends, hope to record something together, and have been talking about it for about 2 years.
She went on to say that they are like brother and sister, and she was sure that whatever song they eventually make together would be very powerful, magical and record-breaking. She then added that they were friends before anything else.
Bull Nene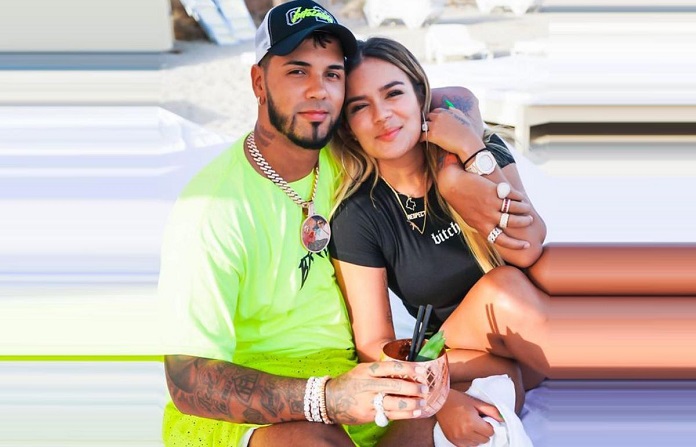 Bull Nene, a Colombian composer, was romantically involved with Karol G in the past. Though it's not known when they first met, they began dating in February 2018, however, their relationship was short-lived, as it ended in September 2018. Meanwhile, neither the composer nor the singer revealed the reason for their split to date.
James Rodriguez
Months after Karol G split from Anuel AA, rumors that she was dating James Rodriguez, a Colombian professional footballer, began circulating in 2021. It started after the footballer uploaded a picture of the singer at home with him. The singer also took a picture with James' daughter on that day, and it was also published on the footballer's daughter's Instagram handle, managed by her parents.
This sent more than sparks, as the public started digging to know if there was more to their friendship. James Rodriguez and Karol G also liked each other's posts, while the footballer made videos with his daughter with the singer's song in the background. They made a huge number of their fans conclude their relationship after the footballer dyed his hair blue, which was similar to the singer's hair color.
Karol G and James Rodriguez kept quiet following the series of claims about their relationship. The footballer kept the rumor mongers in a more confused state after he addressed the fact that he was not in a romantic relationship with a Brazilian model linked to him but said nothing in regards to Karol G.
Are Karol G and Bad Bunny Dating?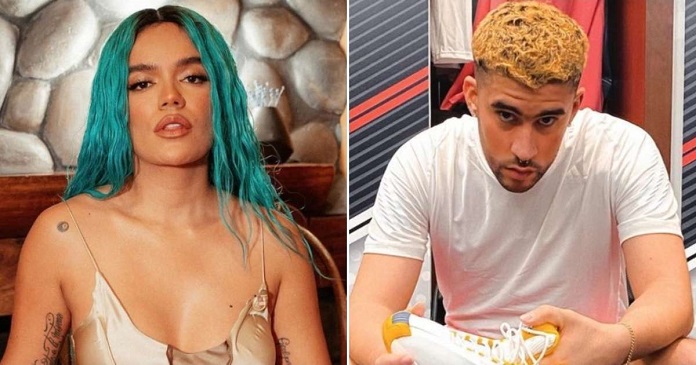 Karol G and Bad Bunny are not dating at the moment, nor have they dated in the past. He was able to rank on Karol G's boyfriend list in August 2022 after he was accompanied by Karol G into his new restaurant, Gekko, in Miami. Though the rumors were intense, neither of them made any comments about the claims.