In a world where job opportunities in relation to job seekers are far from being at equilibrium, Karen Laine should be given kudos for the gamble she took by leaving an established career as a defense attorney to delve into the field of house renovation, despite all the uncertainties involved in such a profession. Thanks to her hard work, dedication and eye for business, Laine has not only made a successful transition to house renovation, but she has also made a name for herself as one of the most reputable house renovators in Indiana and the USA at large.
In 2016, Laine's status got elevated from being just a house renovator to a reality TV star following her contract with HGTV, which gave her the chance to showcase her talents for house renovation on a reality show called Good Bones. While many are quite knowledgeable about all that pertains to Laine's career, not much is known as regards her personal life, a fact which this piece intends to change.
Who is Karen Laine?
Karen Elaine Thompson, popularly referred to as Karen Laine, was born on August 8, 1962, in Richmond, Indiana, USA. She is of white ethnicity and an American by nationality. There isn't much information as regards her childhood, or early educational background, it is, however, an open fact that she holds an LLB in Law. Upon graduation from the university Laine began practicing law with vigor and in a short period of time, she established herself as a very reputable defense attorney with a clientele consisting of very important persons in society.
Her foray into house renovating began in 2008 when she and her daughter Mina Starsiak renovated a house during her spare time through the help of the video streaming platform YouTube. Upon the successful renovation of the house, she was intrigued by the work she did, hence, she decided to collaborate with her daughter to set up a house flipping company which they called Two Chicks and a Hammer thereby foregoing her career as a defense attorney.
Within a short period of time, she began buying old dilapidated houses in Fountain Square and Hendricks areas of Indianapolis and transforming them into modern urban structures with a touch of class, making it not only appealing to the eyes but highly sought after by buyers.
In 2016, her hard work paid off as some of the Facebook posts on her company page caught the eyes of an HGTV agent which eventually led to her being offered her own reality TV show (alongside her daughter) titled Good Bones, it premiered on the channel on March 22, 2016. The show became a hit on its release, thus, propelling Karen Laine to a whole new level of stardom. Ever since then, she has made notable appearances on other TV shows such as A Very Brady Renovation, Building Brady and Brother vs. Brother.
Read Also: Garth Brooks Wife, Divorce, Mom, Children, Family, Net Worth, House, Wiki
Is Karen Laine Married To A Husband And Do They Have Kids?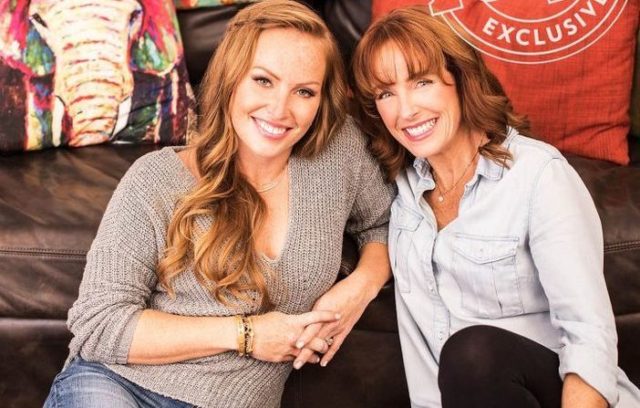 A broken relationship in most cases has the tendency to make one very reluctant in starting a new one due to the fear of getting heartbroken all over again. Nevertheless, life itself is an unending circle and as such, failure at one point in time doesn't necessarily translate to failure forever.
HGTV's Karen Laine is a firm believer in the above statement as she has been married multiple times in her life. Her first marriage was to a man named Casey, with whom she had three children (including her daughter, business partner and fellow Good Bones star Mina Starsiak). Her marriage to Casey was however short-lived as they got divorced soon without publicizing the real reason for their split. Laine's second marriage was to a man named Randy with whom she had one daughter. Her third marriage was to a guy named Mick and despite the promise their marriage showed, roses soon became thorns, leading to yet another divorce.
As of the time of this post, she is currently married to Roger and their love for each other seems to be waxing stronger by the day. On the 4thof October 2019 Laine made public her retirement from the family company Two Chicks and a Hammer so as to spend more time with her husband.