The Scottish beauty comes complete with a seductive native accent, towering height, red hair, and an energetic and infectious personality. Of course, Karen Gillan's acting career has taken off so successfully largely due to the fact that she can utilize or drop any of these attributes to play any role no matter how far removed it is from her true self.
Karen is professionally trained as an actress and also has credits as a writer, director, and producer. She has played enviable roles on huge franchises such as Doctor Who and Avengers.
Karen Gillan's Bio (Age)
A native of Inverness in Scotland, the actress was born Karen Sheila Gillan on November 28, 1987. She was bitten by the acting bug early in life. This love for acting saw her participate in a plethora of stage productions and attend various youth theatre groups during her time at her high school, Charleston Academy.
By the time she turned 16, she had her sights fully set on a career in acting. In the same year, she moved to Edinburgh to take a course on acting and performance at Telford College. During this time, she also trained under Scott Johnson, a well-known director of theatre. At 18, she relocated to London to study at the hallowed Italia Conti Academy of Theatre Arts.
Such was her focus that she even notably turned down a modeling contract offer from a modeling agency while in her first year to focus on her acting.
Movies and TV Shows She's Been in
In 2006, during her first year at Italia Conti, Karen opened her acting portfolio with her first television appearance which was a guest appearance on an episode of the drama tv series Rebus as the character Teri Cotter. In 2008, she continued her guest appearances with Harley Street and Coming Up. She then appeared as Ginny Turner in the short tv film, Stacked in the same year.
Her career began to pick up when she spent two years, starting in 2008, as part of the sketch comedy series, The Kevin Bishop Show. She also showed up in a few episodes of the BBC Two's horror project The Well. In the same year, she became part of her biggest project yet. She joined the cast of BBC's hit television series Doctor Who. Here she played Amy Pond, the companion to the Eleventh Doctor, played by Matt Smith. She was involved in the series from 2008 to 2017, appearing in 38 episodes.
During her time on Doctor Who, she was also involved in other projects. She was Ally in Outcast (2010); Jean in We'll Take Manhattan (2012); Jane in Not Another Happy Ending (2012); and Kaylie Russell in Oculus (2013), the latter for which she relocated to the United States.
Her growing reputation continued to make way for her to play bigger roles. In 2014, she portrayed the villainous character Nebula in Marvel's Guardians of the Galaxy. For the role, Karen Gillan had to shave off her hair, an experience she later described as liberating. She would reprise the role three years later in the sequel Guardians of the Galaxy Vol. 2.
She continued to appear in other movies and television series such as TV on the Radio: Happy Idiot (2014), Selfie (2014), 7 Days in Hell (2015), Robot Chicken (2015), and Emo Dad (2016).
Gillan officially became part of the Avengers franchise when she showed up as Nebula in Avengers: Infinity War (2018). In 2017, she was cast in a lead role as Martha/Ruby Roundhouse in Jumanji: Welcome to the Jungle; Annie in The Circle (2017); and Ruby in All Creatures Here Below (2018).
Her first project in the capacity of a writer and director was released in 2018 titled The Party's Just Beginning. Since 2014, the Scottish actress has been on talk shows like The Insider, Good Morning Britain, Good Morning America, and Jimmy Kimmel Live!
Family & Boyfriend
The actress does not have any siblings as she is the only child born to her parents Marie Paterson, and father, John Gillan, who had a career as a singer and a recording artist. Karen was raised in a Catholic home, however, she does not practice Catholicism or any other religion.
Karen has been in a few relationships in her time. The most documented was her relationship with British photographer Patrick Green. The two started dating in 2006, confirming their relationship to the public a little later. They were spotted together a few times in public, but they kept their relationship relatively low key. They eventually separated in 2012 after six years together.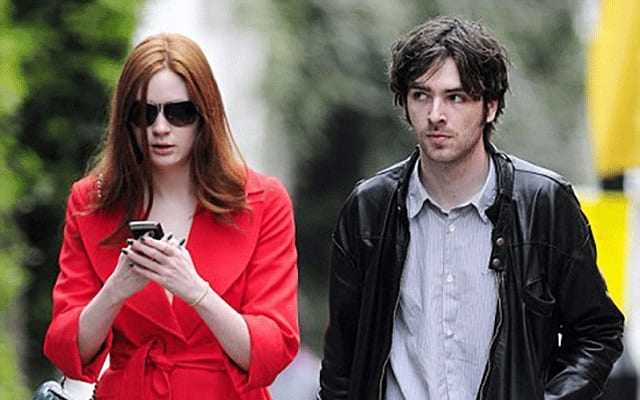 Moving on, she was rumored to be dating actor Andrew Brooke. The Sherlock Holmes actor had worked with Gillan on one of her guest appearances on Doctor Who. Soon the rumor mills were spinning with talk of their relationship. These became even stronger after they were spotted locking lips during a night out in Spain. However, the rumors were never substantiated. There were also rumors about her and co-star Matt Smith, but these rumors held even less water than the Andrew Brooke rumors.
Karen Gillan is not yet married and as far as is known, is not in any relationship.
See Also: Mikaela Hoover: 6 Facts About the Guardians of the Galaxy Star
Her height
The ginger-haired beauty stands at an enviably tall height which makes her stand out in an unobtrusive way. During an interview, she revealed that she was bullied mildly as a kid because she was taller than her contemporaries. The actress cum director stands at a height of 5 feet 11 inches (1.80 m).