Justin Turner is a utility baseball player who joined the Los Angeles Dodgers in 2014. The major league baseball player mainly plays as the third baseman for his team but has played in different positions for his previous teams before. He has experience playing first base, second base and shortstop.
Justin Turner's early days and career
Turner is a California boy; he was born in Long Beach, on November 23, 1984. He grew up in the state, where he attended Mayfair High School in Lakewood. Apparently, his love for the game of baseball started before he ever knew he was going to go pro. He turned out for his high school's baseball team throughout his stay in Lakewood. His efforts saw him receive the All-Suburban first team honors three times playing as a second baseman and a shortstop.
In his senior year, he took it up a notch, hitting .514 in the league. Mayfair High's baseball team pushed all the way to the league title that year. In the same season, Justin also bagged the Most Valuable Player honors for his stellar contribution to the team's title-winning season.
Graduating from high school, he moved on to major in kinesiology at California State University in Fullerton. Turner did not waste any time, making the second base position his own shortly after joining the college's baseball team, the Titans, as a freshman. The sports American magazine Baseball America bestowed on him All-American honors for his efforts in his freshman year in 2003. He was also listed in the 2003 College World Series all-tournament team, this time as a shortstop.
Till today, he is fondly remembered by fans of the College World Series as the guy who was smacked in the face by a fastball after he had gone 3 for 3, one of which was a home run. In the College World Series edition of the following year, Turner and the Titans would beat Texas to the title in a two-game final showdown.
In 2005, Major League Baseball Draft, Turner was drafted by the New York Yankees in the 29th round. Unfortunately, it was not to be as he did not sign with them. The following year he was drafted again, this time in the 7th round by the Cincinnati Reds. The team also threw in a $50,000 bonus for Turner contingent on him putting pen to paper for the team.
Turner showed spades for his talent but unfortunately only turned out for the team's Rookie League affiliate, the Billings Mustangs. During his time here he played all four infield positions and also in the outfield. He did make his mark that season though, recording a team-leading .338 batting average plus a .921 OPS. He finished the 2008 season with the minor league side Chattanooga Lookouts where he hit a .289 batting average and a .792 OPS.
Justin Turner, Ryan Freel, and Brandon Waring were traded by the Reds to the Baltimore Orioles in December 2008. It was here that Turner finally made his major league baseball debut. He turned out for the Triple-A rated Norfolk Tides for the 2009 season, ending it with a .300 average and a .749 OPS.
On September 8, 2009, Baltimore Orioles bought his contract and played him the very next day. He made his first major league hit at the iconic Yankee stadium just three days after his debut. He ended the season having been used in 12 games and earning a 3-18 record. The next season saw him play 17 games for the outfit, hitting .111 average (3 hits in 27 at-bats).
The New York Mets claimed Turner from the Baltimore Orioles in May of 2010, and optioned him to the Triple-A professional minor league side, Buffalo Bisons. A month later he was recalled by the Mets. His first major league baseball home run in his career came against the Houston Astros a year later, on May 15, 2011. He hit a three-run home run on the day, collecting a 5-RBI. The next week, in a Subway Series game, his seventh consecutive for the Mets, he collected another RBI. At the end of the month, he became the first New York Mets player to win the NL Rookie Player of the Month.
He was officially converted to an all-around utility infielder the following year but still played in the shortstop for some time that season. At the conclusion of the 2013 season, Justin was let go by the Mets, making him a free agent.
During this period, he was spotted by the bench coach of the Los Angeles Dodgers while he was participating in an Alumni game at California State University. On February 2014, he put pen to paper on a minor league contract with the Dodgers. On March 16, he was added to their Major League roster.
The player's versatility finally worked in his favor as he played 109 games for the L.A. Dodgers in the 2014 season. He recorded a team-leading .340 average, thanks to his seven home runs with 43 RBI in a total of 288 at-bats. On January 2015, he was rewarded by the Dodgers with a one-year contract worth $2.5 million, after which he became the undisputed starter for the third base position. He ended the 2015 season with a .294 average. He also hit 16 home runs and 60 RBI, a career-high record.
In 2015, Turner had to undergo surgery on his left knee, after which he signed another one-year deal worth $5.1 million. In the 2016 season, Justin turned out for a career-high 151 games, hit 27 home runs, 90 RBI and had a batting average of .275.
See Also: Pete Rose Wife, Girlfriend, Net Worth, Age, Wiki, Height, Biography
Finally, in December 2016, Turner got his first multi-year contract – a four-year deal worth $64 million. Unfortunately, he sustained an injury – a strained right hamstring – early in the season, after a flying start. The injury sidelined him from mid-May to early June. A month later, he was named to the 2017 Major League Baseball All-Star Game team. He ended the 2017 season with a .322 average, .415 OPS, 71 RBI and 21 home runs. Turner was also named MVP along with Chris Taylor for the 2017 National League Championship Series. However, he did not leave up to his talent in the 2017 World Series.
On March 19, 2018, Turner suffered another injury after he was struck on his left wrist by a pitch during a training game. Luckily, the injury did not require surgery but it meant he would be sidelined for the beginning of the season
Family and relationships. Does he have a wife or girlfriend?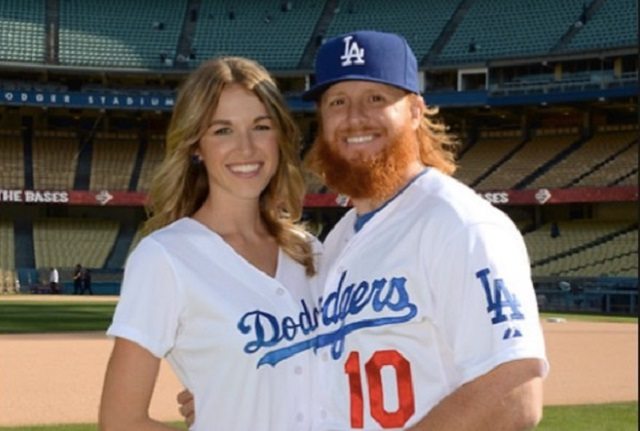 The quick answer is both; Turner had a girlfriend and now he has a wife. The long answer is that his girlfriend and wife are one and the same person. Turner's then-girlfriend, Kourtney Pogue had stood by him for a reasonable part of his career. Finally, Justin decided to pop the question and make it official. They tied the knot sometime in December 2017.
Nothing much is known about the family of Justin Turner. All that is known is the name of his parents: John Turner and Betsy Turner. He also has one sibling, a younger sister.
Weight, height and body measurements of Justin Turner
The third baseman is doing pretty well to keep his weight down and his build athletic. He stands at an impressive height of 1.8 m which translates to 5 feet and 9 inches. He maintains a healthy weight of 93 kg which translates to 205 lbs.