Born as a son to a retired NFL player, broadcaster, actor, advertising spokesman, O.J Simpson, and his wife, Nicole Brown Simpson, Justin Ryan Simpson is an American Real estate Broker and the youngest of the four children born to the one-time US popular figure.
Justin and his elder sister Sydney, five and eight years old respectively, were asleep upstairs when their mother was violently murdered. A murder case their dad stood trial for, for about eight months but was acquited of all charges against him. It is almost impossible to imagine the trauma Justin and his siblings faced throughout the horrible tragedy they experienced in the early period of their lives.
Over twenty years since the ugly ordeal, the question, where is O.J. Simpson's son Justin Ryan Simpson? Is worth asking.
Where is O. J Simpson's Son Today?
Justin Ryan Simpson, the son of former professional American football player, O.J. Simpson and the late Nicole Brown Simpson was born on August 6, 1988. He has an elder sister of the same parents named Sydney Brooke Simpson and three other half-siblings.
Justin has so far been able to keep his private matters away from the public eye, even though he has a public figure as his father. He did not let his father's shortcomings hold back his career, he has done his best not to be defined by the tragedy he experienced while growing up. Thus, it is understandable why he has stayed long away from the media's radar.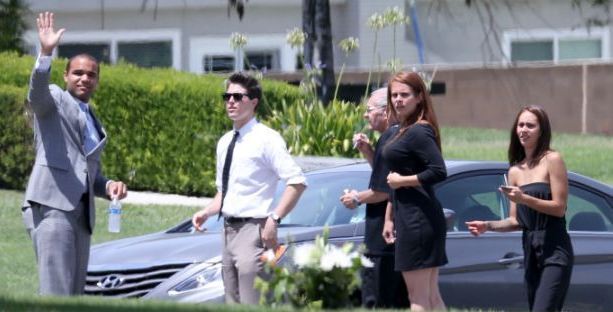 Justin is a Florida State University graduate. He is into the real estate business and works with Coldwell Banker Homes. He has over six years of working experience as a realtor. As a realtor, he specializes in listing, short sale, first-time homebuyers. He has served in various areas like Bay Pines, Clearwater, Indian Rocks Beach, Largo, Pinellas Park, St. Petersburg. Justin, Sydney and their half-sister Arnelle, are now living in St Petersburg where they started a non-active company called Justin communications. He was currently seen leaving Walmart in St. Petersburg, Florida. It is still not clear his relationship with his father.
About Justin Ryan Simpson Parents
O.J. Simpson was born as Orenthal James Simpson, nicknamed the juice. He is a retired professional NFL player and also an actor. He holds the record of being the first ever NFL player to cover more than 2000 yards in a single season with 143.1 yards per game record in a season. O.J. Simpson was born on July 7, 1947, in San Francisco, California. He was raised by his mother, following the separation that happened between his parents in 1952.
He started his American football professional career in 1969, joined the Buffalo Bulls the same year and topped the 1000 yards rushing for five consecutive years between 1972-1976. Simpson made his acting debut in the 1970s where he appeared in movies like The Klansman, Capricorn one and towering inferno. He joined Francisco 49er's in 1978, played till 1979 when he had to retire as a result of severe knee damage.
Simpson was married to Marguerite L. Whitley between 1976-1979. The couple had three kids: Arnelle Simpson, Aaren Simpson and Jason Simpson. Aaren died just a couple of days before her 2nd birthday, she drowned in the family swimming pool.
While he was still married to Whitley, Simpson met Justin and Sydney's mother Nicole Brown at a club called the Daisy where she worked as a waitress in 1977, she was eighteen years old then. The pair dated till Simpson divorced Whitley. They eventually got married in 1985. Simpson and Nicole had two kids together – their daughter Sydney Brooke Simpson, born October 1, 1985, and their son Justin Ryan Simpson, born August 6, 1988. In 1992, Nicole filed for a divorce citing irreconcilable difference.
Nicole Brown Simpson is a German-American born in Frankfurt, West Germany on May 19, 1959, to Louis Hezekiah Brown and Juditha Anne Brown. Her late father was American while her mother is a German. She died June 12, 1994, at age 35. Cause of death was reported to be as murder by multiple stabbing and slashing. She was found dead along with her friend Ron Goldman, a restaurant waiter just outside her home. Her ex-husband was arrested and sent to jail for her murder, but after eight months of The people versus O.J. Simpson: Trial of the century, Simpson was found not guilty. She was buried at the Ascension Cemetery. After Nicole's death, her parents were given temporary guardianship of Justin and Sydney.
Though he was not found guilty in the controversial trial for the murder of his late ex-wife, O.J. Simpson was arrested for robbery and kidnapping in 2008 and was sentenced to 33years in prison. He was released on parole on October 1, 2017, after nine years behind bars.
See Also: Aaren Simpson: Facts About O. J. Simpson's Daughter And Her Death
Justin Ryan Simpson Net Worth
Just like his sister, Sydney and his late mother, Justin has followed the line of real estate. He lives in St. Petersburg, Florida and owns the property where he stays. In addition, Justin has acquired several other properties, he is said to be worth around a region of $250,000 dollars.