News of Justin Bieber's rise to fame spread like wildfire back in 2009 as a talented singer who got discovered on YouTube for covering songs. He broke the record as the first artist to have 7 songs on the Billboard Hot 100 and in 2010 his first studio album with the single Baby was certified triple platinum in the U.S.
Biography
The talented young singer was born on March 1, 1994, in London and he grew up in Stratford Ontario. He went to a French elementary school in Stratford called the Jeanne Sauvé Catholic School before proceeding to St Micheal Catholic Secondary School Stratford, Ontario from which he graduated in 2012. During his childhood days, he developed an interest in music which made him learn how to play the piano, drums, guitar and trumpet. At age 12, he sang the song So Sick by Ne-Yo at a singing competition in which he emerged second place and his mum, impressed by his singing, uploaded the video on YouTube which turned out to be a habit in subsequent years.
Bieber's talent was discovered online by Scooter Braun, a former marketing executive of So So Def Recordings who watched his video by accident but was quite impressed by the kid's talent that he had to track him down and get permission from his mum to take him to Atlanta where he was signed by Raymond Braun Media Group a record label co-owned by Braun and Usher Raymond.
See Also: Jennette McCurdy Bio, Net Worth, Boyfriend And Andre Drummond
The young artist has released numerous hit songs like Somebody to love, Never Say Never, Boyfriend, What Do You Mean, Sorry and Love Yourself. He has also worked with top artists like R. Kelly, DJ Khaled, Luis Fonsi, Daddy Yankee, Chance the Rapper, Lil Wayne, Future, Big Sean and Diplo. As a recording artist, he has also won numerous awards which include 2010 and 2012 American Music Award for Artist of the Year, the 2016 Grammy Award for Best Dance Recording and the Latin Grammy Award for Best Urban Fusion and Performance for Despacito remix in 2017. Bieber has been named among Forbes magazines top ten most powerful celebrities in 2011, 2012 and 2013. He is also a Guinness World Record holder for the youngest male artist to debut at Billboard Hot 100 with a number one single for his song What Do You Mean.
Justin Bieber's Mom And Dad
The music star is the son of Jeremy Jack Bieber and Patricia Mallette. He was raised by his mother since his father who was not married to her was said to be quite young and never around. Pattie as the mum is fondly called is Bieber's biggest fan and she managed to give him the best while growing up even though she was not earning a fat salary at the time Bieber came along at age 17. His mother even wrote a book elaborating on the hardships she faced raising her son. Bieber, however, kept in touch with his father as a child and since he came into the limelight, the pair have gotten along pretty well.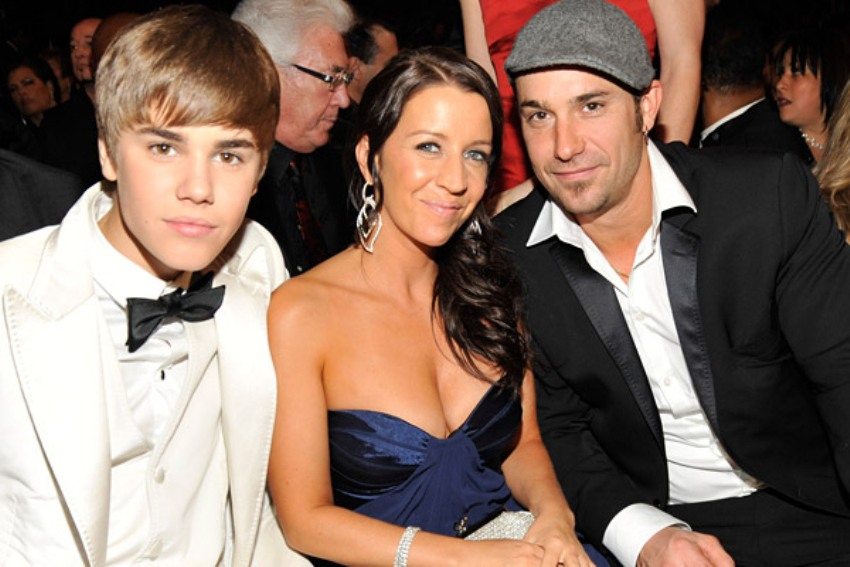 All through his rise to fame, Bieber was said to have fallen out with the mother as he saw her less often. He explained in an interview that the situation was not so bad and they were working things out. He was also seen with his dad hanging out and later he posted a picture on Instagram saying he loved getting to know his dad and working through hard times to make them good. His father has two other children named Jazmyn born in 2009 and Jaxon born in 2010.
Who is Justin Bieber Dating? Girlfriend, Gay
Bieber's sexual orientation is obviously straight as he has been dating only ladies. The star's most serious relationship has been with fellow star singer Selena Gomez back in 2010. Their relationship lasted for about 2 years before they broke up in 2012. After that, Biber was seen hanging out with different girls though he called them just friends. However, it became official that he dated Yovanna Ventura, Hailey Baldwin and Sofia Richie.
A reunion and possibly a walk down the aisle is actually being speculated between Bieber and Selena as the two have been seen around a lot since late 2016 coupled with the fact that they have both broken up with their respective partners.
See Also: Is Shawn Mendes Gay? Girlfriend, Height, Net Worth, Sister, Parents, Facts
Height
The dashing looking youngster who has been able to draw fans from both the teenage group and the adult group has a manly height of 5ft 9inch.
Is Justin Bieber Dead?
The talented singer is very much alive and actively doing what he does best which is singing. In fact, he is currently working on a new album which would be his fifth studio album.