Julie Bowen is an American actress beat known for portraying the character of Claire Dunphy ABC's Modern Family. She was married to a real estate investor/software engineer, Scott Philips, from 2004 to 2018. Since her early 20s, the actress has suffered from Bradycardia, a cardiovascular condition in which one's heartbeat is abnormally slow.
Hollywood may be notorious for its fickleness and unpredictability but some people have gone on to enjoy long and fulfilling careers. One person who falls into this category is Julie Bowen.
Bowen first rose to fame in the year 2000, appearing in several notable TV series. Nearly two decades later, the Maryland native has remained relevant and is one of the stars of the favorite TV series, Modern Family. She has also accumulated several awards, establishing her status as one of the popular TV gems in America. 
Julie Bowen's Background and Hollywood Breakthrough
Julie Bowen Luetkemeyer was born on the 3rd of March 1970 in Baltimore, Maryland. She hails from a family of five. Her father's name is John Alexander Luetkemeyer Jr. while her mother's name is Suzanne. The actress has two sisters named Annie and Molly. Bowne grew up in Baltimore, as well as Rhode Island and completed her diploma at St George's School, Newport.
She subsequently headed off to Brown University where she majored in Italian renaissance. While soaking up all she could about Italian art, literature, and philosophy, Bowen made time to participate in several theatrical productions. She also featured in an indie film titled Five Spot Jewel. 
Julie Bowen made her professional debut in 1992, appearing in a soap opera titled Loving. She subsequently garnered minor roles and supporting characters for much of the 90s; appearing in productions such as Runaway Daughters, Happy Gilmore, Strange Luck, Party of Five, Multiplicity, and An American Werewolf in Paris. The Maryland native finally scored a well-deserved breakthrough in 2000 in the TV series, Ed.
Ed is an NBC comedy that revolved around Edward Stevens, a hotshot lawyer who loses his job and discovers his wife's extra-marital affairs on the same day. He subsequently retires to his hometown for a new lease of life. Ed ran from 2000 to 2004 and featured Tom Cavanagh in the titular role. Bowen, on the other hand, portrayed his love interest; a high school English teacher named Carol. Her excellent performance fetched her glowing reviews and firmly entrenched her in the limelight.
Julie Bowen At A Glance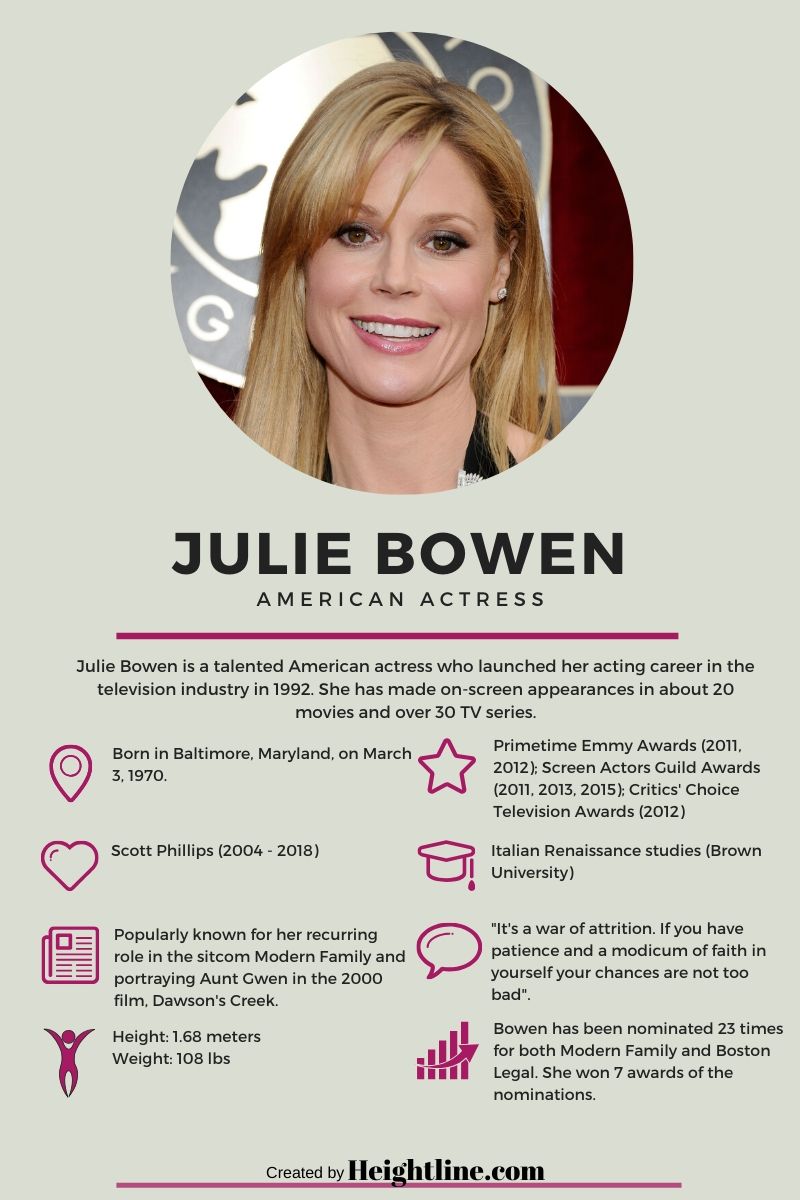 Details of Her Insane Career Earnings
Julie Bowen has accumulated about $16 million in the course of her glowing career. This sum primarily stems from her onscreen works rather than any endorsement deals. Since making her breakthrough in 2000, the Maryland native has gone on to feature in several movies and TV series including Modern Family. Modern Family is unarguably one of the most successful TV series in contemporary times. The ABC mockumentary revolves around a dysfunctional family clan of three interconnected couples and explores issues such as gay partnerships, foreign adoptions, religious and cultural differences, warring spouses, as well as uppity teenagers.
Modern Family is headlined by Sofia Vergara and Ed O'Neill while Bowen portrays the role of Claire Dunphy, a mom/businesswoman who believes that she knows best but often discovers that she is fallible. The hit series debuted in 2010 and Bowen remained one of the major characters all throughout its 11-year-run. Her excellent performances earned her several accolades including two Emmy Awards for Outstanding Supporting Actress in a Comedy Series.
Modern Family also greatly rewarded Bowen financially. According to Forbes' estimate, the Maryland native rakes in as much as $12.5 million per annum and this makes her one of the highest-paid TV stars in Hollywood. Others who make it to the top ten are Pauley Perrette ($8.5 million), Claire Danes ($9 million), Kerry Washington ($11 million), Melissa Rauch ($12 million), Mayim Bialik ($12 million), Mariska Hargitay ($13 million), Ellen Pompeo ($23.5 million), Kaley Cuoco ($24.5 million), and Sofia Vergara ($42.5 million).
Who Is The Actress' Husband?
Julie Bowen was previously married to a real estate investor/software engineer, Scott Philips. The couple tied the knot in September 2004 and welcomed three sons in the course of their union. They are Oliver (b. April 2007) and twin boys, John and Gustav (b. May 2009).
Bowen and her husband initially enjoyed a stable union and made regular joint appearances at the Emmys. Her husband, however, did not accompany her to the 2016 Emmys and many speculated that there must be trouble in paradise. The actress dismissed the rumors and maintained that her husband skipped the ceremony due to an important engagement. 
Following the whole brouhaha, Bowen and Scott moved on with their lives. The rumor mills, however, remained relentless and several sources stated that the couple was leading separate lives by the end of 2017. It eventually turned out that there was a modicum of truth in these rumors as the actress filed for divorce in February 2018. The divorce was finalized in September of that same year and the erstwhile couple moved on with their respective lives. They, however, remain committed to co-parenting their children. 
The Health Challenges She Faced
The Modern Family star is a long-time sufferer of Bradycardia. This is a cardiovascular condition in which one's heartbeat is abnormally low. It is typified by fatigue, weakness, dizziness, and sweating.
Bowen was first diagnosed with bradycardia in her early 20s. She has won a pacemaker ever since then to achieve a regular heartbeat.
The actress often exhibits some reluctance in discussing her health condition. She, however, maintains that she has never had an issue with her pacemaker since it was implanted. Julie Bowen also disclosed that she changes the pacemaker battery once every seven years and that the process is relatively easy.