Julian Henry De Niro is the son of the Hollywood star Robert De Niro and Toukie Smith. He is also the grandson of renowned American painters – Henry Martin De Niro and Virginia Admiral. Julian has a twin brother named Aaron De Niro. His mother, Toukie Smith is an actress and model.
Julian Henry De Niro was born in New York City on the 20th of October 1995 to Robert De Niro and Toukie Smith. The young man is an American National with a multi-racial background, including Dutch, French, Italian, German, English, Irish (on his father's side), and African-American (on his mother's side). Besides this information, nothing else is known about the young man's early life, childhood, and educational qualifications except for these facts we have to share with you.
Julian Henry De Niro's Fact Card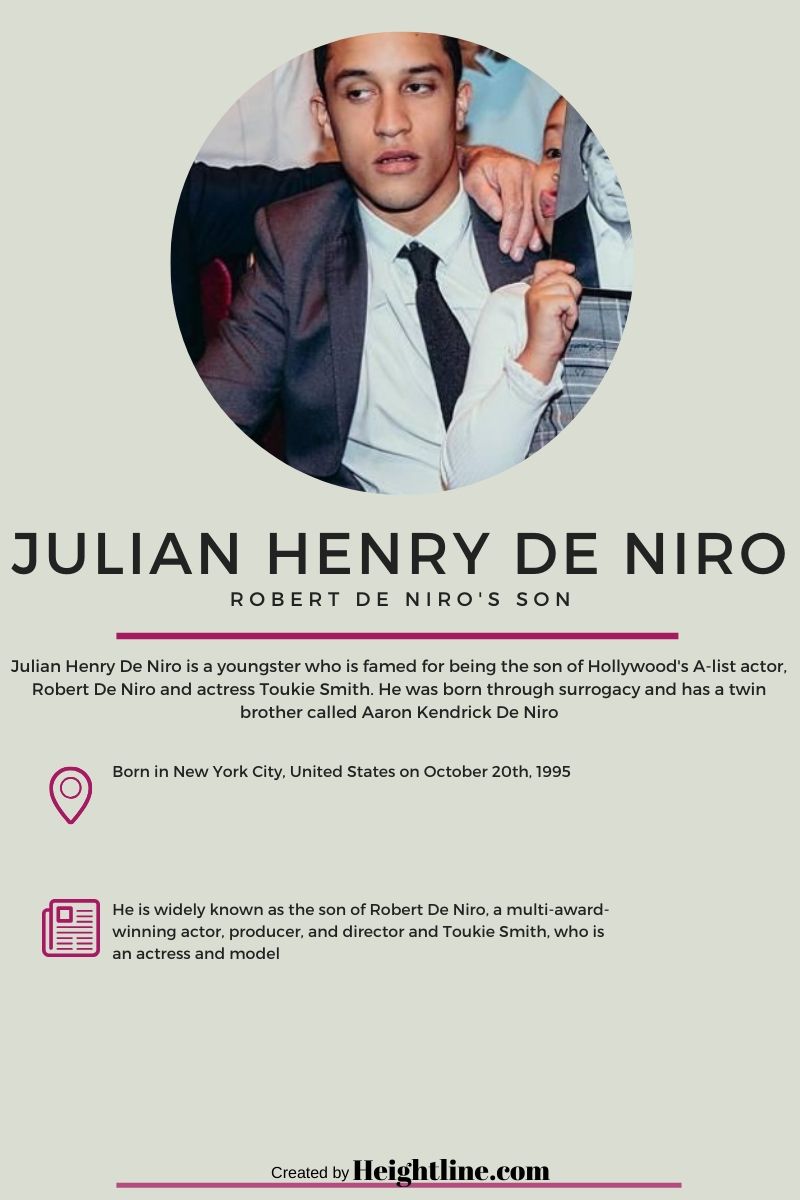 Here's What We Know About Julian Henry De Niro
Julian Henry De Niro's Bio
AGE: 28 Years Old
BIRTHDAY: October 20, 1995
BIRTHPLACE: New York City, United States
BIRTH SIGN:

Libra 

ETHNICITY: Dutch, French, Italian, German, English, Irish, and African-American
FATHER: Robert De Niro 
MOTHER: Toukie Smith
SIBLINGS: 

Aaron Kendrick De Niro, Raphael De Niro, Elliot De Niro, Drena De Niro, Helen Grace
Julian Henry De Niro has a Twin Brother 
Julian has always been very far from the spotlight and this makes it a bit difficult for the media to get specific details about his life. However, in regards to his birth, it is a known fact that Henry did not come into the world alone like his other siblings.
He was born alongside his twin brother, Aaron Kendrick De Niro and it's been an amazing journey together for the brothers since they were born. The twin boys have other siblings (half/step-siblings) and they include Raphael, Drena, Elliot, and Helen.
While Julian is yet to let out information regarding his professional life, some media outlets report that he is a producer and an actor. His brother, on the other hand, seems to be nowhere near the entertainment business as his name is yet to be linked with any film or TV series.
Who Are His Other Siblings?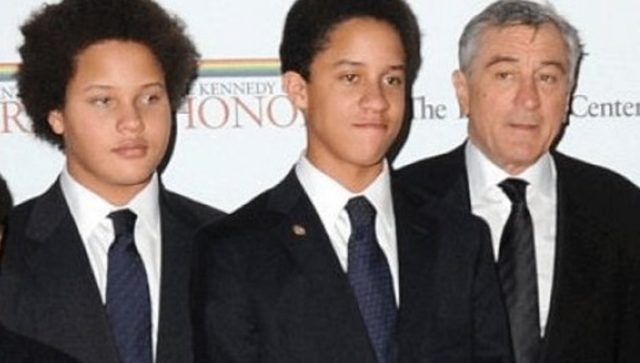 Julian's immediate family is made up of his parents; Robert De Niro and Toukie Smith, and his twin brother Aaron Kendrick De Niro. There is no information about what Aaron does for a living, where he resides, or other facts.
Other members of Julian's family include his older siblings; Raphael De Niro and Drena De Niro. Born in Los Angeles, California, in the year 1976, Raphael is currently based in New York. He is an actor, a real estate broker, and a partner with his dad in the Greenwich Hotel.
In addition to starring in films like James Abbott is Gone (2013), Love Streams (1984), Awakenings (1990), Raging Bull (1980), and West 4th (2007), Raphael has delivered jobs for celebrities such as Kelly Ripa, Douglas Elliman, Renée Zellweger, Jon Bon Jovi, and Travis Kalanick.
Until 2016, he was married to Claudine De Matos, with whom he had three kids following their marriage in 2008. Right now, he is dating Hannah Carnes, a fashion stylist, according to reports he intends to marry.
Drena De Niro is Robert De Niro's adoptive daughter and Julian De Niro's step-sister. She is a producer and an actress who has featured in several projects alongside her famous father. They include The Intern (2015), City by the Sea (2002), and Showtime (2002) to mention a few.
She took up Robert's last name after the actor adopted her following his marriage to her mother in the year 1976. The beautiful actress was born on the 3rd day of September 1967, in the United States of America. She started selling her craft in the entertainment industry in 1996 and currently lives with her son in New York City.
Julian Henry De Niro also has other half-siblings – Elliot and Helen De Niro. They are a product of Robert's marriage to popular singer, socialite, philanthropist, and actress, Grace Hightower. The entertainment elites got married in 1997 and gave birth to Elliot in New York City, on 18th March 1998. Their second child, a daughter named Helen De Niro, was born in the year 2011 through a surrogate.
His Mother is a Popular Actress and Model
Julian's break forth to the limelight isn't only attached to his personality as the son of an American-Italian actor, director, and producer, Robert Anthony De Niro Jr but also as a result of his relationship with his actress and model mother Toukie Smith.
Best known for her role as Eva Rawley on the 1989–90 sitcom 227, Julian's mother has also made a huge impact in the modeling industry having worked for a good number of highly-rated brands like Versace, Thierry Mugler, Geoffrey Beene, and Chanel, to mention just a few.
For her print career, Smith is also a popular face on magazines like Ebony, Vogue, Cosmopolitan, Seventeen, and ELLE. She was also on a photo campaign for the French luxury fashion house Yves St. Laurent.
His Salary and Net Worth
While it is not yet certain what Julian does for a living, we are quite sure he enjoys quite a reasonable amount starched for him by his famous parents. The youngster may also be secretly developing his career and net worth. Currently, details of his net worth are not yet available but we know he has a share in his father's $200 million net worth as well as his mother's $3 million estimated net worth.
Some Other Notable Facts About Julian Henry De Niro 
1. Robert De Niro and his Toukie Smith conceived Julian Henry De Niro and his twin brother through in vitro fertilization and they were delivered with the help of a surrogate mother.
2. His maternal uncle was one of the successful Afro-American fashion designers prior to his death in 1987. Willi Donnell Smith died of AIDS-related pneumonia complications.
3. Julian's mother became the first African–American model to have a mannequin designed in her likeness. This came after she was named Bloomingdale's Model of the Year.
4. Both Julian and his brother Aaron are not in a publicly known relationship.
5. His stepmother, Diahnne Abbott, is also in the entertainment business as a singer and actress.