Joseph Baena is the love child and look-alike son of Arnold Schwarzenegger, the former California governor and actor. He was born out of a Arnold's relationship with Mildred Patricia Baena, his family's one-time housekeeper.
In addition to his career as a Hollywood actor and real estate agent, Joseph Baena is also an amateur bodybuilding fanatic
The Terminator actor had claimed he never knew Joseph was his child until the young boy began to have an uncanny resemblance to him. Since then, the Hollywood icon has made sure that the needs of his son and his mother have been met as he began a relationship with him.
Baena, who was born on October 2, 1997, five days after Arnold's youngest child (Christopher) with his then-wife Maria Shriver was born, has his father, Arnold Schwarzenegger, as his inspiration and has gone ahead to mirror his career path in bodybuilding. He is not just the spitting image of his old man but is also looking to follow in his footsteps to make a name for himself as a bodybuilder. He appears to have put in long hours at the gym, bulking up his frame to look just like his dad at his age.
As a result of him always recreating famous images of his dad when he was young, particularly the iconic Mr. Universe poses from the 1970s, Joseph Baena has achieved some fame on the internet. He will be hoping to translate this into success in the real world as very high standards have been set by his father.
Joseph Baena At A Glance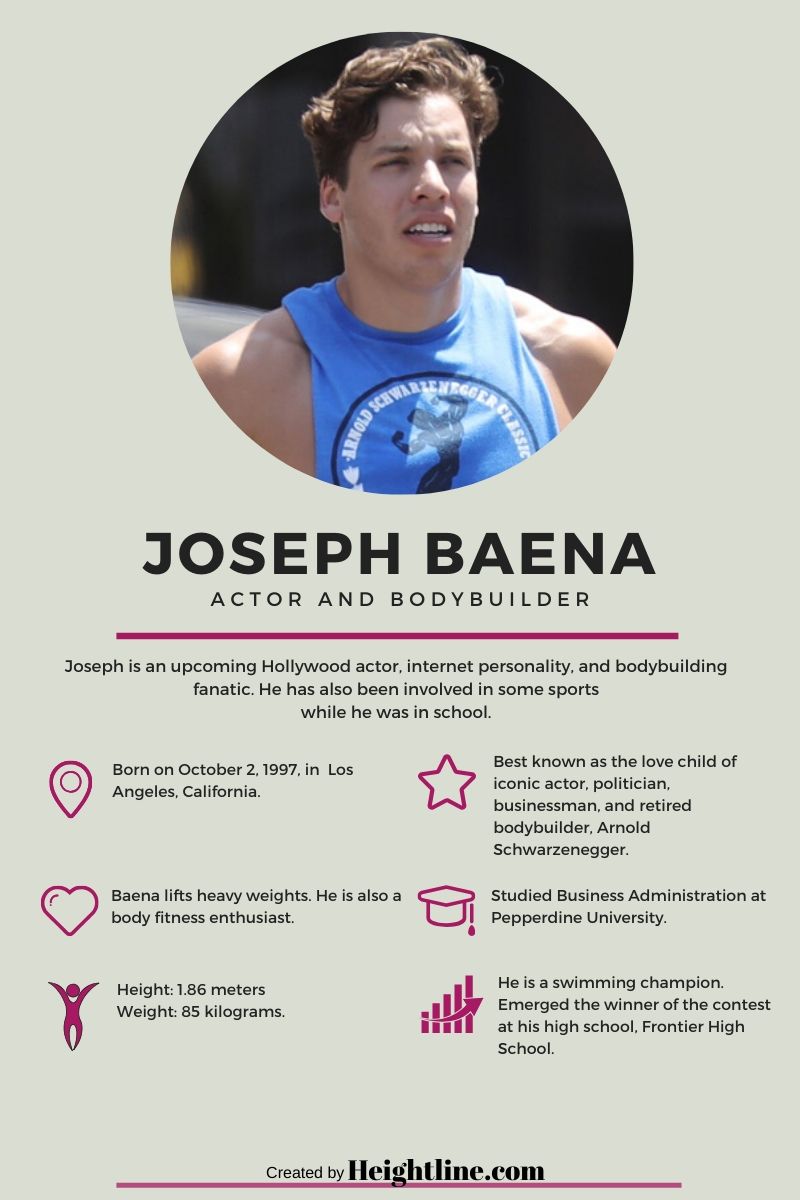 Joseph Baena's Birth and Parents' Relationship
As earlier mentioned, Joseph Baena is the love child of Arnold Schwarzenegger and his family's former housekeeper, Mildred Patricia Baena, who was employed by the family for 20 years until she retired in January 2011. At the time Mildred had her son, she was married to her husband Rogelio de Jesus whom she separated from a few months after Joseph was born before later divorcing him in 2008.
When the story was made public, Arnold claimed he had no inkling that the baby was his at the beginning. Mildred was said to have never mentioned it to him or to anyone else and perhaps had no intention of ever doing so. The truth eventually came to light when Joseph Baena began to look like him when he was about seven or eight years of age. It was then that the Californian governor began to piece the jigsaw together. As soon as he confirmed his suspicions, he took up responsibility as a father and began taking care of his son.
Arnold's wife Maria Shriver was said to have grown suspicions that Joseph was her husband's son due to their striking resemblance. After speaking with Mildred who confirmed her suspicions, she confronted her husband with the information more than a decade after the incident had occurred and he admitted his guilt. A few months later, Shriver moved out of the family home in Los Angeles and their marriage of 25 years came to an end.
Joseph Baena Has a Large Family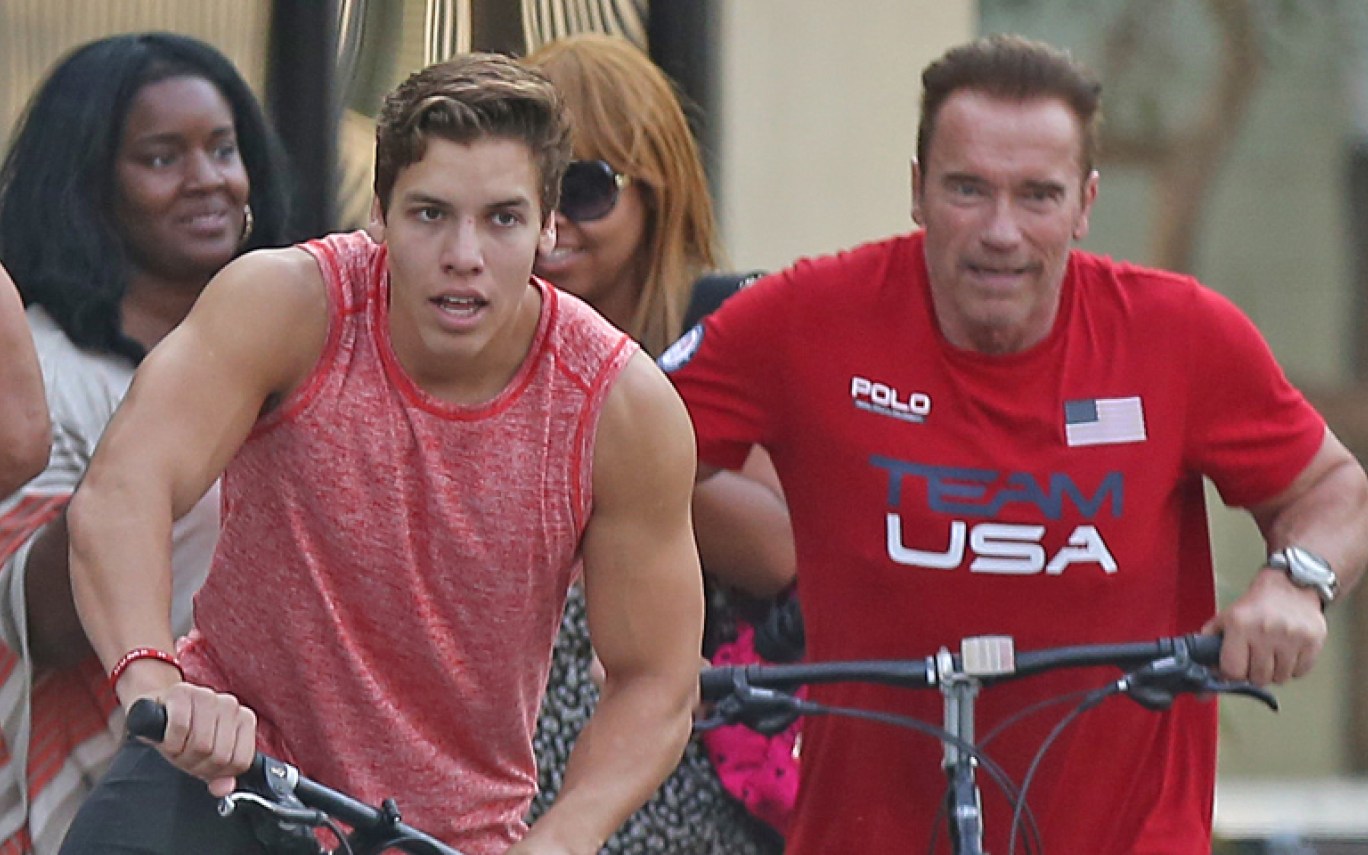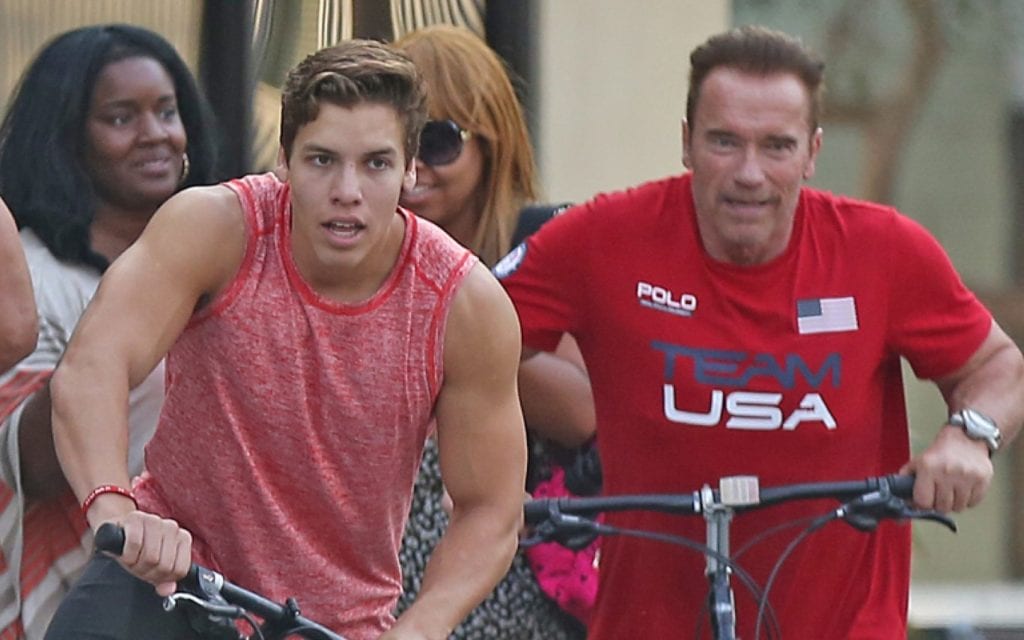 While the revelation was a big scandal for the Schwarzenegger family, Joseph Baena gained four new half-siblings from his father's marriage to Maria Shriver. Many have since pointed out that Joseph and the other Schwarzenegger kids are rarely seen together, however, Arnold has made sure that all his children have some sort of relationship with each other.
Joseph Baena gained half-siblings from his father's side and they include:
Katherine Schwarzenegger – Half-sister (born in 1989)
Christina Schwarzenegger – Half-sister (born in 1991)
Patrick Schwarzenegger – Half-brother (born in 1993)
Christopher Schwarzenegger – Half-brother (born in 1997)
His mother, who is of Guatemalan origin, also has a daughter named Jackie Rozo.
Joseph Baena's Ambition To Be a Body Builder
As each day goes by, Joseph Baena continues to look more like his dad, especially as he is dedicatedly following in his footsteps to become an actor and a bodybuilder. With the similarities not only in looks but also in athletic disposition, Baena has proven that the apple doesn't fall far from the tree. His broad features are almost identical to those of his famous dad as a young man.
At 6 feet 1 inch (1.86 m) tall, he enjoys showing off his muscular physique after training sessions. The young boy regularly posts photos and videos of his workout regimen on his Instagram page and has become quite famous for doing so.
Baena Loves Recreating Some of His Dad's Iconic Poses
Joseph Baena enjoys making fans of his famous father do a double-take when he recreates his dad's classic poses. Since revealing his intention to go into competitive bodybuilding, he steals one or two moments to share photos of him in poses similar to his father's in his bodybuilding days. Given the uncanny resemblance between the two and his ability to replicate the photos, the young man has earned the monikers Little Arnold or Arnold 2.0.
Baena has called his dad a huge inspiration and the best training partner in the world. Even at such an old age, the seven-time Mr. Olympia continues to hit the gym hard to be in top shape and inspire his son to carry on the torch.
Joseph Baena is a Combination of Brains and Brawns
While it is well known that Joseph Baena enjoys lifting weights, his achievements in his studies are rarely talked about. He attended Frontier High School where he is reported to have excelled both academically and in sports, particularly swimming. He graduated high school in 2015 before proceeding to enroll at Pepperdine University where he continued his sporting lifestyle before graduating with a degree in business administration in 2019. He hopes to get a Masters in Business Administration while pursuing his acting and bodybuilding career.