Arnold Schwarzenegger's look-alike son, Joseph Baena holds our interest as much as it does yours. Thus, we would let you in on all the deets you need to know about him. It sure would make an interesting read, just sit back and enjoy the piece.
Joseph Baena's Biography
This child of Arnold was born on the 2nd day of October 1997 in Los Angeles, California, USA. At the time of his birth, his mother, Mildred Patricia Baena was working in the household of The Terminator star and his then-wife, Maria Shriver.
Mildred was married to Rogelio de Jesus while Arnold was also still with his then-wife, American journalist, activist, and best-selling author, John F. Kennedy's niece, Shriver. The duo had a fling, both cheating on their partners. This lasted only from December 1996 to February 1997 but was long enough to produce a son, Joseph Baena.
She gave birth merely five days after the birth of Arnold's youngest child (Christopher) with his wife. Although she was still working at their house while nursing her baby, bringing him along to work sometimes, Arnold claimed he had no inkling that the baby was his.
However, the puzzle wasn't to remain unsolved for long. Seven or eight years after his birth, probably on one of the occasions he followed his mother to work, Schwarzenegger realized that the boy looked like him and he began to piece together the jigsaw. As soon as he realized the kid was his son, he took up his responsibility as a father and began sending extra money to his maid without telling her anything about his epiphany.
But you know, the secret couldn't be kept for long. In time, the duo was not the only ones privy to what was happening. Even Mrs. Schwarnezzger was beginning to read into the lines. Being a loyal supporter of her husband, having defended him for sexual misconducts on Oprah Winfrey Show, she was not ready for what hit her next.
Nevertheless, she confronted him and probed deeper into the seeming mystery. She also constantly asked him if Joseph was his son but he must have denied upfront. When he saw that his 25-years long marriage was going to hit the rock if he kept playing ignorant, he admitted the obvious during a marriage counseling meeting.
Finally, Joseph Baena was outed as the former governor's love child, but unfortunately, the revelation saw to the end of his marriage a few months later. Shriver pulled the plug on their marriage, serving divorce papers to the Golden Globe winner in 2011. Of course, this was a big scandal for the Schwarzenegger family, but Arnold endeavored to keep his family together.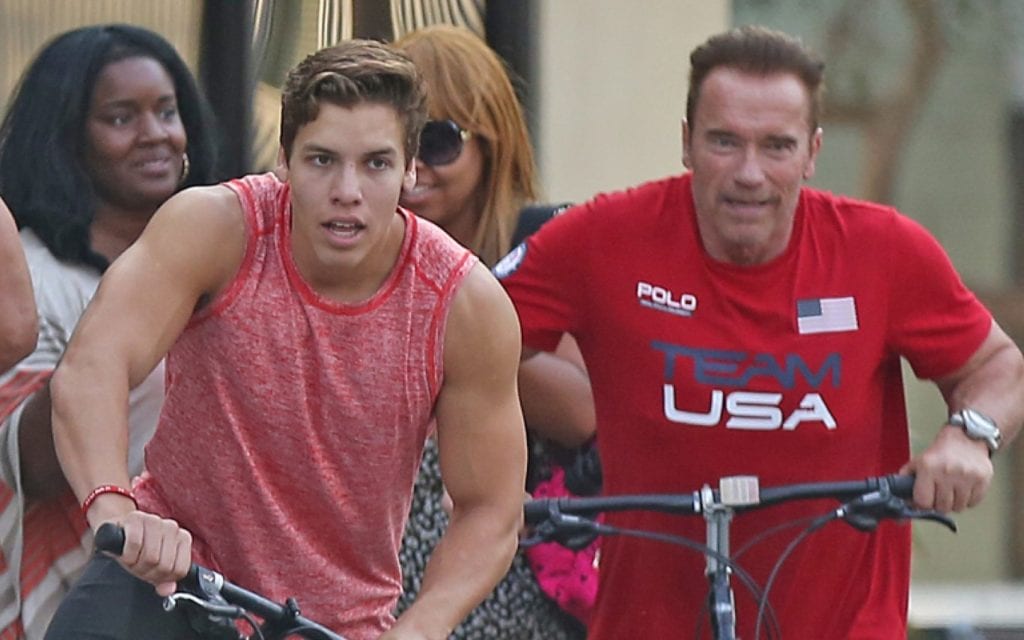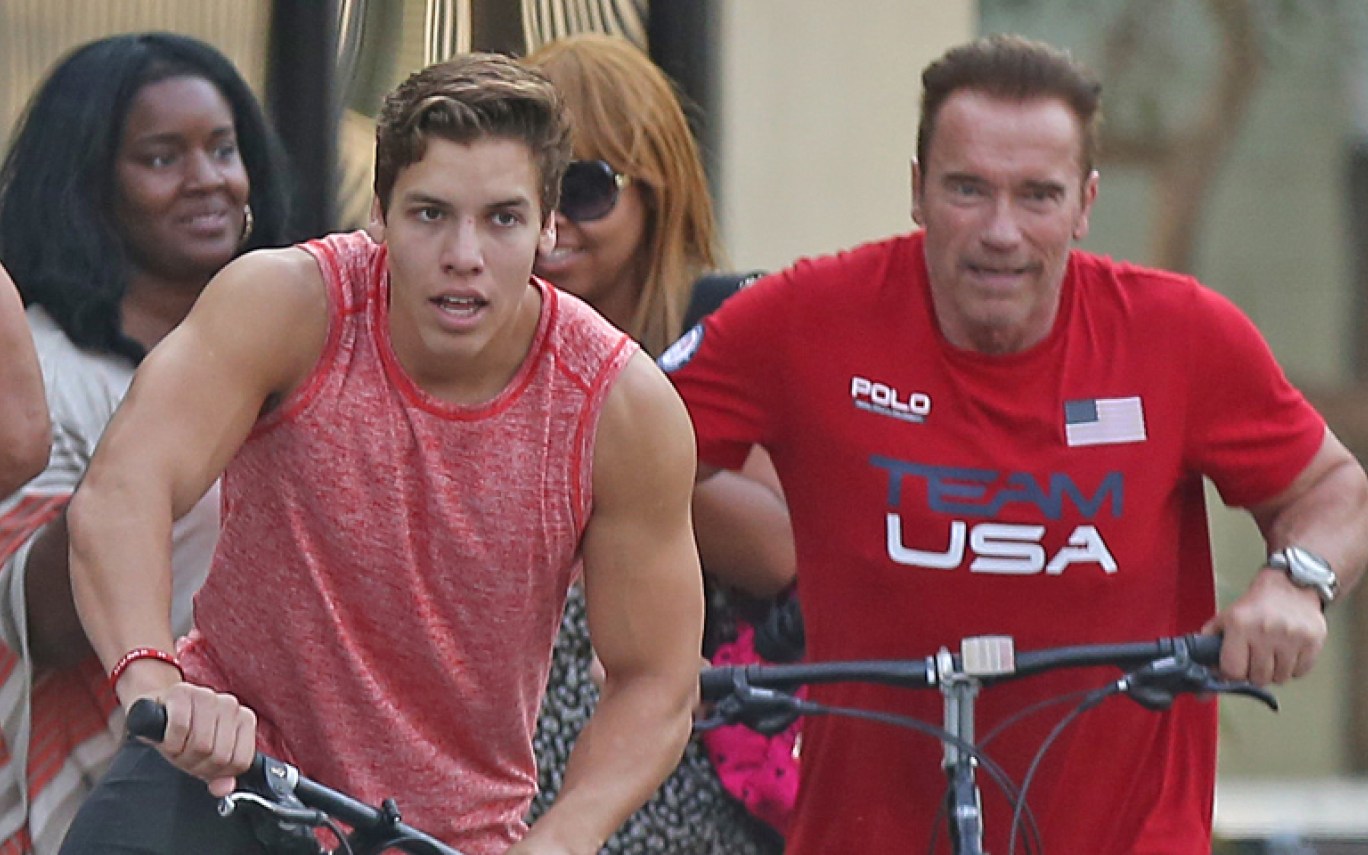 How did Joseph take down the whole drama? According to his dad, the young bloke totally understands the situation. Moreover, the father-son duo has formed a close bond since then with Joseph frequently sharing snaps of them hanging out and engaging in activities like working out and cycling together on Instagram.
Joseph Baena attended Frontier High School where he obtained excellent academic records. He graduated in 2015. Though his father was not present, he gifted him a jeep wrangler. Following his graduation, he proceeded to Pepperdine University where he is actively involved in college festivals and sports.
His Net Worth
Joseph Baena's net worth is not known. But being a celebrity child have its perks which include fat bank accounts. He has also been featured occasionally in magazines and newspaper and is equally popular across social media.
His Instagram and Twitter accounts boast of thousands of dedicated followers.
Joseph Baena Siblings and Mother
Joseph bears an uncanny resemblance to his father, interestingly, more than his half-siblings. His mother as earlier mentioned is Mildred Patricia Baena, a longtime housekeeper for the Schwarznegger's. He was raised by her, and although he has been accepted by his father, he still chooses to go by Mildred's last name.
Even though he is hardly seen in the company of his siblings, he has a pack of them from both sides of his family. On Arnold's side, Joseph has four half-siblings including Katherine Schwarzenegger (b. 1989), Christina Schwarzenegger (b. 1991), Patrick Schwarzenegger (b. 1993) and his almost twin older brother, Christopher Schwarzenegger (b. 1997). His mother, who is Hispanic had five children from her marriage including Jackie Rozo.
Joseph Baena is following in his father's footsteps, both as an actor and as a bodybuilder. He is already racking up credits on the screen, with a recent role in a 2016 recreation of an iconic scene from Terminator 2.
See Also: Jeff Baena Bio, Age, Height, Net Worth, Relationship with Aubrey Plaza
Height – How Tall Is He?
Joseph Baena is very athletic and delights in swimming and playing basketball. Much like his father, who is considered one of the foremost figures in the history of bodybuilding, he is also very interested in bodybuilding. With the similarities not only in looks but also in athletic disposition, Joseph has proved that the apple doesn't fall far from the tree.
He enjoys showing off his muscular physique after training sessions. His body weight is not known but he stands tall at 6′ 1″ (1.86 m).