Jorge Ramos is a renowned Mexican-American journalist, television host, and acclaimed author; best known for being the only Spanish language news anchor in the United States. Ramos is currently the anchor of the Univision Network program titled Noticiero Univision; as well as, Fusion network program known as America with Jorge Ramos. For his outstanding performances, Ramos has won eight Emmy Awards, as well as, the Maria Moors Cabot Prize for his excellence in journalism.
Jorge Ramos Biography
Born Jorn Gilberto Ramos Avalos in Mexico City, Ramos first stepped into this world on March 16, 1958. He was born into a core Roman Catholic Family and went to Catholic schools in Mexico. His father worked as an architect and he grew up alongside his other siblings in Naucalpan, situated in Mexico City. He obtained his bachelor's degree in communications from the Universidad Iberoamericana located in Mexico City; and also got his master's degree in International Studies from the University of Miami, Florida.
His Journalism Career
Upon graduation, Jorge joined XEW-TV, in Mexico where he began his journalism career. After producing a story that was critical to the Mexican government, Ramos left his job at XEW-TV. He further used a student visa to move to Los Angeles, California in the United States in 1983. The following year, Ramos joined Spanish International Network (SIN) affiliate called KMEX-TV. He later became the anchor of the morning show titled Mundo Latino. In search of a more challenging environment, Ramos joined the national operation of the Spanish International Network known as Univision in 1985. Alongside Maria Elena Salinas, Ramos started hosting a late night Spanish language program called Noticiero Univision from 1986 to date. He is also the anchor of Al Punto and American with Jorge Ramos on Fusion television.
Ramos has done live coverage of top global issues such as the fall of the Berlin wall, the Persian Gulf War, the Salvadoran Civil War, Afghanistan War, 9/11 terrorist attack by the al-Qaeda, among others. Additionally, he has interviewed high profile personalities including Hugo Chavez, Fidel Castro, Bill Clinton, Barack Obama, George H.W. Bush, George W. Bush and many more.
Jorge Ramos also represented Univision network during the 2012 US Presidential debate between Barack Obama and Mitt Romney. Similarly, he also brought detailed coverage of the 2016 US presidential race between President Donald Trump and Hillary Clinton.
In addition to his blooming journalism career, Ramos has authored over thirteen books. Some of which include My Life, A Country For all: An Immigrant Manifesto, and Dying to Cross: The Worst Immigrant Tragedy in American History, just to mention a few.
Family: Wife and Kids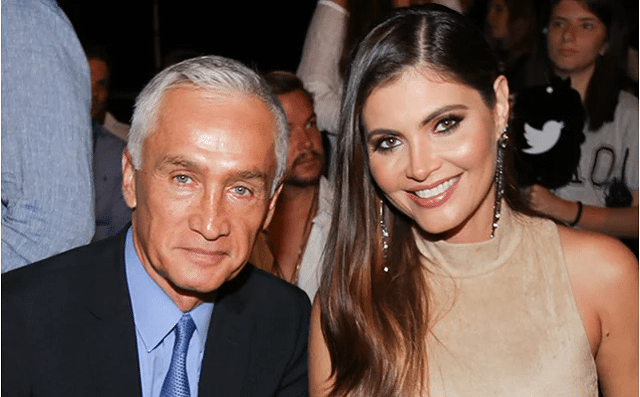 Like we aforementioned, Jorge Ramos is from a core Catholic family, his dad worked as an architect and he was born and raised in Mexico City. However, he has never shared any information regarding his mother and other siblings. He spent twenty-five years of his life in Mexico before relocating to the United States. While in the US, he obtained his Citizenship in 2008.
While he is enjoying a blossoming journalism career; he hasn't been so favored when it comes to his love life. He has been married twice, his first marriage was to Gina Montaner whom he met during the late '80s. She is the daughter of the exiled Cuban author named Carlos Alberto Montaner. Their marriage ended in 1999 and they had a daughter called Paola who was born in 1988. After their split, Gina moved to Spain with their daughter.
Two years after his separation from his first wife, Ramos married Lisa Bolivar in 1992. Their wedding was celebrated in a Catholic Church situated in San Juan, Puerto Rico. He had a son named Nicholas with his second wife and after thirteen years of marriage, Ramos and Bolivar went their separate ways in 2005. Next, he had a short-lived romance with a Mexican actress named Ana de la Reguera and after a few months, they called it a quit.
In 2011, Jorge Ramos started another relationship with Chiquinquira Delgado, a Venezuelan actress, and television anchor. Prior to their relationship, Delgado already had two daughters from her previous relationships. The pair has been together for over five years and they currently reside in Miami, Florida. They are not yet married and we hope they take that bold step soon.
Other Interesting Facts You Need to Know about Jorge Ramos
1. Ramos anchored the Democratic debate between Bernie Sanders and Hillary Clinton in 2016.
2. He came to the United States in 1983 with a student visa and he became an American citizen in 2008.
3. He has authored over thirteen books and has received eight Emmy Awards for his outstanding works.
4. He has been married twice and has two children – a daughter Paola and son Nicholas, one from each marriage.
5. Ramos has been the host of the Univision television programs including Al Punto, and Noticiero Univision for so many years.